After vanilla and cocoa, the Italian niche fragrance house Maison Tahité takes on the most delicious coffee specialities with its Coffee Collection: Café Gourmand, Coffee Bomb, I_Ristretto and Velvet Coffee are the latest eaux de parfum by the brand based just outside Rome. Launched as usual in a pack of four, which was also the case with the previous collections, Maison Tahité takes on a fragrance theme with coffee, which – along with cherry and tonka bean – is currently incredibly trendy.
Little look back: vanilla and cocoa from Maison Tahité
Of course, I also like to link you to my previous reviews of already mentioned Vanilla Collection as well as the Cacao Collection for all those who want to read up a bit regarding the brand Maison Tahité and their creations:
Attentive readers will of course have noticed that I have linked five posts and not just four, as would have been expected with two collections of four. In fact, Maison Tahité launched a fifth cocoa fragrance last summer, Cacao in the Sun – as a summer special, so to speak. But let's now turn to the Coffee Collection, which I, as an avid coffee drinker, am of course eagerly awaiting. ☕
Café Gourmand – Coffee Collection
We will start with a coffee scent, which should be a rather lush version of the black hot beverage. When did syrup-infused coffees actually come into vogue? With the triumph of the American coffee franchises, I suppose. In fact, the sweet and flavoured hot drinks were already around when I first started drinking coffee – which admittedly was a day or two ago.
Therefore, I don't know any time without them, even if the taste selection was of course much smaller than today. I would personally describe hazelnut coffee as a classic syrup of the first hour, and it seems that Café Gourmand by Maison Tahité is also dedicated to precisely this variant, if the ingredients are to be trusted.
Perfumer of the eau de parfum is Stéphanie Bakouche, who uses in the creation the fragrance notes of saffron, milk, coffee, hazelnut, patchouli, sandalwood, juniper, vetiver and musk. As always, I ask myself the question: What do I expect? The name alone brings to mind a gourmet composition enhanced with hazelnut, spices and creamy milk. I wonder if that is so true.
How much gourmand is in Café Gourmand?
I can say right away … my assumptions do not apply. If you were hoping for a sweet to sugary gourmand creation in the style of an American Hazelnut Coffee with extra cream topping, I have to say that Café Gourmand is much more of a dark and spicy scent, combining saffron with woody juniper and the earthy creamy notes of patchouli and vetiver, backed by warm milky sandalwood.
The coffee is perceptible in the background, with deep black and subtly tart notes that nestle closely with the woody nuances of the fragrance. The finish is joined by powdery musk, with which Café Gourmand fades very gradually and gently.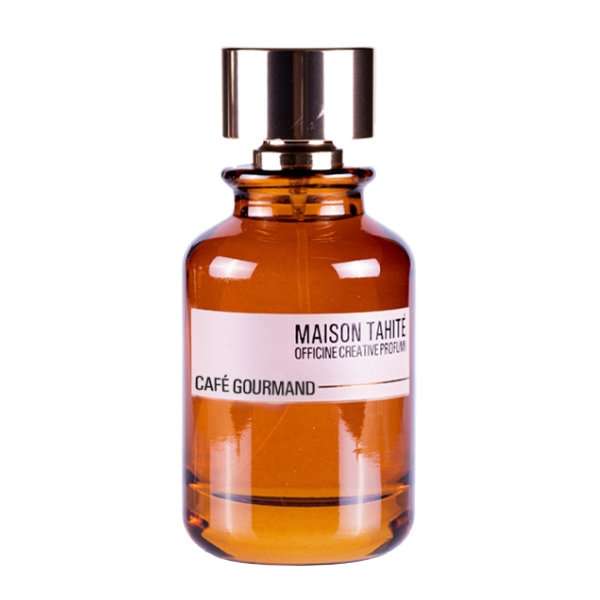 Thus, Café Gourmand is really a surprise for me, because here I would have expected a completely different fragrance direction. Dark, spicy, earthy and dry is the eau de parfum of Maison Tahité. Equipped with a medium presence and just as persistent, the creation is an absolute all-rounder that I would not assign to any season or occasion. Ideal for those who love rather restrained dark fragrances with gentle spicy and woody undertones. And there's a little shot of coffee to go with it, too. ☺️
Coffee Bomb – Attention Explosion Hazard!
Since the name of Café Gourmand has already misled me so much, I'm curious to see whether Coffee Bomb will pull a similar trick on me. The name sounds to me like lush coffee notes that evoke fragrance fireworks from start to finish. The press text speaks of a rich creation, however, everything else sounds less effervescent and more exceedingly delightful.
Perfumer Arturetto Landi drew inspiration from his time in Arab countries to create an enveloping and rich fragrance that combines the aroma of Italian coffee with a hint of Arabic coffee. This is evoked by spicy and warm amber notes that seduce all our senses …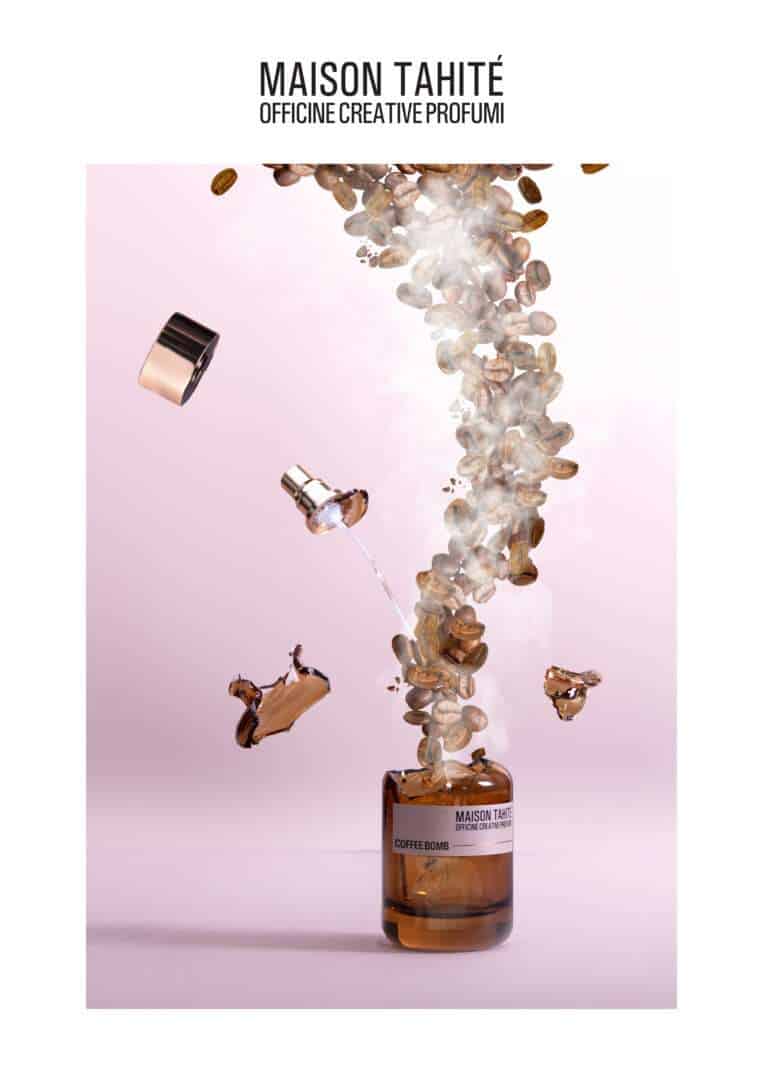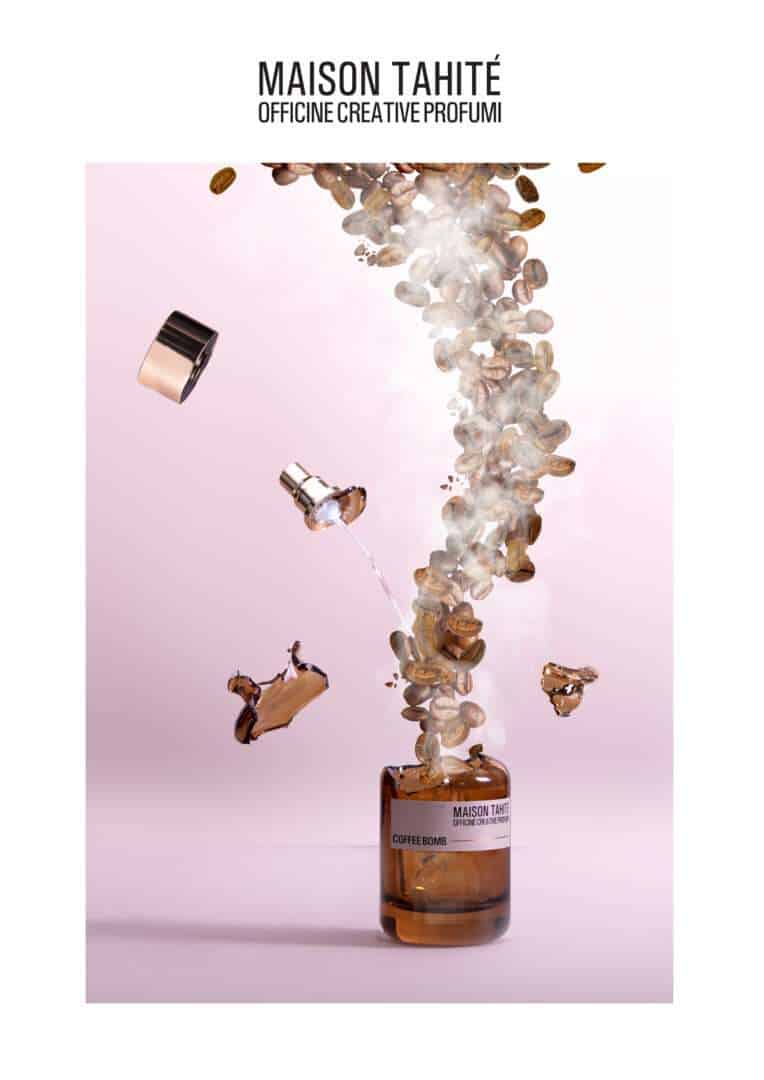 Arturetto Landi used a whole squad of fragrance notes for Coffee Bomb by Maison Tahité: Saffron, Cardamom, Black Pepper, Milk, Coffee, Iris, Heliotrope, Jasmine, Rose, Vanilla, Cocoa, Incense, Patchouli, Sandalwood, Tonka Bean, Leather, Musk and Moss. There are certain overlaps with our first fragrance of today, but also a whole slew of additional ingredients.
How explosive is Coffee Bomb?
A spicy heat defines Coffee Bomb's opening with dark, soft-leathery saffron, dry pepper and fresh cardamom. Early on, iris plays a supporting role in this composition, underpinned by softly soapy rose and subtle clouds of incense. Its lush milky powder notes give the eau de parfum a noble and elegant aura, provide smooth and creamy accents.
Coffee Bomb reveals the dark roasted aromas of black coffee or espresso in the background. To me, the creamy iris notes are emblematic of the fine crema found on the hot beverage. Gradually, the eau de parfum becomes warmer and woodier thanks to the usual base suspects sandalwood, patchouli and musk, underpinned by delicate tonka bean.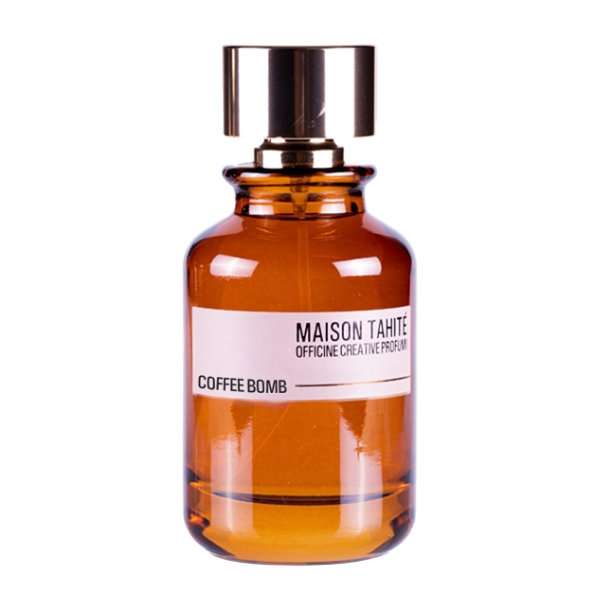 I wouldn't call Coffee Bomb by Maison Tahité an explosive blend. It is a transparent and rather light fragrance in which spices, creamy milky notes and warm woods enter into a fine and balanced melange, underpinned by roasted coffee and a delicate smokiness. An absolutely everyday life and office-appropriate unisex creation that can be worn for any occasion and any season. The iris and spices are very present in the composition, in my eyes and on my skin also more present than the coffee itself. As always, I therefore recommend a skin test, perhaps the coffee will really come into its own for you. ☺️