Round four in the selection of wonderful fragrances by Farmacia SS. Annunziata and it's all about Sweet Carousel and Reunion Vanilla today. I'm not quite sure yet how well today's two candidates fit the current weather situation, because it's hot, hotter, hottest up here on the Baltic Sea. Of course, it's still mild compared to more southern regions, but we coastal kids feel like sweating. It's a toasty 25 degrees in my office. The oversized window facing south does its part to drive the temperature up here.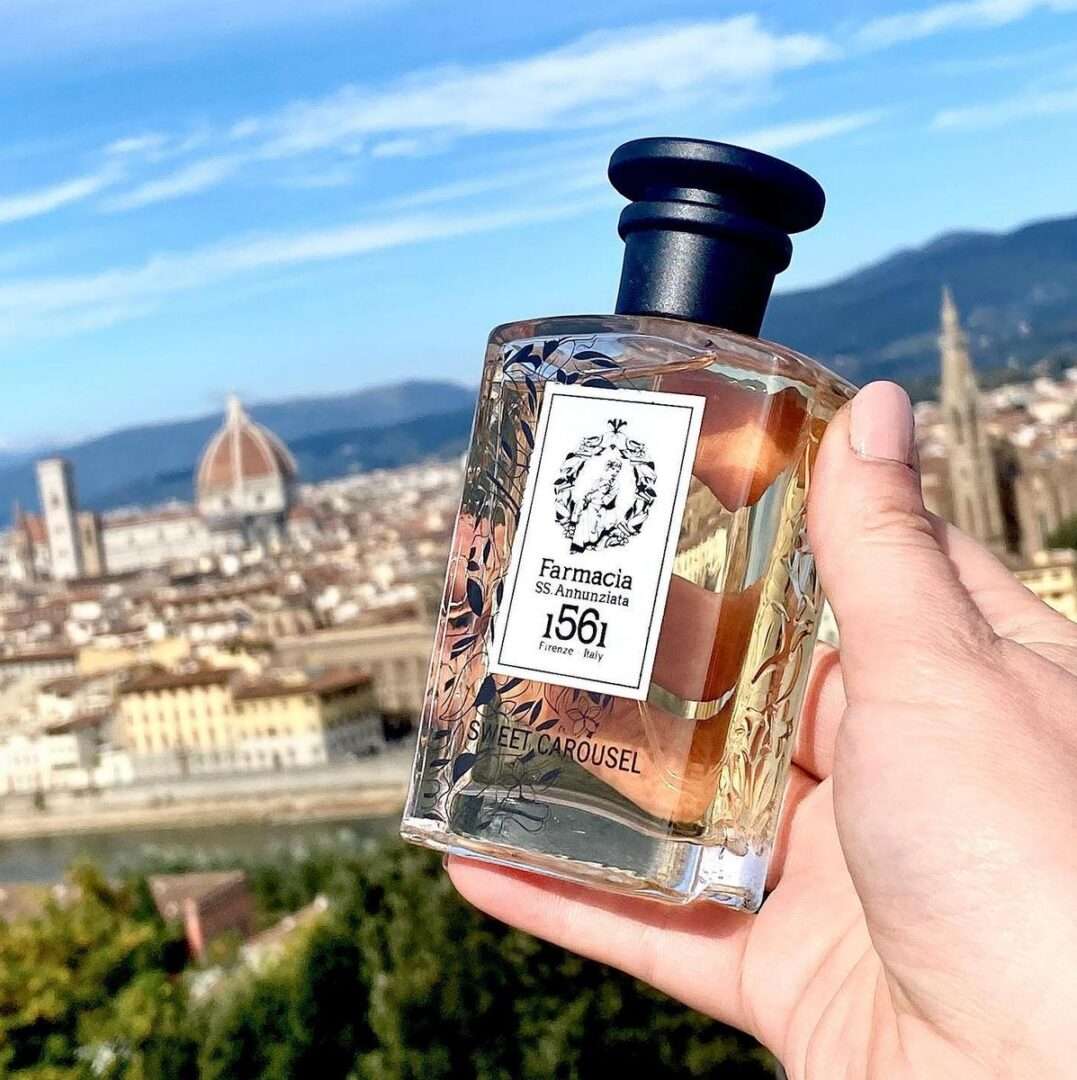 Nevertheless, I will of course throw myself full of zeal and vigor into today's review, even if also Christmassy luscious gourmand showers pour down on me. So into the fragrant pleasure! Here, here and here I link you again my last posts on the new collection of Farmacia SS. Annunziata.
Sweet Carousel – Fine almond greetings
Sweet Carousel seems to be a real delicacy, because the fragrance notes of lemon, red fruit, tangerine, almond, jasmine, geranium, amber, vanilla and white musk already sound really delicious. The name Carousel evokes childhood memories of fairground visits, roasted almonds, candy apples, loud music and colorful lights.
My boys also love to ride on a carousel. Of course, they are still so small that an ordinary children's carousel is still enough for them. Equipped with wooden figures or cars and at a leisurely pace making its circles. Sweet Carousel by Farmacia SS. Annunziata, however, seems to refer less to the mobile rides than to the culinary delights at a fair.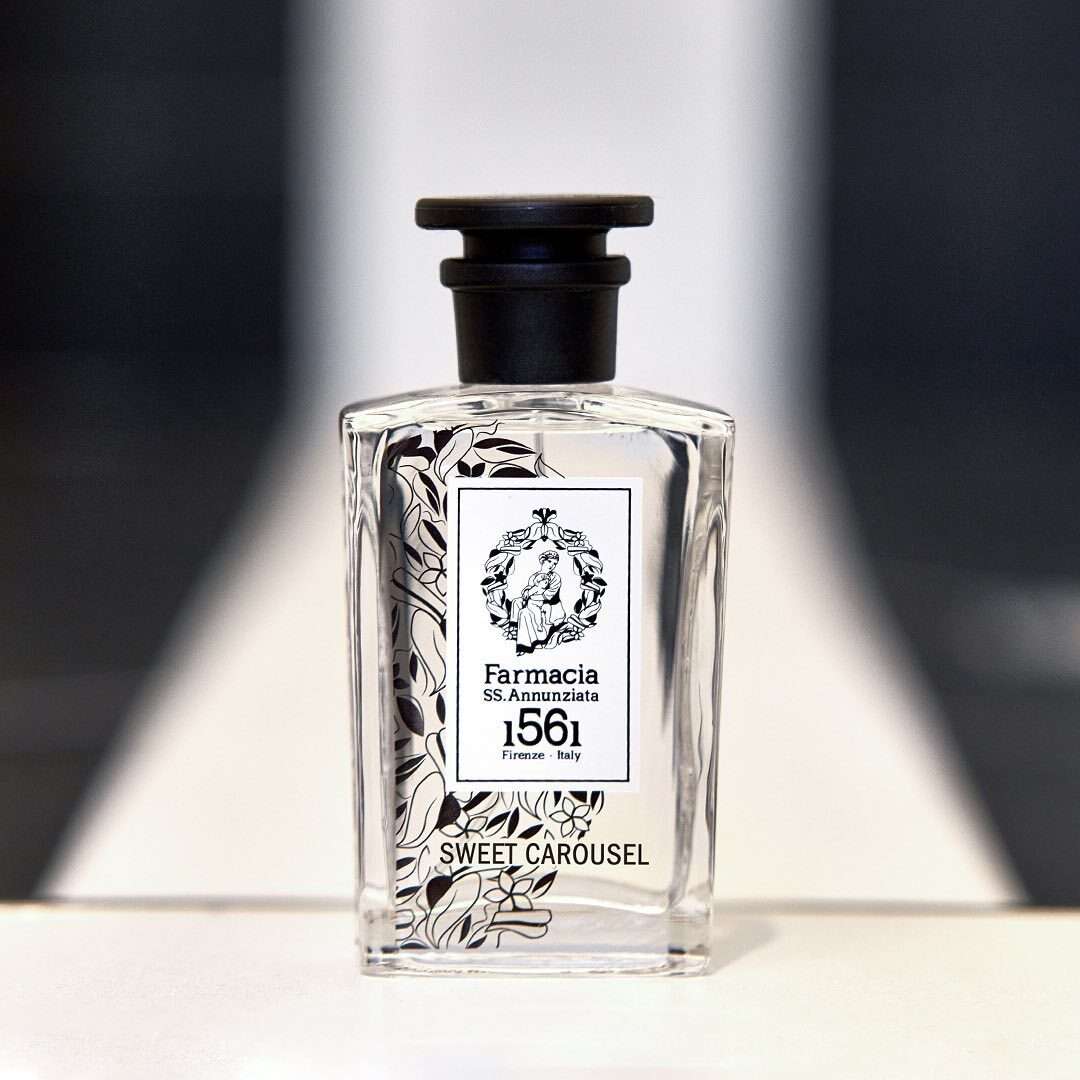 The smell of freshly baked cake spreads through the streets during a city festival and a carefree carousel ride. Almond, vanilla, floral notes draw in the air the sweet smile of two lovers.
Cake Happiness
Lovely and fresh citrus notes open Sweet Carousel from Farmacia SS. Annunziata, from the beginning underlined by milky almonds and greenish cool geranium. Jasmine, with its floral creaminess, underlines the smooth nuances of the fruity-almondy fragrance blend that seems so bright, so airy and transparent.
In fact, Sweet Carousel is not a sugary gourmet bomb as I had expected. Rather, the eau de parfum is fine-spicy, powdery, citrusy and wonderfully creamy. Bright almonds sink into a sea of noble jasmine milk, rounded by lovely vanilla and the warmth of amber and musk.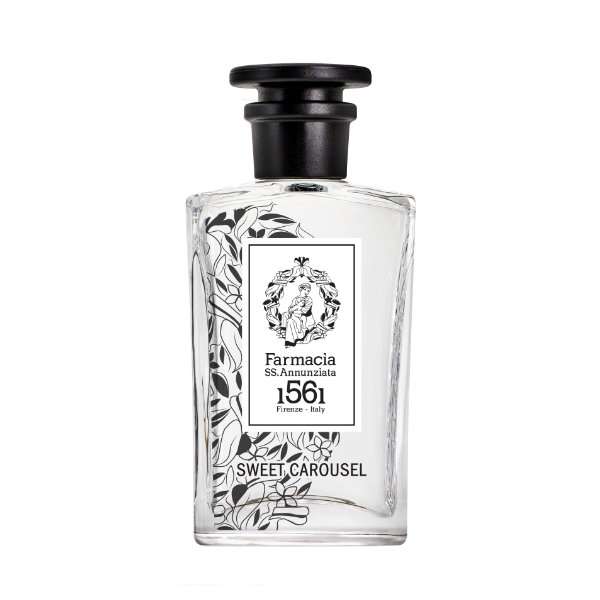 Sweet Carousel is a surprise for me, that can certainly already be read from my description. My colorful and sugar overloaded fairground memories are definitely different than the ones Farmacia SS. Annunziata presents to us here. The eau de parfum is a fine, light, creamy almond fragrance that smells of summer, of sunshine and delicious pastries. Less city festival, more cozy summer afternoon on the terrace, surrounded by flowers, by cooling greenery. On the plate a delicious almond cake, refined with a touch of lemon and lovely vanilla. Delicious for snacking!
Reunion Vanilla – Vanilla Connection
The name Reunion Vanilla initially made me think of the island of La Réunion. Formerly known as Île Bourbon, it is a French overseas region located east of the island of Madagascar in the Indian Ocean. In the French colony, sugar cane and vanilla were cultivated on a grand scale – and, as was unfortunately so common at the time, with slave labor. This is also the origin of the name Bourbon vanilla, which is still commonly used today for spiced vanilla, while the island itself has long since ceased to be called Île Bourbon and is now known as La Réunion.
The fragrance notes sound enticing: peach, bergamot, vanilla blossom, orchid, vanilla, musk, amber and woods probably give us a fruity-warm and powdery-spicy fragrance experience. This is not so much about the connection between vanilla and La Réunion, which I assumed somewhat hastily in advance, but rather about a different kind of encounter.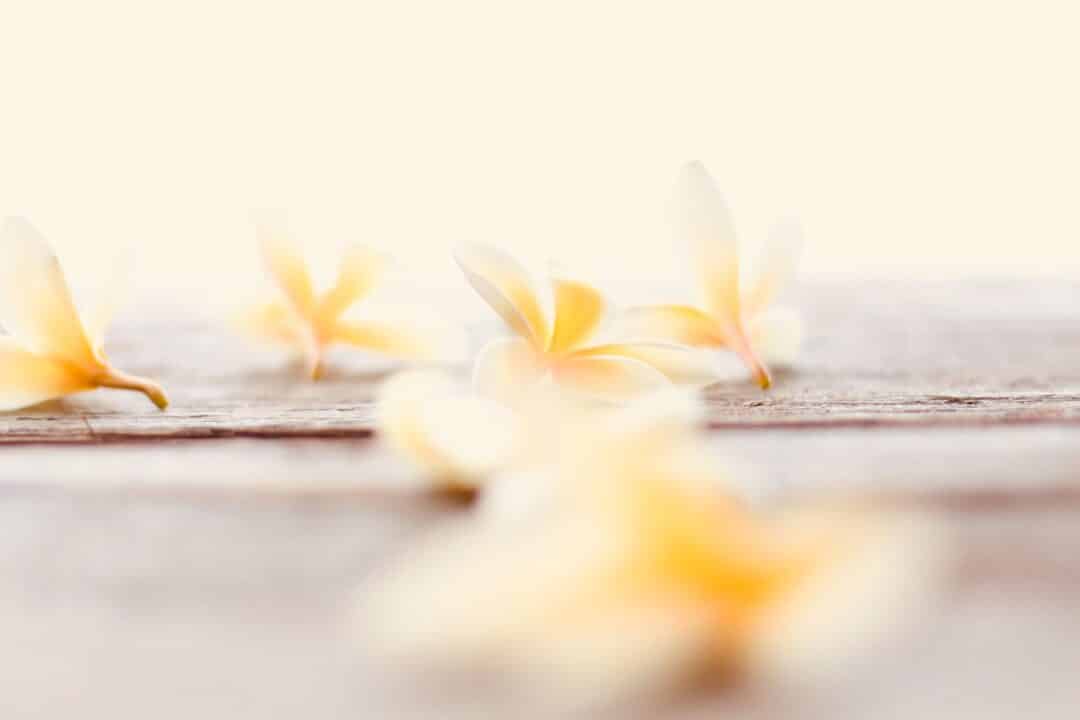 Amid the rustle of flowering trees and the silence of secrets at the bottom of the ocean, vanilla and orchid meet. An embrace that seals the union of the known and the unknown.
Floral vanilla pleasure
Like Sweet Carousel, Reunion Vanilla starts with fresh and citrusy notes that give the eau de parfum a certain lightness and liveliness. Soon, powdery-creamy and sweet-spicy facets join in, which I would assign to vanilla blossom and orchid.
Velvety peach blends into the bright and vanilla-sweet melange, which has a hint of exoticism, of the South Seas and tropical feeling. Musk, amber and woods join in the base and provide warm powdery and creamy woody accents to feel good and enjoy.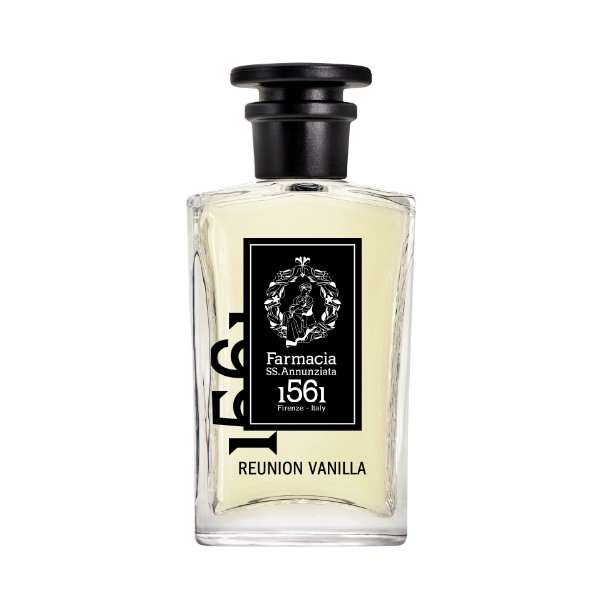 A pinch of wanderlust, coupled with Italian elegance and sophistication, all this embodies Reunion Vanilla by Farmacia SS. Annunziata in my eyes. A beautiful, modern and finely balanced vanilla scent that could absolutely please skeptics of the spice (or Vanilla Kisses sufferers – an oversweet vanilla deodorant by H&M which was quite popular in the 1990s). Summery, subtly tropical and wonderfully balanced in sweetness, spice and floral intensity. Simply wonderful!