We continue with Fiore di Cotone and Giardino dell'Iris by Farmacia SS.Annunziata, after I already introduced you to the jubilee fragrance Anniversary on Tuesday (read here). Although it is already warm here this morning – even at the Baltic Sea this summer is really sunny – I spontaneously longed for powdery fragrances, which is why I courageously grabbed today's two candidates. "Cotton Blossom" and "Garden of Iris" are the translations of the two fragrance names that are now on the program here. That sounds really powdery-beautiful! 🙂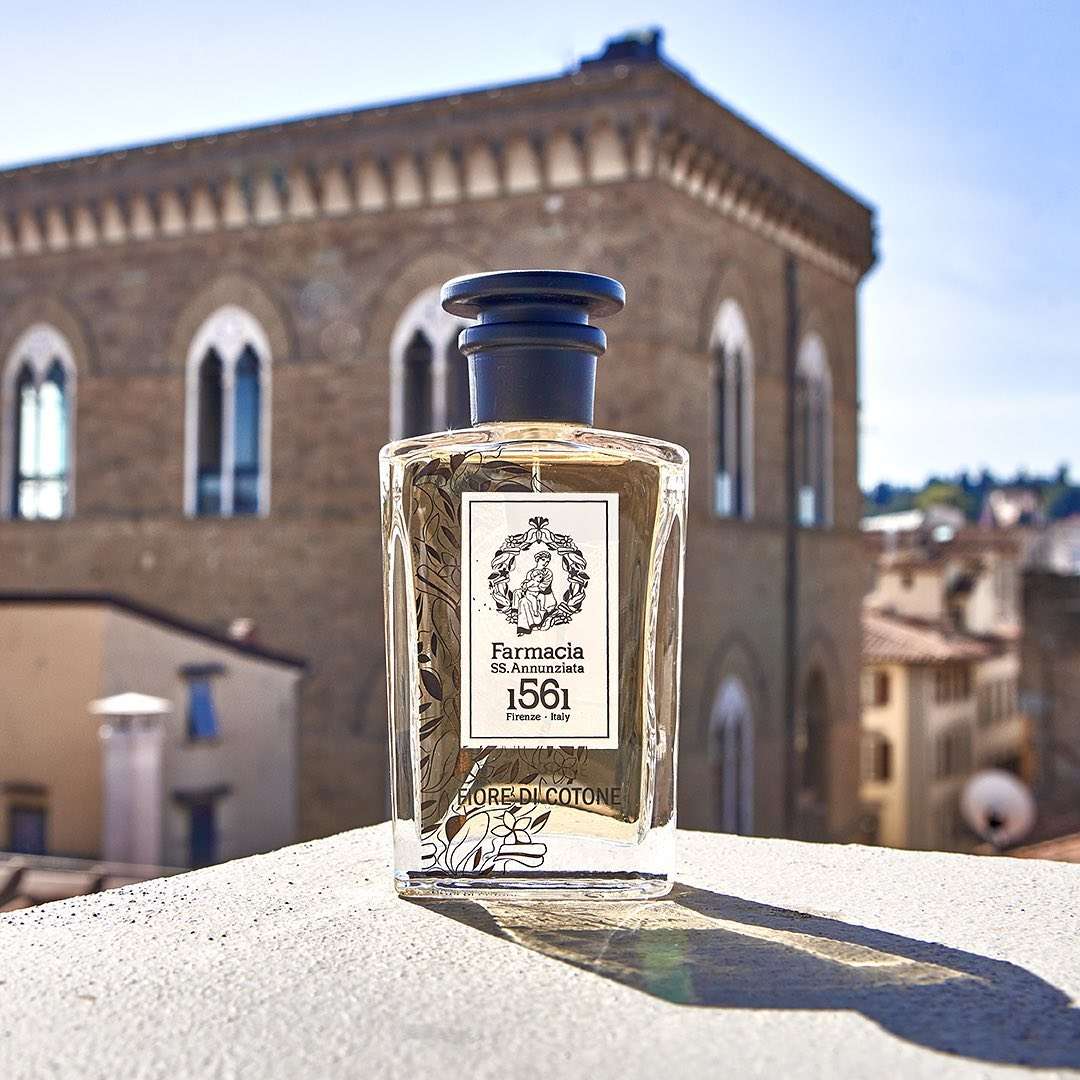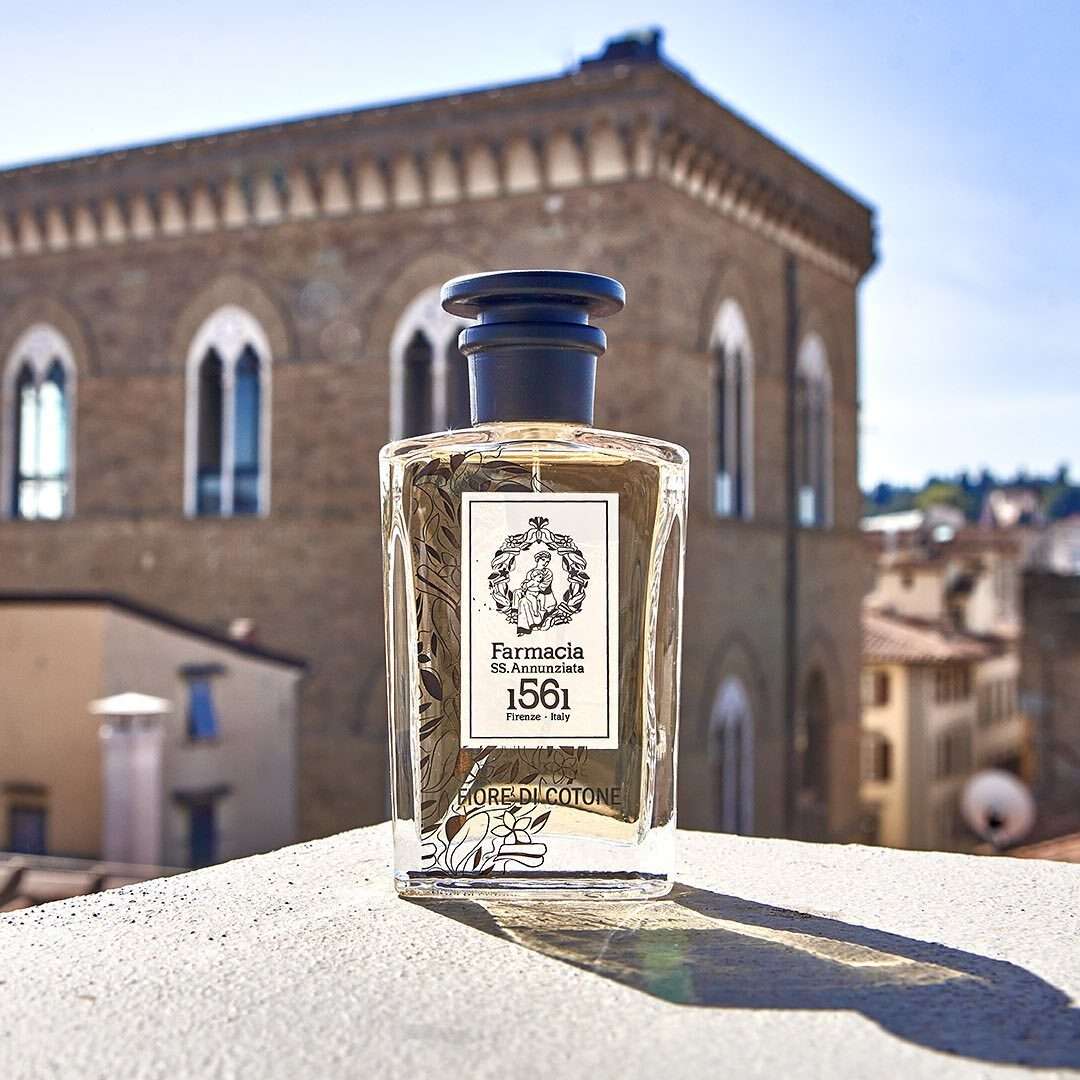 Fiore di Cotone – Florentine cotton flower
Fragrances with cotton flowers are often olfactory clean and it seems to be the same with Fiore di Cotone. Fresh, airy, often citrusy and sometimes a bit skin-like are clean fragrances. Powder can also often be found in these "pure" creations, and the fragrance notes are rather scarce.
Not so with Farmacia SS. Annunziata, who composed its eau de parfum Fiore di Corone from a whole range of ingredients, namely bergamot, floral notes, thyme, orange, cardamom, lavender, Iso E Super, mugwort, vanilla, musk and sandalwood.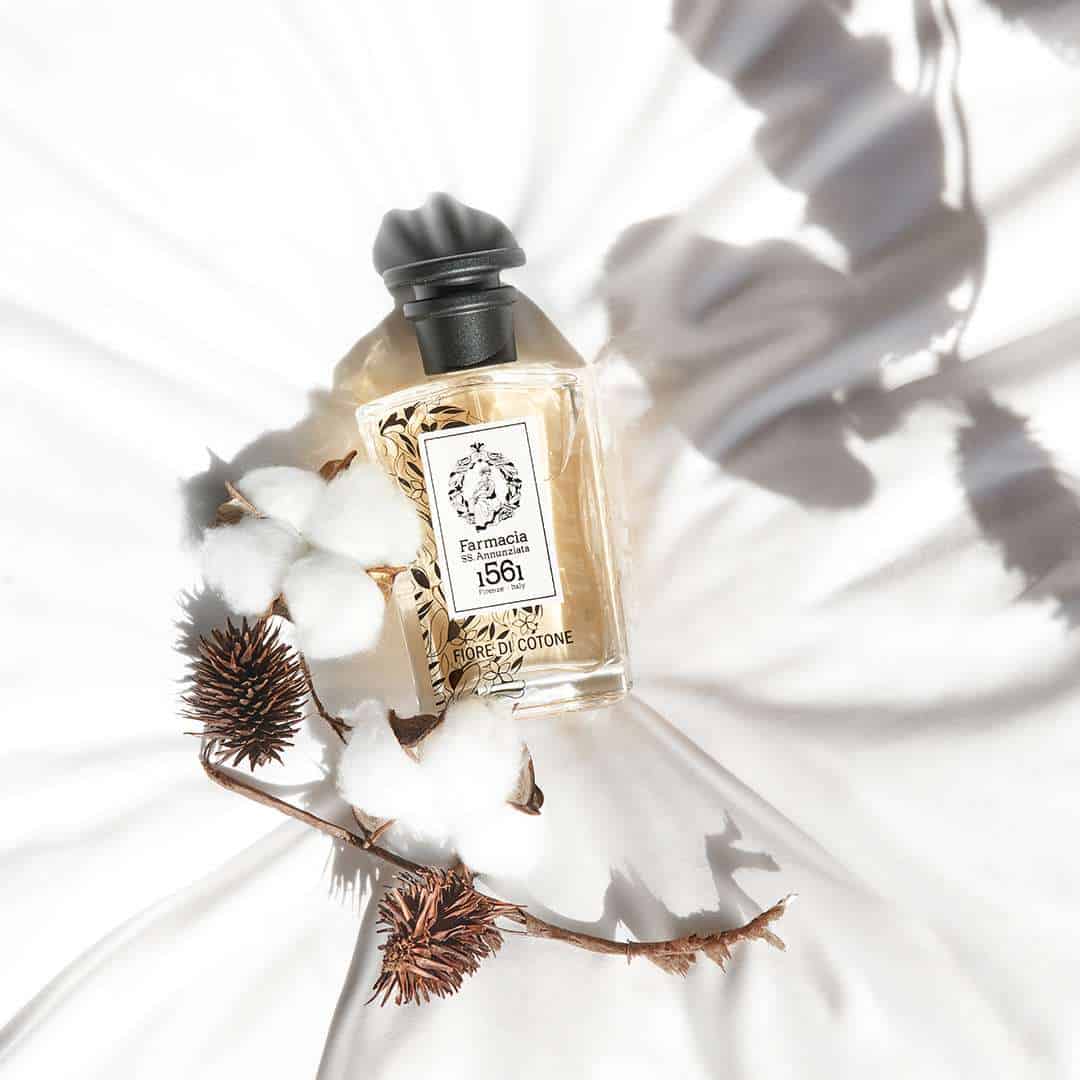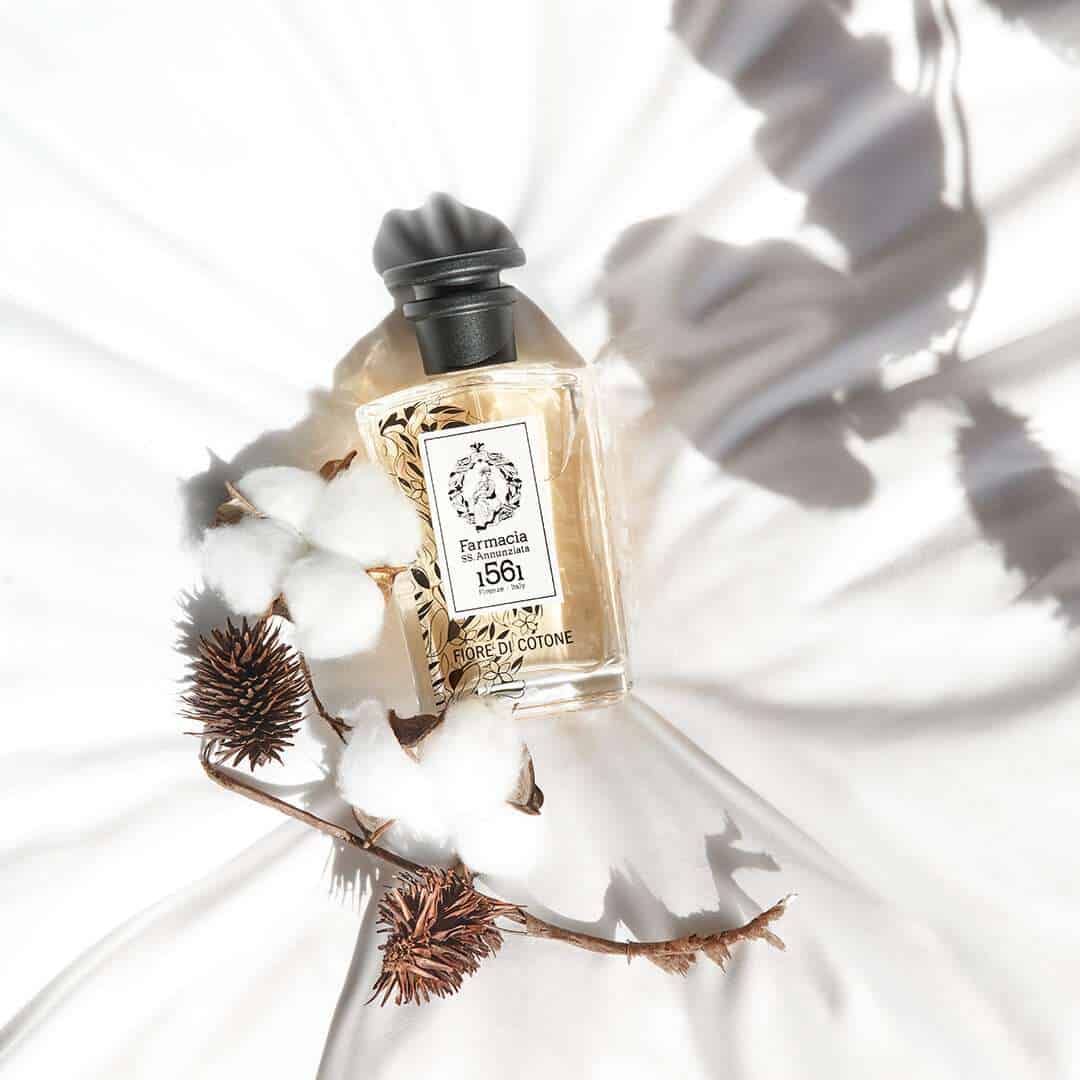 The smell of freshly hung laundry, the clarity of a cloudless sky. Lavender blends with the aromatic notes of thyme and the sweetness of vanilla to create a neat and clean perfume.
Cotton soft floral powder: Fiore di Cotone
Fiore di Cotone starts the fragrance with a lush citrus freshness and lovely sweet floral notes. Soon, powdery-soft nuances emerge, inherent with the typical Iso-E-Super shimmer for me, underpinned by the greenish-tart and subtly spicy accents of cardamom, lavender and mugwort. Soft, cuddly and cozy, Fiore di Cotone actually reminds me of a cool linen fabric in off-white or light beige.
I miss the fabric softener and detergent notes that are often used in clean creations in the fragrance of Farmacia SS. Annunziata. Or rather, they are not present, but I did not miss them. I find the powdery-floral purity of Fiore di Cotone much nicer, which does without just those gladly somewhat striking clean notes. With warm and vanilla-tinged sandalwood and musk, the creation fades out very gradually.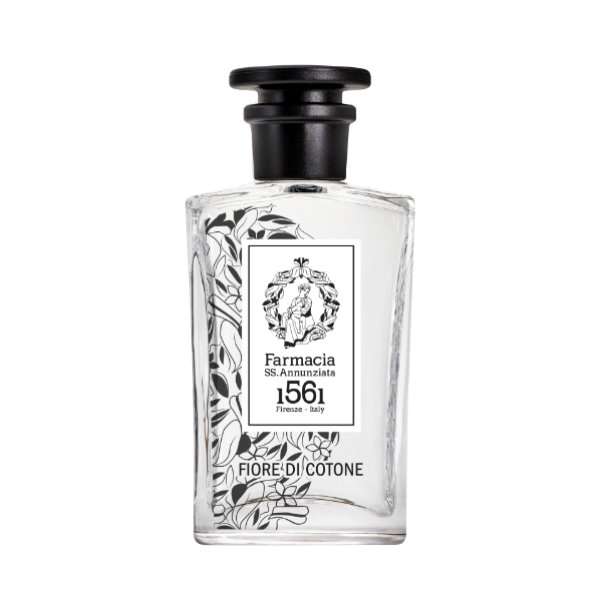 Fiore di Cotone from Farmacia SS. Annunziata is a wonderfully soft and gentle feel-good fragrance that should absolutely please friends of floral-spicy powder fragrances. Initially quite fresh thanks to hesperides, which, however, soon leave the fragrance and give way to herbaceous-tart lavender, greenish cardamom and mugwort as well as multifaceted iridescent Iso E Super. The durability I would classify as very good, the presence as light to medium, because the eau de parfum is rather close to the skin than room-filling. A fragrance that I would easily wear all year round. Top!
Giardino dell'Iris – A garden full of irises
Those who have been following the Duft-Tagebuch for a while and regularly may remember that I have already written about Giardino dell'Iris. Of course, not about the fragrance, which is today's topic, but about the iris garden of the same name, located in Florence, in my article on Oro Rosa by Bois 1920 (read here).
Because the Giardino delle Rose and the Giardino dell'Iris are two monothematic flower gardens that revolve – it can be guessed – around rose and iris. Both are located on the sides of Piazzale Michelangelo, a hot spot for all view lovers and panorama fans, because from there you have an excellent view over the city of Florence.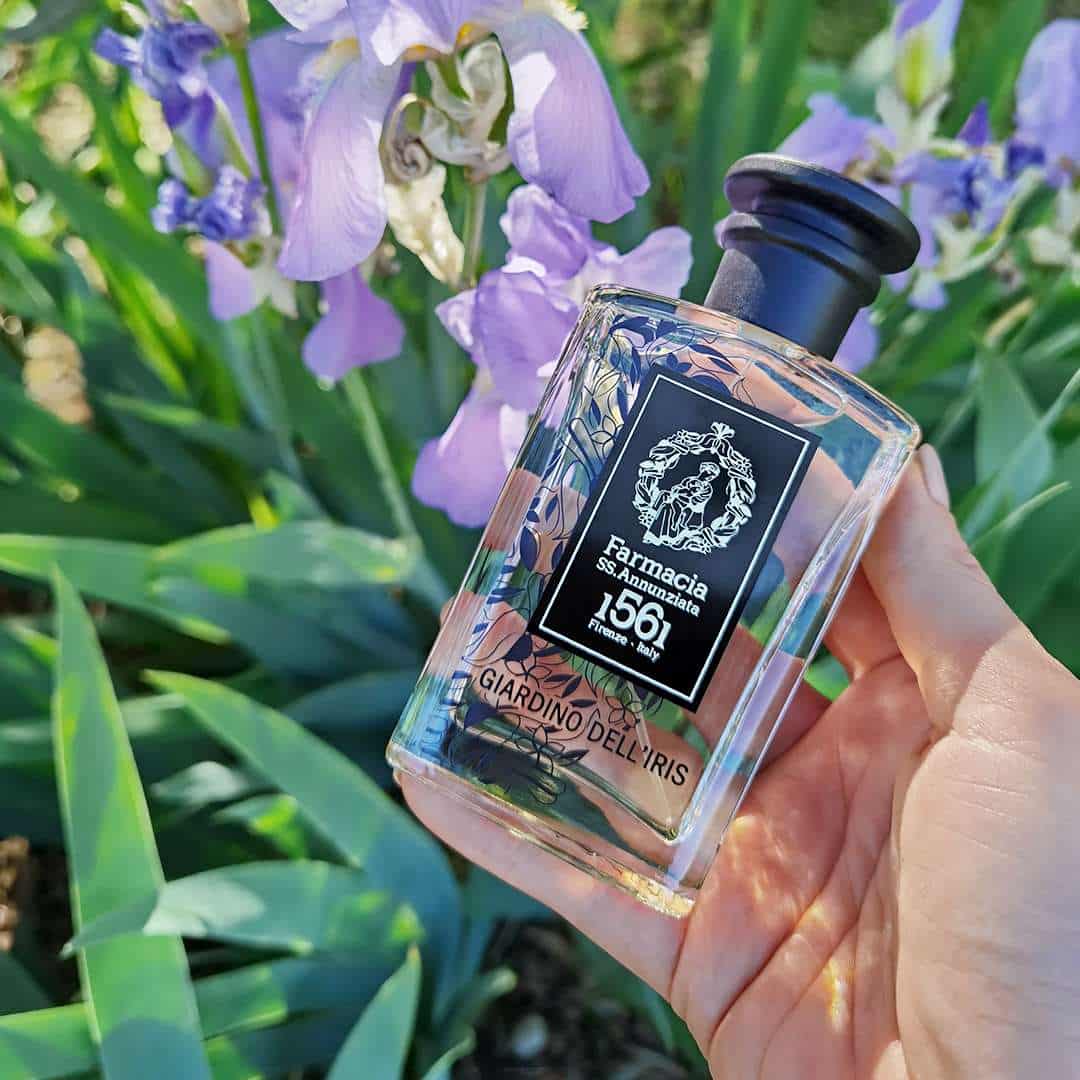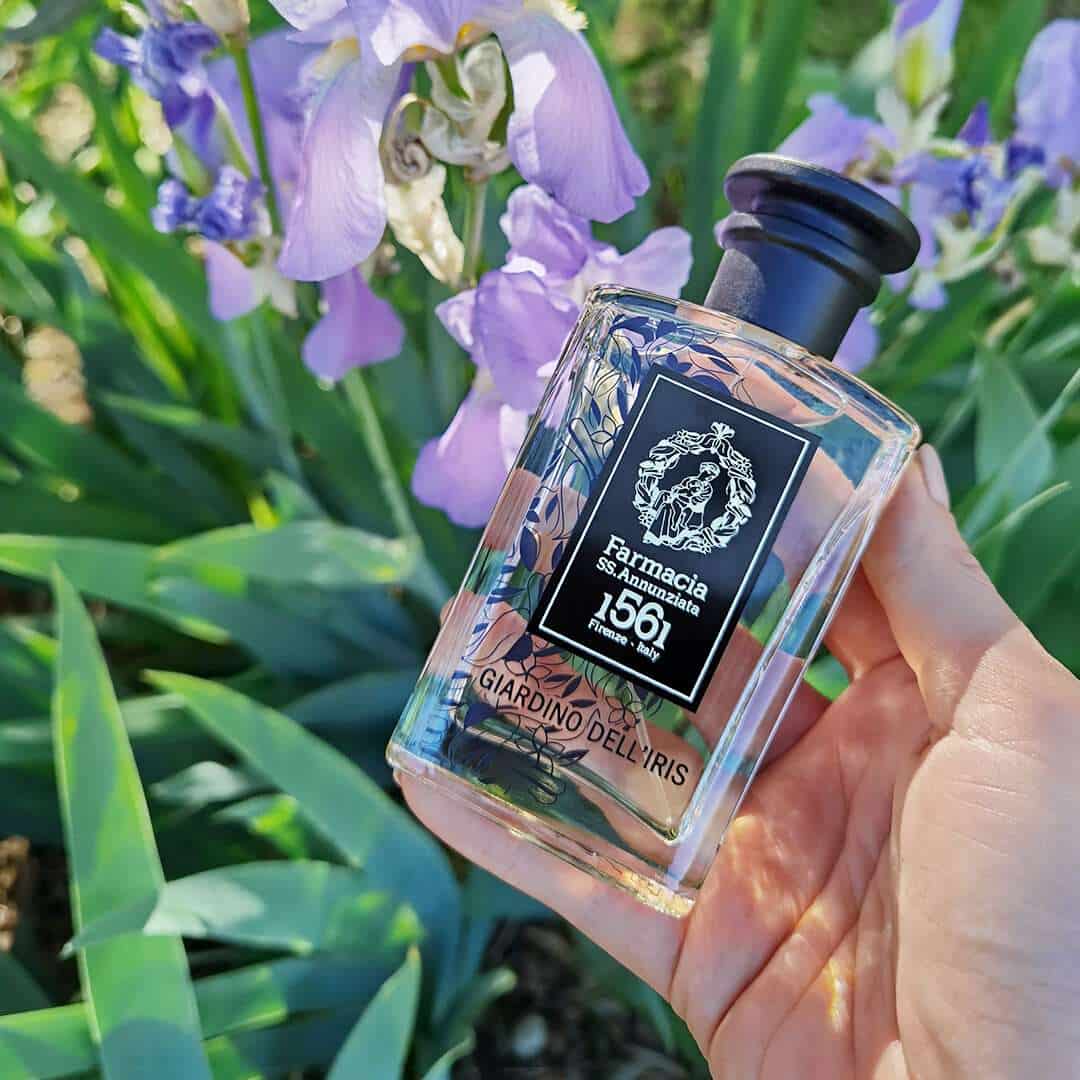 With the fragrance notes of bergamot, lemon blossom, elemi resin, myrrh, iris, amber, cedar, musk, vanilla, cashmeran and powdery notes sets Farmacia SS. Annunziata olfactorily transforms the Florentine garden full of irises.
Enchanting Garden – Giardino dell'Iris
Light and fresh, the eau de parfum shows around the iris immediately after spraying. Tart bergamot meets refreshingly gentle lemon blossom, soon underpinned by the dark green, forest-like nuances of elemi resin and myrrh. In my mind's eye I see myself running through shady greenery. Cool and humid is the air.
Gently powdery nuances reveal the presence of the noblest irises, which present themselves in a nobly restrained manner and merge with subtly leathery amber. Giardino dell'Iris is bedded on aromatic-woody cedar, which combines with cotton-soft cashmeran and powdery musk.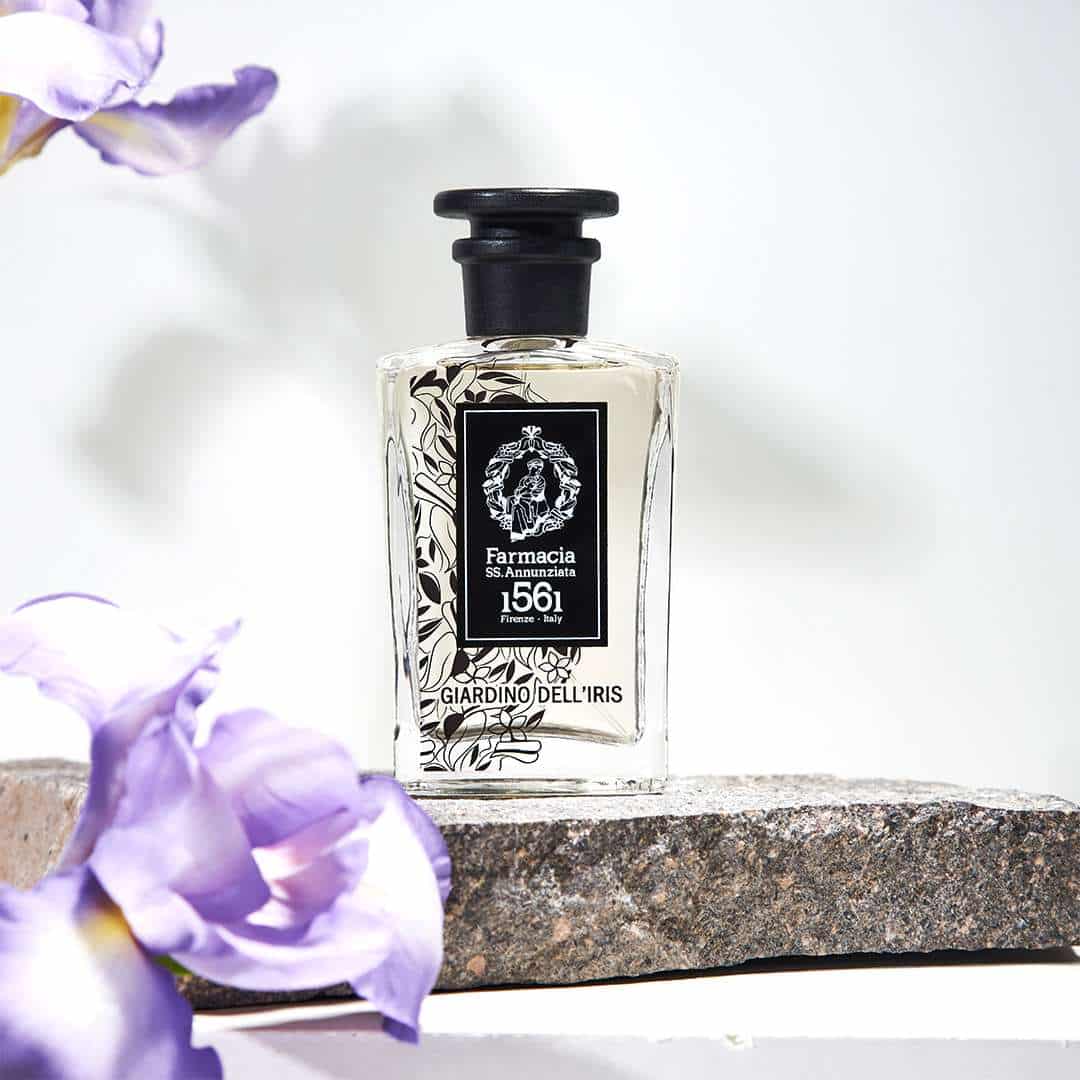 Giardino dell'Iris is an iris fragrance that reflects a walk through the said iris garden in Florence. At least the way I imagine it, having never been there before. Based on the scent, I see a garden in front of me that has both sunny and shady areas. One walks through this imaginary garden. Let the sun shine on your nose in one place, walk through shady and cool greenery in another, only to end up in a sea of powdery-leathery and warm iris that you want to fall into, enjoy and indulge in. Absolutely recommendable!