With Oro Rosa and Classic Paradise, Bois 1920 brings us a little sunny summer feeling in the dreary grey of February, which is absolutely necessary in my opinion. Last week, one storm or hurricane after the other whipped across our beautiful village in northern Germany, it rained seemingly without interruption and the brightness during the day was only marginally different from that at night – to put it exaggeratedly.
So I would say there are clearly worse things than being whisked away to beautiful Florence by Bois 1920. Since the Italian brand has unfortunately provided us with very little official image material, I will enchant you with the exceedingly photogenic Tuscan metropolis. That's nice, isn't it?
Oro Rosa – In the Rose Garden of Florence
Oro Rosa belongs to the Oro Collection from Bois 1920, which has already been reported on several times in the Duft-Tagebuch. I link you here the collected works to the Italian niche fragrance brand. A rose fragrance, as the name already reveals, is the youngest offspring of the Oros, which also include Oro 1920, Oro Nero, Oro Rosso and Oro Bianco . The last three Eaux de Parfum mentioned – as well as the one reviewed today – are available at Aus Liebe zum Duft .
Oro Rosa is a tribute to the Giardino delle Rose, the rose garden in the heart of Florence, located below the panoramic hot spot Piazzale Michelangelo. That square was built in honor of Michelangelo in the mid-19th century. Numerous statues of the great master adorn the piazza, from which you have a beautiful view over the capital of Tuscany. So it should attract many tourists to that very place and who of you has already been there, may have visited the rose garden below. By the way, there is not only a Giardino delle Rose, but also a Giardino dell'Iris, where a sea of irises is likely to bring tears of delight to the eyes of many an onlooker.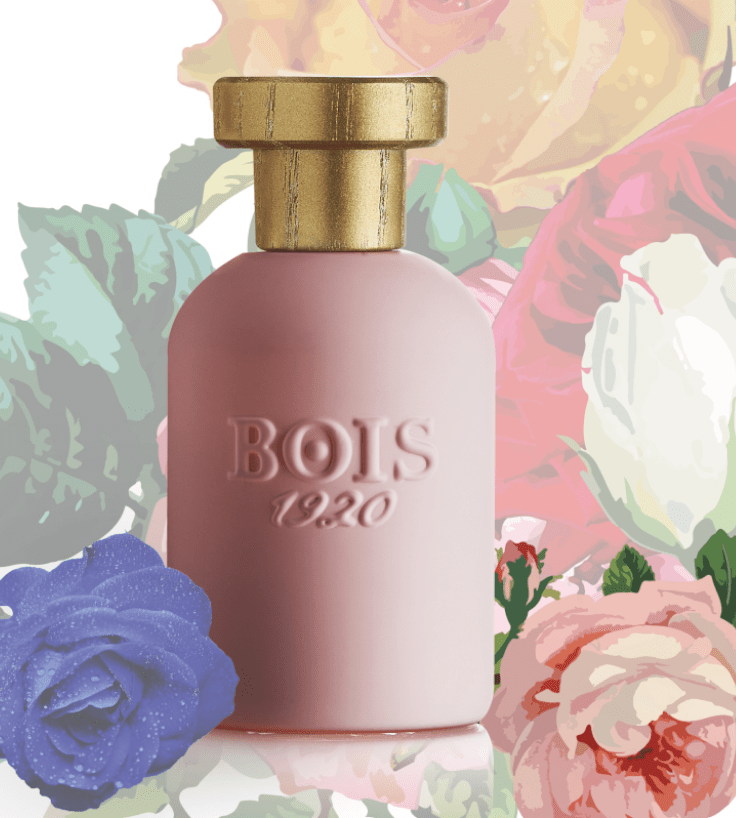 I still owe you the fragrance notes. Pear, apple, melon, orange, jasmine, rose, lychee, heliotrope, vanilla and musk give an idea of a fruity-powdery floral scent. It sounds at least springlike, and I hope that this is confirmed.
Above the rooftops of Florence
What shall I say? When Florence smells like this, I wonder why I've never been there before. I clearly perceive the sweet-watery notes of melon and juicy pear in the opening, closely followed by a powdery-creamy floral bouquet of light jasmine, a hint of rose and gorgeous heliotrope, which provides a proper kick with its lovely vanilla nuances.
Oro Rosa is intense, but also light and characterized by a certain ozonic transparency, which is permeated by dry-powdery accents. In the base, musk provides characteristic cuddly notes that beautifully round off the creation from Bois 1920.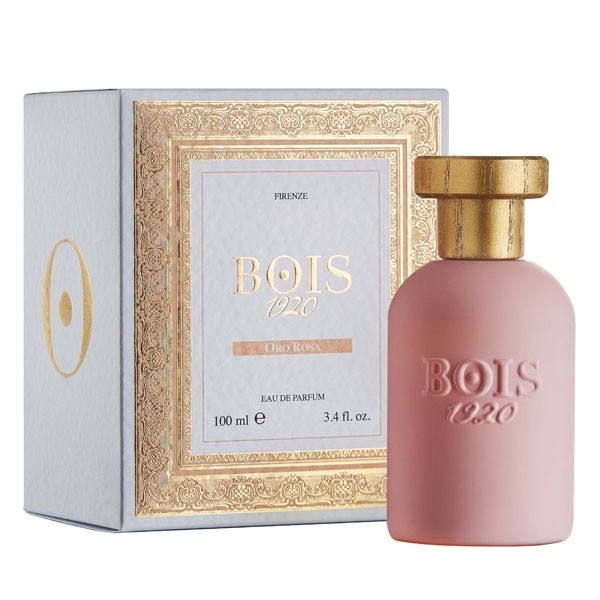 Oro Rosa von Bois 1920 is spring mood to spray on. A fluffy, airy, light, yet present fragrance with an exceedingly feminine, sunny and easygoing soul. A floral dream with fruit, spice and powder additions. Ideal for those who are looking for a good mood fragrance. In my opinion, an all-rounder when it comes to the occasions to wear. However, I see it because of its feminine expression rather on ladies and also seasonally, I would use it rather in spring and summer. 🙂
Classic Paradise
Classic Paradise does not sound too witty at first glance. But after all, the inner values of a fragrance composition count, and therefore I don't want to be so strict. Names are hollow words. But they can also be a harbinger of something, in the sense of "nomen est omen". Well, I see good and positive potential in Classic Paradise, because we can all do with a bit of paradise. 🙂
In my opinion, it does not always have to be the tropics when talking about paradise. Every place, every area, every moment, every mood, every hug can become one in my eyes and everyone is left to decide what you want to call it: land of milk and honey, oasis of well-being, eldorado or paradise.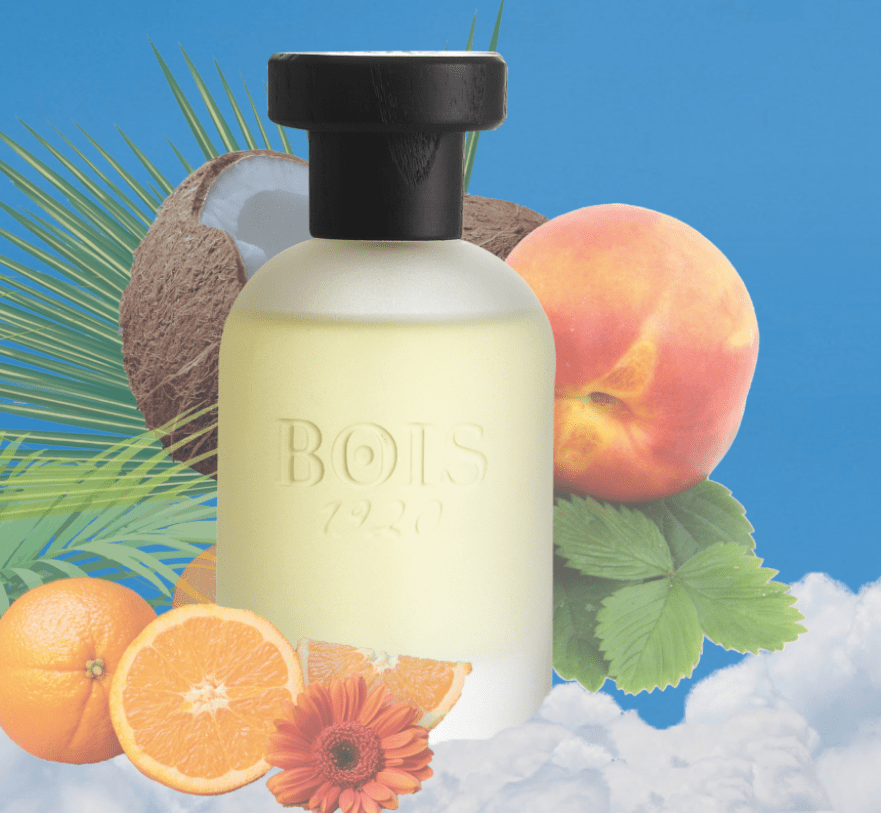 Classic Paradise by Bois 1920 has a direct tropical reference through the fragrance note coconut, which the Italian brand combines with orange, lemon, bergamot, rose, blackcurrant, galbanum, peach, magnolia, nutmeg, lavender, anise, sandalwood, vanilla, patchouli, musk and amber . However, the press release does not necessarily speak of the South Seas, but rather notes that this Eau de Parfum is a contemporary interpretation of an Eau de Cologne.
Paradise is in us
A gentle citrusy opening heralds the fragrance progression of Classic Paradise, rather tart and tangy. Right from the start, underpinned by a soft and creamy note that prevents the Hesperides of the opening from becoming too exuberant. Velvety peach and the characteristic nuances of blackcurrant are added. Very quietly and subtly, they push their way into the scent, while lavender adds softly herbaceous accents that are underscored by galbanum. All this happens on a very calm and close-to-skin level.
Classic Paradise envelops like a feather-light but warming veil and reveals – despite all the transparency – an extremely close-meshed and complex structure. The fragrances literally flow into each other, uniting in a fruity, floral and exceedingly creamy melange. Gradually, the fragrance composition with sandalwood, patchouli and amber becomes warmer, more intense and also sweeter, while the powdery-spicy notes of vanilla and musk immerse Classic Paradise in a cozy feel-good atmosphere.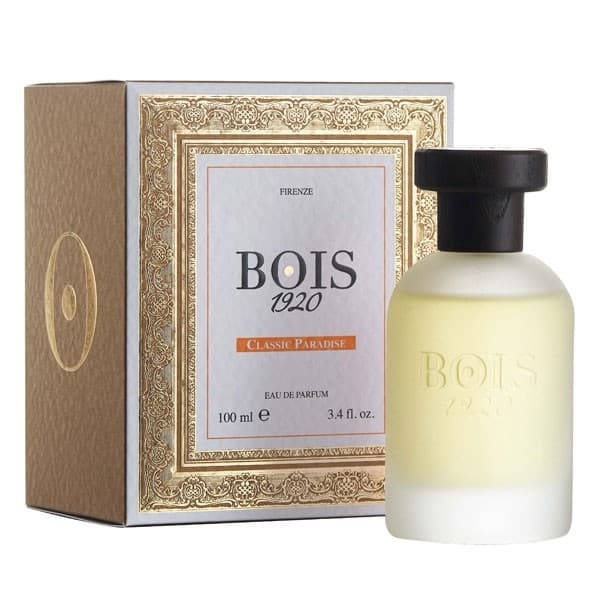 Stylish, elegant and modern, Classic Paradise is a beautiful, light yet enduring Eau de Parfum that should appeal to all those who prefer soft tones when it comes to fragrances. Finely balanced and extremely harmonious from the opening to the base, the composition of Bois 1920 reveals itself as a calm, contemplative and comforting fragrance, which in my eyes actually acts like an olfactory oasis of well-being. Absolutely suitable for everyday and office use, but in my opinion more suitable for the warmer season.