Tom Ford was once again creative in terms of fragrances and presents us with his Rose Garden Collection and the fragrances Rose d'Amalfi, Rose de Chine and Rose de Russie three Eaux de Parfum, which revolve around the queen of flowers. Almost exactly two years ago I introduced you to Rose Prick, a wonderful and with a filthy name provided peppery-spicy rose fragrance (read here). Tom Ford seems to have a soft spot for the rose – as well as for an ambiguous naming – and so I'm curious to see how the three new rose scents will develop in terms of fragrance.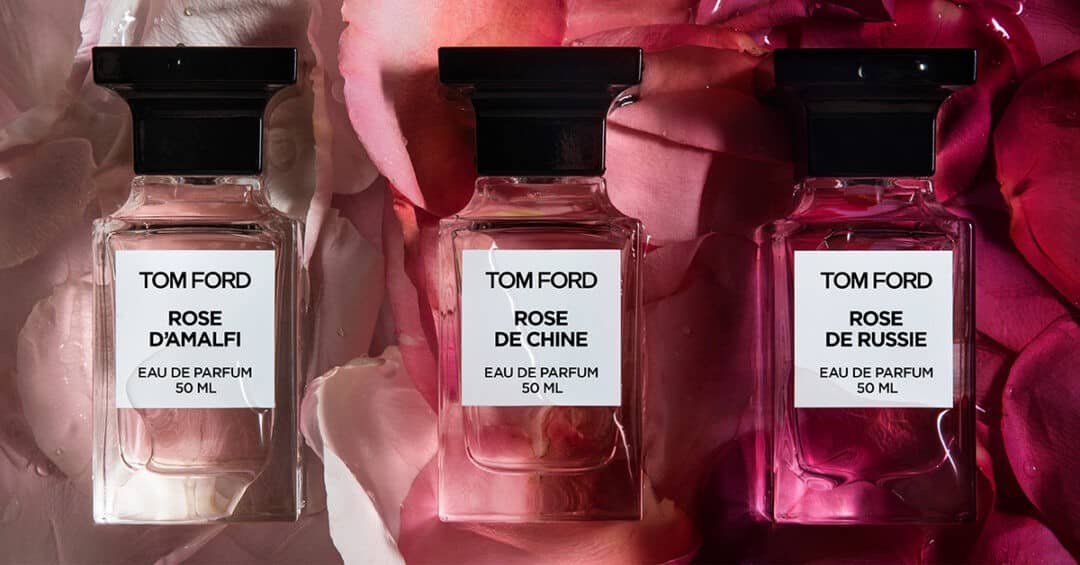 As part of the Private Blends, the Rose Collection is part of a collection of exclusive perfumes that offer the highest quality raw materials and original recipes. A certain fragrance note is always at the center of the creation, the others play around it and underline its very own and individual facets. Tom Ford provides each of his roses in the Rose Collection with different fragrance companions, creating different variations of a single flower.
Rose d'Amalfi – Italian rose flair
The Italian Amalfi Coast is not only a very picturesque spot that attracts numerous tourists every year. Numerous citrus fruits also come from there. Worth mentioning in particular is the Amalfi lemon, whose aroma is said to be more intense and determined by less acidity. The bright yellow peel can be used in the kitchen as well as the relatively lush white layer underneath, to which the tangy pulp finally adjoins.
The lemon itself does not seem to occur in Rose d'Amalfi – at least if the official fragrance notes are to be believed. For this, Tom Ford uses the Hesperid-related bergamot and tangerine, which he supplements with pink pepper, rose, heliotrope and almond.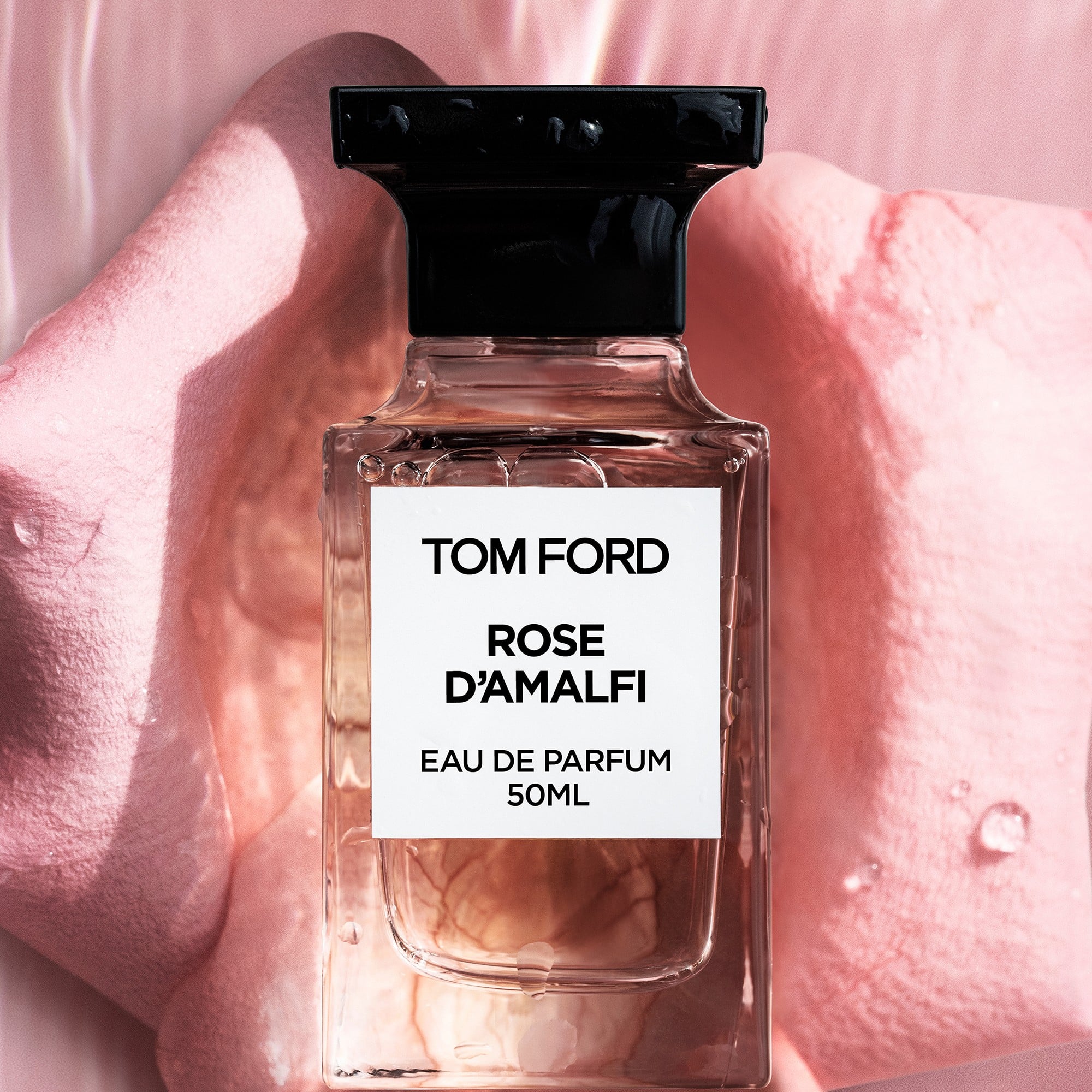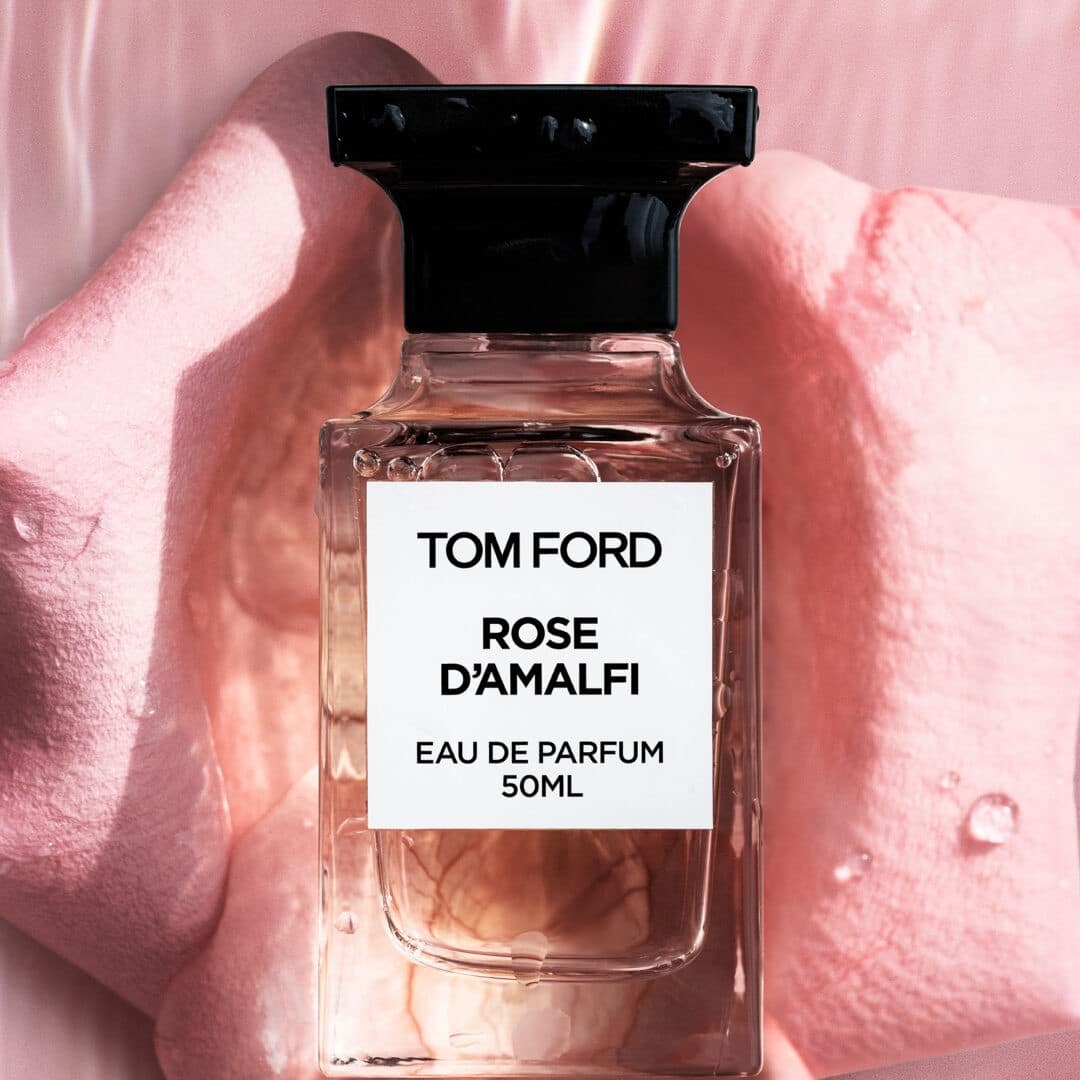 Creamy floral bouquet of flowers
With a delicately citric freshness and subtle pepper nuances, Rose d'Amalfi opens the flower series from Tom Ford. From the very beginning, the creation is underpinned by the notes of a soft, light pink rose, very gentle, but still present and permeated by a certain moisture. I have to say, the press photo fits perfectly. In front of my inner eye, I roam through a rose garden in the early hours of the morning. The freshness of the night is still clearly perceptible, but the first warming rays of the sun flash here and there. The magnificent and lavishly filled rose petals are covered by a delicate layer of dew …
Gradually, the vanilla-looking nuances of the heliotrope slide into the fragrance process. They give Rose d'Amalfi lovely facets and depth, supported by the creamy-milky notes of roasted almonds that are subtly reminiscent of marzipan. As if all this wasn't enchanting enough, Rose d'Amalfi also surprises with an amazing stamina. Despite the rather lighter-looking fragrance character, the fragrance remains well perceptible on my skin for a very long time, even if after several hours only the sweet-gourmandy nuances of a vanilla almond cream are left. Delicious to kneel in!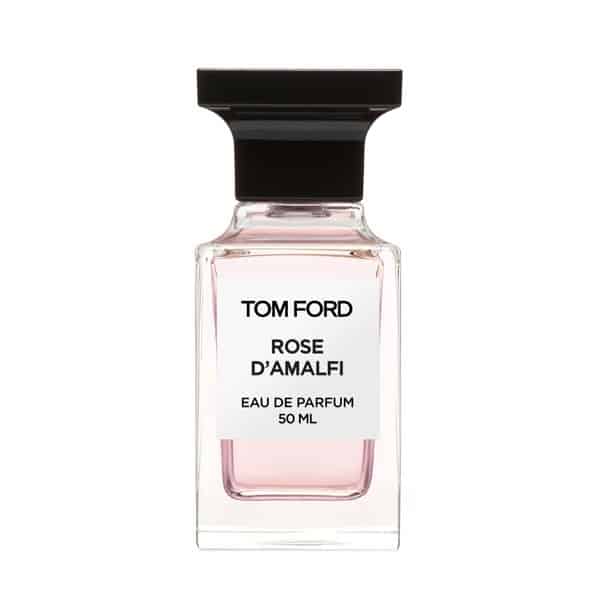 Rose d'Amalfi is a delicate and gentle rose scent that combines fresh, powdery and gourmand nuances. A light and transparent eau de parfum that looks feminine, summery-springlike and incredibly carefree. Thus, the creation of Tom Ford is a fragrance for every occasion, which makes it feel just as comfortable in the office, everyday life and leisure time as when going out in the evening or on a romantic date. A stunning prelude to this Rose Garden Collection and thus a test recommendation from me. 🙂
Rose de Chine – magical China rose
The variety of China roses actually exists, which was still new to me as a relative garden newcomer who has not yet dealt with the extensive topic of roses. The Chinese roses had their origin in the eponymous country in the Far East, from where they found their way to Europe in the late 18th century. With them, they brought some characteristics that delighted rose lovers and gardeners in this country. So they bloomed several times a year, often had a beautiful fragrance and new fascinating colors.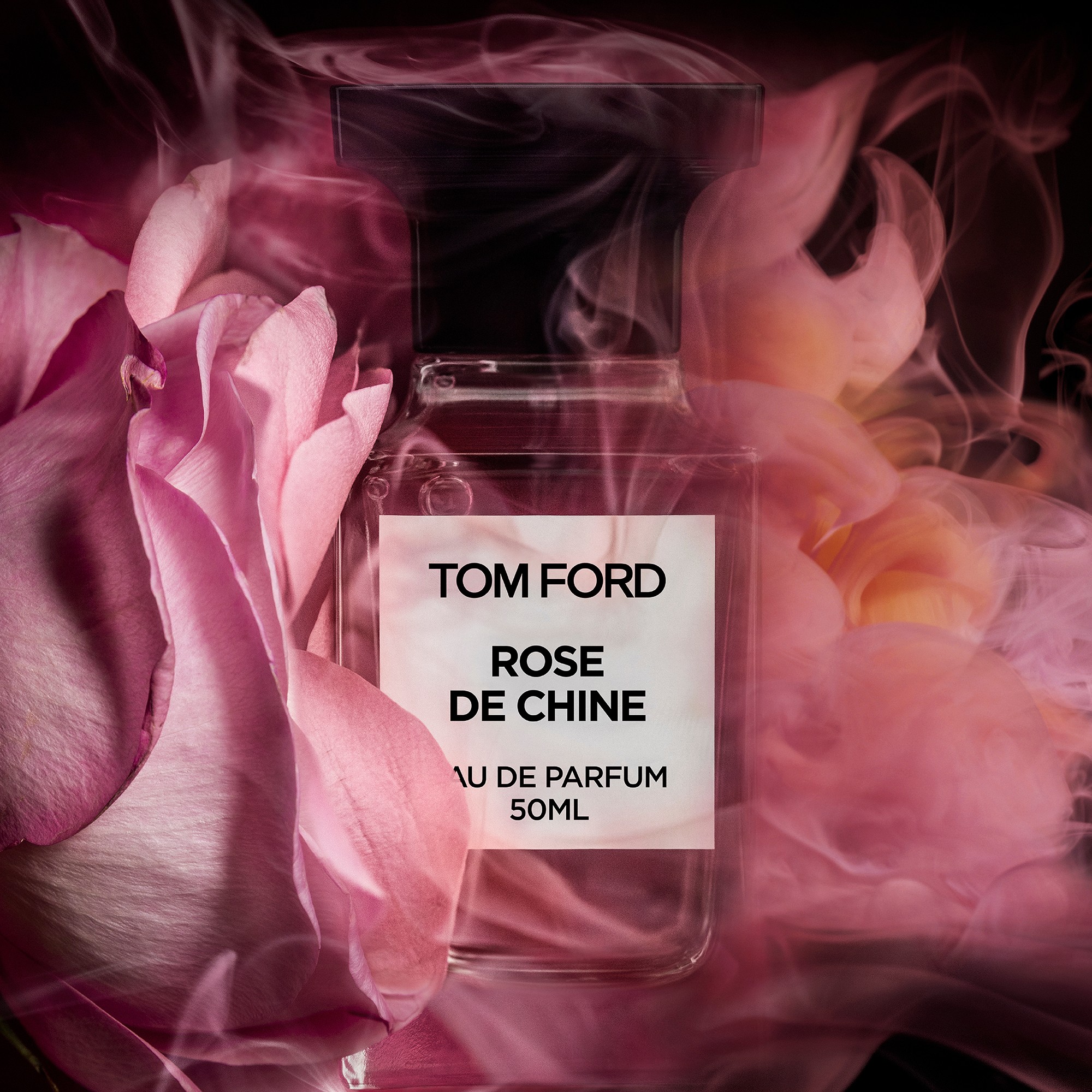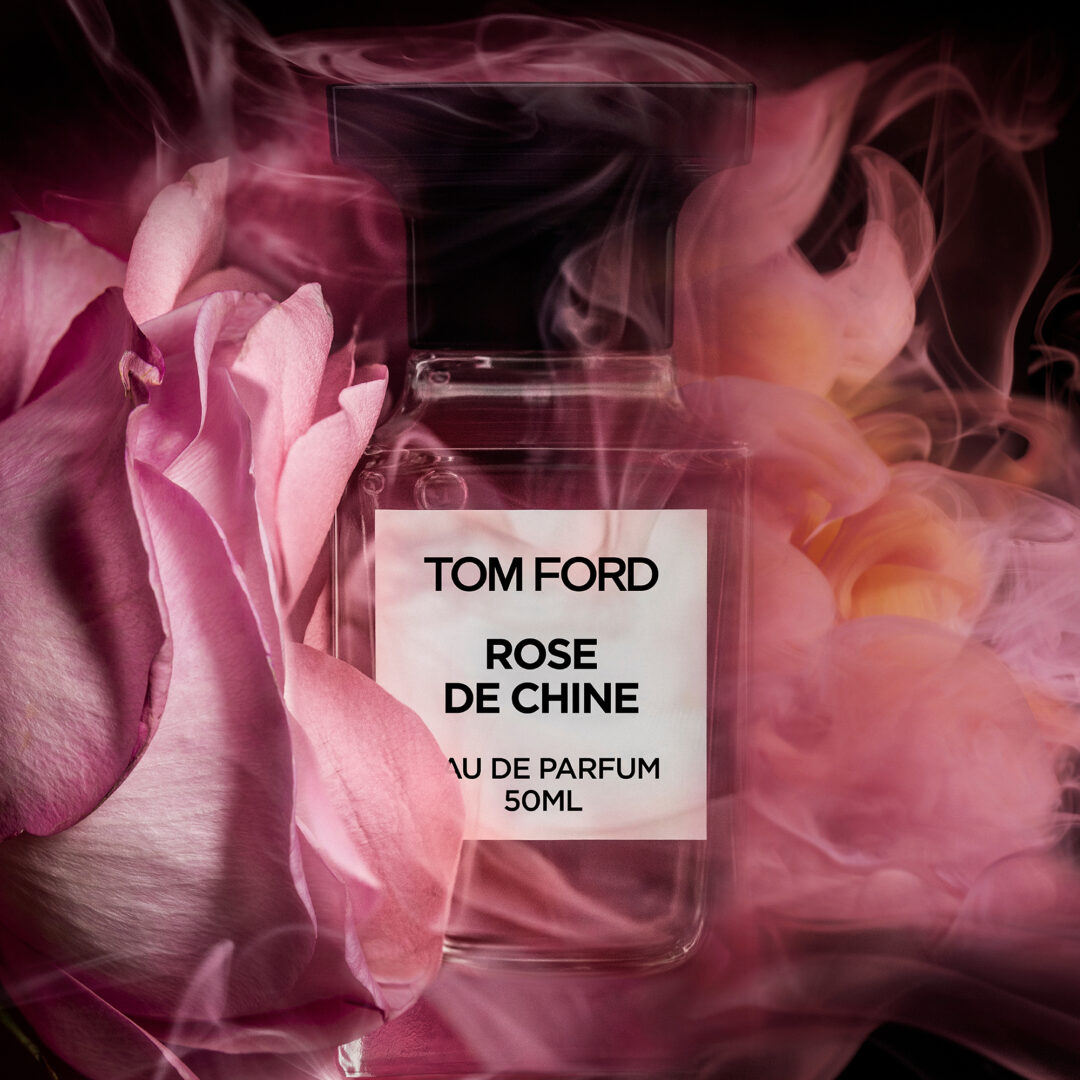 The scents of Rose de Chine give an idea of deliciousness: rose, peony – incidentally also a flower with a direct reference to China –, labdanum (cistus) and myrrh are the ingredients of this Far Eastern-inspired flower bouquet from Tom Ford's Rose Garden Collection.
Contemplative dark rose
Profound, lush and quite dark, Rose de Chine shows itself right at the beginning and thus presents completely different facets of the Queen of Flowers than our first candidate today. But also the Chinese rose variant reveals calm and gentle floral notes, which look strikingly creamy and powdery, only in darker colors.
It is not a wicked or lascivious rose that Tom Ford serves us, but also not an innocent and girlish creature. The peony gives its neither related nor in-law namesake a certain lightness with its subtly watery undertones, while labdanum and myrrh bring smoky-warm accents into play and give the fragrance lasting intensity and depth.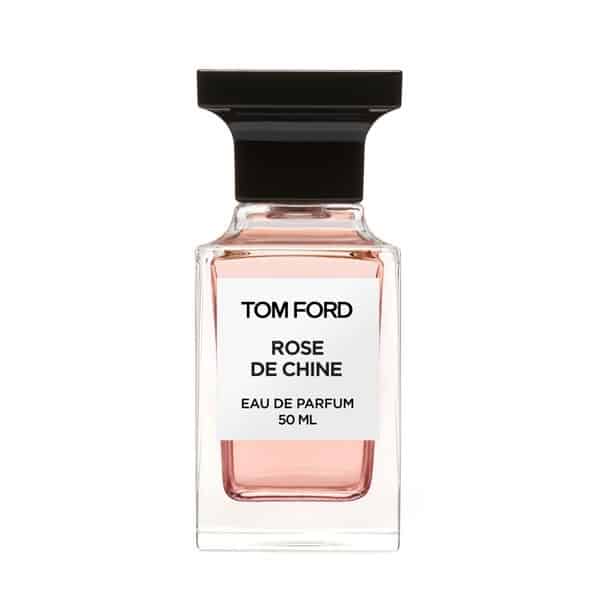 Rose de Chine is a self-contained eau de parfum that can certainly boast a certain opulence. A warm, creamy and balsamic rose scent, no room filler, but still present, very modern, elegant and cleverly composed. A creation that I personally see more in the evening, but Rose de Chine by Tom Ford is certainly also not wrong in the office and everyday life. A really great fragrance, which I can imagine wonderfully even in the cooler season. An adult rose that knows what it wants.
Rose de Russie – Russia's Flower Queen
Russia and Latvia also have a rose to offer, which goes by the sonorous name "Queen of Russia". This rose was discovered in the Baltic States at the end of the 1990s and has an extraordinary frost resistance. A quite understandable feature, if you look at the winter temperatures in Russia. But it is not this cold resistance that Tom Ford translates olfactory in his Rose de Russie. Rather, he pays homage to the daring side of a rose with the fragrance.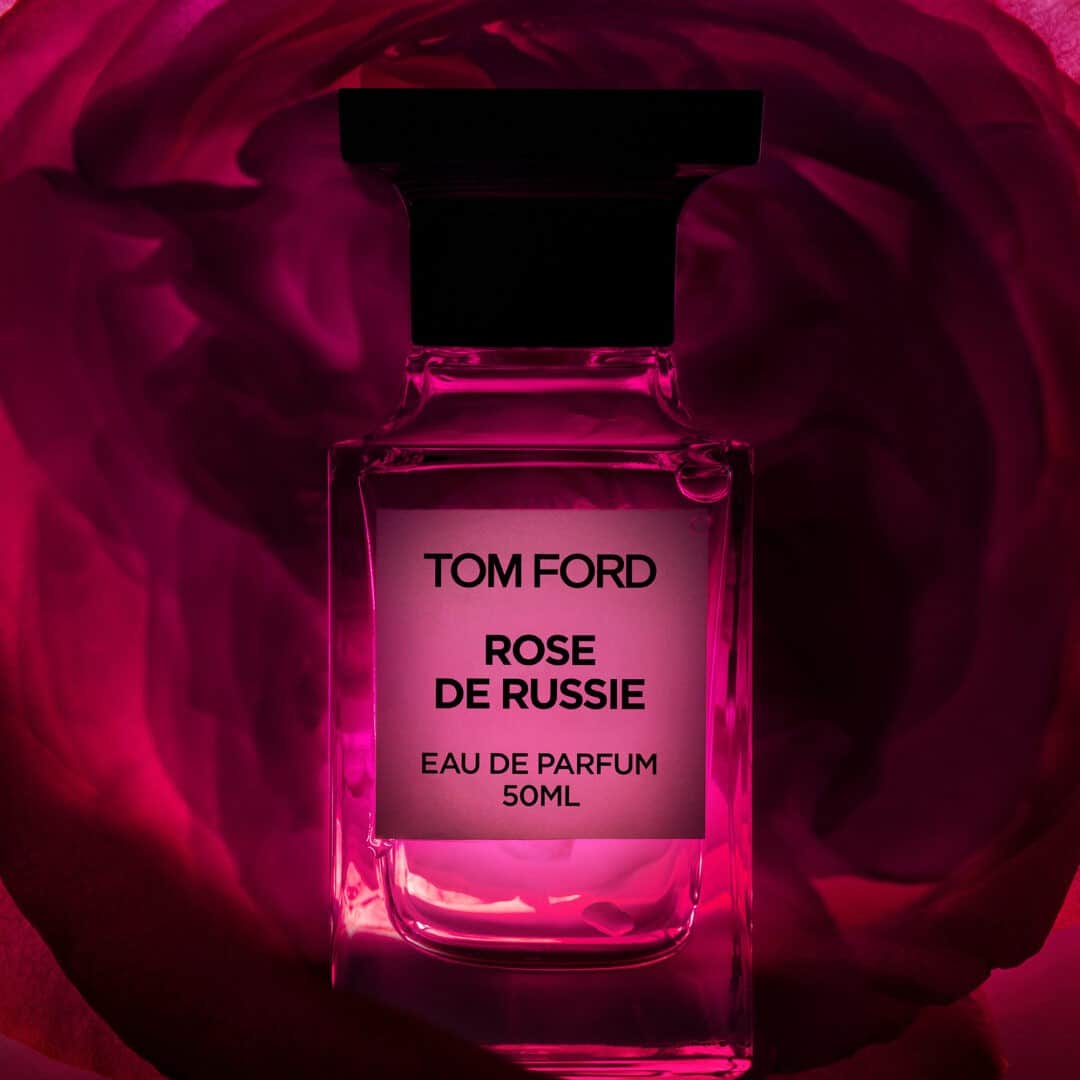 White pepper, rose, woods and leather are Tom Ford's ingredients of the Russian flower called Rose de Russie. A leather rose that was announced as opulent and extravagant. That sounds absolutely tempting, don't you think?
Rose in lacquer and leather?
A bright pepper sharpness gives the prelude of Rose de Russie tingling accents that spontaneously remind me of juniper. Because I also notice dry wood notes. These are also rather bright in nature. I am – I admit this openly – quite surprised because I would have expected something completely different. A dark, lush and blood-red rose permeated by sensual notes, for example, which swings the leather whip dominantly and demandingly. Rose de Russie is by no means so. Slowly, the protagonist pushes herself into the fragrance action, transparent, non-sweet, discreetly soapy, but quite magnificent.
The leather has the rose in tow. This reveals dark and creaky smooth leather features and gives the creation depth, intensity and tension. Rose and leather form a very harmonious and equal fusion. Together they dance through the scent, accompanied by the still perceptible pepper sharpness and dry wood notes. Only after a long time does it disappear and clear the way to a lush base of softer leather and beguiling rose, into which you can confidently let yourself fall.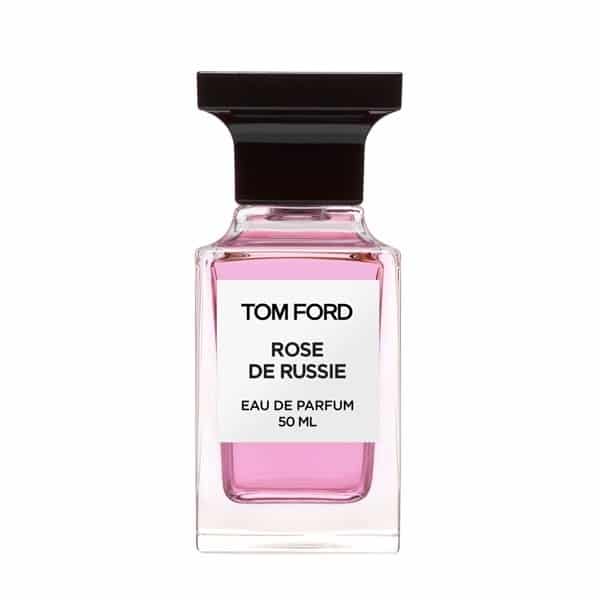 Rose de Russie is a slightly different kind of leather rose than I would have expected. But this does not detract from the beauty of the Eau de Parfum. Brighter, more transparent and cooler than expected in the top notes and heart, Tom Ford's Rose de Russie is a striking unisex fragrance in which the rose with dark smooth leather has been accompanied by an olfactory companion at eye level. The basis presents itself as an extremely warm, balsamic leather-rose combination, which together is almost unbeatable. From the trio certainly the most non-rosy fragrance of the Rose Garden Collection, but perhaps also the most exciting for some of you. 🙂