Three new fragrances from the collection Molecule 01 + by Escentric Molecules arrived at my place on the Baltic Sea a few days ago: Molecule 01 + Guaiac Wood, Molecule 01 + Black Tea and Molecule 01 + Ginger. Perfumer and brand founder Geza Schön is a welcome and regular guest here in the Duft-Tagebuch with his creations. And yet it's been almost two years since I had the pleasure of interviewing him (read it here), in which he told us about the first three creations of this very special collection.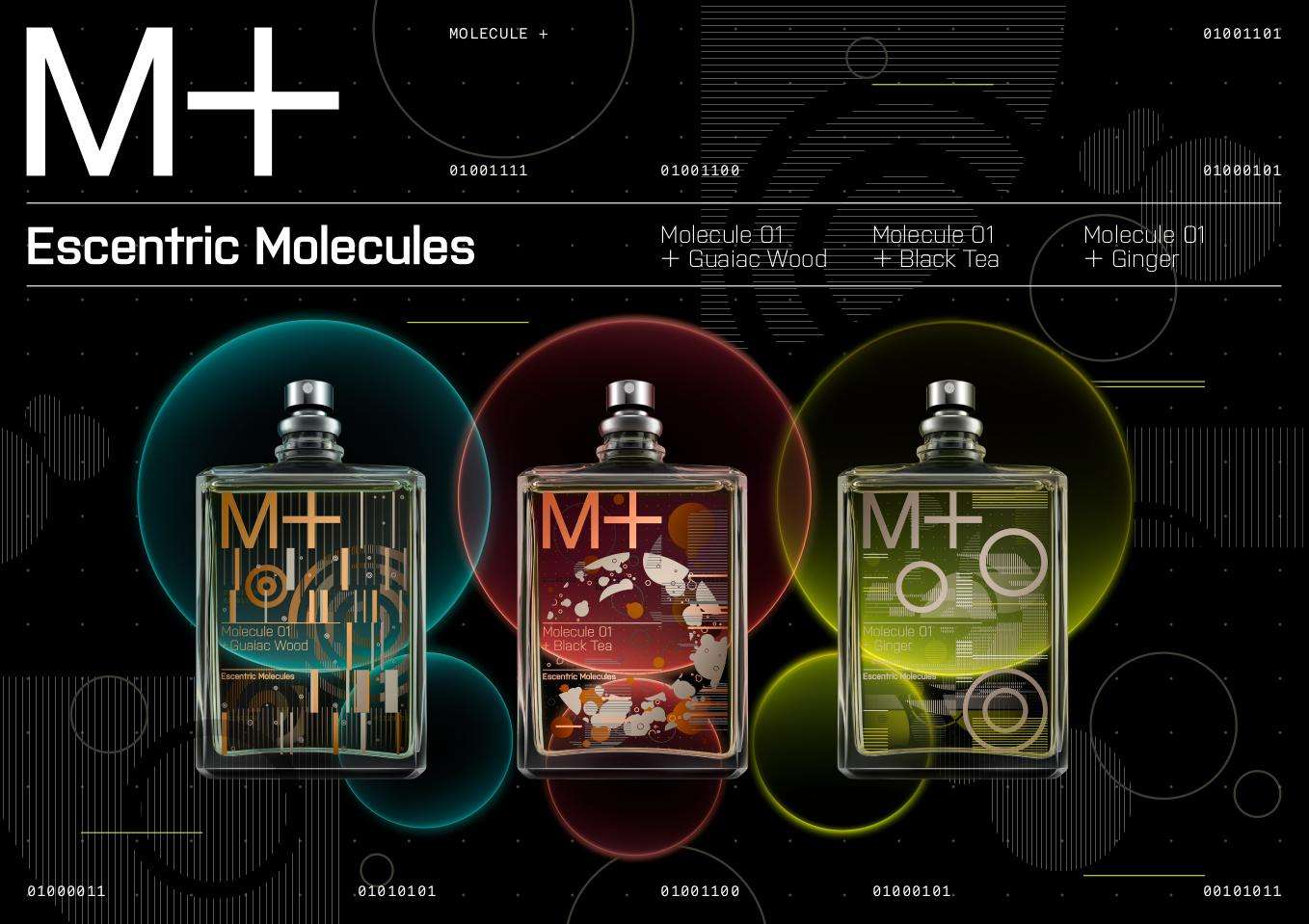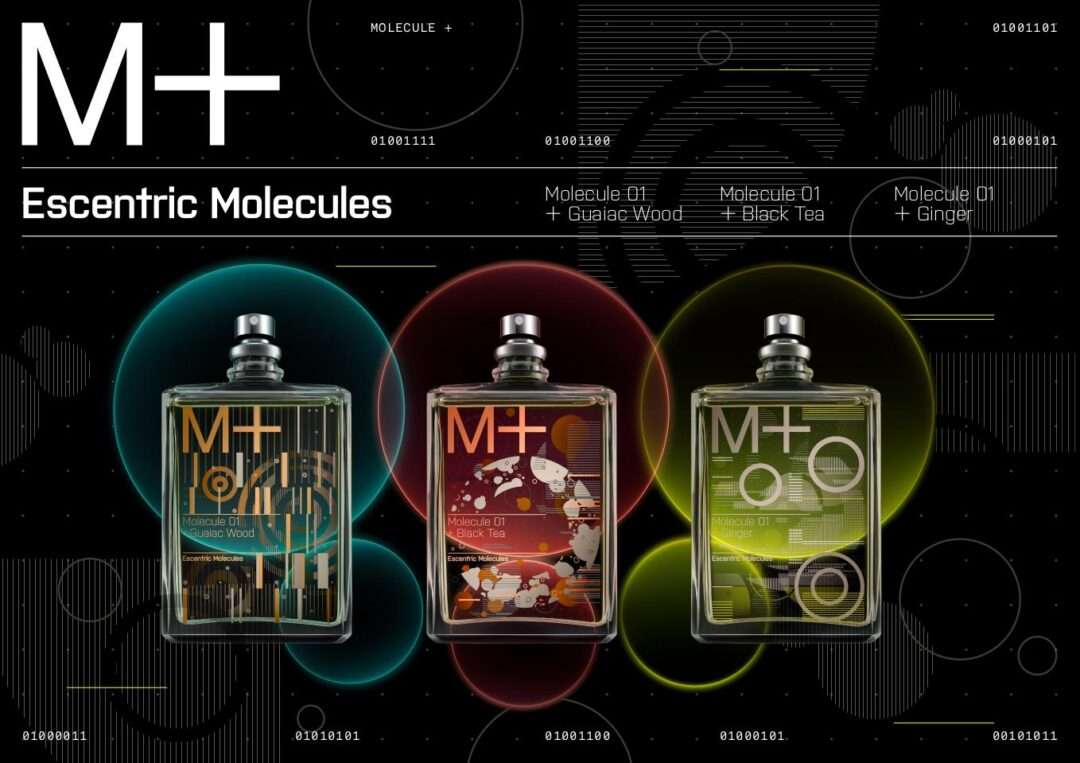 Geza Schön described the line around the fragrance molecule Iso E Super, which he combined with various natural raw materials, as a "dance of molecules". First, he provided the molecule with iris and patchouli, two legendary base notes, to combine it with tangerine in the third composition. I have also already presented these first three eaux de toilette to you (read here).
Some of you may have encountered perfumer Geza Schön on television in recent weeks. He was a guest in the talk show 3nach9 and I link you here the ARD Mediathek, where you can listen to the words of Geza Schön himself (only in German). 🎧
Molecule 01 + Guaiac Wood
The fragrance notes are usually quickly enumerated in the creations of Escentric Molecules. Geza Schön was the first perfumer who dared to create a fragrance from a single note, and a synthetic one at that … a revolution in the world of perfumery in the mid-2000s, also because chemically produced fragrances had long been viewed rather skeptically by the public. But in the meantime this has changed. Molecular fragrances – like the creations of Escentric Molecules – are becoming more and more common, and the fan base is growing and growing.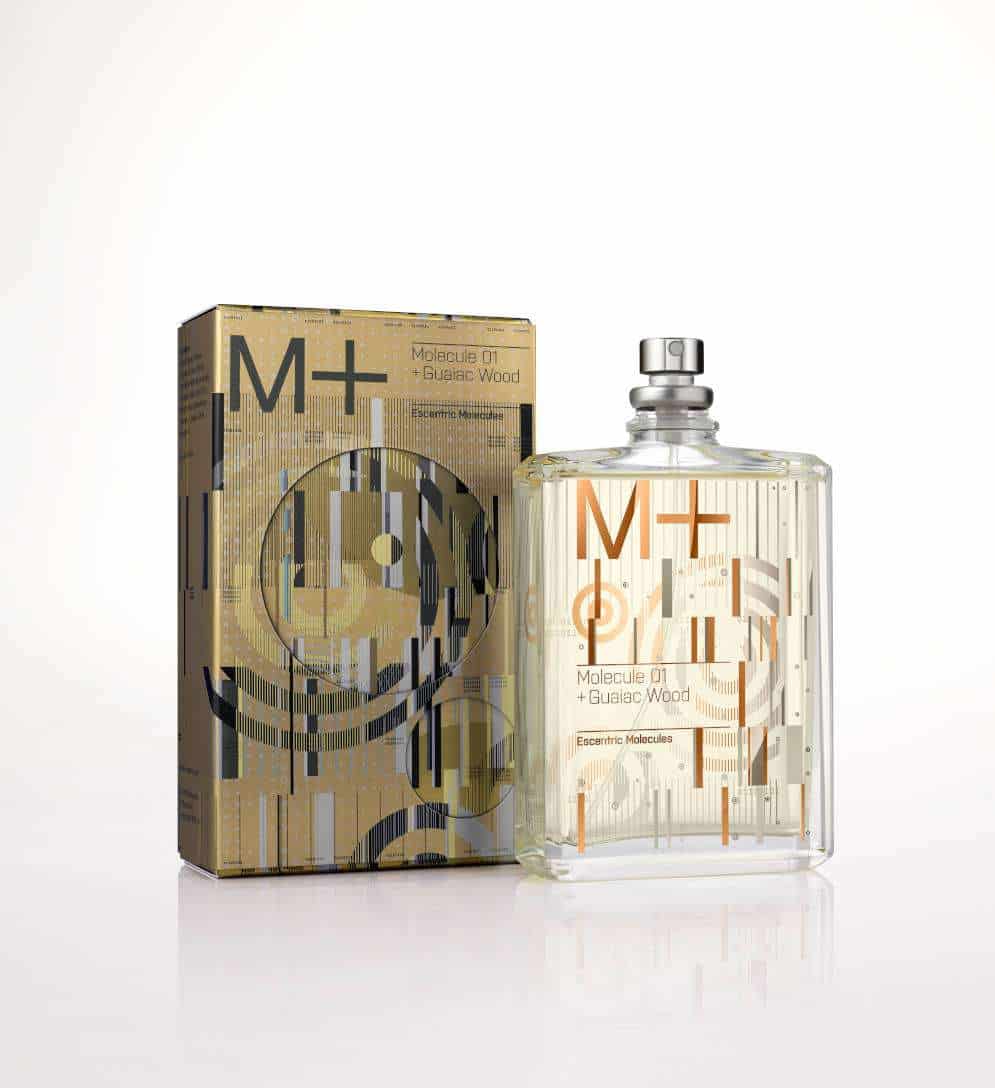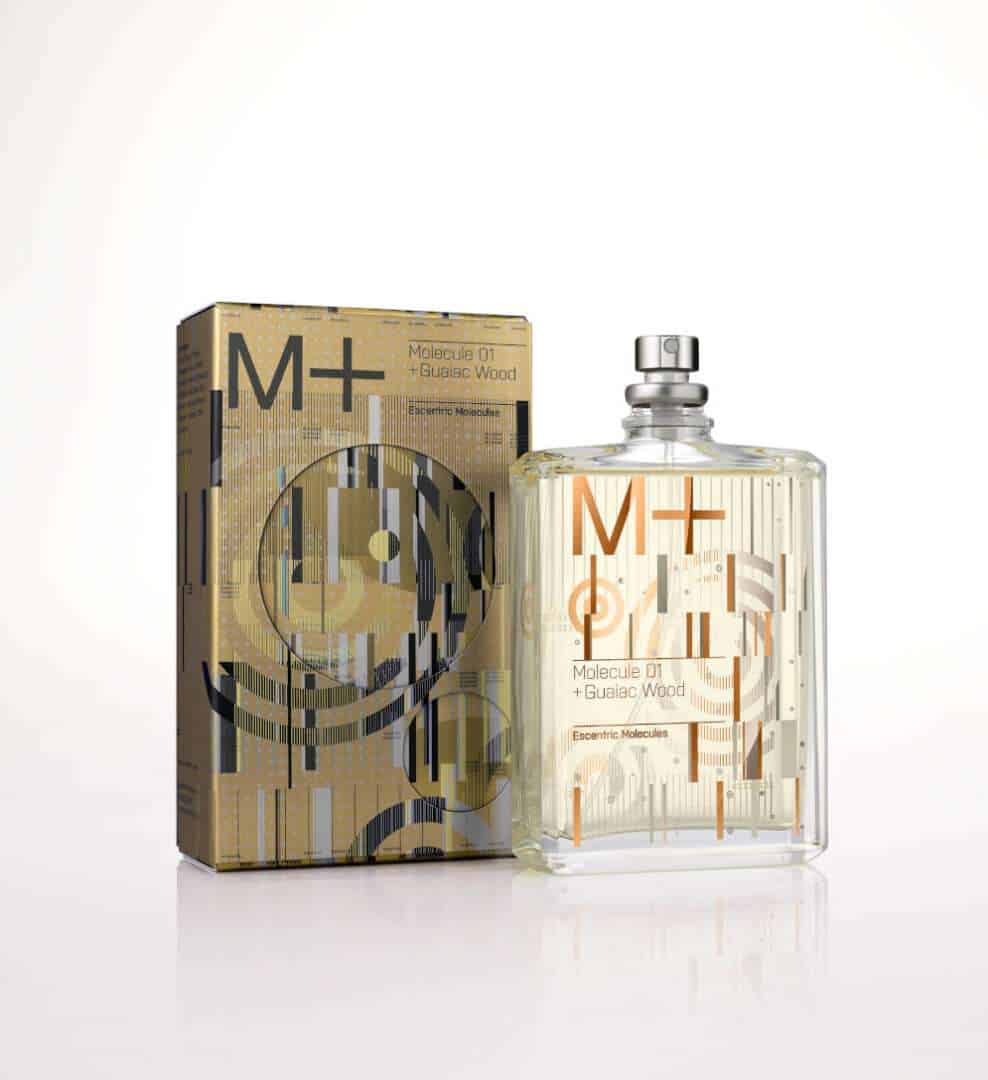 In Molecule 01 + Guaiac Wood, Geza Schön combines the synthetic fragrance Iso E Super with guaiac wood. The wood, traditionally used for centuries as a healing agent and therefore also called Lignum Vitae, has a multifaceted smoky-sweet scent, which can be sometimes earthy-woody, sometimes violet-like-powdery.
Wonderful feeling of well-being
Two exceptional fragrance notes meet in Molecule 01 + Guaiac Wood. On the one hand, the woody-warm and elusive Iso E Super, which for me always has that certain shimmer, that ethereal that almost seems to glitter and sparkle on the skin. One moment tingly and clean looking, the next moment incredibly enveloping, comforting and warm like a cozy cashmere blanket.
The other is guaiac wood, an olfactory prodigy that rivals its compositional partner with the somewhat unwieldy and petrol-like name in terms of richness of facets. Deep and gently smoky, sweet, balsamic, earthy, almost leathery in appearance and infused with a delightful powderiness, the guaiac wood in Molecule 01 + Guaiac Wood reveals all its skills. The two fragrances almost blend together, elevating each other, bringing out their respective best and most beautiful. Simply wonderful!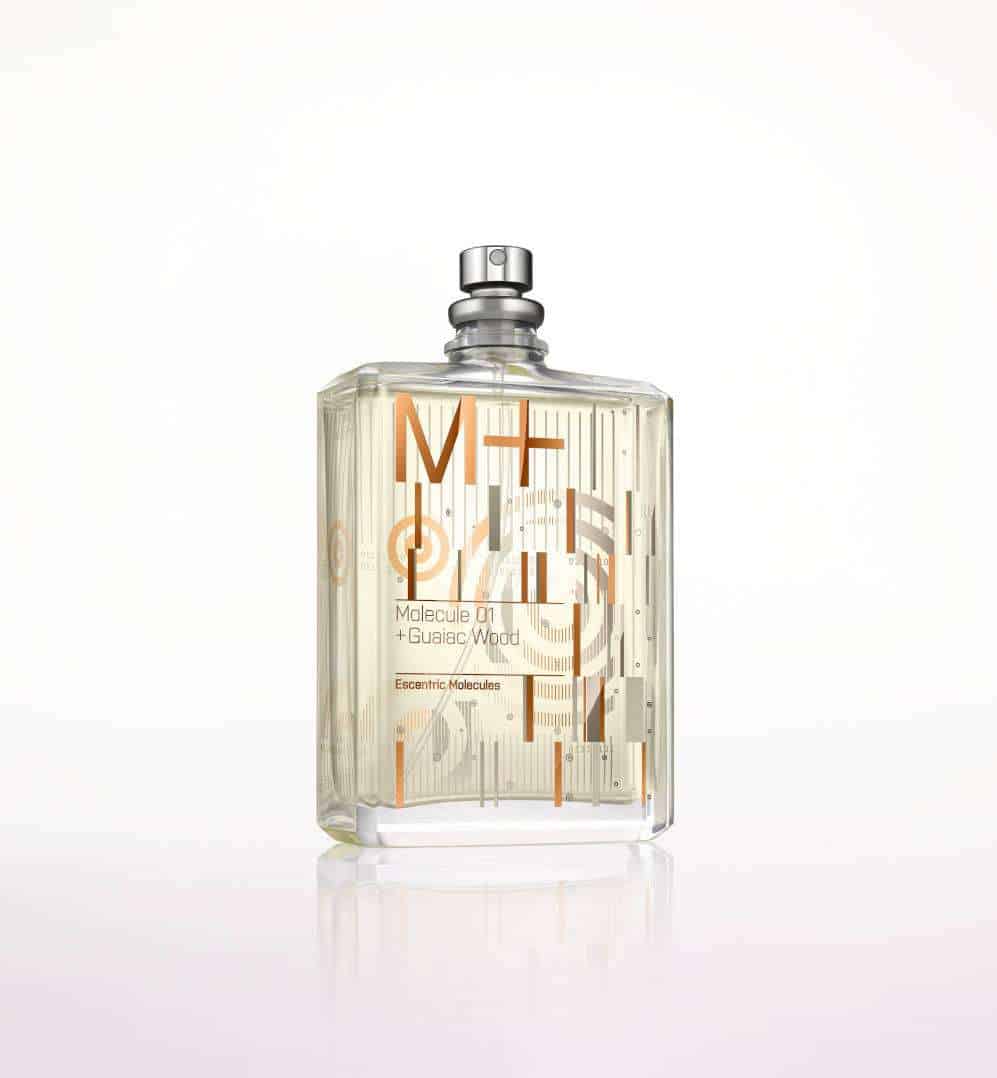 Warm, velvety and multi-faceted – Molecule 01 + Guaiac Wood is the fragrance for all guaiac wood fans and all those who love the Molecule creations of Geza Schön. A soft and transparent fragrance, close to the skin and yet present in its own way, shimmering like an olfactory kaleidoscope. If you are still looking for a real feel-good composition, you should definitely put this eau de toilette on your to-try list.
Molecule 01 + Black Tea
I am particularly curious about the black tea scent of Molecule 01 +, because I love black tea. As a beverage anyway, and in perfumes certainly. What a great idea to dedicate a separate creation to this natural fragrance within this exciting collection.
"There is not just one black tea in the world. I wanted to highlight the different facets of this complex aroma to create my own accord, using a black tea extract as an infusion with a mate tea absolute. This is my the playground of my dreams: a blend of black tea impressions and Iso E Super. What I love about black tea is its subtlety. How the airiness plays with the earthiness and the bitter, fresh notes with the floral aspect, all with a light touch," says Geza Schön.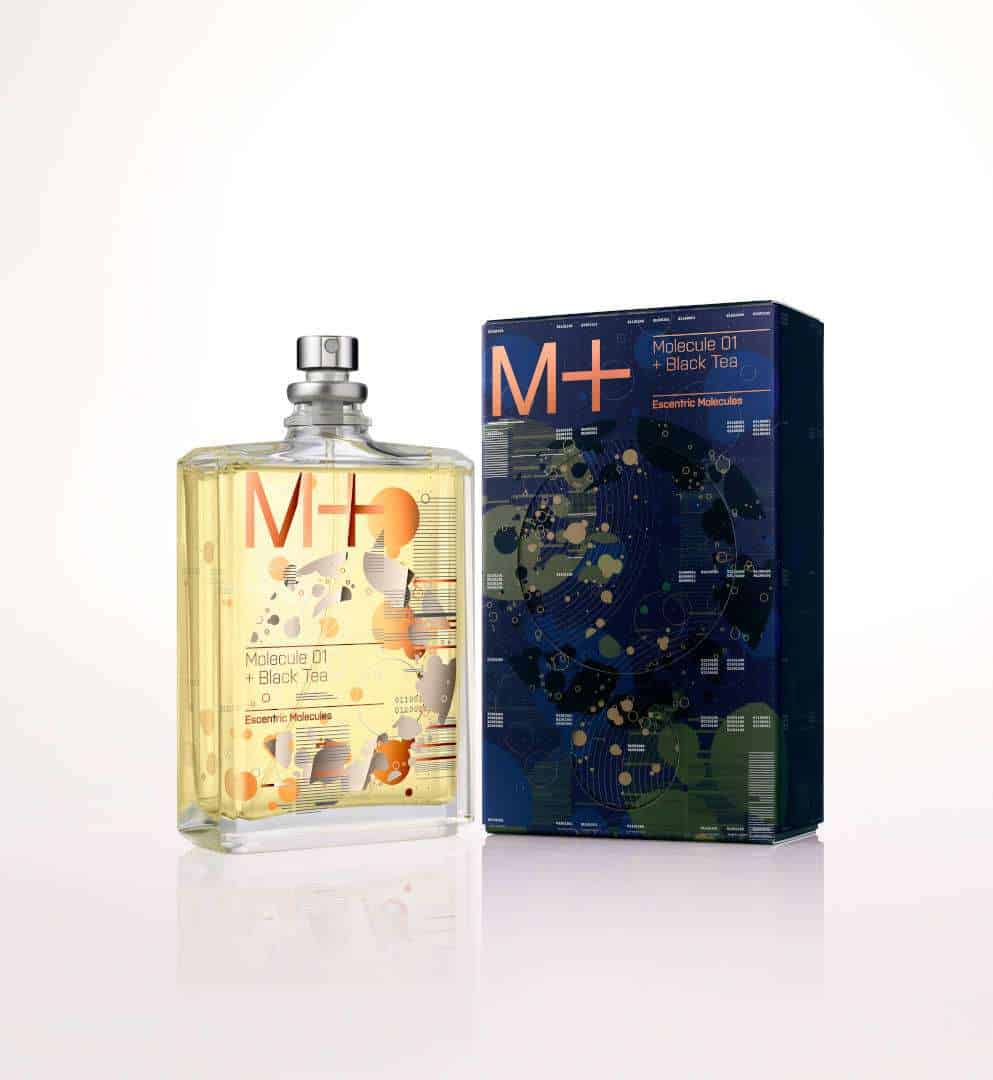 And so Molecule 01 + Black Tea features the scents Iso E Super and black tea, certainly an exciting and equally multi-faceted combination as our first candidate today.
Sniff and drink tea
Black tea. I feel transported back to the old tea store in downtown Stuttgart, where I used to go with my father from time to time to replenish the family's tea supplies. Large tea caddies on wooden shelves. This typical smell of dried tea leaves, black and green. A long, long time ago this happened and yet Molecule 01 + Black Tea takes me right there.
The eau de toilette has exciting greenish-tart tea nuances, sometimes more reminiscent of black tea, sometimes more of green tea, aromatic, with Asian touches and infused with a certain watery note – and I don't mean aquatic or even maritime. No, the scent smells like infused tea, plus that warm and cosy woodiness of Iso E Super that nestles beautifully with the gorgeous black tea nuances. A hint of Earl Grey resonates in the composition, gentle citrus notes I perceive. I am thrilled!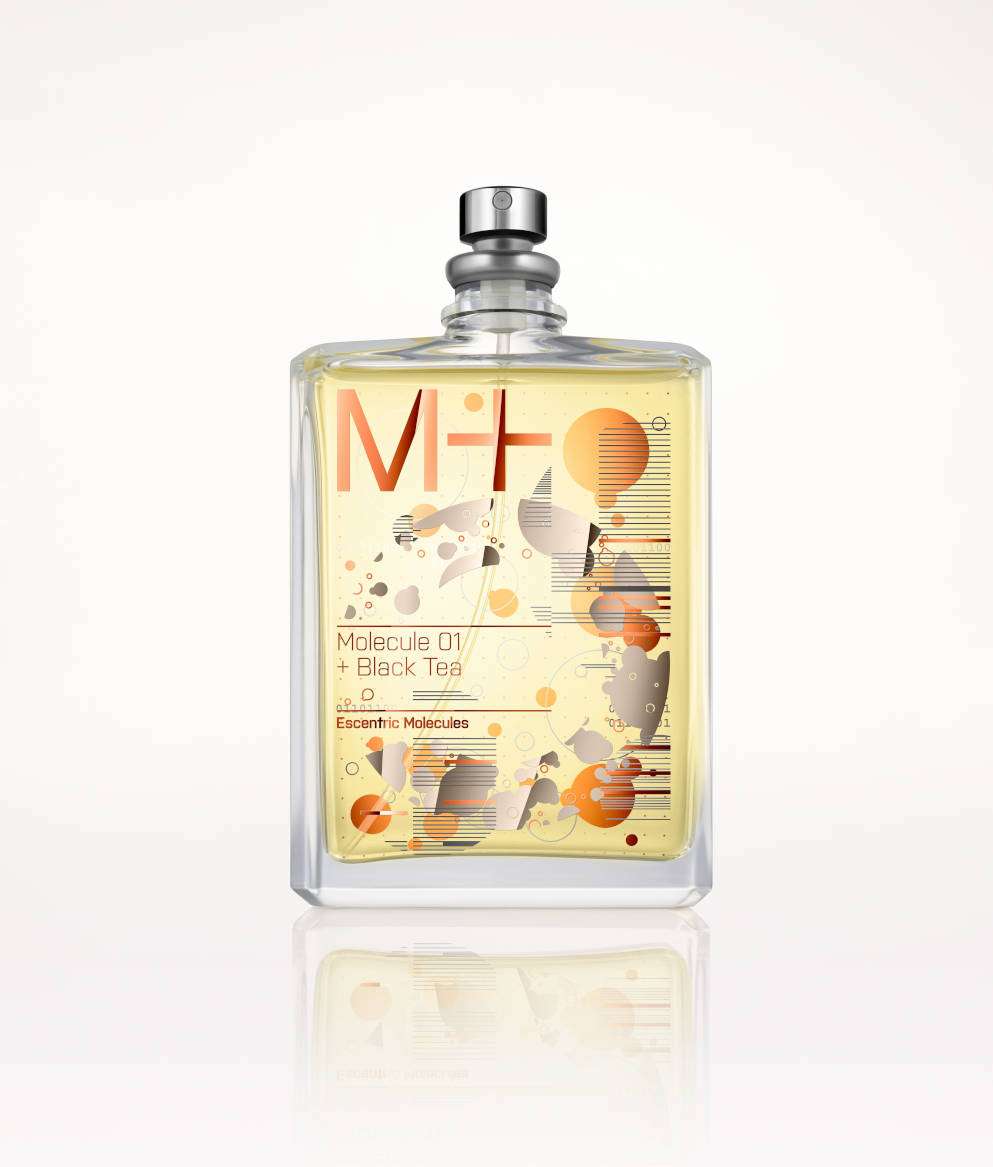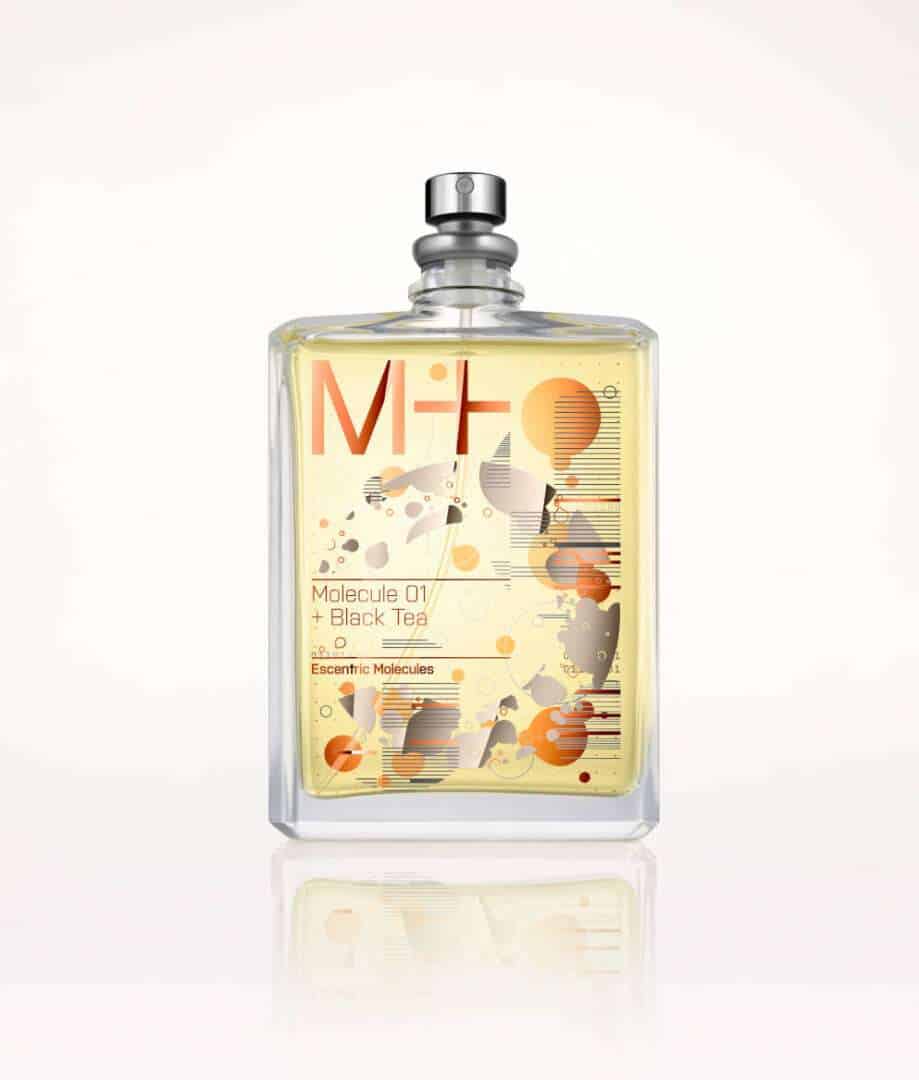 Tea lovers should definitely remember this eau de toilette by Escentric Molecules, because rarely have I smelled the notes of black and green tea so beautifully implemented. Greenish, delicately citrusy and also a little tart, Molecule 01 + Black Tea is for me a perfect fragrance for warmer days in spring and summer. The sample moves directly into my daily-use box, that's for sure! Absolute test recommendation! ☺
Molecule 01 + Ginger
Last, but not least, I present to you the combination of Iso E Super and Ginger, which has the minimalist name Molecule 01 + Ginger. The tuberous plant ginger is commonly known as a culinary spice. Especially in Asian dishes, the pungent root with the surprising citrus note is popular.
But ginger is also a traditional medicinal plant, which is said to regulate digestion, helps against nausea and colds, and can even be used as a painkiller. Not only a culinary highlight, but also otherwise a true miracle cure and not for nothing, ginger is one of the so-called superfoods, which are said to be particularly valuable for health. Ginger is also popular in the perfume world. However, I have not yet been able to sniff my own fragrance in his honour.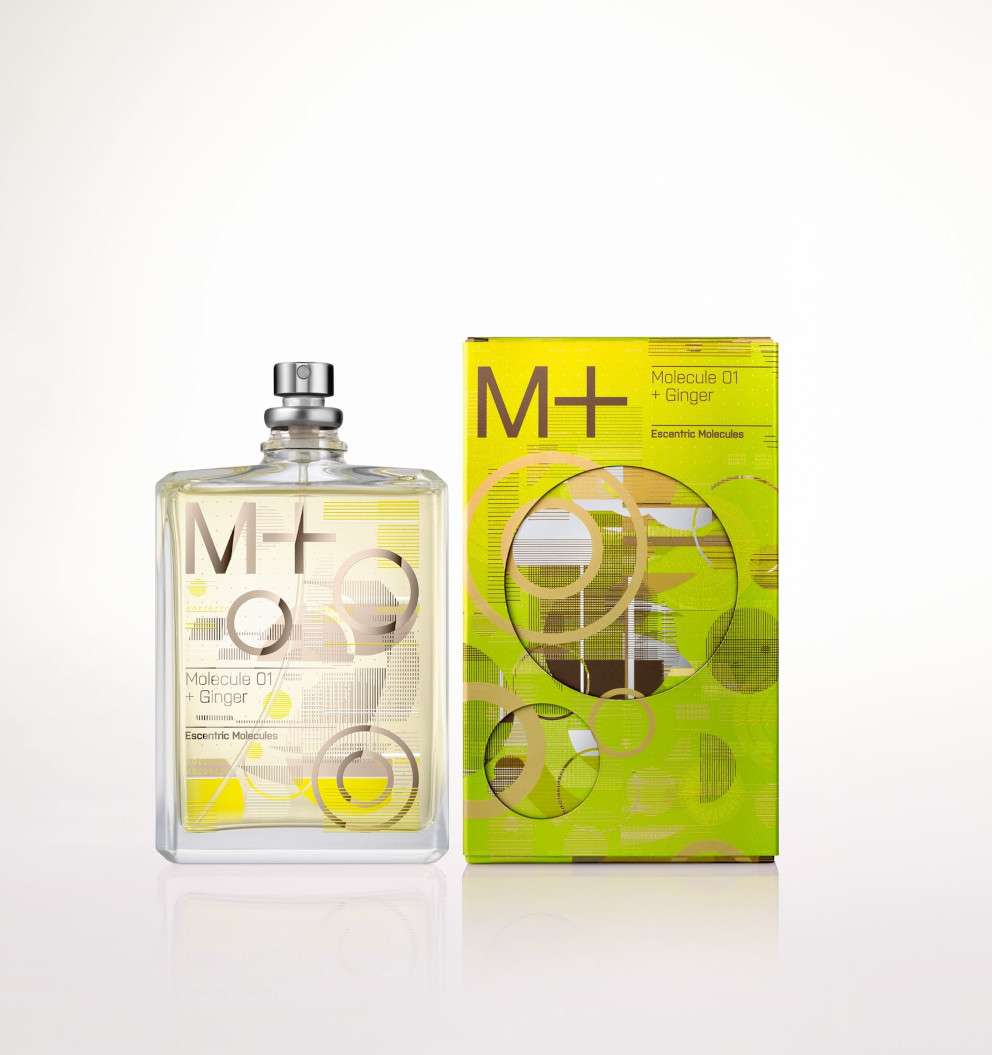 "M+ Ginger exudes and presents a simplicity that you would not expect in any other fragrance. What makes ginger special is that it combines freshness and spiciness in a single ingredient. I've always liked that about it. When I smelled this new fresh ginger oil from the Ivory Coast, I knew I had to make Molecule+ Ginger. It's so clean, so pure, with a sharp, effervescent power that fits beautifully into the landscape of Molecule 01," says Geza Schön.
I love ginger
Oh, Geza, you make me happy with these three fragrances! Molecule 01 + Ginger is ginger at its best. Wonderfully citrusy, sparkling and fruity, infused with a gentle spiciness, sometimes greenish in appearance, sometimes sunny yellow and radiant. Very authentic and natural, the nuances of the second protagonist of this eau de toilette seem, and thus this fragrance just makes me happy! 😍
Iso E Super gradually adds a gentle and warm spiciness to the fragrance, which suits the ginger wonderfully. The molecule provides some traction and durability without limiting the transparency and airiness of the creation in any way. With fine and still delicate citrus notes, the fragrance gradually fades.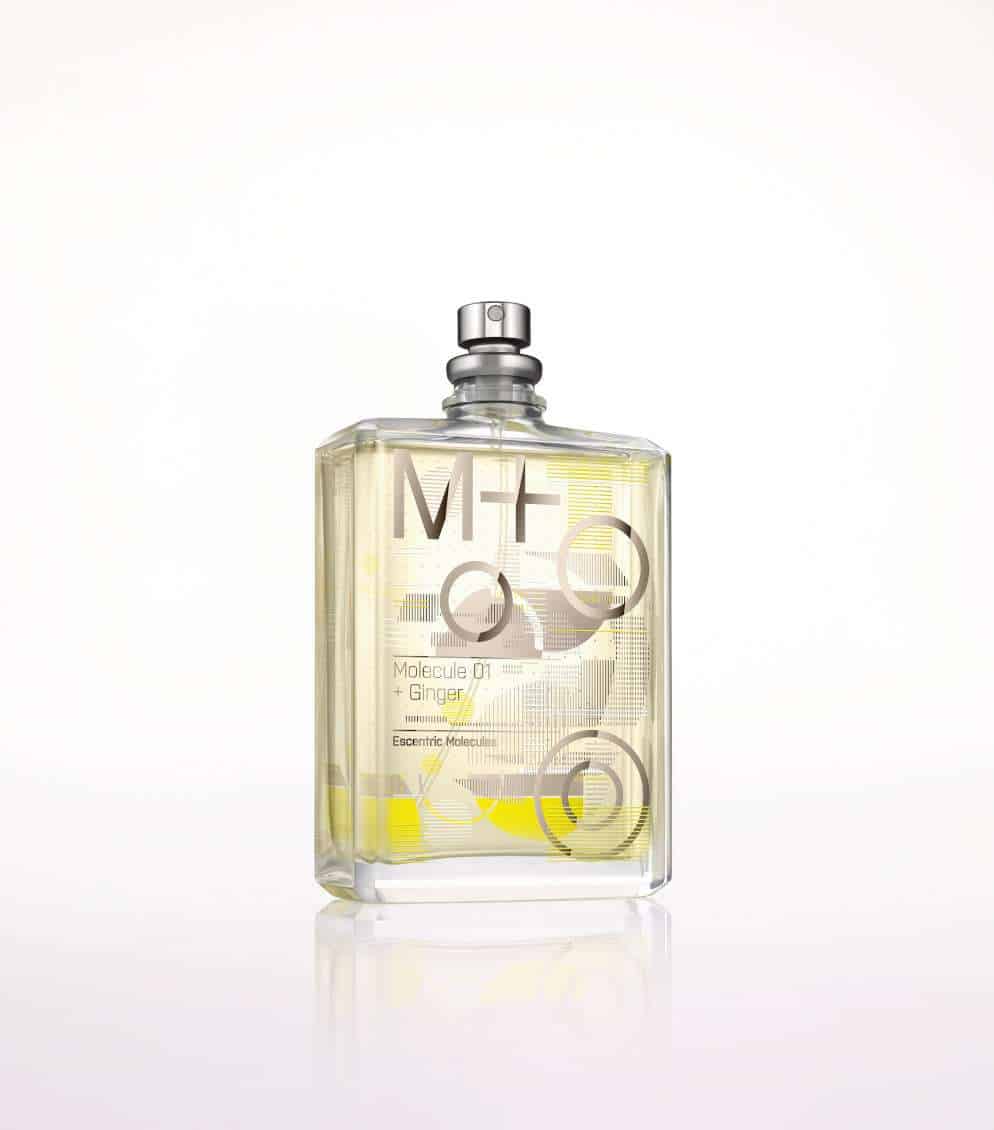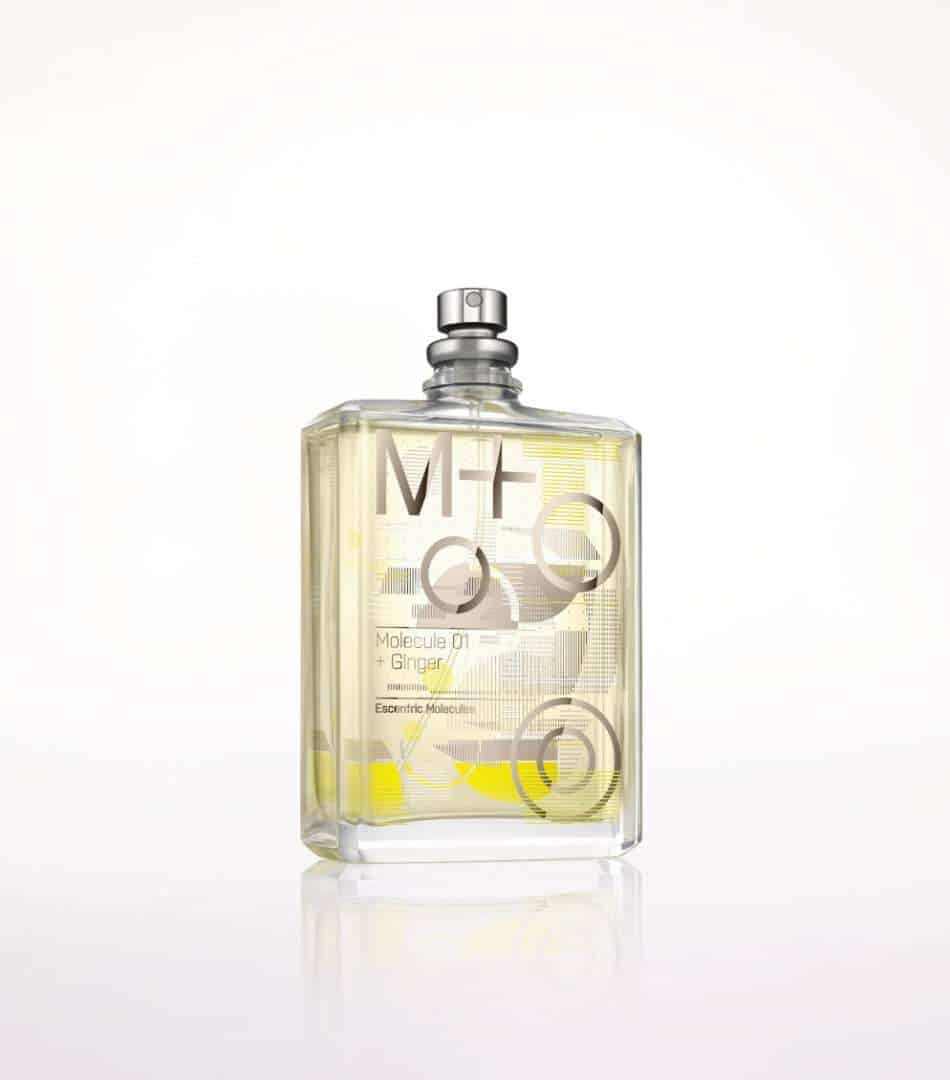 Summery, fresh and tangy thanks to ginger, skilfully underpinned by the warm and spicy, skinny nuances of Iso E Super – Molecule 01 + Ginger is for me another unisex candidate for warmer days that I like perfectly. Very light and airy, yet with a certain presence and durability, the creation exudes exactly the summer vibes that I desperately need in this seemingly endlessly cold spring. Not only for ginger lovers a must-try, but also for all those who love fresh, light and citrus scents! ❤🫚