Today we travel east. Oman is our destination, more precisely the country's fragrance house par excellence: Amouage. The brand with the sonorous name is already a classic, there is no question about that. A guarantee of high-caliber – and high-priced – fragrances, made from the finest raw materials, created by master perfumers. Our two candidates today, Opus XV King Blue and Guidance, should also be in no way inferior to this, and I'm really, really, really looking forward to this review because Amouage's creations are just always something special.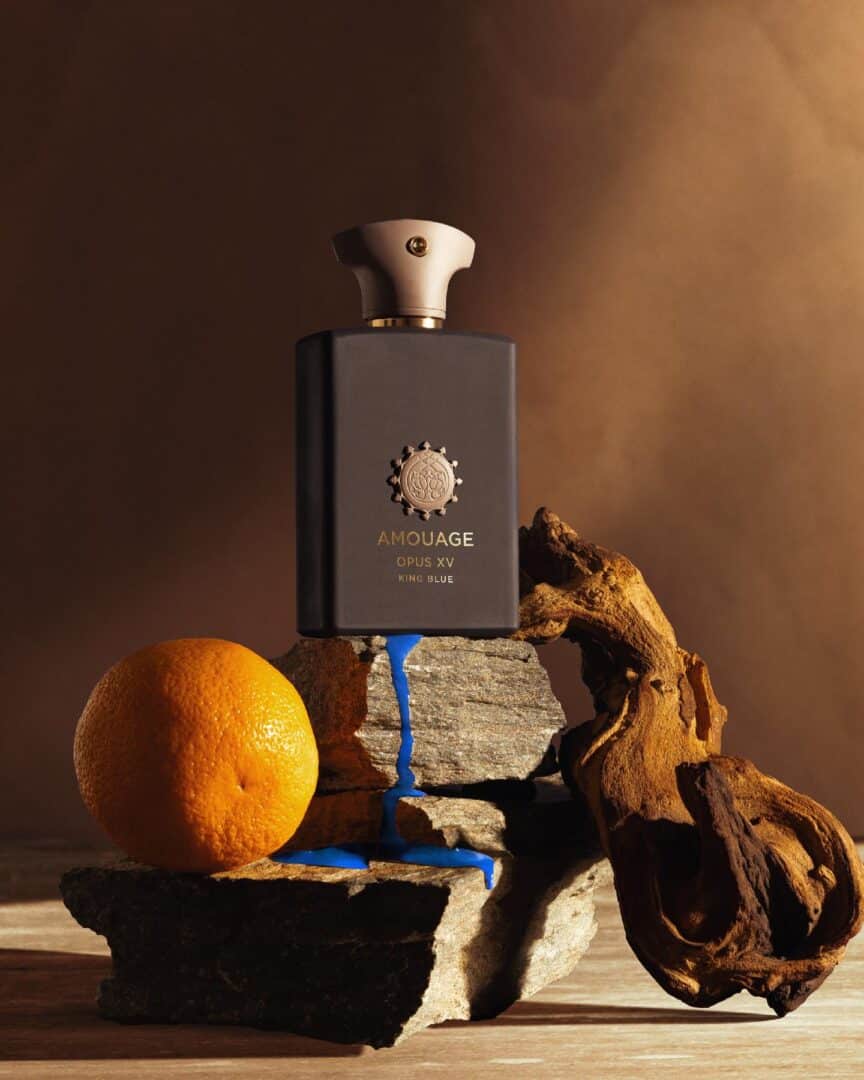 Opus XV King Blue – Library Collection
Behind the somewhat unwieldy name Opus XV King Blue is an eau de parfum that belongs to the Library Collection. The collection is dedicated to a place where people can deepen, increase, enrich their knowledge: a library. The creations of this line see themselves as olfactory works of one of these libraries, which is where the name Opus comes from.
Opus XV King Blue bears the works number 15 and the epithet King Blue. The fragrance is meant to be a reinterpretation of blue scents, and not in the classic sense. The fragrance notes are mandarin, black currant, pink pepper, incense, amber, sandalwood, oak, patchouli, agarwood (oud) and leather, which for me per se has nothing really blue in it. Because it's certainly not just me who associates blue fragrances with maritime or aquatic creations.
In any case, there were masters at work creatively in this eau de parfum, which, by the way, has a concentration of 35%, namely Hamid Merati-Kashani and Alexis Grugeon. While the former should be absolutely known among fragrance lovers – you can definitely call him an old hand – the second is still a blank slate for me. A brief research on my part revealed that Alexis Grugeon hails from northern France, is colour-blind, and represents the young, new, fresh generation of perfumers.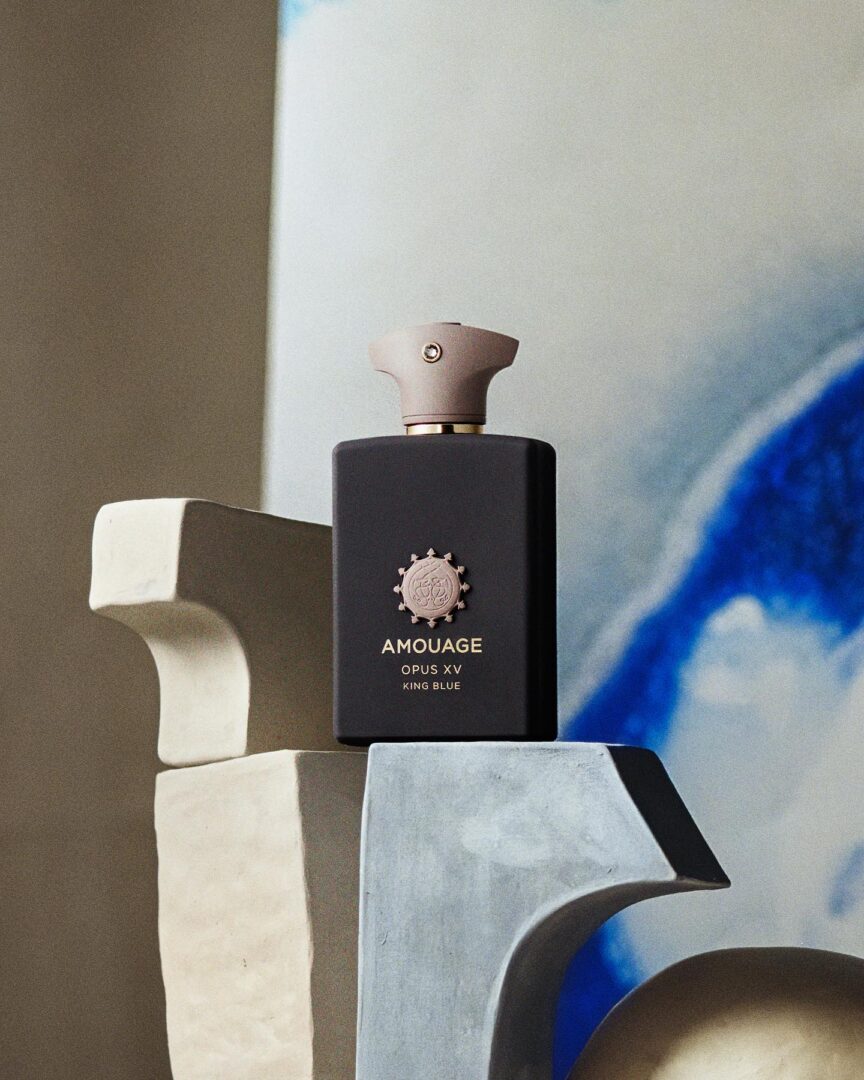 King Blue, Opus XV of the renowned Library Collection, is a perfume of endless questions, curious detours and unforeseen revelations.
An opening of vibrant mandarin unexpectedly leads to a bold, animalic and effortlessly refined base of oud. Surrealism as fragrance, Opus XV explores the primal nature of contrasting ingredients that blend to evoke a sense of mystery and intrigue.
Dive deep into the Oud
The opening is already characterized by contrasts. Tangy tangerine brings fresh and fruity nuances to the creation, but soon the dark, cool, smoky, animalic notes of oud, incense and patchouli reveal themselves, slowly but surely taking the composition in their clutches. The fragrance is very dry, leathery and woody. The animalic facets are strongly pronounced on my skin, which gives the eau de parfum quite idiosyncratic and exceedingly distinctive features.
The test strip is clearly fruitier and brighter, but the agarwoody notes are also easily recognizable here, but tend more towards the smoky and resinous than the animalic. Gradually, Opus XV King Blue becomes airier, softer and warmer on my skin as well. The fragrance finally fades with smoky powdery and velvety oudy woody notes.
Opus XV King Blue by Amouage is an opulent, rather masculine and edgy oud fragrance with fruity-leathery and animalic notes, with an idiosyncratic opening and a soft, woody finish. Certainly not an eau de parfum for every occasion, but rather something for the evening, for going out or for leisure. It is a creation that definitely makes a statement and because of the different scent progression on skin and paper, I recommend, as always, a pre-test on your own epidermis. I can't quite understand the reference to the colour blue, but let's not be like that 😉 Perfect for all those who love compositions with rough edges and oud, and for Amouage fans anyway. 💙
Guidance – Odyssey Collection
I am particularly looking forward to Guidance, because the creation contains two favourite scents of mine, pear and saffron. In addition, incense, hazelnut, rose, jasmine, osmanthus, labdanum (cistus), sandalwood, woods, amber and vanilla. The bottle is held a delicate pink, which is purely visually already very feminine.
Perfumer of this fragrance is the fantastic Quentin Bisch, who has inspired me so many times. He created Guidance as the eau de parfum of the Odyssey Collection, which on the one hand is dedicated to our individual journey through life, but on the other hand also pays homage to the fascinating landscapes of Oman, which are as diverse as they are rich in contrast.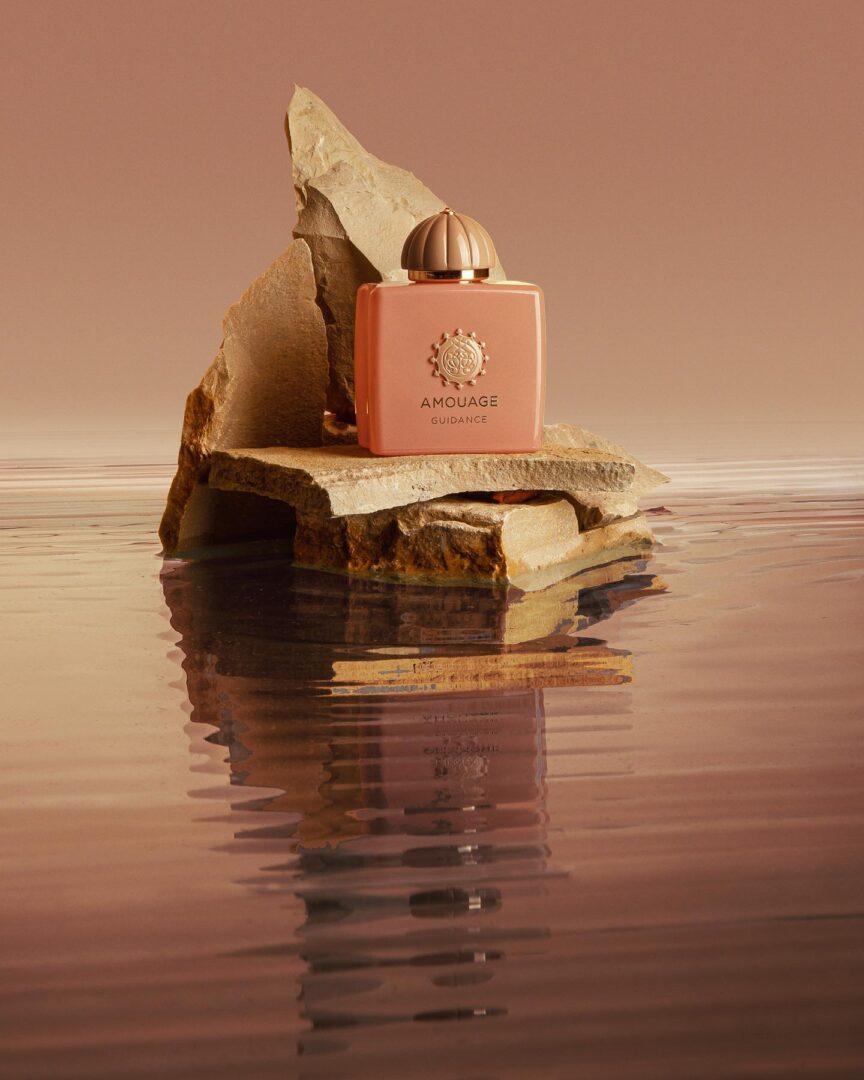 This addictive and modern interpretation of the Amouage triad of rose, incense and amber reads like a poem, smells like a hug and feels like a word of wisdom.
Dream in pink
Ah, there it is, the pear! In the opening of Guidance, I immediately perceive the sweet pip fruit, and in one of its most beautiful forms: lovely, juicy and deliciously ripe. Soon accompanied by creamy and powdery floral notes, which also have wonderful fruit nuances. Jasmine and the peachy osmanthus give each other a tryst, uniting with the pear to create a true olfactory feast for the nose. A pinch of toasted hazelnut here, a bit of nectar-sweet rose there. I am in love!
The bottle colour pink hits the tone of the fragrance to the point. Delicate, seductive and at the same time light-hearted, Guidance shows itself as a wonderfully fruity and sweetish creamy composition that simply spreads good mood. A hint of vanilla underlines the dessert-like character of the composition, while labdanum and amber bring additional lovely and warm accents to the eau de parfum. Powdery, creamy and velvety-fruity is the base of Guidance, with which the fragrance is wonderfully and stylishly rounded off.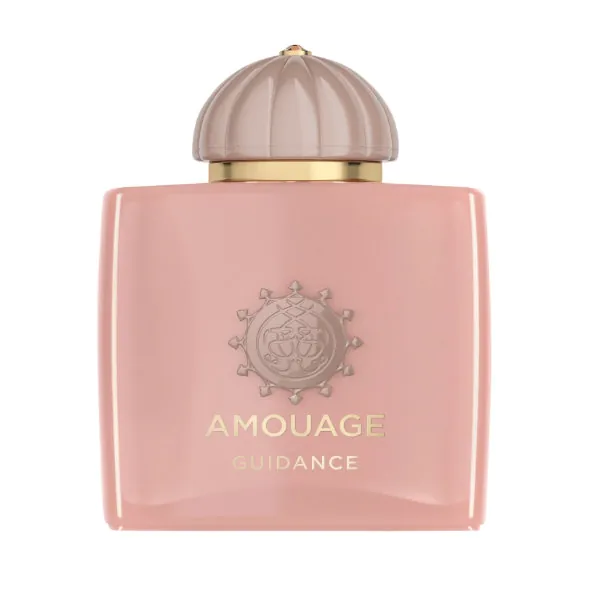 Guidance by Amouage is the perfect fragrance for all those who love fruity-creamy scents and especially the wonderful notes of ripe pears, gentle jasmine and peachy-flowery osmanthus. It's an eau de parfum that smells like spring and summer in my eyes, but which really ought to be worn all year round. Simply because it is so beautiful! Of course, you have to like the sweetness of the creation, and you should also be positive about fruity-floral and feminine compositions. Unfortunately, Guidance is currently only available for pre-order in our shop. So the delivery time after ordering is a bit longer. As soon as something changes, I will of course make a note of it in this review. But all in all, my personal favourite of the day as a self-confessed pear fan is Guidance by Amouage! 🩷