The last two days have been all about a young and exciting niche fragrance label from Switzerland: Maison Noir was the focus of attention, with an interview with the two brand founders Claudio Denz and David Weber as well as a first review on my part, in which I presented to you the three Eaux de Parfum Vertigo 236, Bohemia 265 and Alter Ego 786. Today now follows the last round for the time being with the fragrances Somnia 517 and Volantis 685.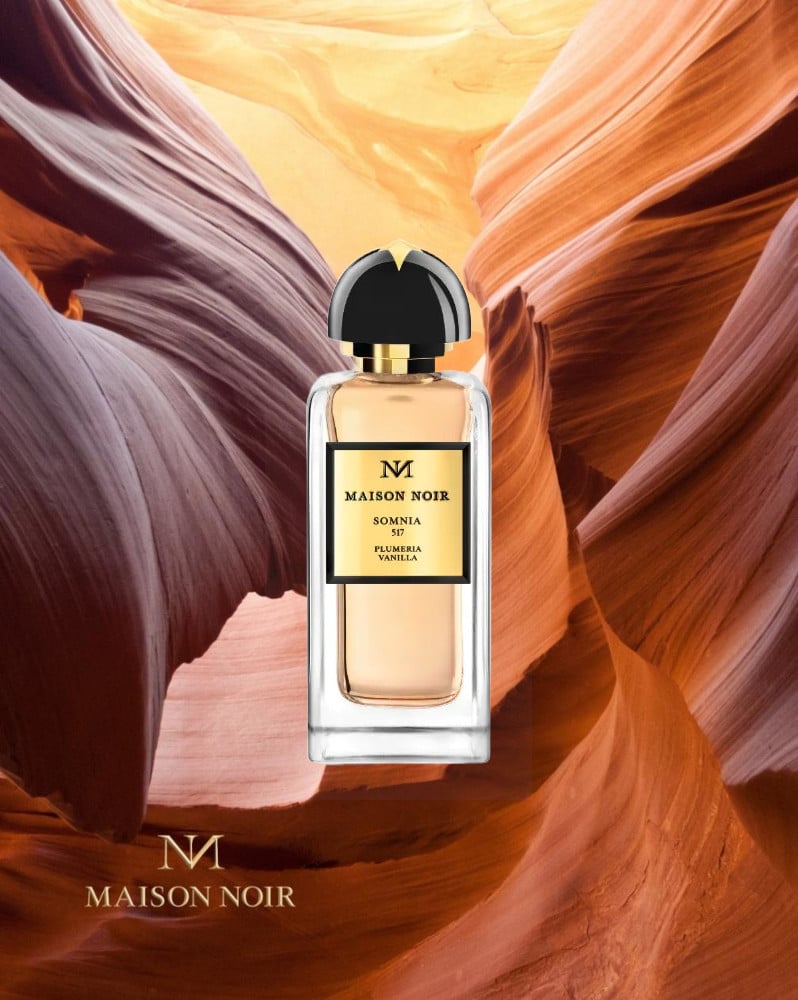 I would also like to link you to my two posts on the brand – as already mentioned, this is an interview and a first review of the Eaux de Parfum from the Swiss niche fragrance house:
Somnia 517 – Maison Noir
Perfumer Jérôme Epinette, otherwise known in particular for his creations for the Swedish label Byredo, was hired to develop Somnia 517. He combined in the composition the ingredients bergamot, labdanum (cistus), frangipani, jasmine, cashmere wood, amber and vanilla. The fragrance is described as amber, floral and fruity. A beige door is associated with the creation, as well as the quality "earthy".
The energy of the earth! You are one with our planet, using its energy as the elixir of life and its natural beauty as inspiration. Your roots grow deep into the earth, nourishing you with the energy to fulfill your wildest dreams.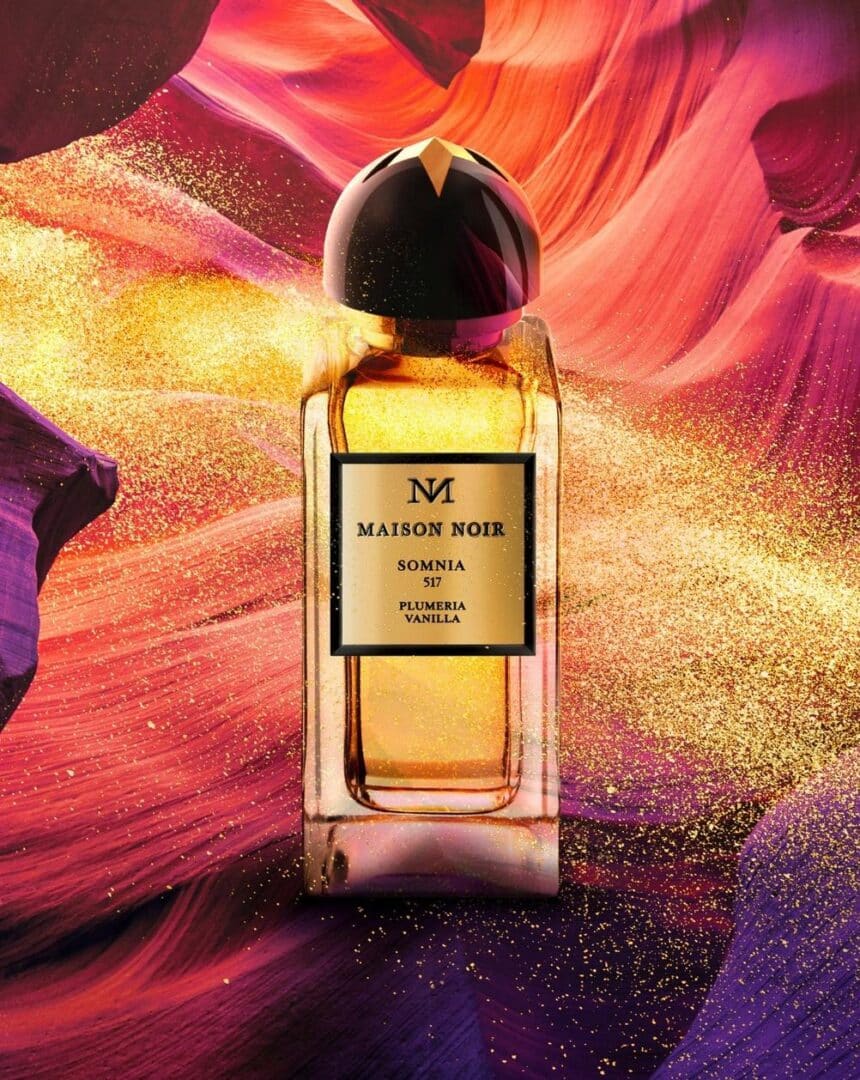 Soft, delicately smoky and seductively sweet, Somnia 517 opens and spontaneously awakens acute fairground associations in me, as I briefly have the toasted notes of candy floss in my nose. But soon the creation becomes spicier and creamier thanks to the smooth, milky floral nuances of frangipani and jasmine that meet lovely vanilla. The fragrance remains in this sweet, creamy and spicy-floral state for quite some time before powdery-bright and warm woods and velvety-balsamic amber slowly creep into the composition. Beguiling, opulent, mysterious and absolutely delicious, Somnia 517 is a real olfactory treat for all fans of ambered floral-vanilla combinations. Of medium to good presence and just as long-lasting, which is why I would rather wear the eau de parfum in my free time, on a date in the evening or generally going out, than to the office. Overall, a pleasant and coherently composed creation that will certainly find many fans. Superb! 😊
Volantis 685 – More of it please!
Volantis 685 is the last fragrance in my little series on Maison Noir for now, and it's also the fourth and last fragrance created by perfumer Alexandra Monet so far. In the interview the day before yesterday, we learned that there is still a sixth eau de parfum called Icarus 347, created by Michel Almairac, but it is available exclusively at Harrod's by now. But back to Volantis 685, which co-brand founder Claudio Denz calls "Modern Hero." A modern hero with the qualities of "woody, aromatic, amber" hiding behind a burgundy door. The fragrance notes I may still reveal and these are quite to my liking: saffron, iris, jasmine, leather, cedar, gourmand notes and ambroxan. That makes me sit up and take notice!
Encore! You step through the red curtain of life into the limelight and announce: Here I am! You put your stamp on the world and increase the desire for more.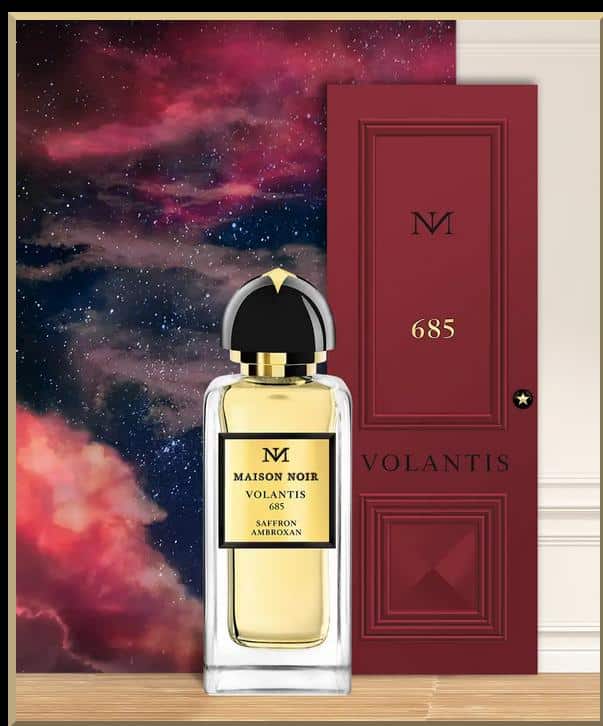 A surprising freshness first appears in the opening of Volantis, but soon the dark, leathery and subtly medicinal-smoky spicy notes of saffron push their way into the fragrance, accompanied by creamy jasmine and powdery iris. Soft, supple leather, reminiscent of fine and light suede, combines beautifully with the creamy flowers and the special nuances of saffron, while the cedar wood provides sweet and warm accents. Lovely gourmand facets join in, adding seductive accents to the creamy powdery and spicy saffron leather iris, before the creation is rounded off by soft ambroxan. Another fragrant treat is presented to us here by Maison Noir, a calm, quiet and beautifully composed eau de parfum with a medium presence and good longevity that for me fits perfectly into the coming cooler season. Simply wonderful! ❤️