For twenty years, Ulrich Lang New York has been a constant in the world of niche fragrances and for just as long, Aus Liebe zum Duft and the likeable Swabian with his chosen home in New York have been working together successfully – not a matter of course in today's fast-moving world. Already two years ago I interviewed Uli (you can read it here), back then about the launch of Lethe, a fragrance that thrilled me from the first sniff. I am all the more pleased that Uli is spoiling us with a new creation, namely Suncrest. In today's interview, Uli tells us how the peach scent came about. By the way: Suncrest is available exclusively at Aus Liebe zum Duft.
Welcome to the Duft-Tagebuch: Uli Lang! 😊
Dear Uli, I hope you are well? Some time has passed since our last interview, how have you spent the last two years?
We launched Lethe, a fragrance with lavender and musk and an intriguing visual by Lukasz Wierszbowski, in the midst of the pandemic. At that time, I spent a whole year in my German hometown Backnang for the first time since my school days and learned to appreciate the comforts of simple life with shorter distances and no airplane again very much. Since 2021, I've been commuting between my home in New York City and Europe again – and realized it was moving on again. I knew our next scent would be very optimistic – a scent that brings a smile to your face when you smell it.
You have launched the eau de parfum Suncrest. What can you tell us about it?
We wanted to put optimism and an attitude of eternal youth into a fragrance. Peach represents eternal life in many cultures. I myself love the smell and taste of peaches and associate the fruit with never-ending, long summer days. A big trend in the perfume world at the moment is fruit notes – one look at the Aus Liebe zum Duft range is enough – and I wanted to approach the subject in a contemporary and trend-setting way, as we have generally done with our line since 2003. Interestingly, we already had a fruit note in our first fragrance Anvers in 2003, namely guava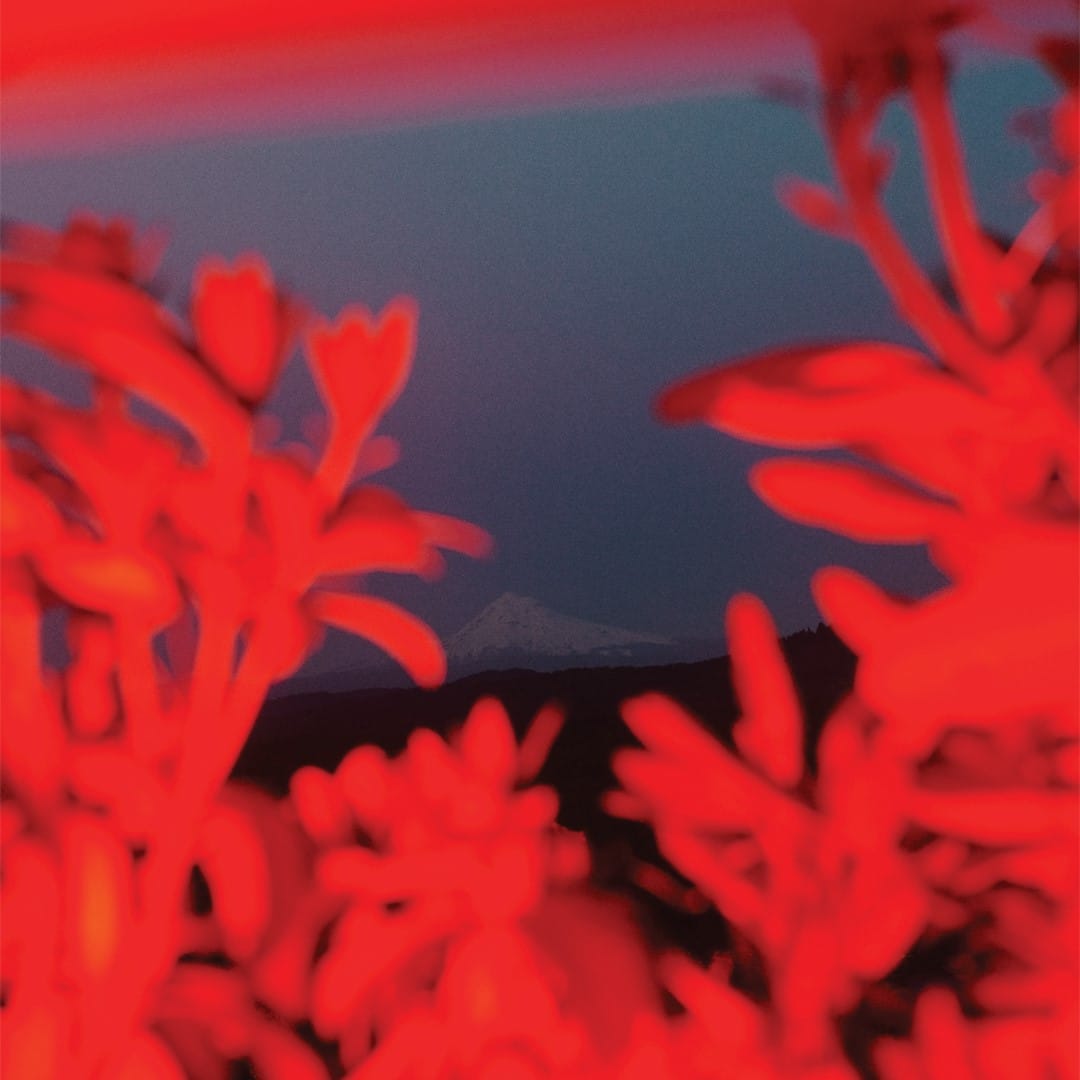 The source of inspiration was the above picture by Will Matsuda. How did you come across it? Do you know each other personally? What fascinates you about it?
Art or photography and fragrance are themes that have accompanied me for decades. And my nose and eyes are accordingly open to exciting developments. Will Matsuda 's work has been on my radar for a while. I love his photographs, especially the Hanafuda series and a more recent series he took in Iceland. His work is about his family, Japanese-American identity, and the fragility of nature.
Suncrest is a fragrance all about the peach – in name and in content. Why this fruit and this variety of all?
Will, funnily enough, makes his home in Portland, Oregon – home of two very well-known peach varieties: Red Haven and Suncrest. I loved the name Suncrest and we are using it – in a more abstract sense – for the new fragrance, as a subtle link to the ingredient peach.
How do the sources of inspiration – the image reminiscent of Japanese maps, red foliage, snow-capped mountain, Oregon – come together with the fruit and then ultimately lead to the fragrance?
The picture was taken by Will Matsuda in Portland, where he lives and works – hence the view of Mount Hood when you look a little closer at the subject. Hanafuda is a Japanese card game that references Will's family and roots – his parents are from Japan. The colorfulness and dynamics of the motif immediately appealed to me. As a fragrance, Suncrest has a similar uplifting, positive effect.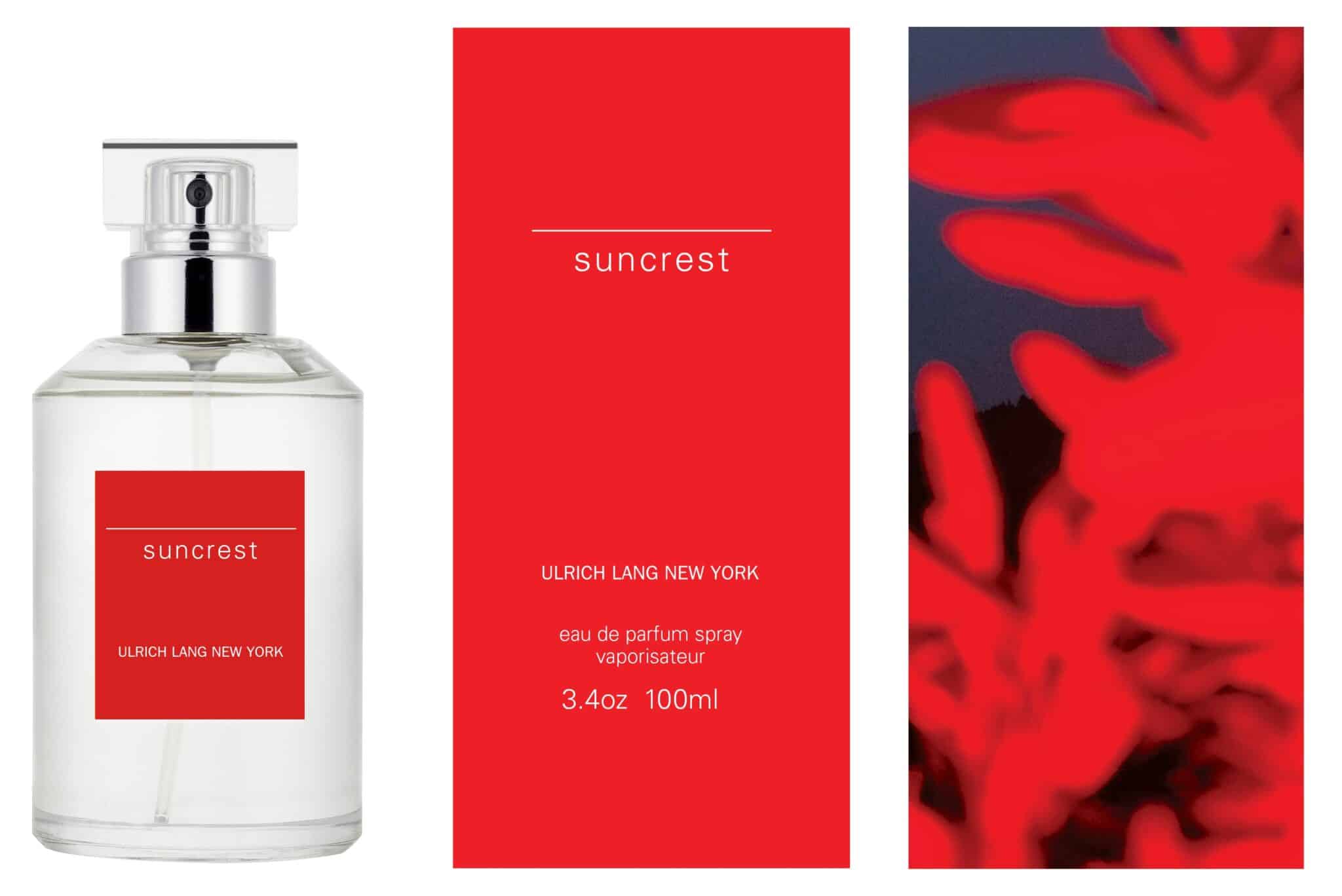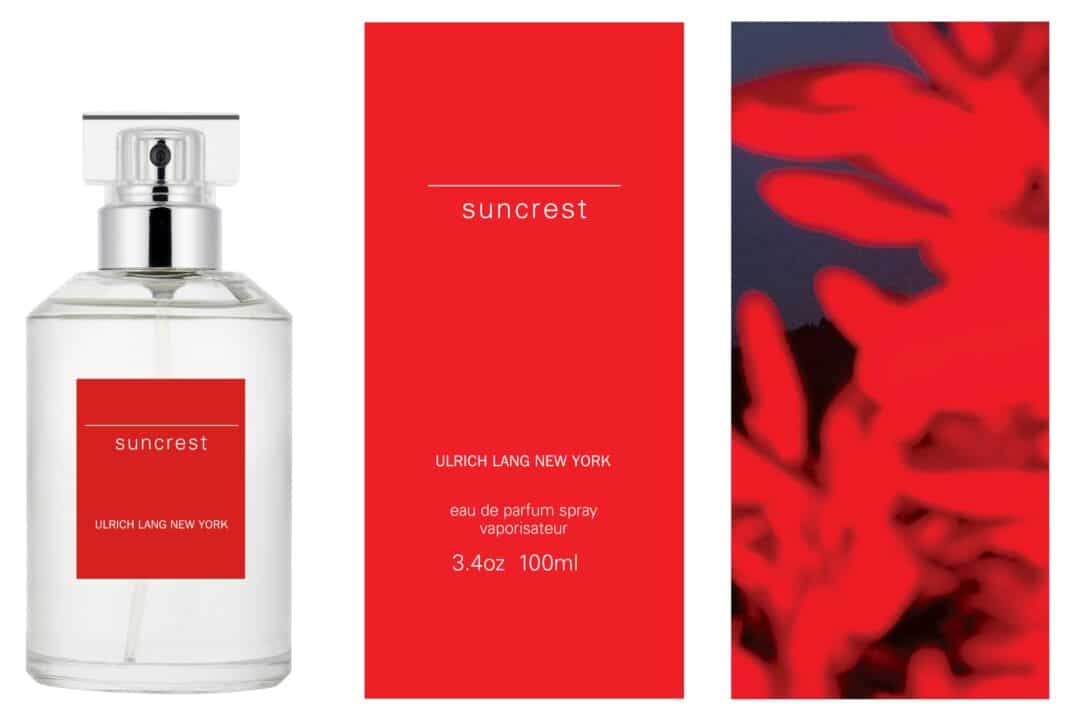 What was important to you in the development of the creation?
Peach should play a leading role. No gentle accessory, but already strongly perceptible – overripe, dripping, fragrant, sensual, yummy. Black currant and woody notes – sandalwood, cedar, which are often found in my fragrances – in the base round out the scent. And it was important to me that the fragrance is primarily perceptible and determined for the wearer and that it puts him or her in a positive, almost elated mood. I didn't want mega sillage and a scent that you could still smell on your skin after three days. This is a creation that is primarily intended for the wearer himself. A "me first" fragrance that points to a new era of self-love and self-esteem?
If you had to describe Suncrest in three key words, what would they be?
Optimistic, innovative, surprising.
On whom do you see the fragrance and for which occasion/season does it suit you ideally?
For everyone and for all seasons – and also when you could use an optimism boost.
How long did the development take? From the first sight of the image to the finished fragrance?
2 years.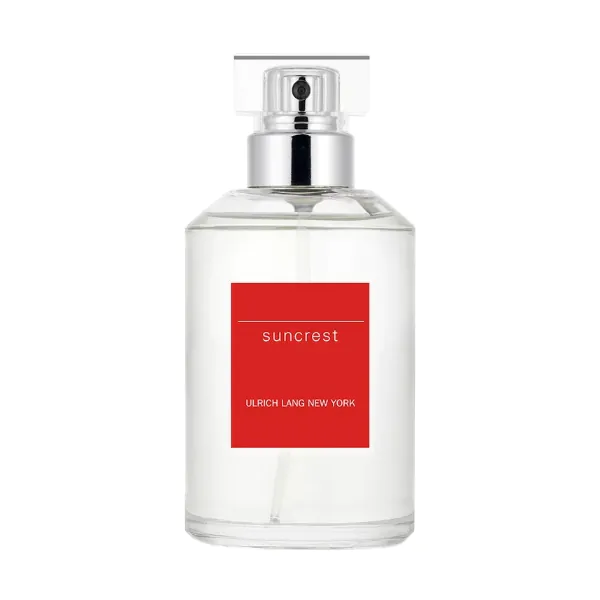 Is there already a new project in planning?
Of course! But for now, the focus is on Suncrest and also on all the fragrances of the past 20 years. It's time for a retrospective. After all, we are pioneers in this segment – just like Aus Liebe zum Duft. I'm thrilled that we've been working together for 20 years!
Is there anything else exciting you would like to tell us about the creation?
My former Barneys New York buyer thought Suncrest was one of the best fragrances at the Esxence show in Milan this year. I found that to be a great – and unexpected – compliment.
Dear Uli, thank you very much for taking the time to answer my questions.