In my post yesterday Interview with Uli Lang from Ulrich Lang New York – What about Suncrest? we have already talked about it: A new fragrance by Ulrich Lang, Suncrest, is now available exclusively at Aus Liebe zum Duft. So it's going to be peachy here in the Duft-Tagebuch today. Uli Lang himself said that he wanted to create a fragrance in which the peach is "overripe, dripping, fragrant, sensual, yummy" at the centre of the composition. That should make everyone who loves the velvety stone fruit as much as I do sit up and take notice, and anyone who likes fruity scents should put Suncrest on their must-try list right away anyway. 🍑 As a special highlight, there is also a giveaway. Well, if that's not a good start to the new week, then I don't know what is!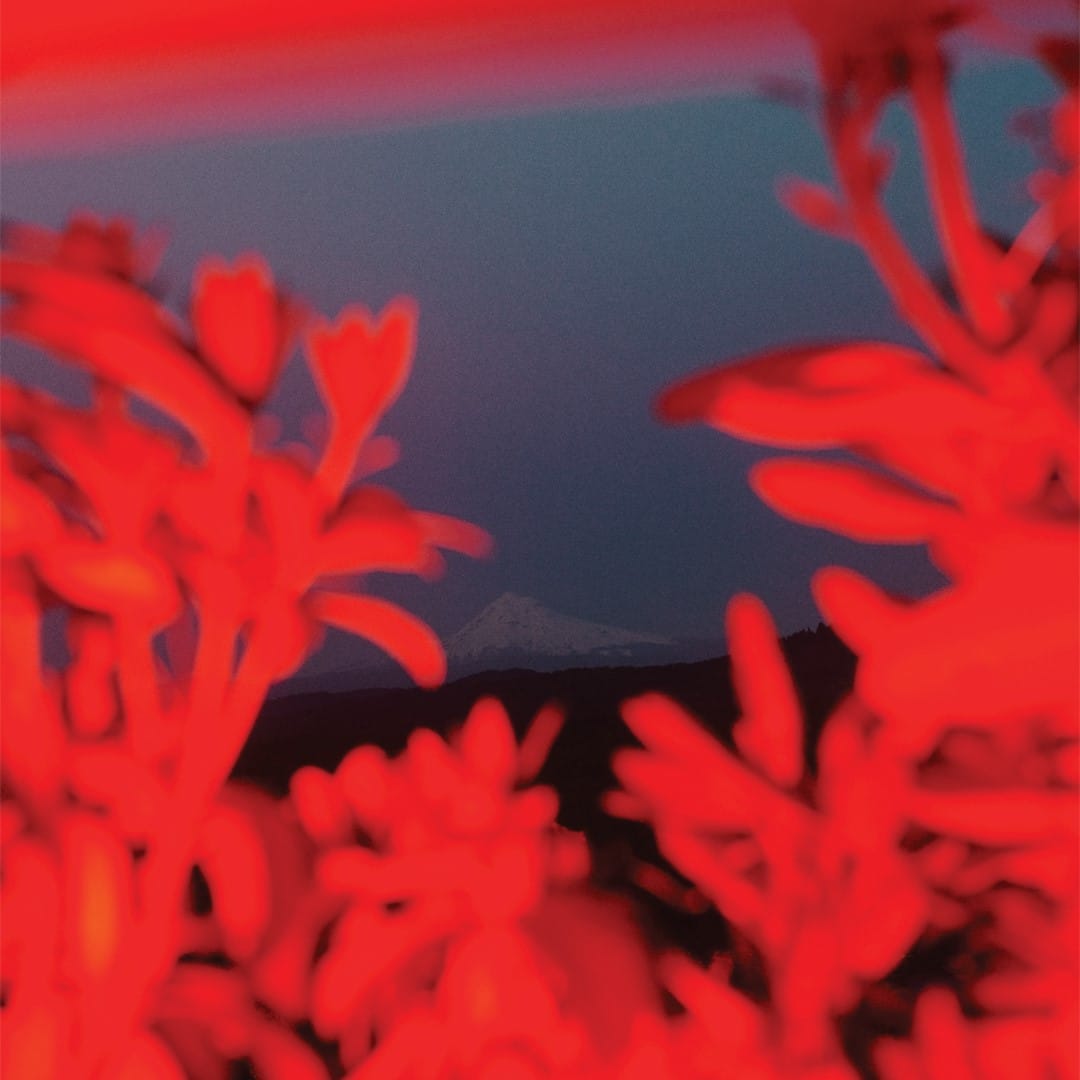 Suncrest – Ulrich Lang
The above image by Will Matsuda, reminiscent of the Japanese Hanafuda cards, inspired Ulrich Lang to create Suncrest. Lang, who comes from near Stuttgart and has lived in New York for many years, is known for his love of art and photography, which he likes to incorporate into his fragrances. Each of his compositions is accompanied by an expressive image that serves as a source of inspiration, visually reflecting and implementing the fragrance composition.
At the side of Suncrest is an atmospheric photograph by Japanese-American photographer Will Matsuda, who depicted Oregon-based Mount Hood, framed by scarlet, glowing foliage. Matsuda himself comes from the state located in the northwestern United States. And the eponymous protagonist of Ulrich Lang's creation also has a connection to Oregon, as the Suncrest peach variety – as chance would have it – was originally bred there.
As we learned in yesterday's interview, Ulrich Lang wanted to create a fragrance bursting with optimism and positive vibes after his beautiful, comforting lavender musk Lethe. A good mood fragrance through and through, which should be centred on the peach.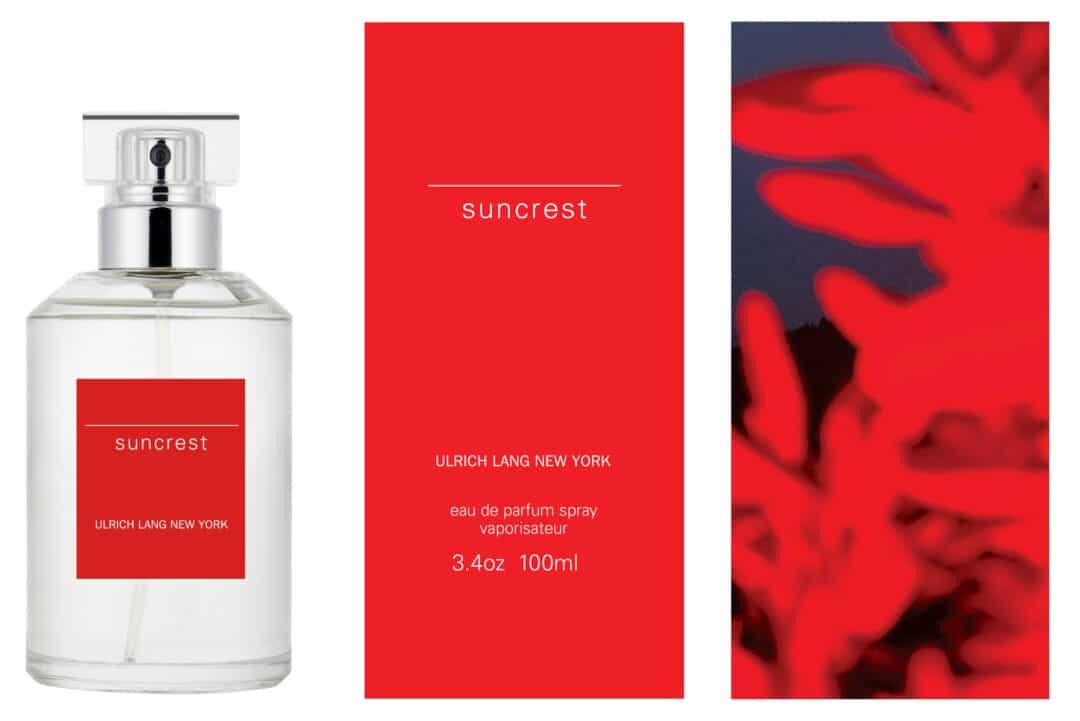 The ingredients for the good mood booster Suncrest are the fragrance notes peach, black currant, lemon, jasmine, lily of the valley, sandalwood, cedarwood and ambroxan, which already sound absolutely enticing to me purely from reading. Personally, yes, I love peaches, which I associate with summer, sun and a delicious taste. Associating a peach with good mood, optimism and a positive vibe is therefore an absolutely logical conclusion for me.
Dream in peach – Suncrest
Lucid, light and radiant, with a soft and velvety peach sweetness, Suncrest opens. Very authentic and incredibly delicious, the creation appears from the first sniff. Delicate citrus notes add a touch of freshness to the lovely fruity nuances of ripe, juicy peach, while black currant also provides depth. But the focus is on the peach, which is actually depicted in the composition in its most beautiful and natural form.
Jasmine and lily of the valley give the wonderful peach fruitiness fine-creamy and light-floral accents, always remaining in the background and playing more of an underlining role. In the finish, warm, light and ethereal woods offer the velvety stone fruit a cosy, cuddly bed on which the peach is too happy to settle down to rest.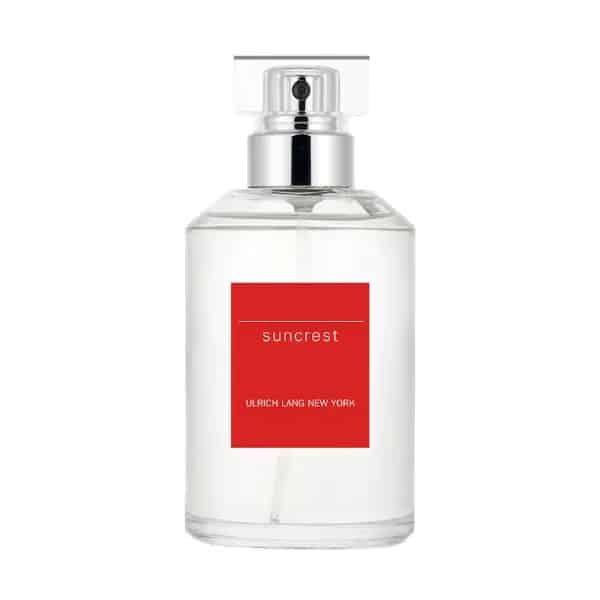 Suncrest is a beautiful, sunny and summery peach fragrance that fully surrenders to the velvety-sweet character of a ripe, delicious and juicy peach. The accompanying ingredients set the perfect stage for the fruity protagonist, underlining its special nuances with fresh, creamy and woody-warm accents, ensuring that the star of the creation shines in the best light throughout the entire course of the fragrance. Suncrest is definitely a good-mood perfume and optimism booster, perfect for every situation in life, every occasion and actually also for every season. Because the eau de parfum is so delightful that you don't just want to wear it in summer or on warmer days. If you love quiet, finely balanced and modern fruity scents – and peaches – you should definitely put Suncrest on your must-try list. 🍑
Giveaway
We raffle the following treasure from Ulrich Lang, for which we would like to thank the distributor Luxum Beauty very much:
1 x 100 ml bottle of Suncrest by Ulrich Lang worth € 165
How do you get into the lottery pot? Very simple! Leave us a comment below this article up to and including Sunday, 10.09.2023. On Monday, 11.09.2023, the lucky winner will be informed by us via email.
You can find the conditions of participation here.
We wish you good luck 🙂