Yesterday I had the pleasure to present Claudio Denz and David Weber from Maison Noir in an interview, today it's the turn of the collection of the Swiss niche fragrance brand. Five eaux de parfum can be found in the range at Aus Liebe zum Duft so far, all of which were developed according to a very special and unusual concept: Vertigo 236, Bohemia 265, Alter Ego 786, Somnia 517 and Volantis 685 are the sonorous names of the creations. Today I would like to present you the first three compositions, tomorrow the next two will follow.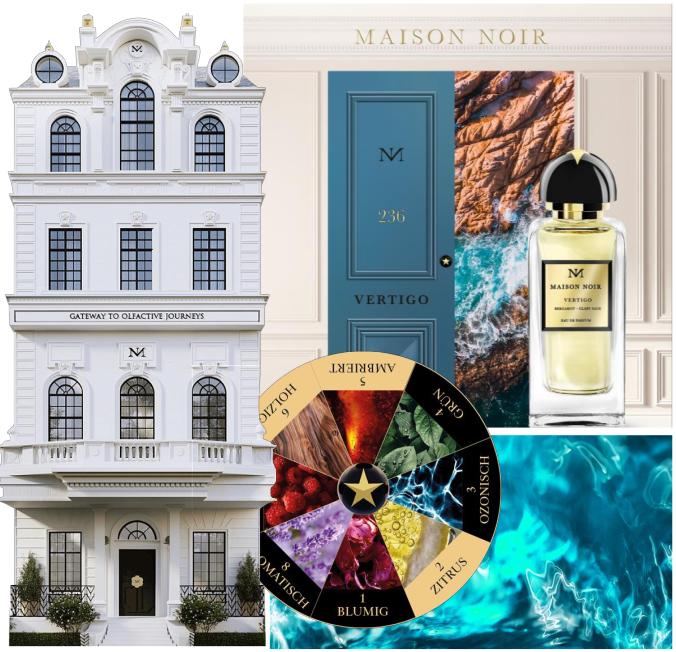 Claudio Denz and David Weber already introduced us to their unique fragrance concept yesterday, which is why I would now like to talk about it only very briefly: Maison Noir's imaginary town house – the so-called "gateway to olfactive journeys" – reminiscent of a hotel, inside it doors in different colours, marked with a three-digit number behind which a certain fragrance is hidden. Maison Noir also gives each creation its own persona to reflect the character of the eau de parfum.
Vertigo 236 – right here, right now!
The first composition is Vertigo 236, which perfumer Alexandra Monet created from the ingredients of lemon, mint, saffron, clary sage, ambroxan, patchouli, vetiver and musk. The creation has a blue door, the visuals show a red-rock coastal landscape with turquoise blue water and the number sequence 236 suggests a citrusy, ozone and woody scent. Vertigo 236 is classified as a "doer" according to Claudio Denz, a quality that sounds to me like a swashbuckling, dynamic fragrance.
Height in the abyss. You know that every day will bring you unexpected opportunities. Every day gives you the chance to plunge headlong into life as if there were only this one opportunity.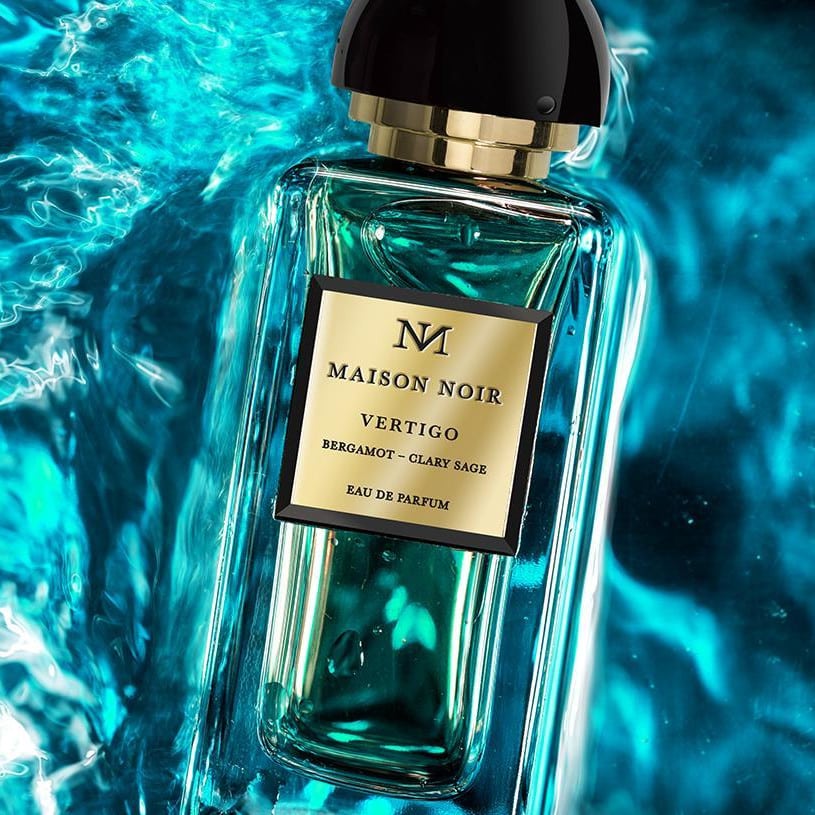 Refreshing, citrusy and minty-green Vertigo 236 opens, soon accompanied by the aromatic herbal notes of clary sage. Energetic, fresh and sparkling – yet restrained and transparent – the eau de parfum is definitely, underpinned by creamy light patchouli and the subtle earthy coolness of vetiver, rounded off by a delicate musky powderiness. Airy, light and quiet, like a gentle breeze that provides new momentum and dynamism, Vertigo 236 is a perfect and incredibly pleasant fragrance companion for any occasion, whether in the office, in everyday life or during sports, on a first date or going out. Personally, I would tend to wear the unisex composition on warmer days, but in principle it is also a seasonal all-rounder.
Bohemia 265 – Maison Noir
Bergamot, cardamom, thyme, oregano, cashmere wood, cedar wood, amber, vetiver, tonka bean and gourmand notes are the ingredients of our second fragrance today, which goes by the name of Bohemia 265. Perfumer is again Alexandra Monet, who has worked for the brand Maison Noir a total of four times so far, creating a fragrance that the niche fragrance label classifies as "the unconventional" with the characteristics "citrus, woody, amber".
The silhouette of nature in the air. Born as an unconventional spirit, you feel most comfortable outside social norms. You stand out from the crowd and refuse to follow the "herd."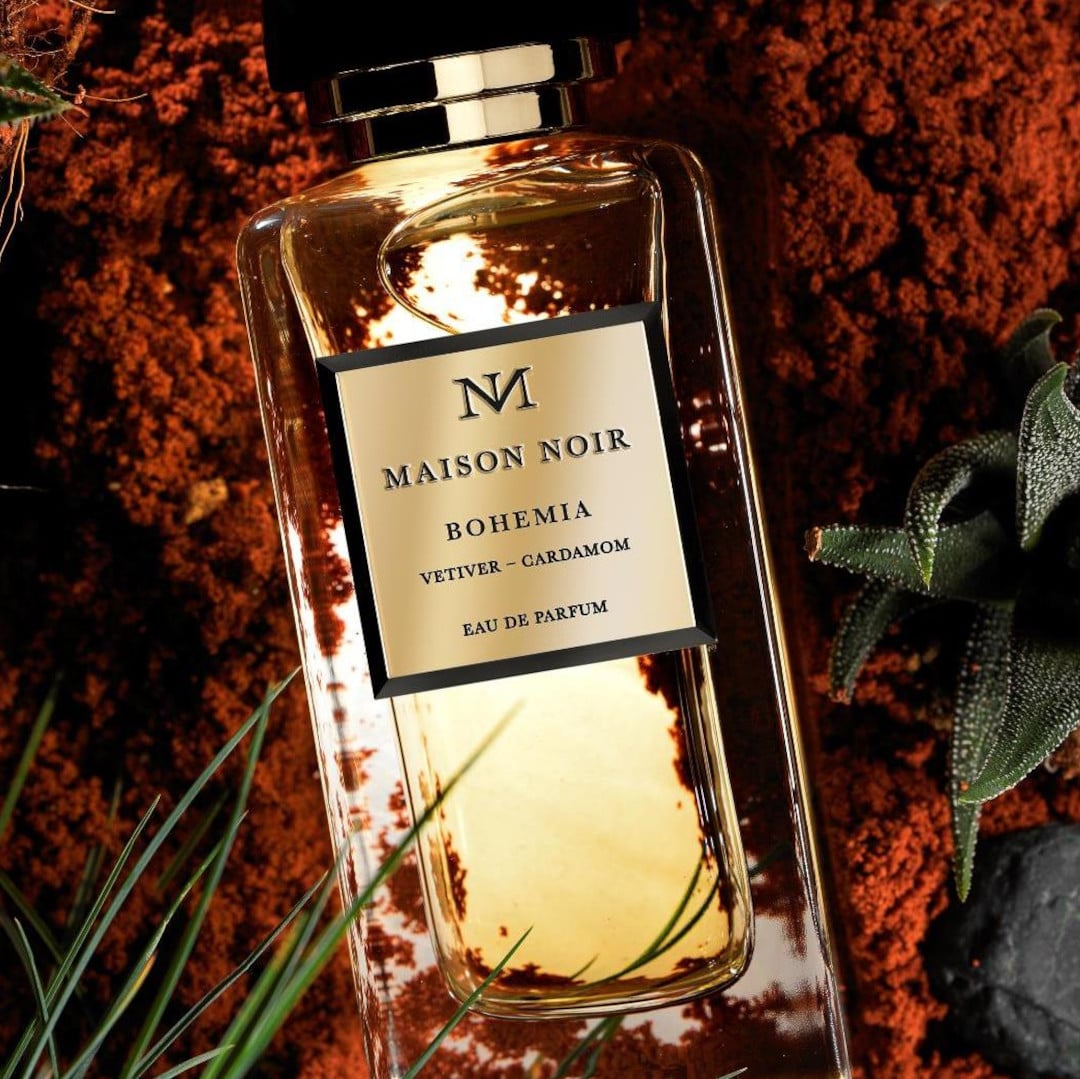 At the start, I perceive a citrusy astringency, peppered with aromatic cardamom spice, which is soon joined by the quite dominant and greenish-pungent notes of thyme, which feels similarly at home in the composition and spreads luxuriantly like in my herb raised bed. I also sniff out oregano, really unusual nuances, which make the creation for me but of course all the more exciting. A sweetish warmth flows through Bohemia 265 as it progresses, containing creamy powdery and ambery woody facets. This eau de parfum is also quiet, transparent and calm, an idiosyncratic character, with a clear preference for thyme, which I tend to see on cooler days, but which is absolutely suitable for office and everyday use.
Alter Ego 786 – Naughty little oud!
Maison Noir also has an oud fragrance in its portfolio, of course, and this one is called Alter Ego 786. Perfumer Alexandra Monet combined for this creation the ingredients raspberry, saffron, cinnamon, geranium, sandalwood, cedar, agarwood (oud), labdanum (cistus), woods and leather. Raspberry and leather is a proven combination, so now raspberry and agarwood, whereby the latter also likes to reveal leathery aspects. Sounds promising! Alter Ego 786 is defined as "the leader" and is said to be "fruity, aromatic, woody".
Super strong, bold oud. Connect with your other side and bring it out of the shadows. The side of you that has the courage to break new ground, that says what has never been said and does what has never been done.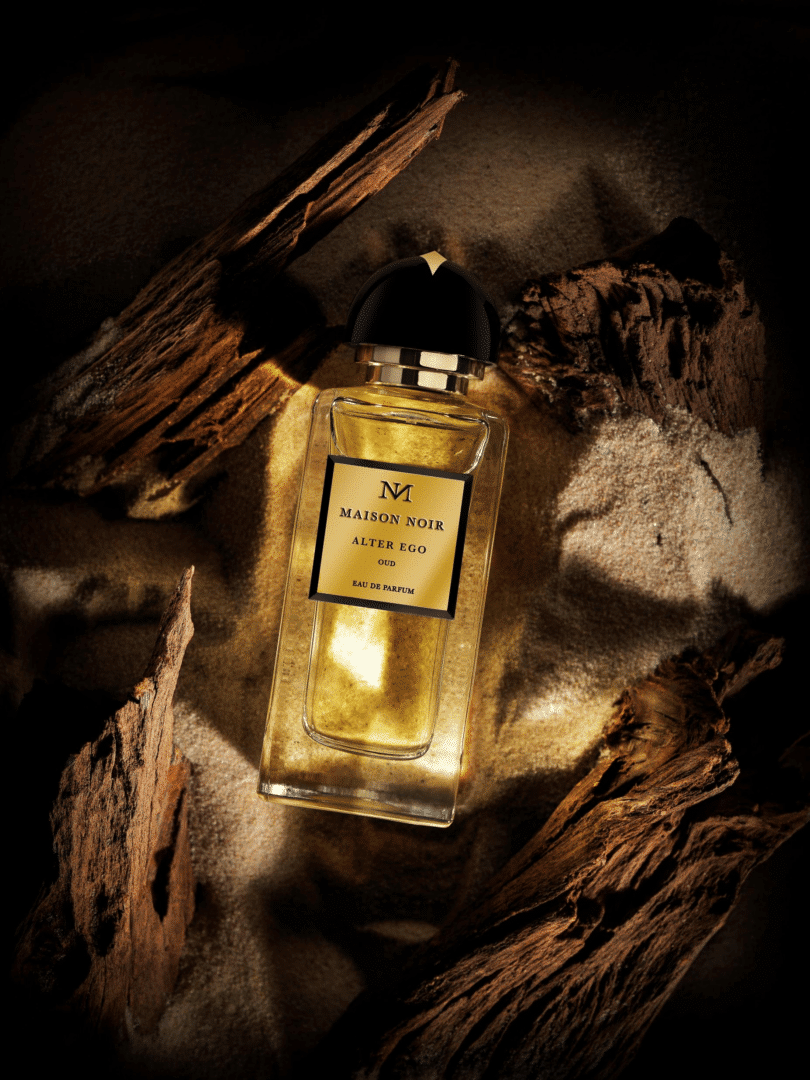 Wild, smoky and woody Alter Ego 786 opens. The creation is very present, intense and lush, and yet it also has that Maison Noir-typical transparency and airiness. Saffron and cinnamon provide dark, leathery spice nuances that add depth to the creation, surrounded by the liqueur-like fruitiness of raspberry. A touch of freshness is brought to the composition by rosy-cool geranium. Sandal and cedar provide velvety-woody warmth and durability, while resinous-smoky labdanum sweetens the fragrance in the most wonderful way. An incredibly successful interplay that seems powerful and expressive, but also familiar and cosy, reminding me a little of the special notes of a strong whiskey. Exceptionally finely composed, complex and absolutely coherent in itself, Alter Ego 786 is a creation that should please not only friends of raspberry, oud and leathery-boozy fragrances. An absolute must-try and my personal favourite so far!