Today I would like to deal with an old acquaintance here in the Duft-Tagebuch: Marc-Antoine Barrois and his fragrances Ganymede and Ganymede Extrait, because the French couturier has launched an intensified version of his incredibly popular fragrance and I want to have a closer look at both and compare them directly. How do the two creations differ, what are the similarities, and how do I like them?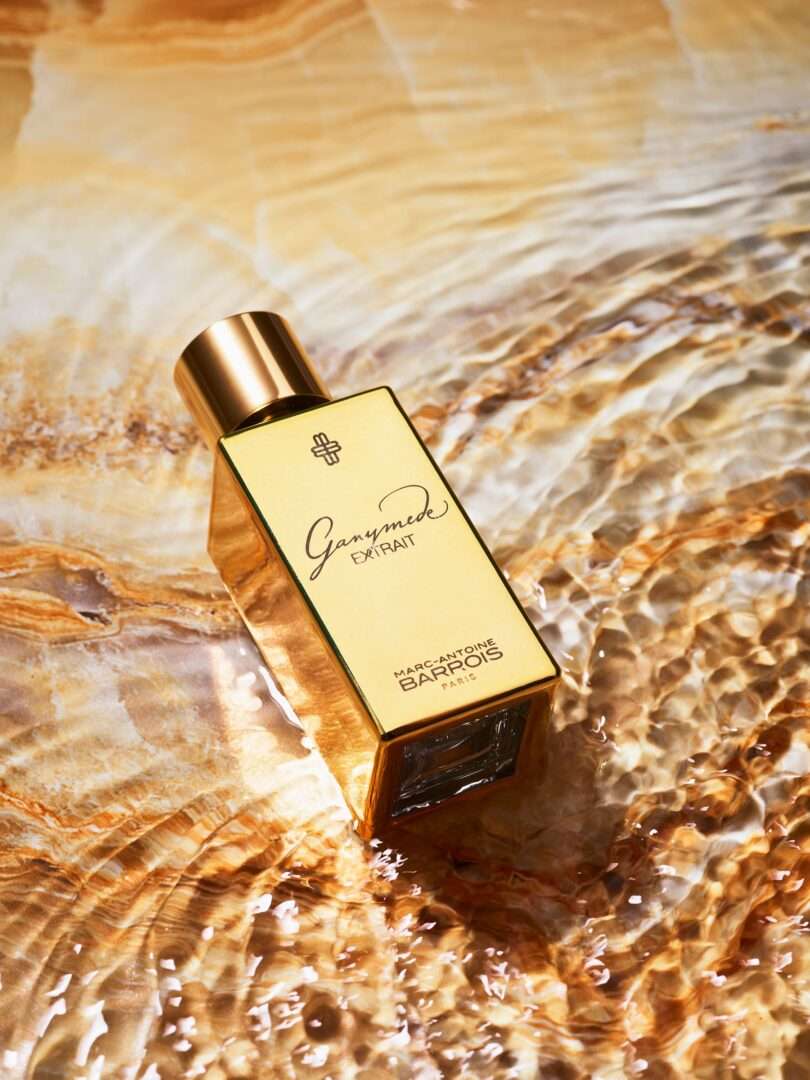 For Ganymede and its extract I do not know yet. The other three creations of Marc-Antoine Barrois I have already presented to you here and was really excited about all of them. On top of that, I also did an interview with Marc-Antoine, which was really inspiring. I'll link you to my previous posts below:
Ganymede Extrait – the latest coup
So today I would like to introduce Ganymede and Ganymede Extrait, compare them and let them have an effect on me. The inspiration for both creations is, of course, the same: Jupiter's moon Ganymede, a rocky celestial body, of great radiance and covered with an immense layer of frozen water that is kilometres thick. Therefore, Ganymede belongs to the icy moons, a term we already learned about in my review of Encelade. For its source of inspiration, Saturn's moon Enceladus, also belongs to that frosty species of celestial bodies.
By the way, Jupiter's moon Ganymede was named after the beautiful shepherd boy Ganymede, known from Greek mythology, who was idolized by Zeus. He brought him to Olympus and made him an immortal cupbearer to have around him for all eternity. Perfumer of all creations from the house of Marc-Antoine Barrois is Quentin Bisch. The two are a well-rehearsed team, appear extremely harmonious with each other in pictures, and are incredibly likeable. With the Ganymede fragrances, Barrois and Bisch have once again taken on the theme of leather and interpreted it in two ways.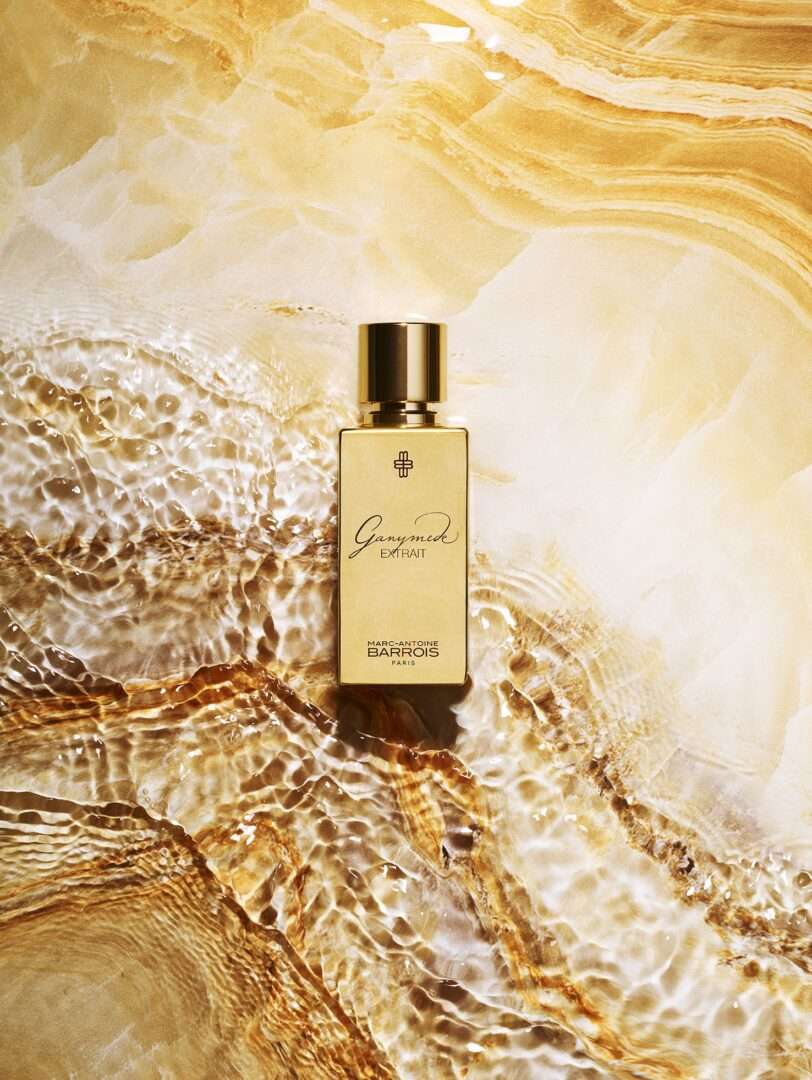 Ganymede Extrait consists of fragrance notes immortelle (Italian strawflower), frankincense, myrrh, safraleine, woods and tangerine. It is said to be "a spicy and hot leather scent". "A dune covered with immortelles, washed by the shoals of the same ocean as Ganymede" said Marc-Antoine Barrois, founder and artistic director of the fragrance house.
Burning dunes
Ganymede Extrait opens the fragrance with an opulent start. Immortelle, safraleine and myrrh have an olfactory and intense rendezvous, with lush, spicy-leathery, dark and herbaceous-resinous nuances that are very present and densely interwoven, but which, despite all their expressiveness, have a certain inherent transparency. The incense brings a mineral-smoky coolness to the composition that actually reminds me of windblown sand.
To a just extinguished campfire on the beach, its smoldering remains of wood. Smoke is carried away by the breeze. Sand mixes with ash. The herbal notes of immortelle reveal an incredible durability and remain dominant for a long time in the course of the fragrance, furthermore provide salty-earthy accents that skilfully round off the creation.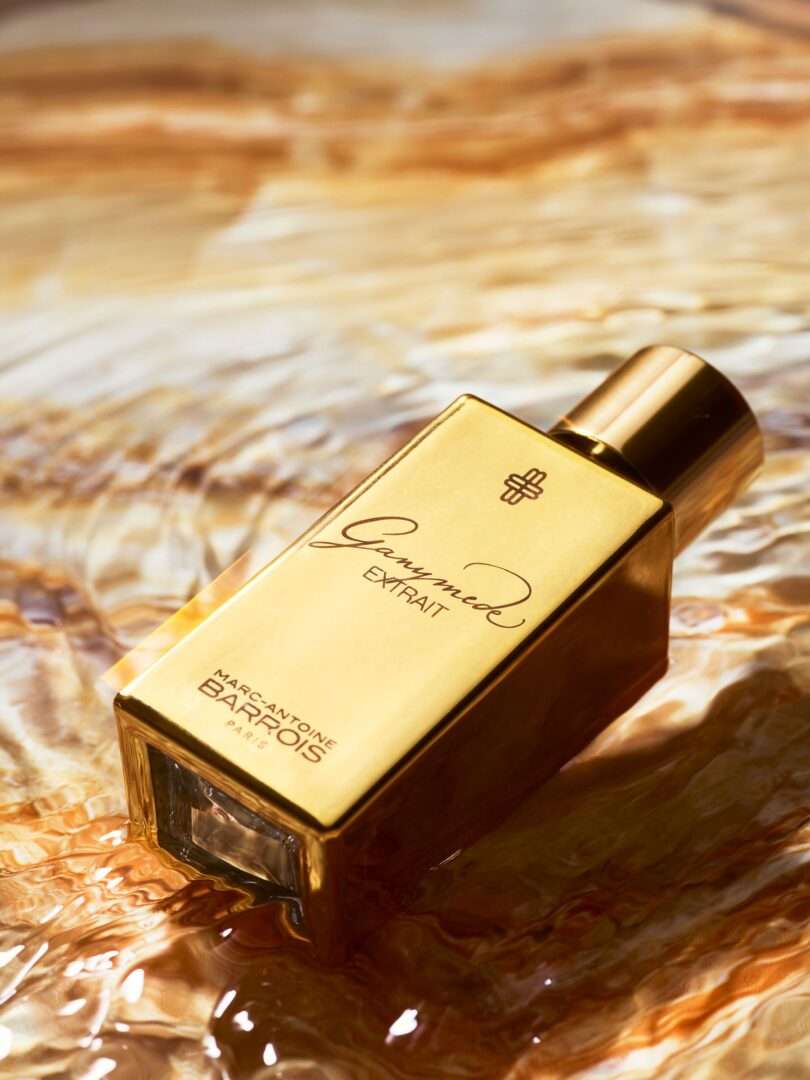 Ganymede Extrait is a strikingly woody, leathery-smoky and spicy-herbaceous fragrance that is very dry and rather cool in my eyes. I also detect earthy-sandy and mineral-salty accents, which makes this very densely woven and complex composition absolutely exciting. The longevity is extraordinary, even after more than 24 hours, the fragrance is still very perceptible on my skin – not quite as present, of course, but still quite detectable in a form close to the skin. You have to like the idiosyncratic nuances of immortelle if you want to take Ganymede Extrait to your heart. If these conditions are fulfilled, then you get a wonderfully nichy and beautifully composed fragrance that makes a statement and could become the great love. 🤎
Ganymede – shining moon of Jupiter
After the Extrait, I would also like to briefly address the Eau de Parfum, which – as already mentioned several times – is also called Ganymede. The fragrance, launched in 2019, was of course created by Quentin Bisch and the fragrance notes also sound very similar, even if the order varies a little: Mandarin, saffron, violet, osmanthus, woods and immortelle (Italian immortelle).
As a "soft and mineral leather scent" Marc-Antoine Barrois describes the origin Ganymede in EdP format and after the great and idiosyncratic Extrait, I am curious to see what awaits me right now.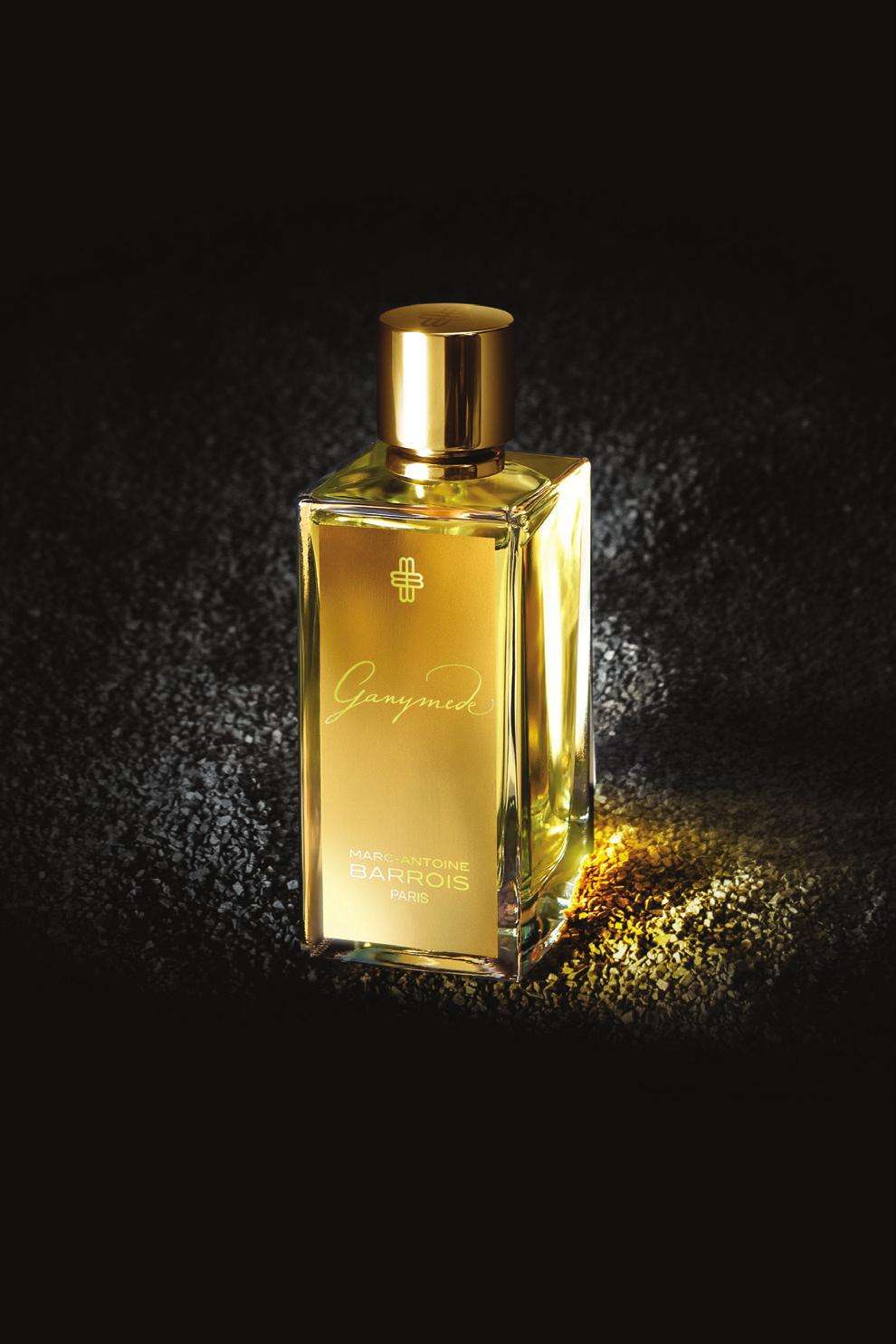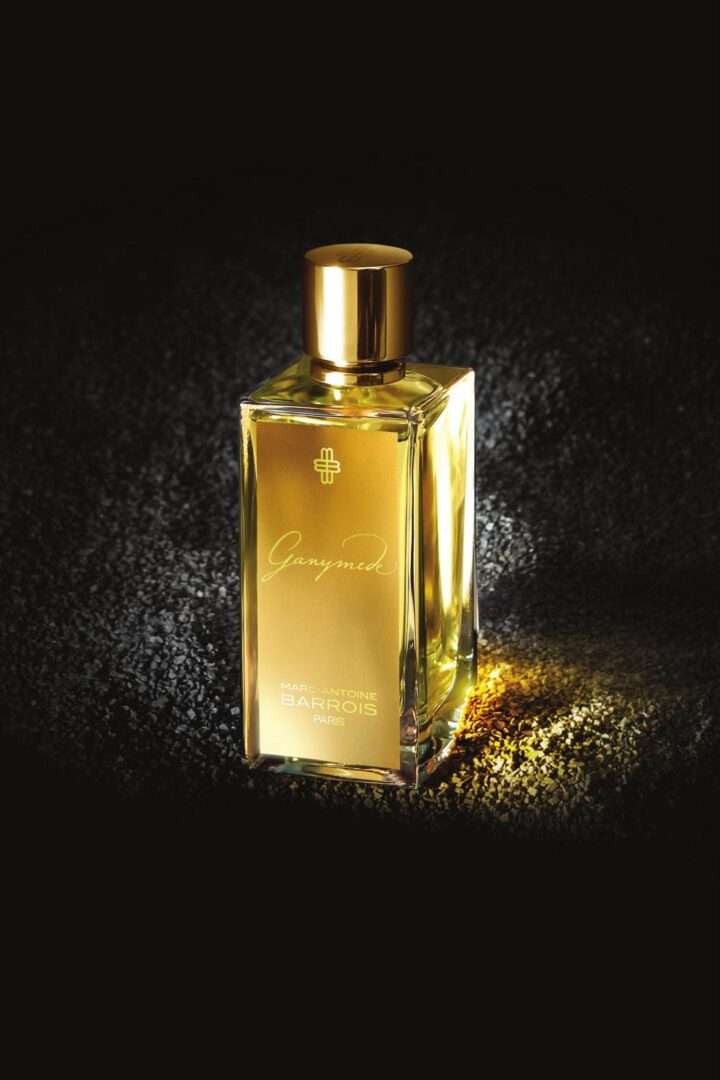 Ganymede was composed by perfumer Quentin Bisch and again makes use of wild-leathery notes that already made B683 a wonderful classic. This time, however, the artists made themselves free of traditional specifications to take us to another place, towards a luminous and fluid elegance.
Timeless and flowing
The tangy, citrusy tartness of tangerine peel provides a refreshing opening, which is soon joined by the velvety peach nuances of osmanthus and powdery, earthy violet. The saffron contributes dark, leathery spice notes that interact with the florals to create a beautiful, sandy suede that is incredibly delicate, soft and supple.
Elegant and graceful, the creation glides through the course of the fragrance and looks very stylish, always distinguished. And even if one might think that these qualities speak for a certain aloofness, Ganymede is the exact opposite. Cozy, familiar and enveloping, this creation is just what I need on this late summer, autumn-like day. A delicate immortelle spice shimmers in the background, salt-accented, with subtle sandy tendencies, paired with clean-bright woods.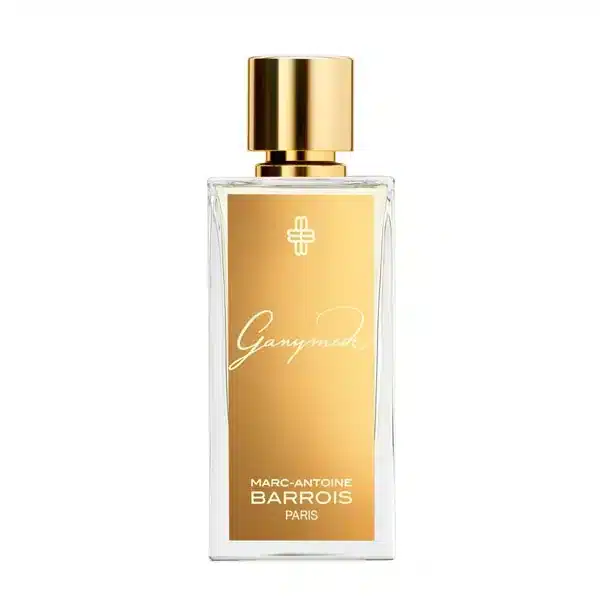 Ganymede is the quiet and contemplative brother of Ganymede Extrait, a beautiful powdery velvety and herbaceous spicy suede scent that I like exceptionally well. As much as I admire the extract's rough edges, expressiveness and idiosyncrasy, however, I simply love scents with great suede notes. Both creations from the house of Marc-Antoine Barrois are once again proof of the masterful-artistic collaboration between couturier Barrois and perfumer Bisch, two who seem to have found each other and spoil us with fragrances that are timeless, modern and unique. Absolute test recommendation for all who do not know both compositions of yet! ❤️