Once again, I've done some soul-searching and put together my top 5 citrus fragrances for you – in keeping with the still-summer season – because I just can't say no to a nice hesperidic scent. I know, I know, the choice of citrus creations is immense. This made it all the more difficult for me to choose five compositions from the multitude of Hesperide-oriented fragrances that are special to me – in whatever form. All five are enchanting, so I won't keep you in suspense any longer and dive straight into this energetic and refreshing top 5 list of citrus fragrances. Are you joining?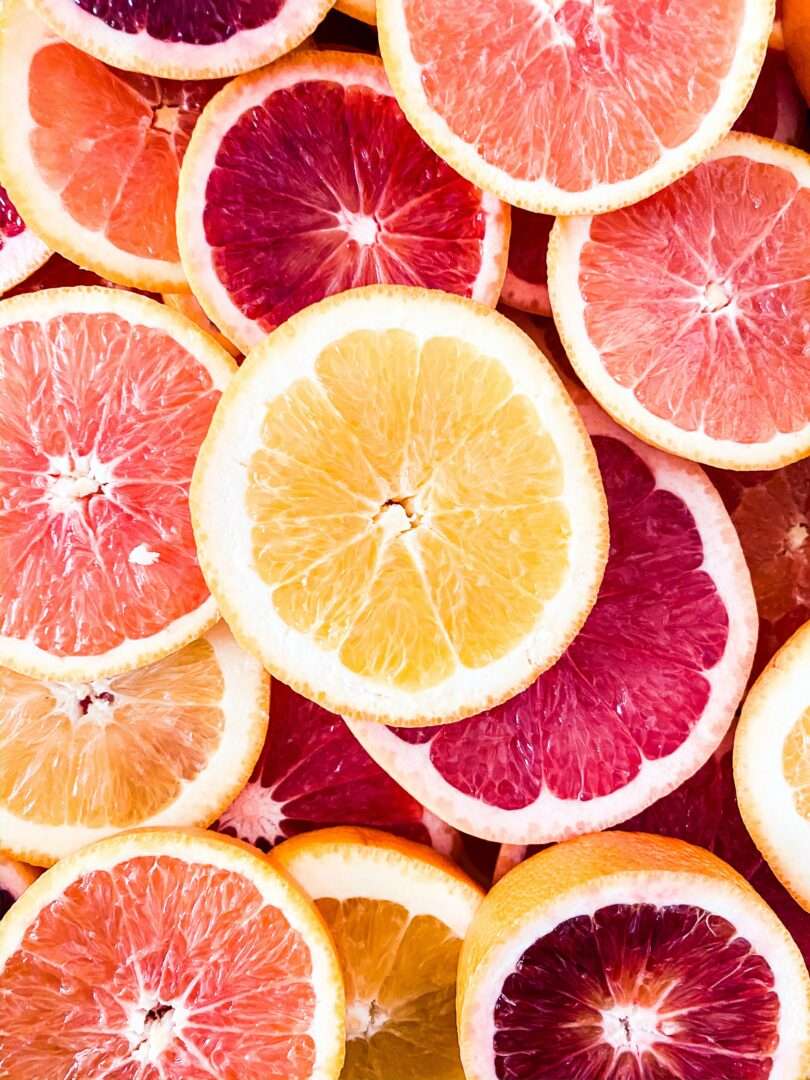 My top 5 citrus fragrances
In this Top 5 list, I would like to emphasize once again that the order of the fragrances mentioned is purely random and that I do not wish to make any further judgements about which of the five creations is the best, the second best etc. I also have a special highlight! Repeatedly, readers of the Duft-Tagebuch and customers of Aus Liebe zum Duft have asked us to provide a sample set to go with each Top 5 post. And I'm happy to announce that the top 5 citrus fragrances are now accompanied by the sample set Your Daily Dose of Vitamin C, which includes all five fragrances mentioned here today. 🎉 Edit: The sample set is sold out!
Note de Yuzu – Heeley x Maison Kitsuné
Note de Yuzu comes from a collaboration between the fragrance house Heeley and the Japanese-French fashion and music label Maison Kitsuné and pays homage – the name already reveals it – to the yuzu, the offspring of Ichang lemon and tangerine, which has long been popular in Asia. In this country, too, yuzu is becoming more and more fashionable and is now a popular ingredient in fragrance compositions as well as in gastronomy.
In March 2018, in the post Citrus freshness with Heeley ft. Maison Kitsuné's Note de Yuzu I had a closer look at the eau de parfum and held it under my curious nose for you. Perfumer James Heeley has combined in it the ingredients yuzu, tangerine, grapefruit, seaweed, fleur de sel (sea salt), vetiver and white musk.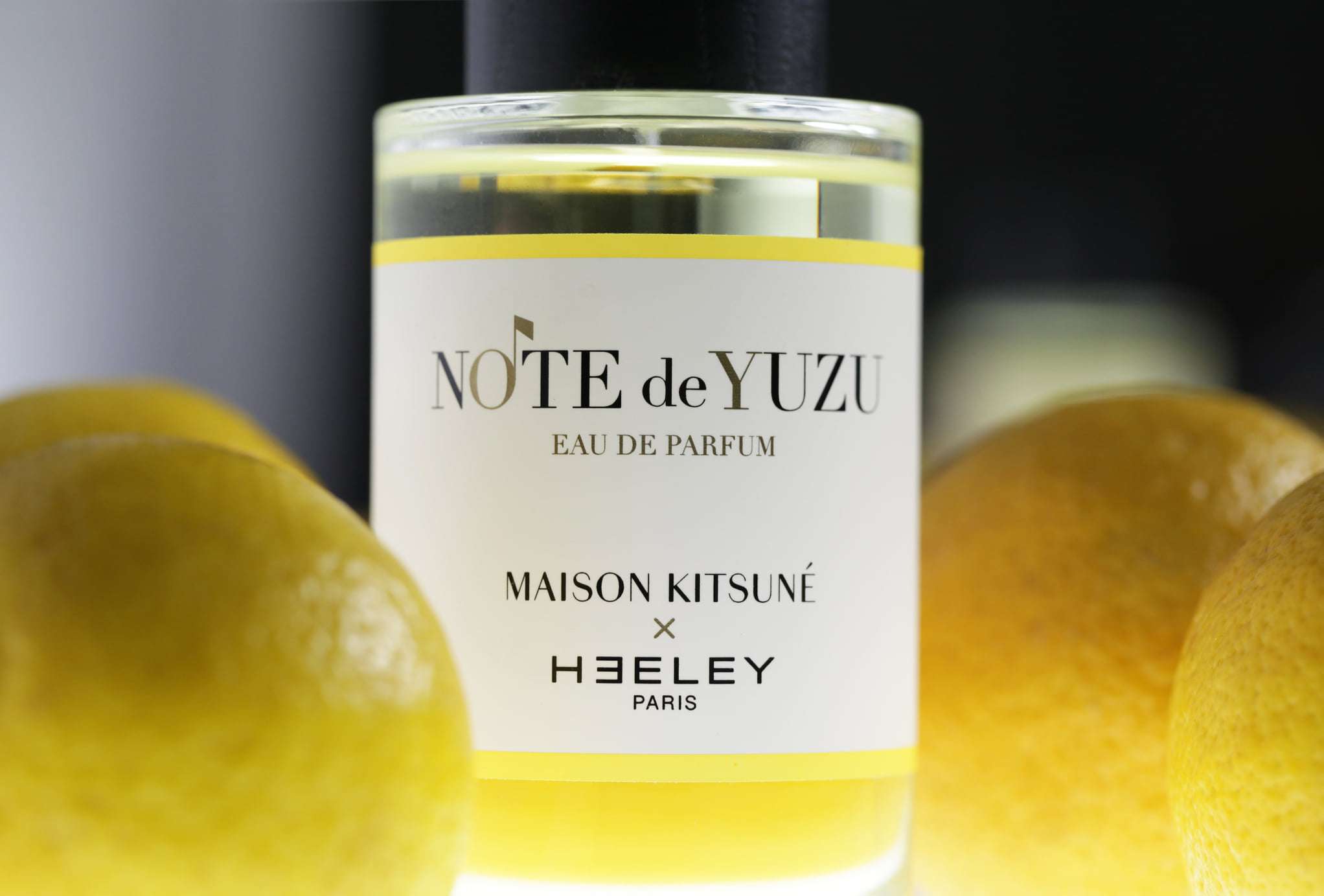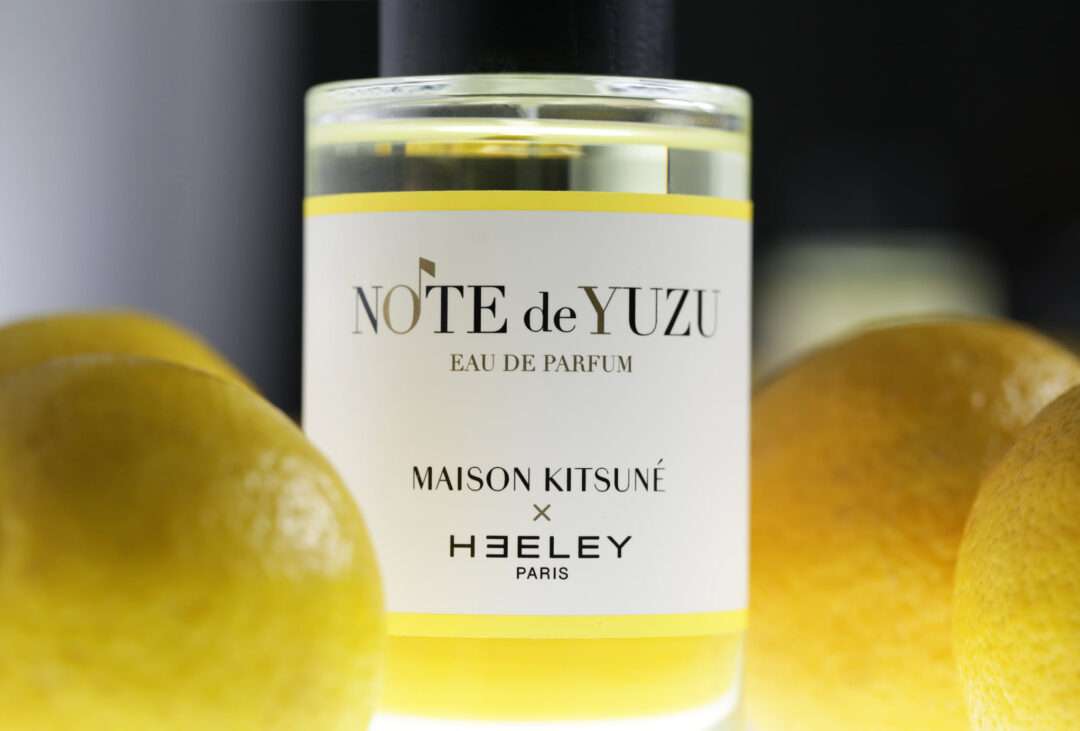 Unsurprisingly, Heeley's Note de Yuzu starts with a refreshing yet distinctly sweet hesperidic note: grapefruit in bright pink is definitely on board, tangerine I can also make out and then an interesting lemon note that must have come from the yuzu. A slight tartness pervades, without too acidic tendencies, tending towards the sweet but still refreshing. The yuzu correlates quite perfectly with the radiant and very authentic pink grapefruit. Gradually, Note de Yuzu reveals a subtle saltiness, becomes smoother and a little more … yes, down-to-earth. The airy ethereal hesperidic notes seem to have been absorbed by the Fleur de Sel, aromatizing it. In addition, algae conjure up greenish marine tendencies, entirely without unpacking the aquatic baton. Greenish, salty, citrusy – Note de Yuzu beautifully combines the ingredients of the Japanese yuzubad. Musk and vetiver ground Note de Yuzu in the finish, lending it unobtrusive powdery and woody notes that are accompanied by a subtle rooty earthiness.
Citrus Poetry – Les Sœurs de Noé
In October 2022 I published the review Citrus Poetry and Saffron Flower by Les Sœurs de Noé here in the Duft-Tagebuch, in which I instantly fell in love with the scent of our second candidate of today: Citrus Poetry is not only a dream in name, but also wonderfully composed.
At work here were perfumers Jérôme Epinette and Pierre Wulff, who created the eau de parfum for Les Sœurs de Noé from the ingredients lemon, ginger, black pepper, apple, orange, jasmine, amber and moss, a citrus fragrance that is wonderfully relaxed, bright, quiet and elegant.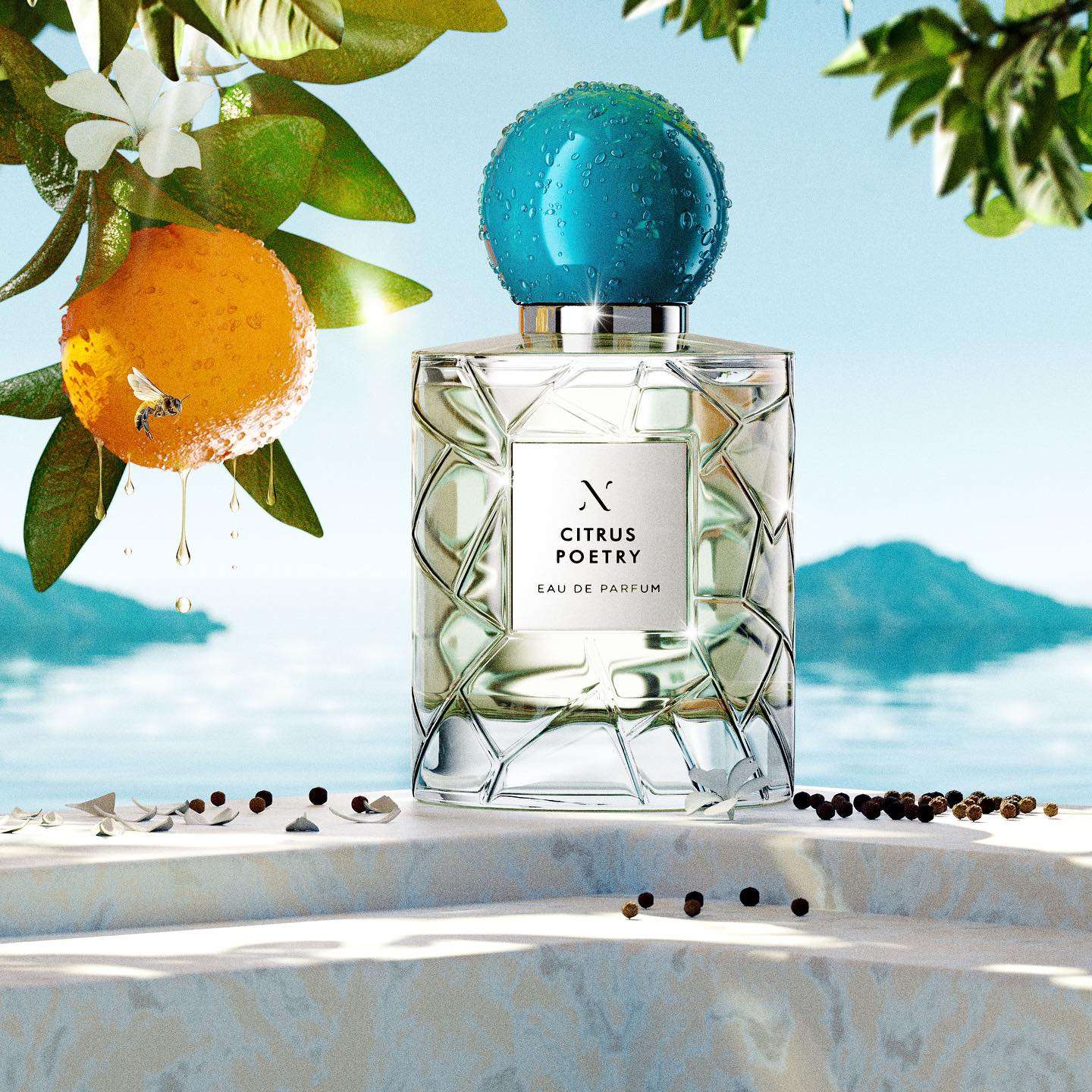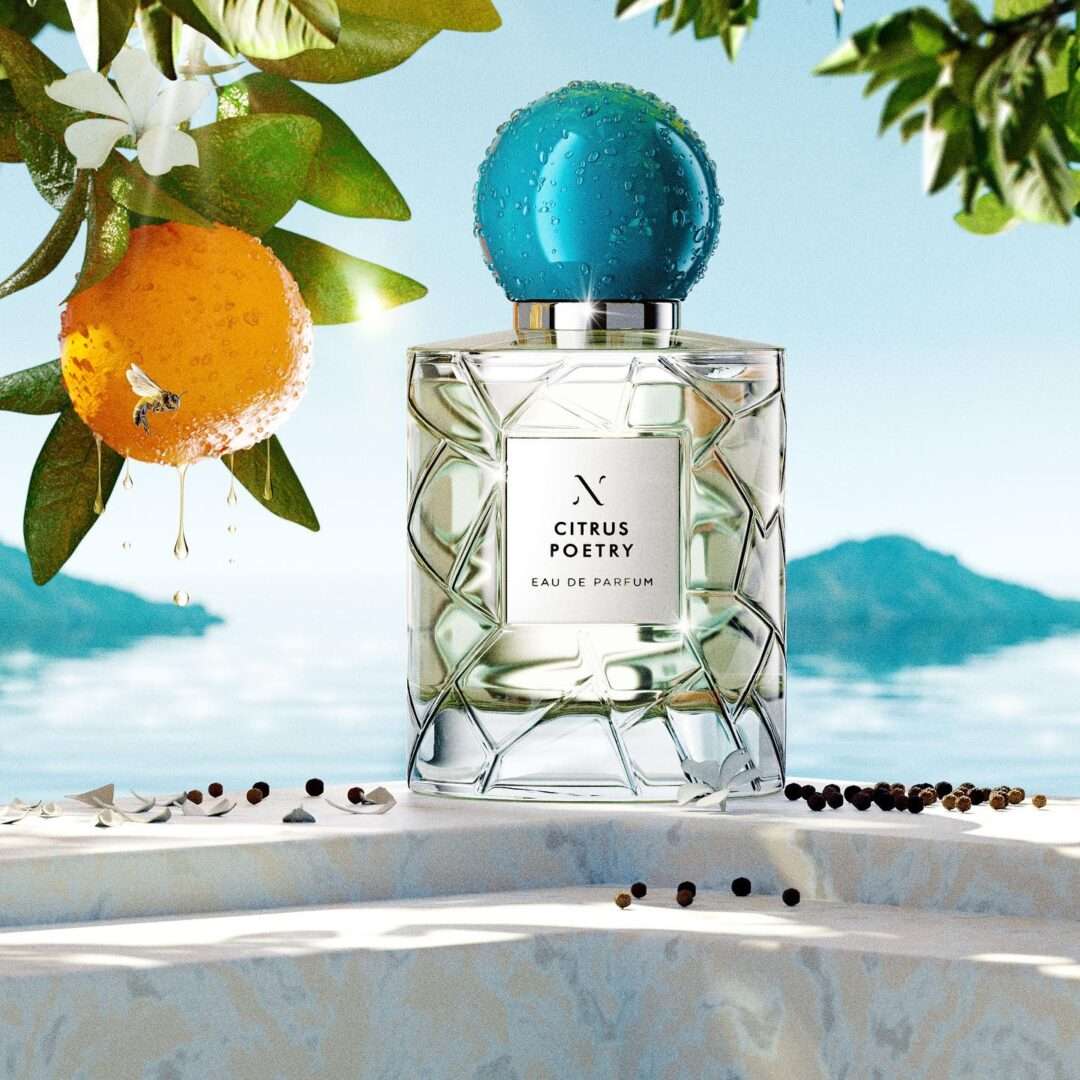 Bright and cheerful lemons define the fragrance opening, underpinned by the dry pungency of black pepper, which buffers and soothes the acidic nuances of hesperides. Other fruits are added, probably the aforementioned orange along with apple, although I can't make them out as a single scent note per se.

But I clearly perceive the creamy floral accents of jasmine, whose smooth and also bright facets, together with the ambergris, bring warmth to Citrus Poetry by Les Sœurs de Noé. With gentle and mossy-woody notes, the eau de parfum created by Jérôme Epinette and Pierre Wulff fades out very gradually.
03 – Rhizome
It was only in June that I introduced you to fragrance 03 in my review 03, 04 and 05 of Rhizome – Fragrant Number Miracle. Italian niche fragrance house Rhizome hasn't been available in the Aus Liebe zum Duft range for long, so it's all the nicer that one of their creations has made its way into this Top 5 Citrus Fragrance article.
The scents already hint at something delicious. Lemon, bergamot, grapefruit, yuzu, basil, ginger, elemi resin, clove, amber, vetiver, sandalwood and patchouli evoke the image of a walk through a grove of Hesperides, with trees full of ripe lemons, grapefruits and oranges. A Mediterranean citrus dream.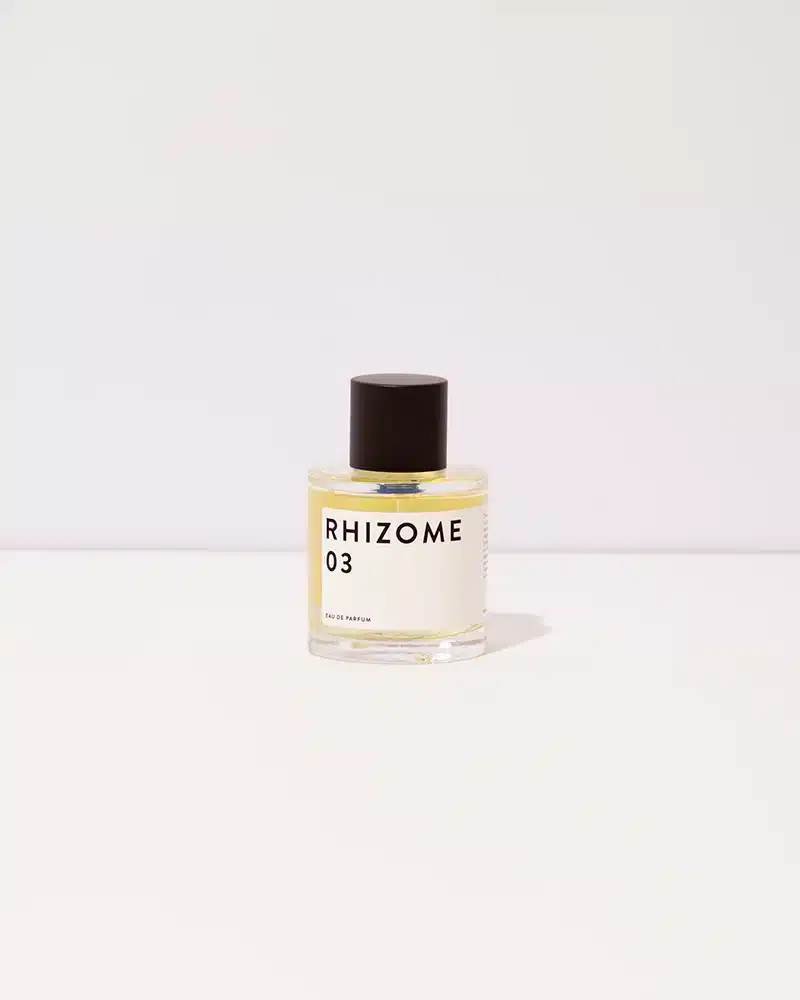 With tangy and rather tart hesperidic notes 03 starts the fragrance course, underpinned by green and aromatic herbal nuances. This blend is really summery and deliciously Mediterranean. A little cologne-like, energetic and vitalizing, a fresh kick to spray on, which, despite all the airiness, still seems present and powerful. Elemi resin and galbanum emphasize the green hue of the citrus creation, while the base notes slowly bring warmth and grounding to the fragrance. Very harmoniously composed and finely balanced. Simply beautiful!
Corfu Kumquat – Aedes de Venustas
The Greek island of Corfu is our next destination, because the eau de parfum Corfu Kumquat by Aedes de Venustas takes us just there. The island was not mentioned by name without reason, as the climatic conditions there are said to be particularly favourable for a rich harvest of kumquats.
The eau de parfum itself I have not yet reviewed here in the Duft-Tagebuch, but privately but already gladly worn. Therefore, here is a short review in which I would like to introduce you to the olfactory benefits of Corfu Kumquat. Perfumer of the creation is the Greek Ilias Ermenidis, who combined for the fragrance the ingredients kumquat, bergamot, mandarin, neroli, ginger, lavender, apple, rhubarb, cypress, ambroxan, incense, vetiver, musk and tonka bean.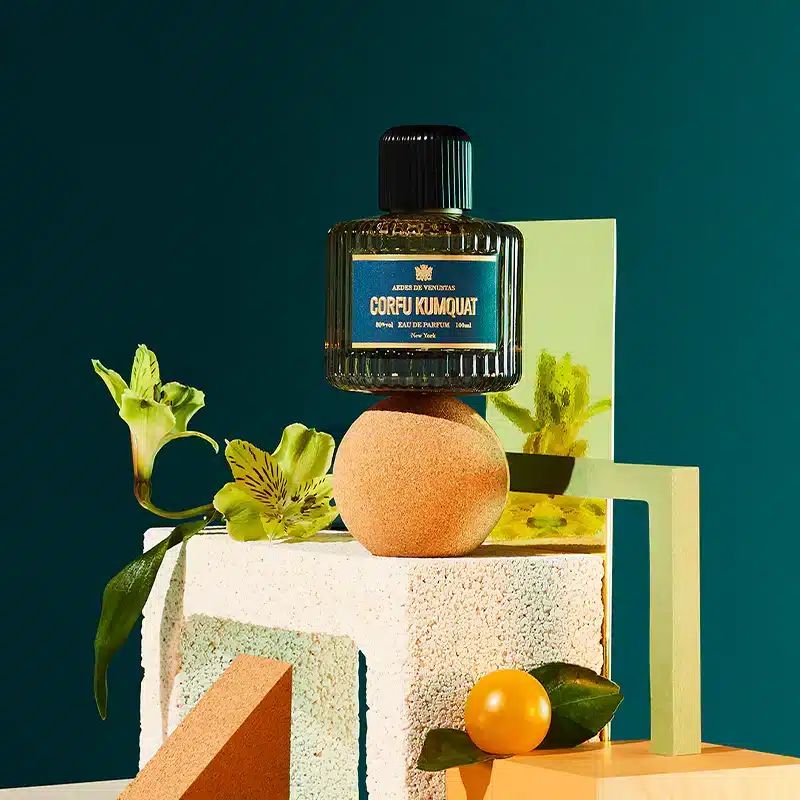 Bright, radiant and incredibly refreshing, Corfu Kumquat presents itself in the opening. Tangy citrus fruits, more peel-like tart than fruit-juice sweet, determine the opening, soon underpinned by the creamy and slightly spicy-green accents of neroli, tinglingly tart rhubarb and a gently citrusy ginger spiciness. Ambroxan breathes cotton soft powder nuances into the eau de parfum, which wonderfully blend into the overall structure. A pinch of salt brings slightly maritime freshness and the incense provides cooling moments. Cypress and vetiver ground the creation with subtle earthy and creamy softwood nuances. A delightfully Mediterranean and relaxed fragrance that combines Greek Mediterranean vibes with skillfully citric kumquat. Beautiful, carefree, summery! A must-have hesperid!
Si Neroli – Benamôr
The fragrance house Benamôr is at Aus Liebe zum Duft not too long and so the brand has not yet found its way here in the Duft-Tagebuch. In this list of the top 5 citrus fragrances, however, definitely belongs a creation of the Portuguese brand, which I would like to introduce to you briefly below.
Si Neroli includes the fragrance notes of bergamot, cedrat (Citrus Medica), orange blossom, almond, cypress, cedarwood and musk, bringing into play another citrus fruit that we have not even had on the table today: the citron.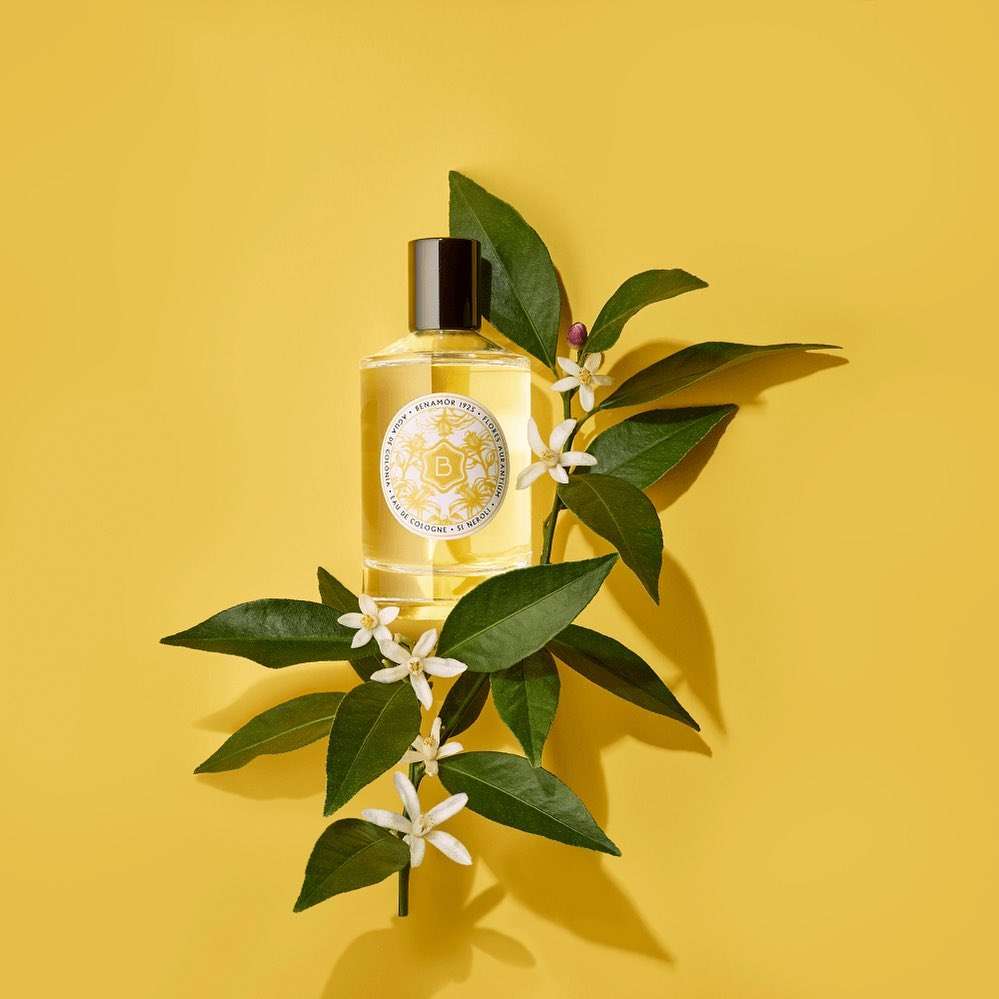 Greenish, tangy bergamot and the typical tart accents of citron give the eau de cologne an invigorating and vitalizing freshness. Light, transparent yet present is the opening of Si Neroli, soon joined by the creamy floral and sweet nuances of orange blossom and toasted almond. The citrus is still present and dominant, even though other ingredients gradually appear in the fragrance. Clean woody notes, carrying delicate greenish coniferous tones, combine with powdery soft musk to create a beautiful and summery Mediterranean atmosphere that is a real treat.