Part III in the series of fragrances by Kinetic Perfumes brings us to the two eaux de parfum Unreal and L'Una and of course – as promised – to another raffle. It's a profitable week before Pentecost, and I'm always very happy to present such a highlight to my loyal as well as new readers. If you haven't browsed through the previous posts, feel free to do so here and here.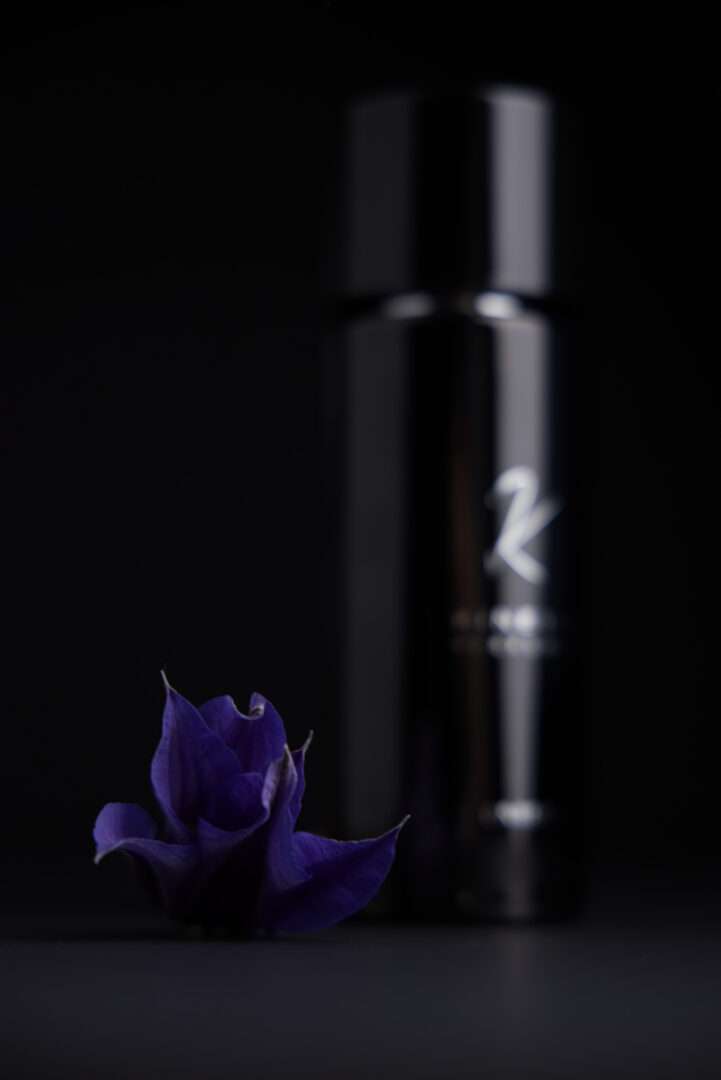 Unreal – Fragrant unreality
Black and shiny, that's how the eau de parfum Unreal by Kinetic Perfumes presents itself purely visually. But what should the name of the creation tell us? Unreal, that is irreal, surreal or even imaginary. The latter makes me think of a mysterious silhouette, of things that perhaps often only arise from our imagination, our head.
Unreal things are not things that have no right to happen. On the contrary, they are moments that occurred contrary to logic, probability and reason. The unreal is that which reveals itself to our senses as the beauty of chance, the delightful complexity of chaos. Things that last only a moment are eternal.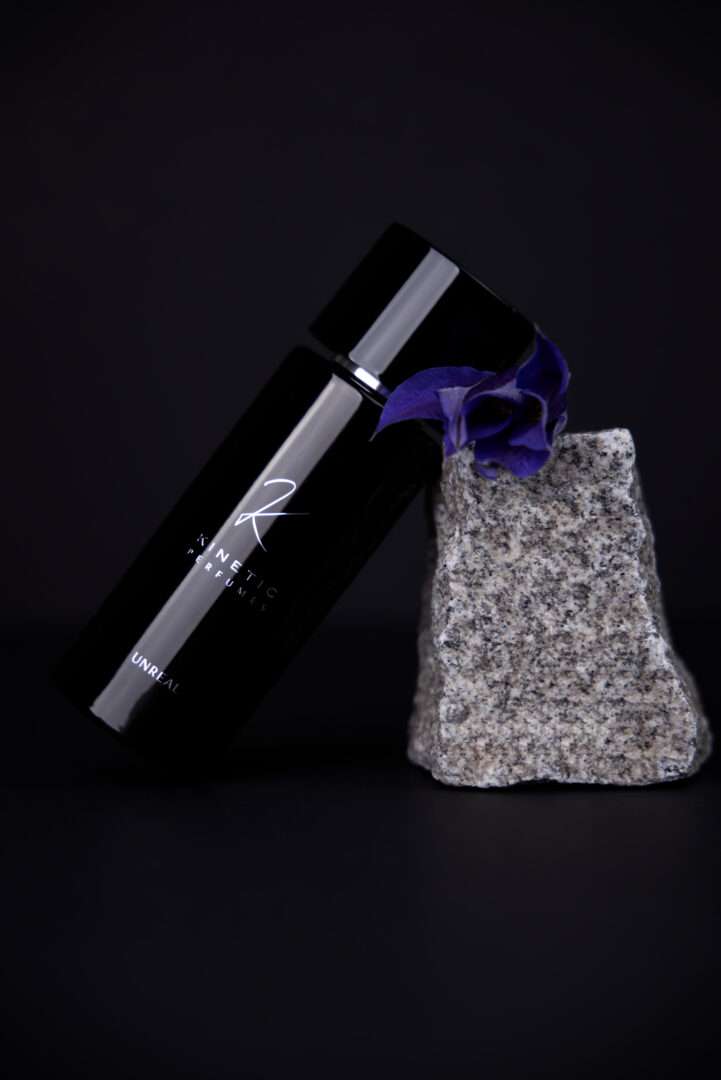 Unreal was also created by the perfumer Christian Carbonnel, who combined the ingredients lemon, black pepper, juniper, ginger, iris, leather, magnolia, benzoin resin, rum, sandalwood, tonka bean, vetiver and cedar for the eau de parfum.
Scent of unreality – Unreal
A dry pepper spiciness combines with the tingling woody nuances of juniper and earthy vetiver in the opening of Unreal. If I had to attribute a colour to the creation, I would say grey. Stone Grey. The granite at the top sums it up quite well. A bit, the opening of Unreal reminds me of Andrée Putman's Préparation Parfumée, meanwhile relaunched as L'Original. Iris powder meets the woody spicy notes, combines with the leather to create a dry and light gray leather iris that I like.
Citrus nuances give Kinetic Perfumes' eau de parfum subtly refreshing moments, while the floral watery notes of magnolia provide a floral touch that runs through the fragrance like a cool breeze. Sandalwood and benzoin resin lend a subtle sweetness and velvety creaminess that makes Unreal seem less dry, less powdery, rounded out by the clean, light-woody notes of cedar.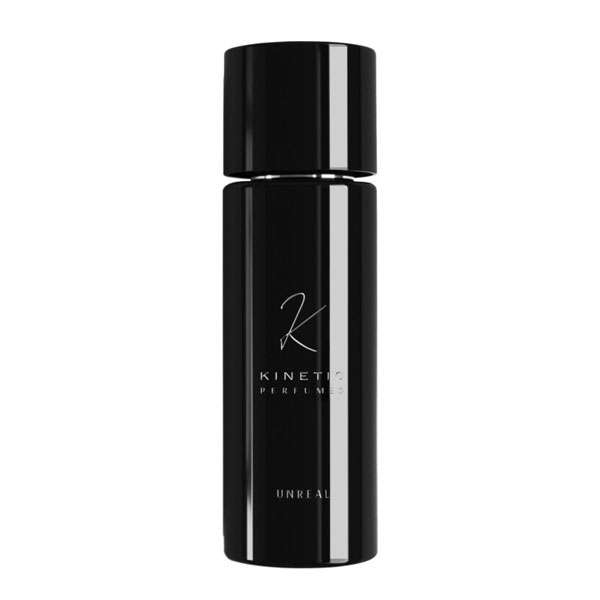 As unreal as the name suggests, I do not feel the fragrance at all. It is rather a dry, spicy and powdery mixture of spices, iris, leather and woods, which has a medium presence and an equal durability. Elegantly composed and of a rather transparent nature, I see Unreal by Kinetic Perfumes as a calm and meditative all-rounder that you can reach for on any occasion and also in any season. 🖤
L'Una – The Unique
In rich purple, reminiscent of ripe plums, the bottle of L'Una shines, possibly pointing the way to a creation that could go more in the feminine direction. But is this really the case? The name L'Una, meaning "the one" or "the unique one" underlines my assumption.
L'Una stands for the one, the unique and reminds of a beloved woman who radiates warmth and positive energy. L'Una, a composition in which roses, the health guardians of the vine, and Italian plum together with oriental saffron and spicy nutmeg create an extremely sensual and warm portrait of feminine elegance.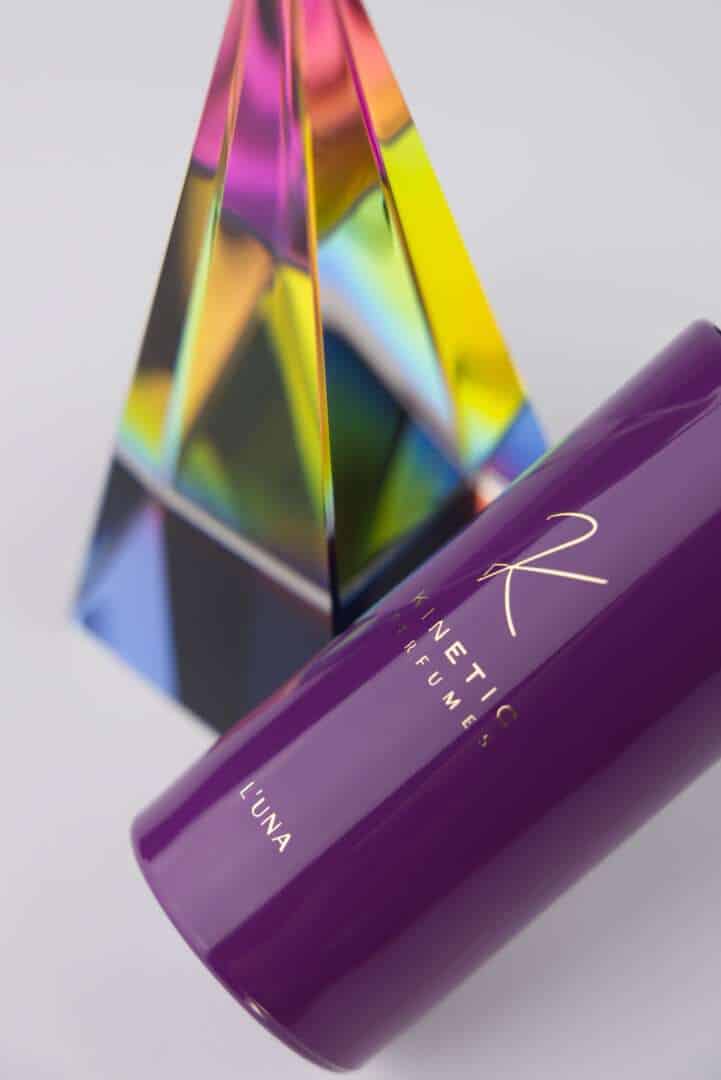 Matching the colour of the bottle, plum also appears in the eau de parfum, which, like all compositions of the brand so far, was created by Christian Carbonnel. With the purple stone fruit the perfumer combines saffron, lemon, bergamot, orange, nutmeg, rose, lychee, violet, lily of the valley, leather, sandalwood, vetiver, cedar, amber, vanilla and musk.
Sweet and cosy
Saffron and citrus meet soft florals and lush vanilla in the opening of L'Una, creating a melange that seems gourmand. The combination makes the saffron look almost marzipan-like. Again and again, its darker, medicinal facets flash up, but in the foreground is a creamy and soothing almond note that I would not have expected so when reading the fragrance notes.
The citrus adds a certain lightness and effervescence to the precious spice, while at the same time an intense sweetness spreads through the creation, reminding me of dark fruits or berries. Woods and ambergris provide warmth and gentle softness as it progresses, while rose and violet add softly powdery and subtly soapy accents. The lush almond note of the opening gradually calms down, giving way to a creamy and soft powder base, delicately underpinned by clean woody notes.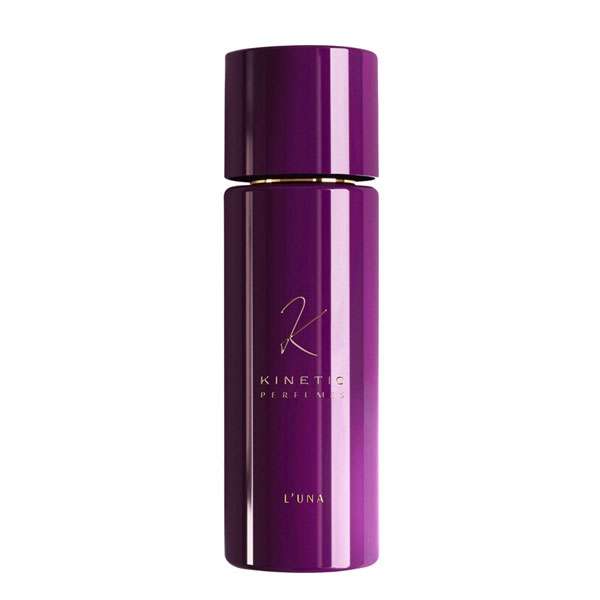 L'Una by Kinetic Perfumes is a sweet-spicy and gourmand-oriental tinged unisex fragrance, with a sumptuous, almondy saffron note that lingers into the heart of the creation, gradually merging with fruity and floral nuances to finally fade into a soft-woody and cottony base. An eau de parfum that, for me, is more suited to the cooler season and can actually be worn here on any occasion. I still perceive the opening as quite intense, however the creation gradually calms down, which is why I would rate the overall presence and longevity of L'Una as medium. 💜
Giveaway
We are giving away the following treasure from Kinetic Perfumes, for which we would like to express our sincere thanks to the brand itself:
1 x Discovery Set from Kinetic Perfumes worth €39
How do you get into the lottery pot? Very simple! Leave us a comment below this article up to and including Sunday, 28.05.2023. On Tuesday, 30.05.2023, the lucky winner will be informed by us via email.
You can find the conditions of participation here.
We wish you good luck 🙂