With Kayu and Aura I present you today two more creations of the Spanish brand Kinetic Perfumes. But that's not all! In this review – and in the next ones – I may also give something away. Maybe you already participated the day before yesterday, maybe you would like to take your chance in this raffle and get to know the fragrance house Kinetic Perfumes better, first by reading, later by sniffing. 😍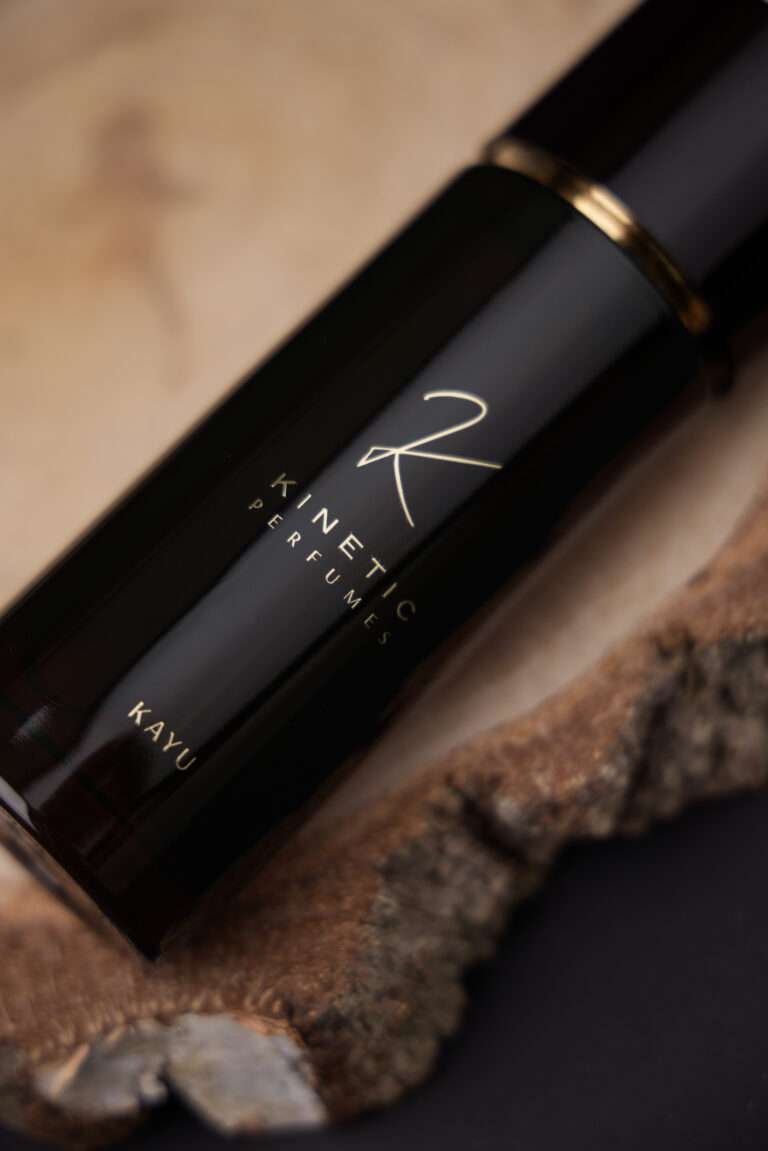 In my last post, I already introduced the brand and also reviewed a first fragrance, the greenish-maritime and fresh Verdigris (read it here). Kayu and Aura will lead us into completely different olfactory realms, that much I can reveal in advance.
Kayu – Indonesian scented wood
The name Kayu didn't mean anything to me at first. At first, I thought of a Japanese word and indeed, according to Pons, there is the similar kayui (in English: it itches) and also kayou (in English: commute, attend), neither of which seemed to me to fit properly. Sometimes, before doing any kind of research, it is worth having a look at the press release, in which the name of Kinetic Perfumes itself is explained quite clearly.
It is an Indonesian word and means nothing else than wood. Sometimes life can be so simple! ☺ The reference to Indonesia, in conjunction with the word wood, is said to be "an allusion to the home of the most precious agarwood used here," which we commonly know as oud.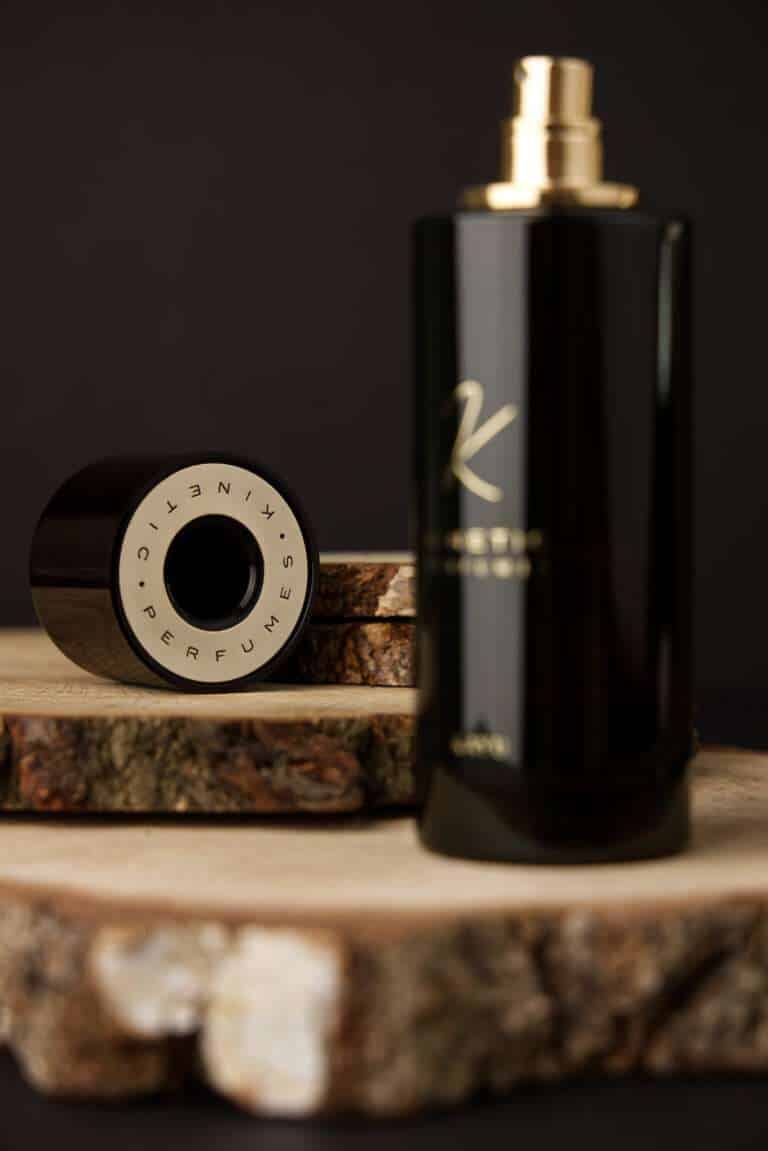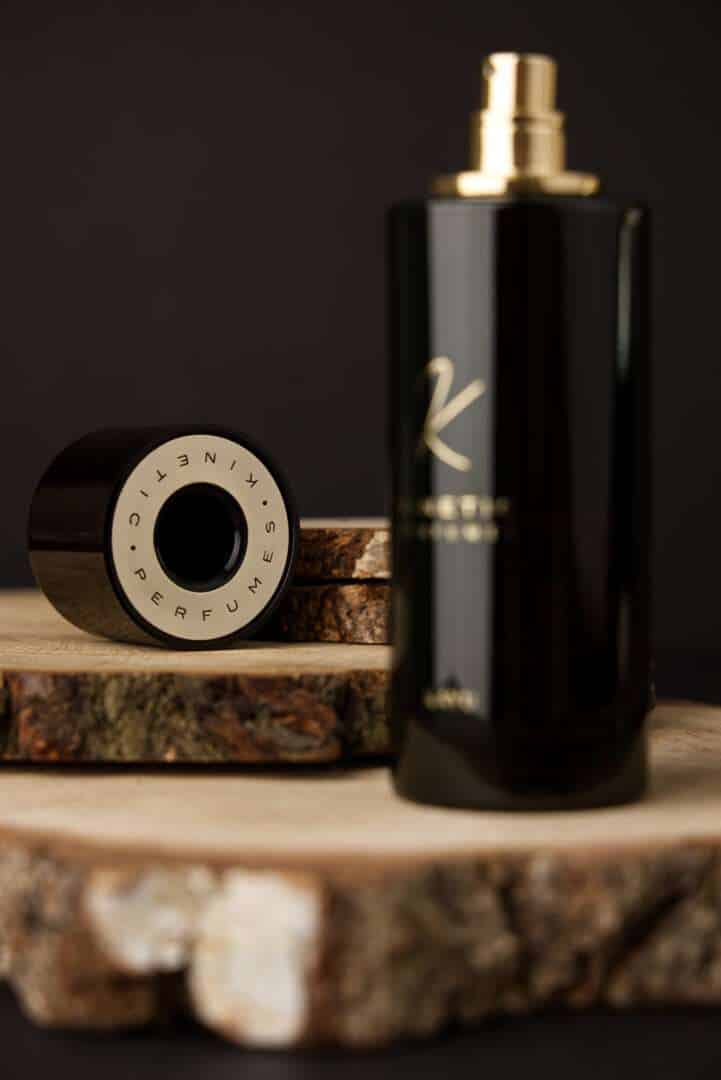 Perfumer of the fragrance is once again Christian Carbonnel, who used the ingredients rosemary, mandarin, vanilla, guaiac wood, Virginia cedar, incense, eagle wood (oud), tonka bean, musk and powdery notes for the Indonesia wood fragrance Kayu. No rose, I am a little relieved. Even if the classic oud-rose can of course boast many fans, I am – I must say quite clearly – personally somewhat tired of it. And this, although I was allowed to review here in recent years so some really beautiful oud-rose combinations, I am still happy about new, exciting and innovative facets of the legendary agarwood.
Kayu – Gentle fragrance melange
Initially surprisingly pungent and sharp thanks to herbaceous rosemary, Kayu soon becomes more mellow and softer. Vanilla in particular stands out here, followed by the gentle fruity notes of tangerine, which however appear less sparkling and tangy, but rather creamy. And it goes on in the same way. The guaiac wood shimmers like a kaleidoscope, sometimes powdery and sweet, sometimes subtly smoky and floral, sometimes delicately earthy.
At its side hides the incense, very shy and reserved, recognizable only by the subtle coolness that it carries into the fragrance from the house of Kinetic Perfumes. Tonka bean and musk underline the powdery sweetness with their spicy-vanilla and crystalline facets, while the agarwood is very delicate, creamy and smooth in the fragrance. With lovely and cotton-soft notes, Kayu finally fades slowly and gradually.
Kayu is a finely balanced and creamy-floral fragrance in which soft and warm woods combine with each other, underpinned by a powdery sweetness and lovely vanilla facets. In the opening, a hint of delicate tangerine provides gentle fruit accents, in the conclusion, the fragrance becomes somewhat smokier, darker and less sweet, but remains overall rather subtle and transparent. This eau de parfum is also an absolutely affable and playful fragrance that can be applied on any occasion and actually also at any time of year. Due to its understated oud character, I would also consider Kayu to be a perfect entry-level agarwood that should absolutely please niche fragrance novices and those who prefer more transparent, warm and woody perfumes. 🧡
Aura – Think pink!
After a greenish and a brownish tinged bottle, we now come to a fragrance dipped in rich pink and named Aura. My friend, the German Duden, tells me the following about the term aura: "Aura, the. Noun. Meaning: 1. Special charisma".[geheimnisvolle] As a second meaning, the symptom of the same name is then listed, which migraine or epilepsy patients in particular perceive before a seizure. However, I assume that the fragrance of the Kinetic Perfumes brand is more about (mysterious) charisma.
Aura was inspired by the idea of immaterial space that people, animals and objects have around them. The different layers of the fragrance surround the person like invisible vibrations. The intense red of Aura symbolizes the warmth, sensuality and color of its main note.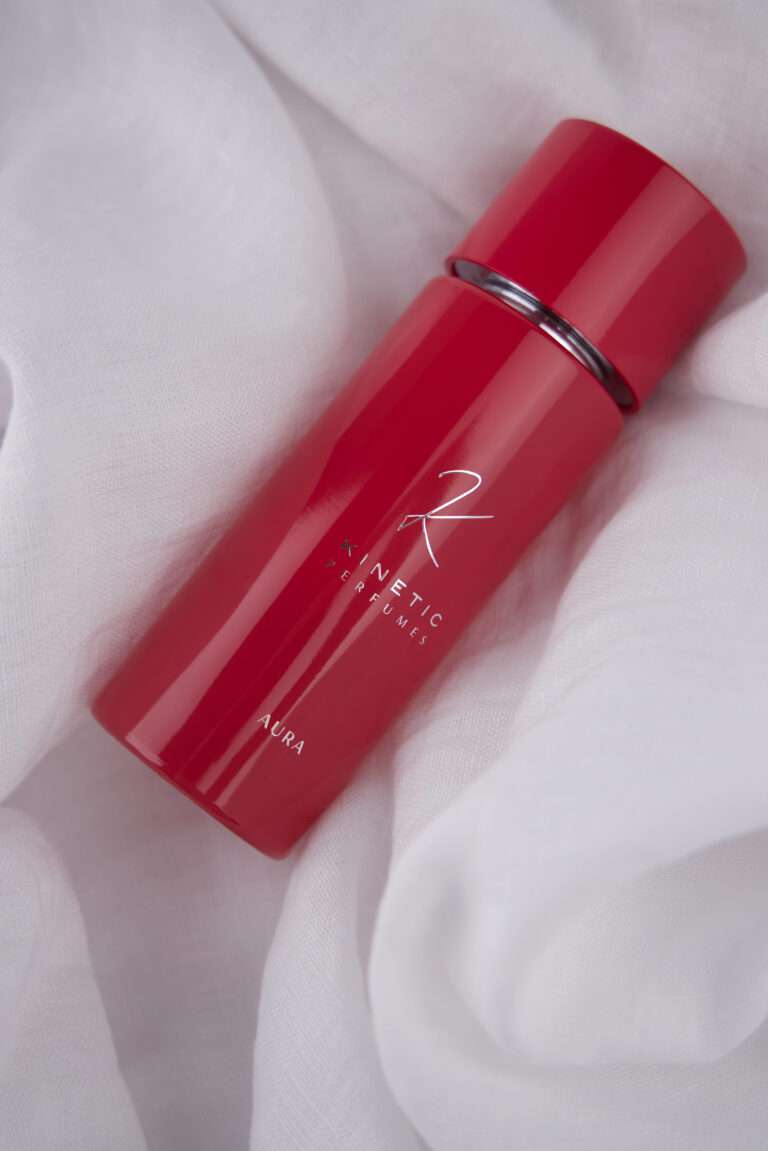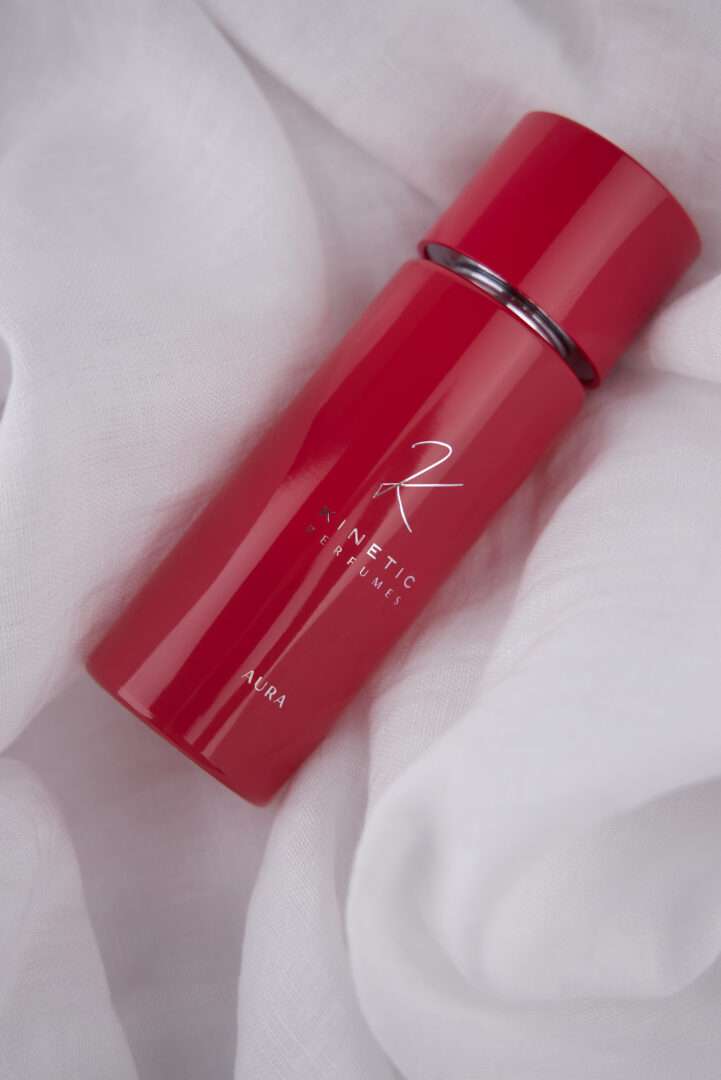 Christian Carbonnel chose for Aura the ingredients bergamot, orange, grapefruit, pineapple, raspberry, passion fruit (passion fruit), plum, lily of the valley, jasmine, vanilla, woods, caramel, oakmoss, amber and musk.
Fruity fragrance pleasure
Tangy, fruity and sweet is the opening of Aura, very present and intense. The citrus provides a slight tingle, but reveals itself to be more sweet and juicy than hesperidic harsh. The pineapple gives the fragrance an exotic touch, which is underlined by the delicious notes of ripe passion fruit and a pinch of beguiling vanilla. Lily of the valley and jasmine give the composition floral-creamy undertones with subtle bubblegum nuances that flow around the opulent fruits, giving them milky floral accents and a certain hold.
Creamy caramel emphasizes on the one hand the sweetness of the creation, but also the creamy aspects inherent in it thanks to the white flowers. Gradually Aura becomes warmer, softer and powderier. Thanks to the usual base suspects amber, musk and oakmoss, the fragrance fades out very gradually with gentle notes. The fruit is still perceptible, but fades into the background, giving way rather to the spicy-gourmand and floral nuances.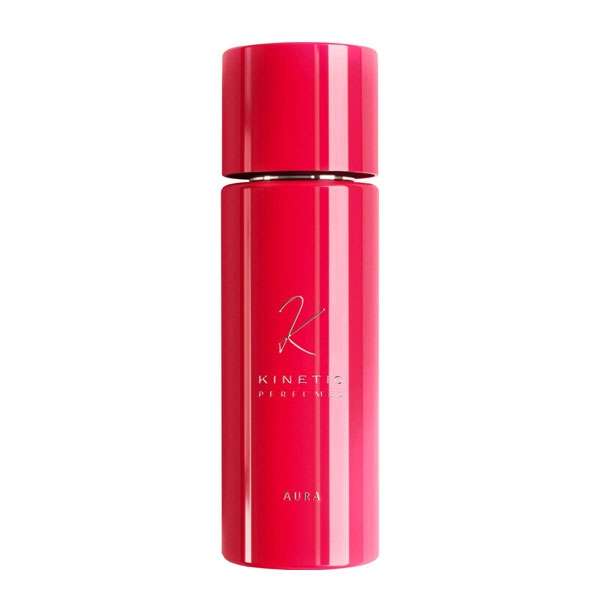 Very colourful, very fruity, even a bit fancy, Aura is the perfect eau de parfum for those who love sweet, intense fruit scents with a medium to strong presence and excellent durability. It starts out very lush and incredibly sugary – you have to like that – but gradually becomes calmer, softer and quieter. It is a fragrance for connoisseurs, which beguiles and seduces, whose charm will surely succumb to many, a summery and sunny good mood guarantor, which I would wear – because of its intensity – rather in leisure, everyday life and for going out, than in the office 😉.
Giveaway
We are giving away the following treasure from Kinetic Perfumes, for which we would like to express our sincere thanks to the brand itself:
1 x Discovery Set from Kinetic Perfumes worth €39
How do you get into the lottery pot? Very simple! Leave us a comment below this article up to and including Saturday, 27.05.2023. On Tuesday, 30.05.2023, the lucky winner will be informed by us via email.
You can find the conditions of participation here.
We wish you good luck 🙂