Pistachio and Leatherize by D.S. & Durga bring us today to the hip New York scene and artist district Soho, because there is the seat of one of the stores of the two label founders Kavi and David and a meeting place for fans and friends of the extremely friendly and humorous brand. A little bit shrill, a little bit wild and a lot of New York City – all this is in D.S. & Durga. You really notice with how much love, dedication and especially joy Kavi and David are at their work and that is so much fun.
The creations have original names, the images to them are real eye-catchers, colourful, ironic and iconic. The creations vary from absolutely suitable for everyday use to blatant statement fragrance. There's something for everyone here, and if you watch the Company video above, you'll get an excellent feel for the brand's unique vibe. 😎
Pistachio – Pastel nut
"Oh, wat schöne Nüsschen" was already propagated in Helge Schneider's German cult film 00 Schneider – Jagd auf Nihil Baxter – although in my memory it was not about pistachios here – and also D.S. & Durga have a soft spot for small, green and delicious nuts, to which they set an olfactory monument with the eau de parfum Pistachio.
The fragrance was not actually intended for international trade. As studio juice, only one hundred limited edition bottles were initially available for purchase in the stores in NYC. But the run on the creation was so great that the brand decided to share this fragrance delight with the rest of the world, which consists of the ingredients pistachio, cardamom, toasted almond, patchouli and vanilla.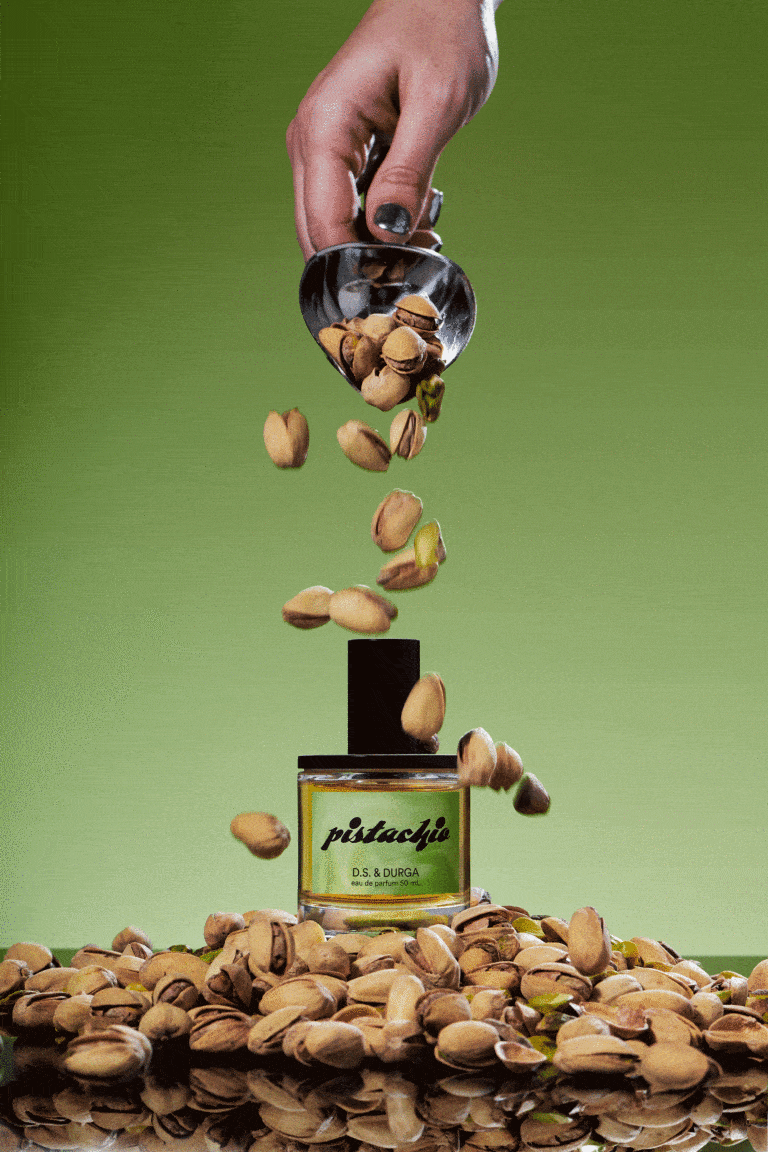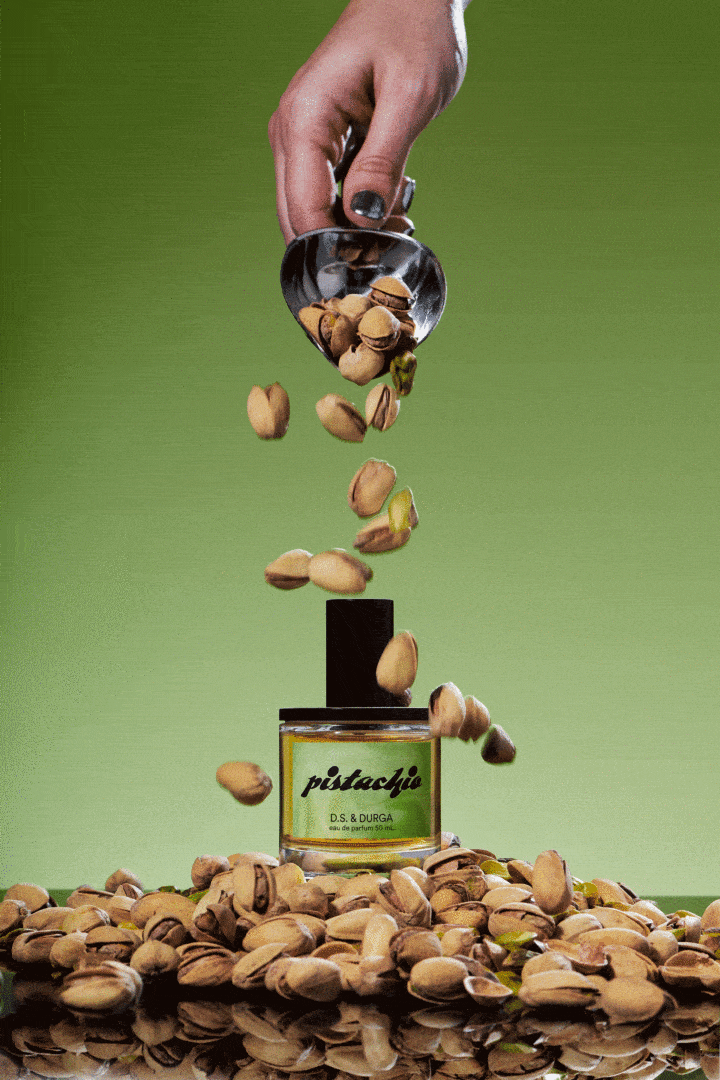 I think pistachio is an elegant nut. Also a fun nut. Everyone seems to like pistachio. We created this fragrance on a whim; a fragrance with no story that just evokes the fun of pistachio (especially as a dessert flavour). It was a studio juice (limited edition of 100 bottles). People went nuts for the concept (pun somewhat intended) and we knew we had to add it to the line. It's dank & unabashedly sweet which is something I don't normally do. – David aka D.S.
Dig in and enjoy – Pistachio
Greenish, fresh and creamy is the opening of Pistachio by D.S. & Durga. The aromatic and refreshing spice of cardamom combines with fine-nutty pistachio cream, which shines in such a wonderful pastel green that my heart feels like spring. The roasted almonds bring a subtle and seductive sweetness to the fragrance, but overall remain restrained and exclusively in underlining function.
Softly leathery and earthy patchouli reveals its interest in the green nut early in the fragrance, ensnares and caresses it, giving it depth, support and stability. Vanilla brings fine spicy accents to the creation, which slowly fades with lovely creamy and soft nuances.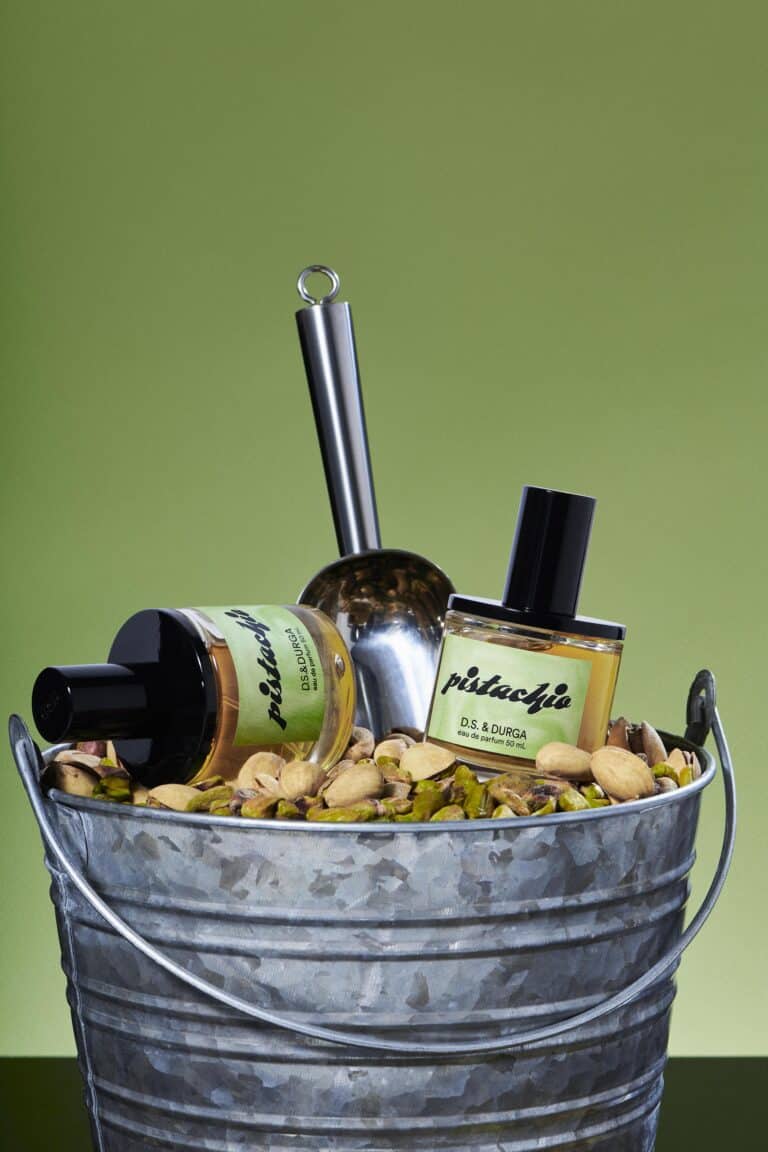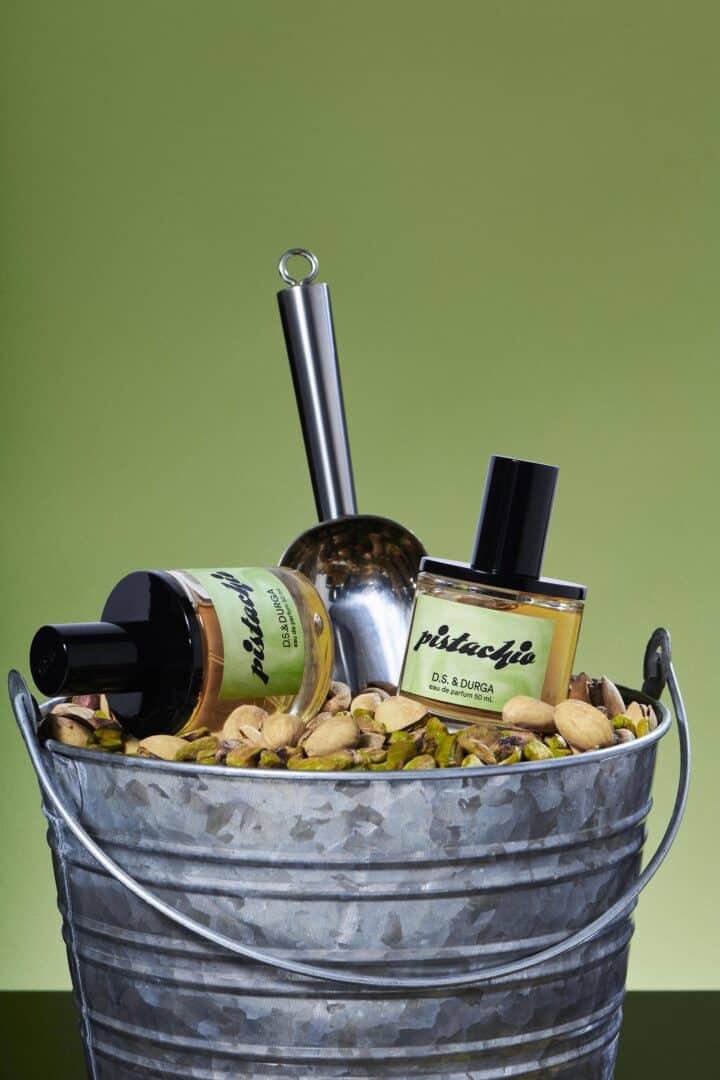 Pistachio by D.S. & Durga is a soft and creamy mix of spices, nuts, leathery patchouli that has a certain dessert-like sweetness to it, but I wouldn't call it oversweet. A bit of pastel green, a bit of gourmand, a bit of fresh, a bit of woody, a bit of sugary, Pistachio combines quite a few different facets and thus seems exciting at any point in the fragrance's progression. It's no wonder for me that this creation has so many fans! It is one of the eau de parfums by D.S. & Durga that I would class among the everyday and office-appropriate allrounders. Beautiful and a scent that definitely should be put on your to-try list. 💚
Leatherize – The dominatrix among fragrances
Leatherize, whose name already includes the word leather, should be quite different. It belongs to the fragrance enhancers of the New York brand, like Crystal Pistil and I don't know what, which – I don't know why – have not presented here yet. Shame on me! I have to catch up.
The purpose of the fragrance enhancer is to add a new note to another creation as a transparent layer of fragrance, thereby intensifying it. Any fragrance is possible as a base here, which can be given a fine leather finish with Leatherize. You can experiment here according to your mood. I am already very excited and will do a little experimenting.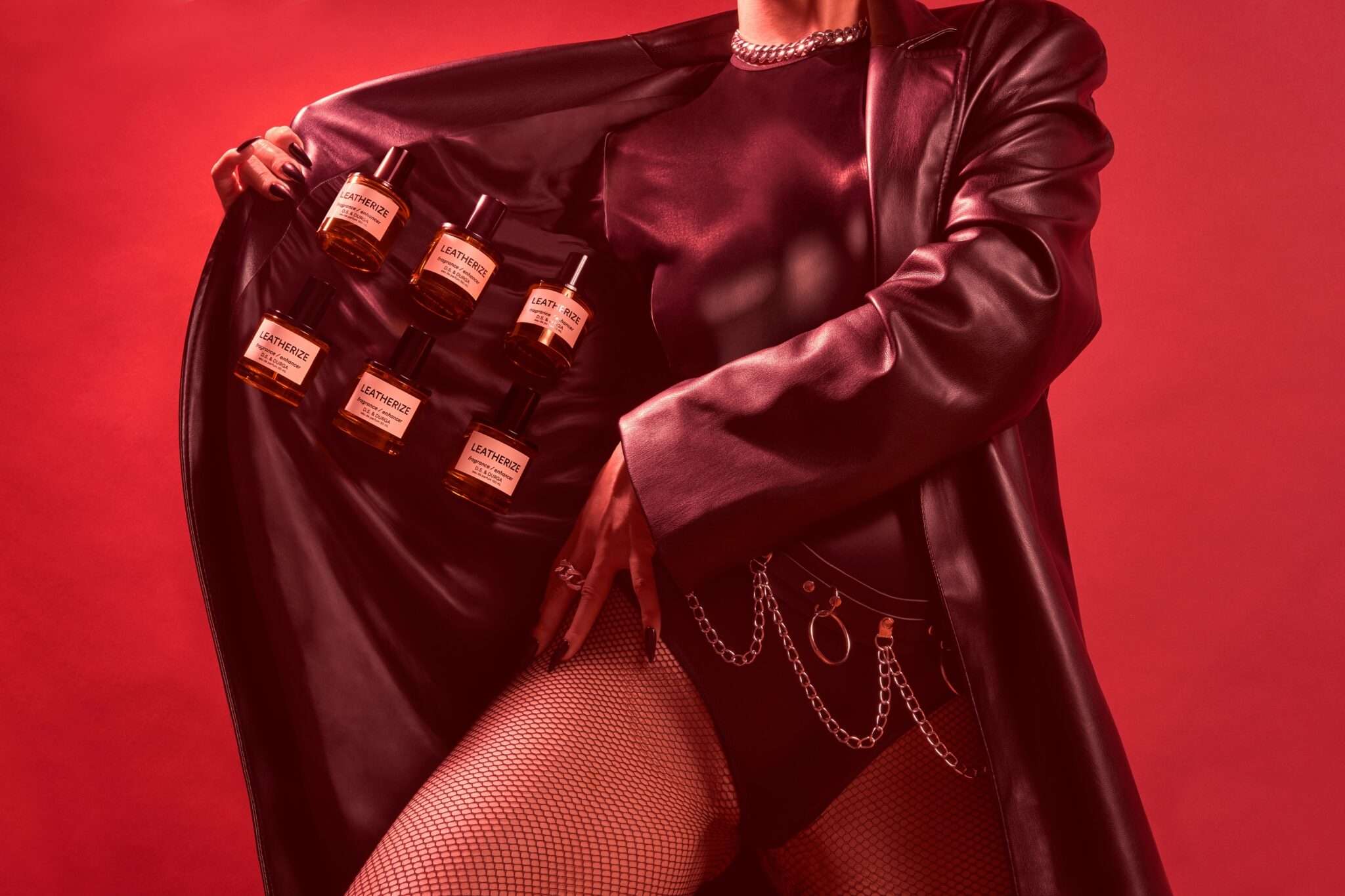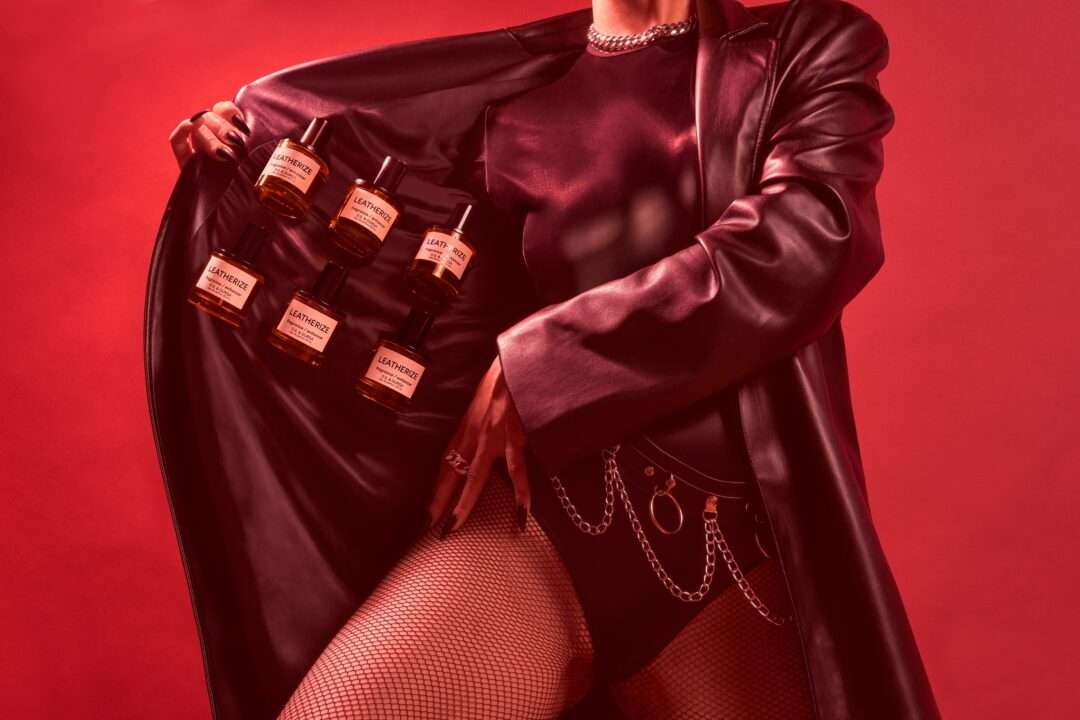 With the fragrance notes of leather, labdanum (cistus), cubeb pepper, iris, saffron, nagarmotha, castoreum, myrrh and juniper, the eau de parfum does not seem too transparent at first glance, but rather reminiscent of an olfactory leather valkyrie, but let's be surprised!
Leatherizing process in full swing
On the paper strip, I do indeed perceive the lacquer-and-leather scent valkyrie, but on my skin Leatherize reveals much more subtle and multi-faceted traits. Very dark, animalic, jet-black, smoky, almost tar-like appeals the leather in this fragrance enhancer, so one would assume that no other fragrance can stand up to this dominant posturing. And yet there is something airy, transparent and powdery about the eau de parfum, a gentle tingle, a delicate spiciness.
It's obvious to test Leatherize in combination with Pistachio and indeed the leather scent doesn't smother the pastel pistachio but gives it a beautiful leather touch that is less gritty, creaky and cracking than Leatherize alone. I'm doing my second leatherization test with Lost Cherry by Tom Ford, because it's still on my desk from my Valentine's Day review too. How convenient! Well, what can I say, the combination of Lost Cherry and Leatherize results in a melange that reminds me strongly of Cherry Smoke, only more present and lush. The intensifying seems to actually work, even if I can not really explain it. Maybe it would be time for an interview with D.S. & Durga to solve this mystery 😉.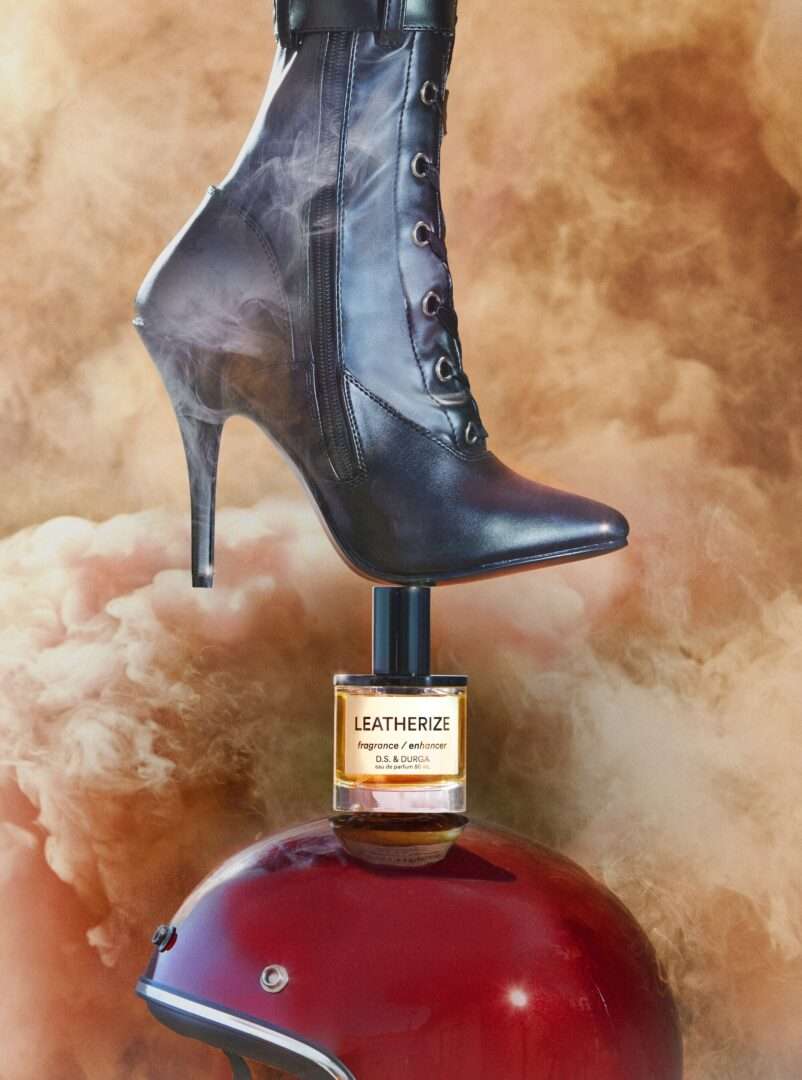 I was a little skeptical at first, due to the very dominant expression of this eau de parfum on the test strip, I must finally admit that I was completely wrong here. Of course, Leatherize is an idiosyncratic and distinctive leather scent, which is certainly something you have to like. But despite its dominatrix image, the creation also has a sensitive and delicate side. Almost empathically, it adjusts to its olfactory teammate during layering and enters into an exceedingly harmonious relationship with it at eye level. Absolute test tip on my part for all who want to bring a little more drive into their already existing fragrance wardrobe. ☺️