Headspace stands for cutting-edge fragrance creations. They have the clarity of molecular fragrances without being any themselves, and consist almost entirely of natural ingredients.
After Santal, Absinthe and Tubereuse from yesterday, today we continue with the four remaining fragrances from Headspace. The longer I kept sniffing and thinking about the creations yesterday, the more I liked them. A minimalist fragrance and design language, a team of young perfumers and a good mix of niche and everyday suitability.
Myrrh with sharp contrasts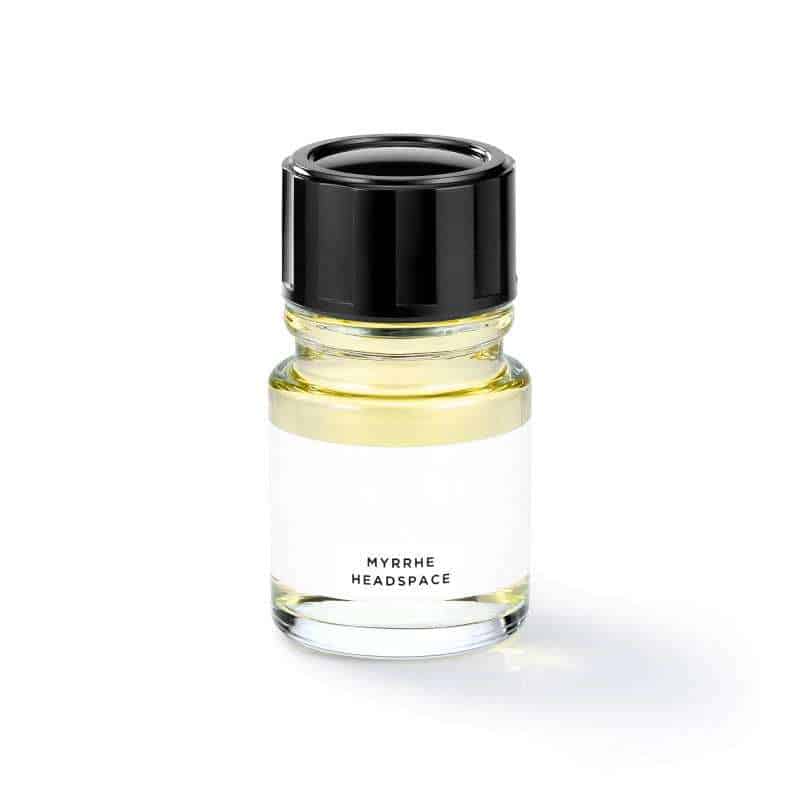 I am glad to see that special attention is paid to myrrh here. My impression is that this balsamic and spicy-warm ingredient is underrepresented in the fragrance world. You can find a selection of myrrh scents here.
The first impression inspires me. Julien Rasquinet has brought out the sharp and spicy aspects here. Cinnamon and incense come out strongest at the start with a surprisingly mineral, soapy, slightly aquatic and fresh undertone. It's not entirely clear to me from the fragrance notes where this accord came from. And that's not what I was expecting with a myrrh scent. The myrrh thus plays a rather subordinate role here and is absorbed into the totality of the spiciness and resinousness. It appears only after some time, when the sharpness and minerality slowly fade and the typical sweetness of this resin spreads. So patience is rewarded.
The fragrance notes of Myrrhe
Cinnamon, Myrrh, Patchouli, Frankincense, Cedarwood, Ambroxan
Sauge – sage in green chorus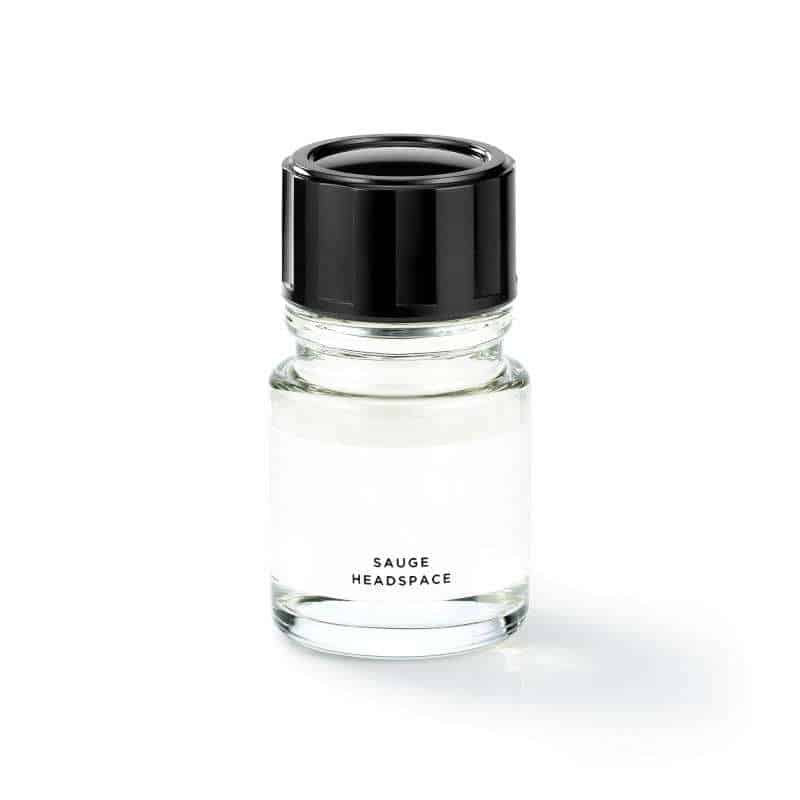 Caroline Dumur is behind the composition of Sauge. Sage is even rarer than myrrh as the main player in a perfume. Headspace specifies White Sage(Salvia apiana), also called Indian Incense Sage, as the fragrance note. Whether this one is straight as an essential oil or not, I can't say for sure.
Anyway, this sage is fresh and herbaceous, green and coniferous. A green fire without smoke, quite a modern Fougère interpretation, which is also indicated by the product text. Also on the skin, the fragrance shows its character, but remains with me with the freshness somewhat more restrained. Since I really like green and herbaceous scents, Sauge hits the spot for me. It reminds me of Eutopie's No. 9, although my fragrance test was also almost eight years ago, read in my article "Eutopie No. 9 – The crowning glory of sage". Perfect for all friends of aromatic, green and herbaceous scents.
The fragrance notes of Sauge
Black pepper, cumin, angelica (angelica), white sage, geranium, cypress, nagarmotha, sandalwood, incense, tonka bean
Styrax – resinous and hearty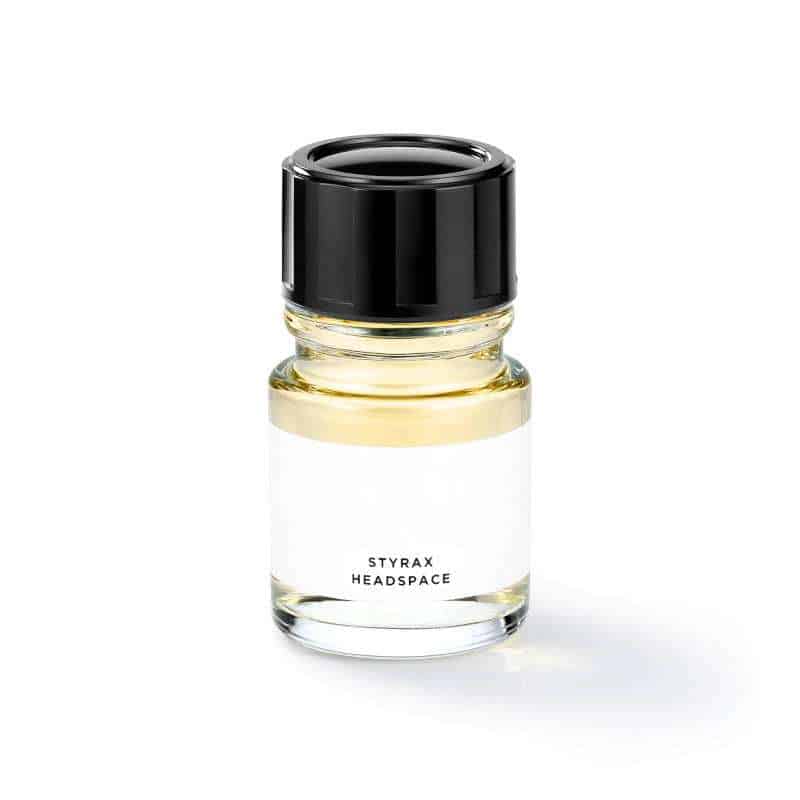 Styrax, of course, means the resin of the same name. My faithful companion Martinetz/Hartwig "Taschenbuch der Riechstoffe" knows to report on p. 352: "The light yellow oil […] has a sweet balsamic, slightly grassy odor with a top note reminiscent of styrene." Styrene, by the way, has a sweetish odor.
Sweet, almost fruity, it really gets going – both on skin and on the fragrance strip – and I could have sworn that a dash of oud was also added to Miroslav Petkov's composition. Who knows, maybe he's hiding something from us. Anyway, the sweetness soon subsides and resinous, balsamic, but also dry-woody and herbaceous notes unfold, a good part probably coming from labdanum. Styrax is a fragrance for friends of balsamic, animalic, soft and slightly sweet scents. Nevertheless, it has enough rough edges not to become too sweet.
The fragrance notes of Styrax
Nagarmotha, Labdanum (Cistus), Vetiver, Osmanthus, Patchouli, Saffron, Ambergris
Genievre – more than a drink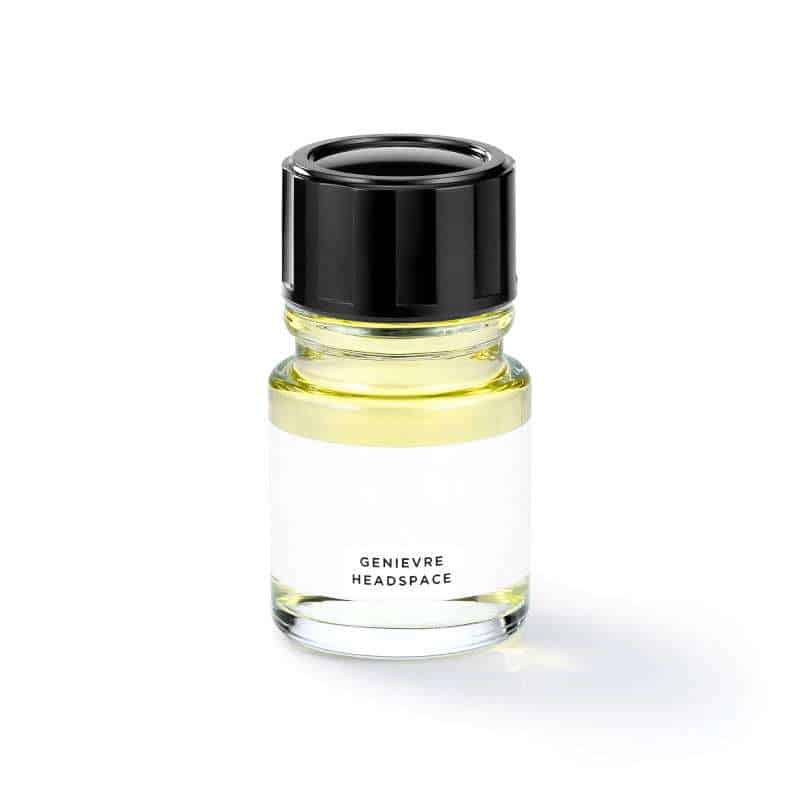 At Genievre, I would be very happy to have a nice gin at the end of my review series on Headspace, as the name hints at the juniper. Should I chill the tonic water already?
Like sticking your nose into a glass of gin and tonic, that's my first sensation about Genievre. And not one of those newfangled gins, but a very classic one with a full blast of bitter juniper notes. Great! On the skin, it is a bit more complex: dry, woody notes are added here. A slice of citrus of tangerine, fruity spice of pink pepper. Out the back, a bit of serious incense for balance. A fragrance that really puts you in a good mood.
The fragrance notes of Genievre
Tangerine, Pink Pepper, Juniper Berries, Cedarwood, Frankincense
Headspace – the summary
I had great fun working my way through the collection. As an old boozer, I like Absinthe and Genievre the best, but I was also impressed by Sauge. Everyone has different preferences, so my advice is to test them all! Feel free to leave me a comment with your impressions.