Headspace manages the balancing act between sleek, understated design and artful, modern and savvy fragrances. No wonder, because behind the brand are known greats of niche perfumery.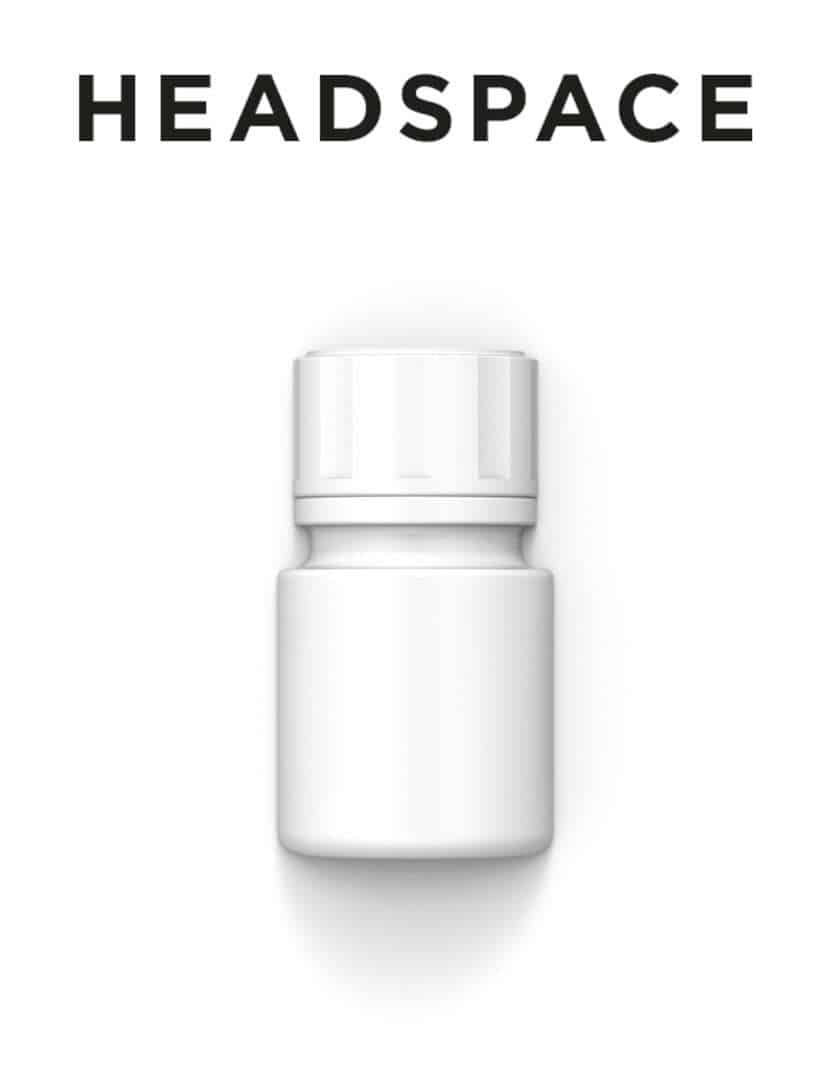 The brand reached our store some time ago and immediately caught my eye because of its minimalist design. More on who it's from in a moment. The text remains vague, speaking of a French brand "that captures the intangible and translates it into fragrances." Fragrances that capture emotions and moments; this is the obligatory self-description of almost every perfume brand. However, things get interesting when the claim is formulated:
Reinventing life. Capture the world in all its facets in a perfume. The dream of every perfumer.
What is meant by headspace?
A special technique that also allows to capture the ether around a substance, like fresh summer rain or morning dew on rose petals – the olfactory portrait of an atmosphere.
A mental place from which the imagination springs.
Headspace technology is a technique developed in the 1980s. Among its pioneers was the Swiss chemist Roman Kaiser. The idea behind this was to capture volatile molecules that could not be captured by conventional methods. Roughly speaking, the object of desire is placed under an airtight glass dome, gases are introduced or a vacuum is created. The molecules collected in the process are then analyzed by means of gas chromatography or mass spectrometry, for example. Based on these results, the fragrance can then be recreated.
Aroma manufacturers have patented this and similar methods under the following terms, which perfume enthusiasts come across every now and then: Aromascope (Takasago), Jungle Essence (Mane), NaturePrint (Firmenich), ScentTrek (Givaudan) and Living Flower (IFF).
I'm excited to see what Headspace has done with these opportunities.
The brains behind Headspace
Behind the brand is Nicolas Chabot, whom we know from the relaunch of the historic brand Le Galion as well as ÆTHER. Part of the team is designer Jules Dinand, grandson of the famous flacon designer Pierre Dinand, who drew inspiration for the Headspace flacons from the countless vials on perfumers' workstations. Among these here are Ropion student Fanny Bal, Nicolas Beaulieu, Caroline Dumur, Julien Rasquinet and Miroslav Petkov. Filmmaker Thomas Vanz provides the cinematic concept.
Santal – the shield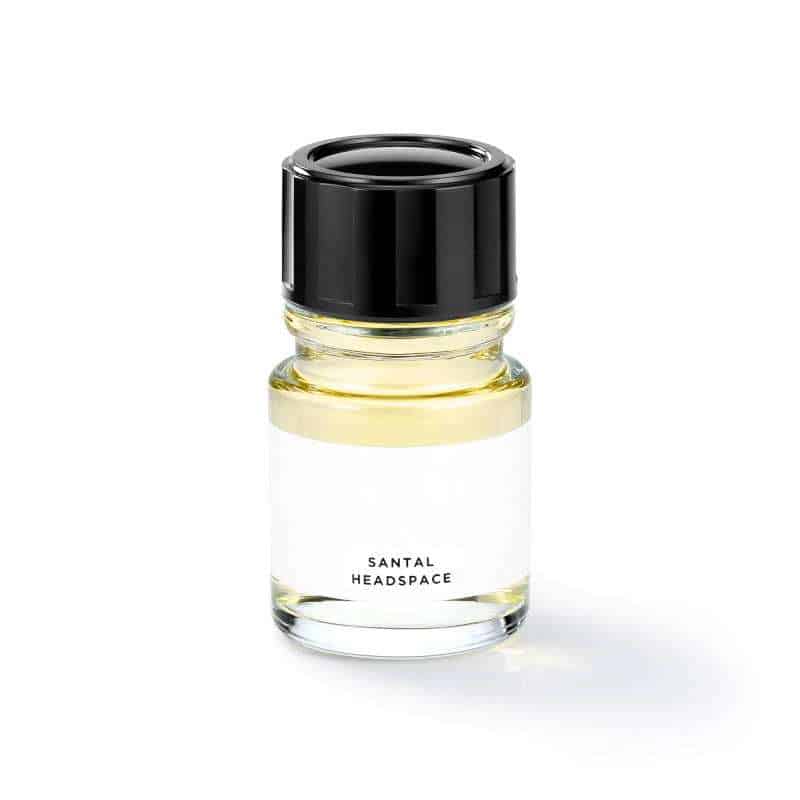 So here we go. The names leave no doubt about which main ingredient it is about in each case. Santal will therefore in all likelihood revolve around sandalwood. Julien Rasquinet's creation starts surprisingly sweet with fruity, slightly liqueur notes accompanied by lovely, delicate saffron. Sandalwood shows here balsamic soft and velvety woody. It is only cautious accents that the other notes rose, incense, patchouli and vetiver. None of them are pushing their way to the front. Thus, Santal appears harmonious, modern and as if from a single mold. Surprisingly light and carefree, a cocooning fragrance for difficult days.
The notes of Santal
Red fruit, saffron, sandalwood, rose, incense, patchouli, vetiver
Absinthe – the green fairy in leather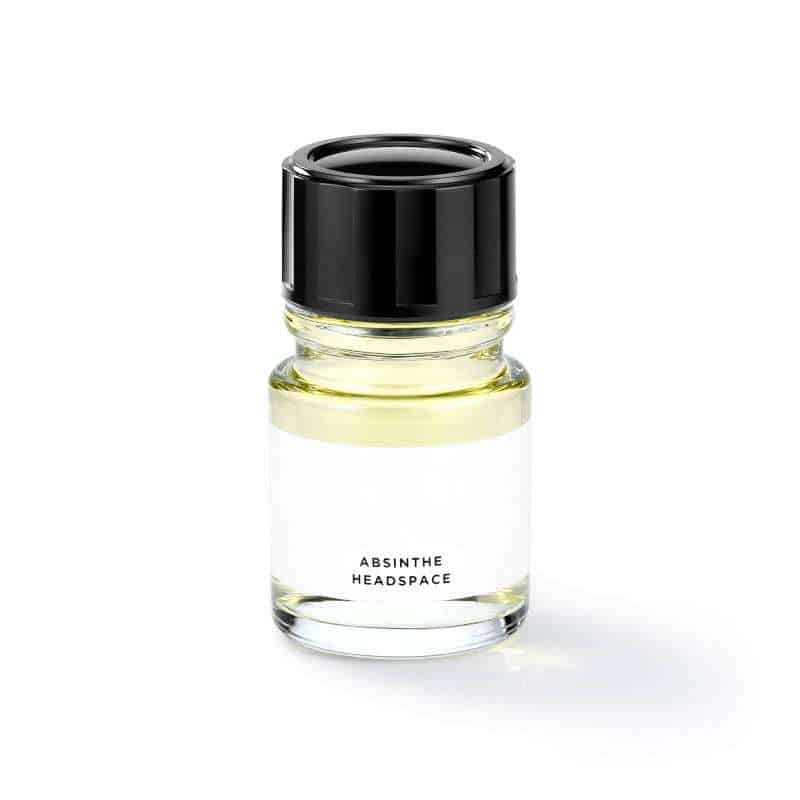 A theme not (yet) as classic as sandalwood is absinthe. Even if there are already some creations that deal with this infamous spirit, such as Nasomattos Absinthe or Fou d'Absinthe by L'Artisan Parfumeur. Nicolas Beaulieu's absinthe starts herbaceous and green with wormwood and violet leaves. Thereupon, the green turns to watery-greenish, for which the narcissus could be responsible. As with Santal, the base does not really take off, a little leather, a little smoke sets subtle nuances, but nothing more. Absinthe is not a reflection of the drink, rather a violet leaf scent with a watery character and leather finish. An absolutely wearable and everyday unisex fragrance. I like it very much.
The notes of Absinthe
wormwood, violet leaves, narcissus, patchouli, vetiver, leather, styrax resin
Tubereuse – cool, but conciliatory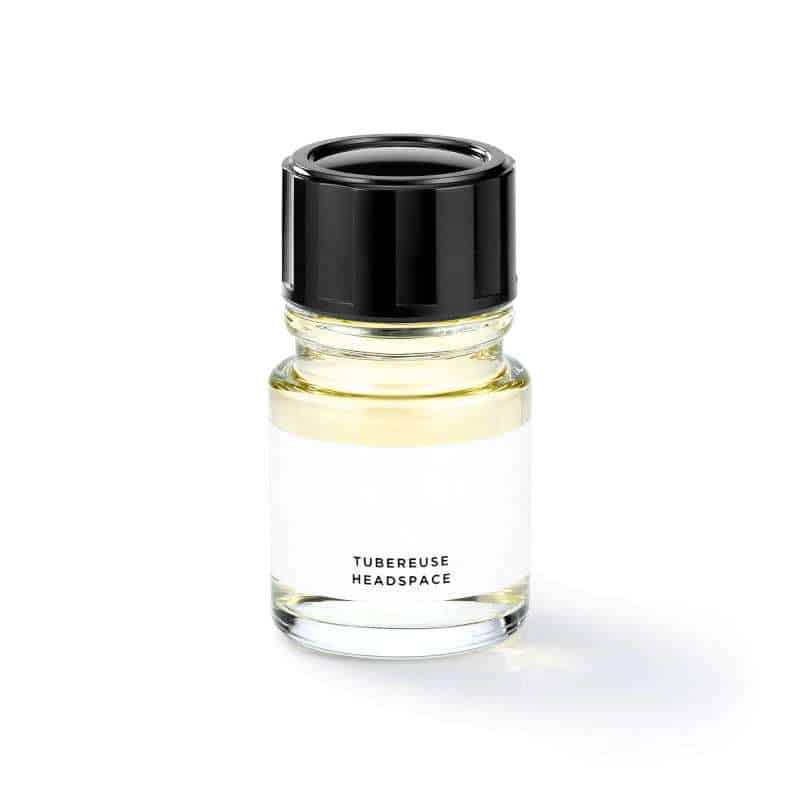 Tubereuse, also by Beaulieu, is the most niche of the fragrances so far. A true white-flowered tuberose that also evokes a narcotic lily thanks to green notes of galbanum and blackcurrant. Cool, almost cold it is, and reminds me of Nuit de Bakélite by Naomi Goodsir, which is in my opinion quite a bit more eccentric. On the skin and in the further course of the fragrance, the coolness subsides and the fragrance fades creamy and woody. This tuberose is not a femme fatale like others of its genre, but shows itself downright conciliatory.
The notes of Tubereuse
Galbanum, Tuberose, Blackcurrant, Cedarwood, Tobacco, Bourbon Vanilla
Headspace Part I – Conclusion for today
My favorite so far is Absinthe – the combination of green notes and leather has convinced me. The other two are definitely worth a sniff. Thanks to their modern and simple composition, they should also find favor with many. I am looking forward to the remaining four scents Styrax, Myrrh, Sauge and Genievre in Part II.