In the second and for now last part about Bon Parfumeur I would like to present you the two eaux de parfum 602 and 802. As mentioned yesterday (read about it here), Aus Liebe zu Duft added a few more creations of the French brand to our range and four samples have made their way to the Baltic. I presented you two of them in my last review, and the last two for now follow today.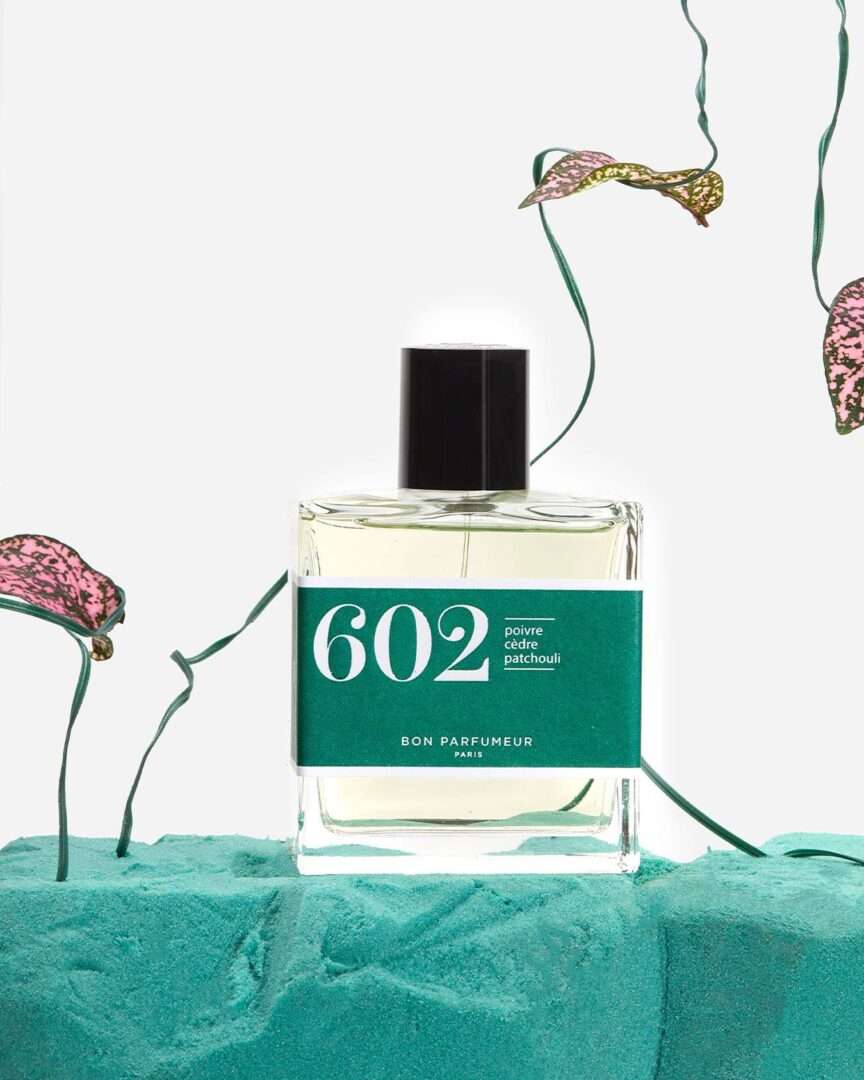 I will never get tired of touting to you my wonderful and exceedingly clear table I put together on Bon Parfumeur's colour and number scheme in one of my first posts on the brand. I already linked it to you in my article yesterday (just click here and enjoy), so I don't want to include it for the third time today, even though my fingers are itching to do so.
A glance at that very table immediately reveals which fragrance families we are dealing with today. The 600 series with the green band includes woody scents, while in the blue 800s we are dealing with aquatic compositions. Well, at least with the latter, colour and fragrance family match perfectly. Blue and aquatic – wonderfully matched. In contrast, I personally would have assigned the brown colour to the woody creations and the green to the aromatic fragrances – dressed in brown at Bon Parfumeur.
602 – Spices and woods
Three top notes are noted on the bottle of 602, namely pepper, cedarwood and patchouli. Perfumer Nathalie Koobus was at work here again, as she was for our yesterday's scent 401, as well as for the Bon Parfumeur creations 001, 102, 301 and 601. The already mentioned three fragrances Madame Koobus associated with berries, incense, neroli, chili, vetiver and benzo resin, which sounds to me at first glance like a thoroughly wild mixture.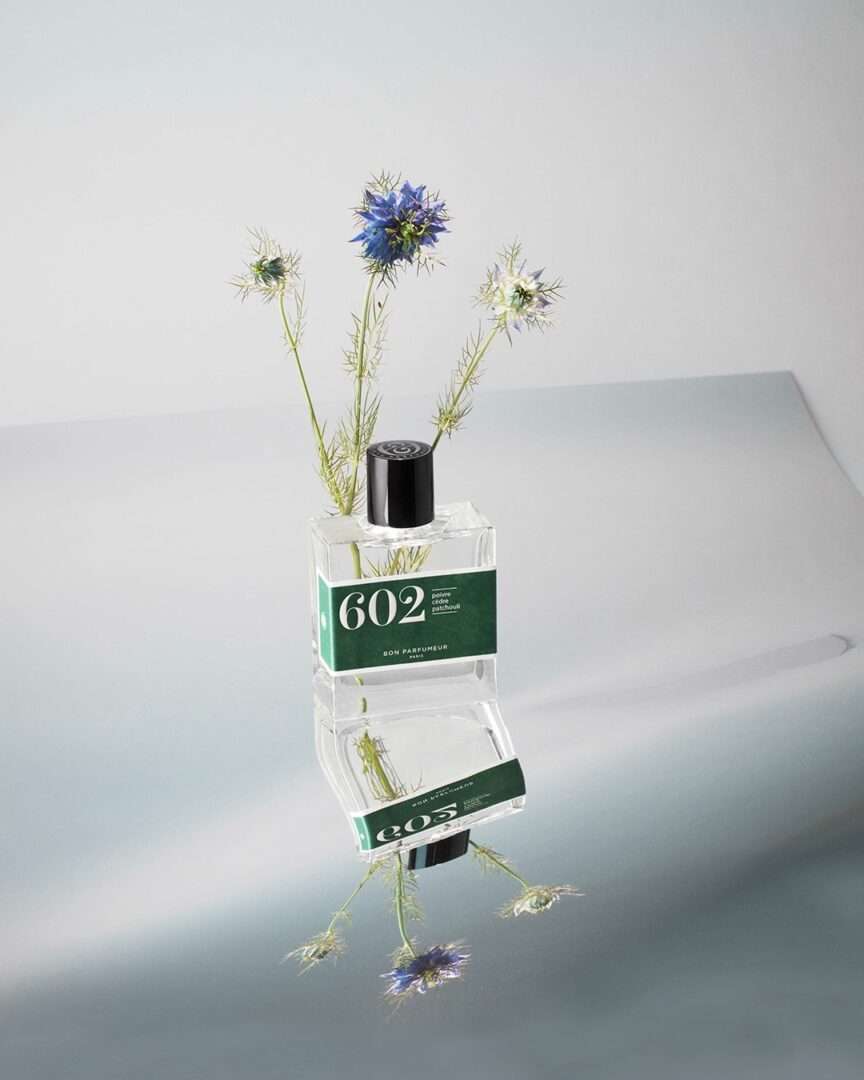 This woody perfume with the pungent spices of the South Seas creates that unique, calming feeling characteristic of woody fragrances.
Fragrant serenity – 602
The dry and subtly spicy notes of pepper meet the creamy floral orange nuances of neroli and gentle incense in the opening of 602 by Bon Parfumeur. Dark green and woody is the appearance of the eau de parfum. In the background, a few berry fruit accents shimmer in the balmy summer sun. Aromatic, clean and incredibly dry, the fragrance appears underpinned by spicy nuances and infused with a fine patchouli earthiness.
Even though this could well speak for a rather dark olfactory orientation, this is by no means so. 602 seems bright, airy and almost as if a cool and light breeze is moving through the scent. At the same time, the creation is wonderfully calm, very relaxed and decelerated. Towards the base, the composition becomes increasingly creamy and here and there also comes up with powdery-smoky facets.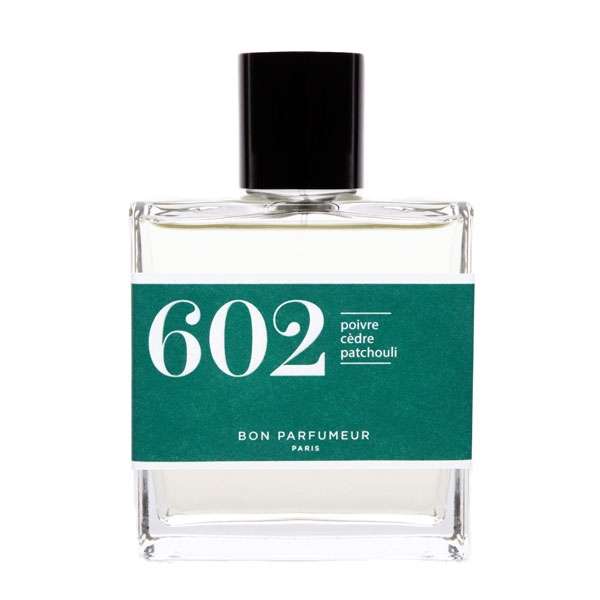 Friends of woody-spicy fragrance compositions should definitely remember the 602 by the house of Bon Parfumeur. A calm and contemplative fragrance around pepper and woods, nuanced by incense and vetiver, accented by floral and fruity notes. Transparent and of rather light to medium presence, the eau de parfum is an uncomplicated companion for almost any occasion and season. 🙂
802 – aquatic blue
The 802 – an aquate in blue – is by no means about a particular sea or other body of water. It is a fragrance dedicated to the peony. The peony, one of my favourite flowers in early summer, exudes a lovely and delicate fragrance that likes to evoke a certain wateriness in perfumes. By this I do not mean at all that the composition is watered down or diluted, i.e. weakened, by the use of the peony. The notes of peony rather carry certain water accents, which can sometimes seem discreetly aquatic, without immediately pulling out the cool-water card. Similar nuances exude, among others, the magnolia, freesia and even the lily of the valley can carry aquatic traits.
Perfumer Jacques Chabert chose the ingredients violet, black currant, osmanthus, freesia, peony, rose, musk and ambrette for the olfactory realization of the peony theme. The band itself notes lotus and bamboo in addition to peony, though these do not seem to have found their way into the official fragrance notes.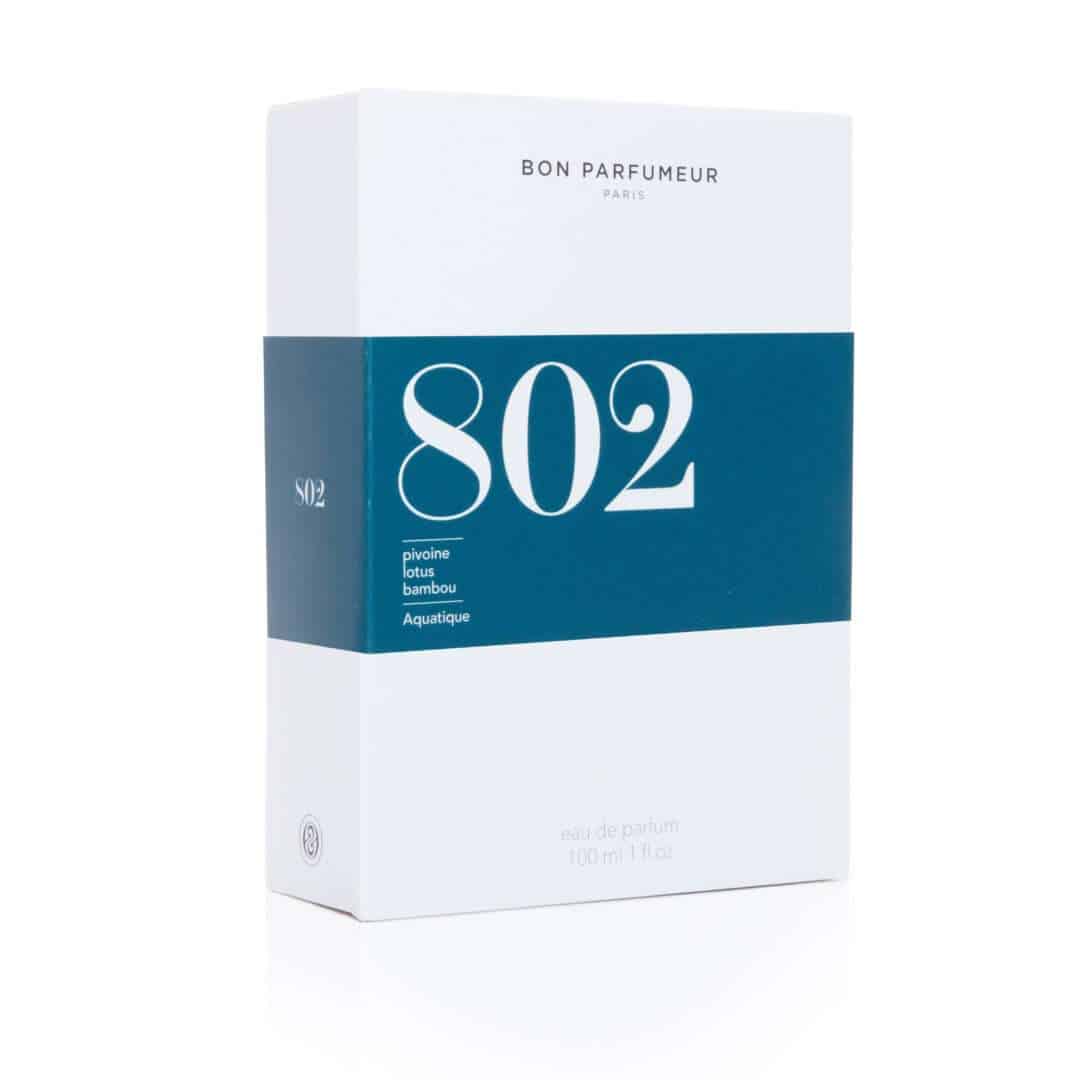 Lying between earth and water, 802 commemorates the creation of the peony. Fresh and green at first, it blooms under the morning dew. Then, powdery and smooth, it becomes creamy. Finally, 802 reveals its vivid floral notes warmed by the sunset. 802 evokes dew infused with rain, sea, flowers and white cottony musk. An aquatic floral fragrance that evokes the chance meeting of flowers and dew between heady and fresh notes.
A day in the life of a peony
Incredibly bright, 802 opens with greenish bamboo notes and the subtle watery nuances of peony, creating a perfectly Asian-inspired scent. And doesn't a lotus blossom show up in the fragrance? So quietly and subtly, as if she were being carried away by a gentle breeze over a mirror-smooth surface of water.
Exceedingly meditative, the eau de parfum presents itself, revealing more floral notes as it progresses. The subtle soapy aspects of rose meet fruity osmanthus and dry-green freesia. The violet powders the fragrance, as do the ambrette seeds and musk that provide creamy warm accents in the base.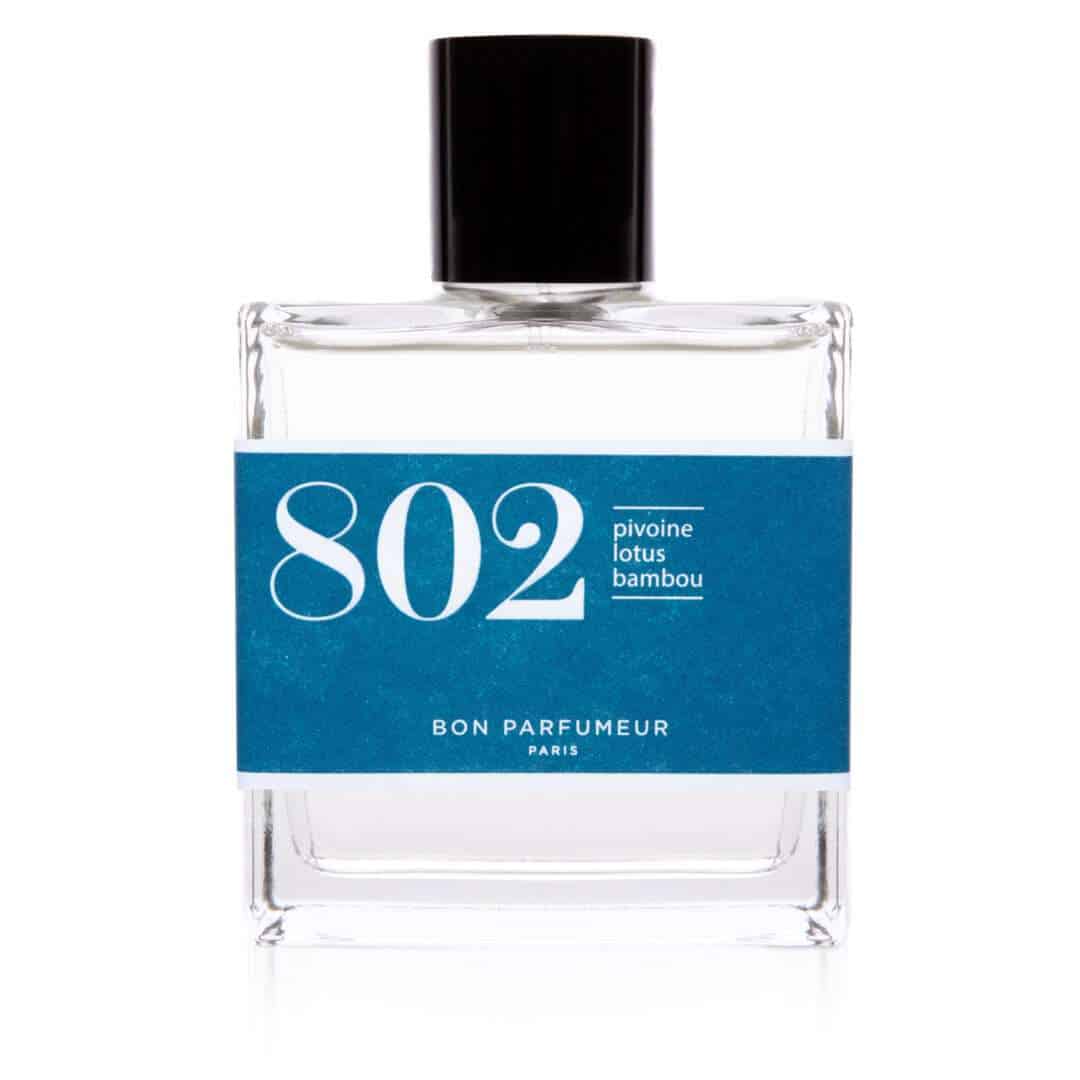 Personally, I would describe 802 as Asian, rather than aquatic, although the water notes in it are of course clearly perceptible. Bon Parfumeur's fragrance combines meditative and contemplative nuances, reminding me of an olfactory Zen garden in which bamboo, lotus and osmanthus are represented as well as the protagonist, the peony. Like the other creations of Bon Parfumeur, 802 is absolutely suitable for the office and everyday life and shows itself as a rather clear, restrained, transparent and airy companion, with which one is perfectly scented in any situation. There is one caveat: the creation is more suitable for the warmer season than for autumn and winter.