With 201, 401, 602 and 802, four new samples of Bon Parfumeur fluttered onto my desk. While the fragrances are not new launches per se, they are new to the Aus Liebe zum Duft range, so I'd like to introduce them to you. I presented you the brand Bon Parfumeur with its for me wonderfully tidy fragrance and colour scheme here in the Duft-Tagebuch already at the beginning of last year.
I link you to the three posts about the creations of the Les Classiques collection below:
Also, in one of my last posts, I created you a clear table that allows you to quickly and easily assign a fragrance family to the scents based on their color and numbering. Without wanting to pat myself on the back for this idea, I still think it's so good that I'm including the table together with the Eaux de Parfum available at Aus Liebe zum Duft here once again:
| | | | |
| --- | --- | --- | --- |
| Number | Fragrance family | Color | Fragrances |
| 000 | Cologne | Grey green | 001, 002, 003, 004 |
| 100 | Floral | Pink | 101, 102, 103, 104, 105, 106 |
| 200 | Fruity | Yellow | 201, 202, 203 |
| 300 | Spicy | Red | 301, 302, 303 |
| 400 | Oriental | Purple | 401, 402 |
| 500 | Gourmand | Pink | 501 |
| 600 | Woody | Green | 601, 602, 603 |
| 700 | Aromatic | Brown | 701, 702 |
| 800 | Aquatic | Blue | 801, 802 |
| 900 | Special | Black | 901, 902, 903 |
201 – yellow fruit
It quickly becomes apparent from the table that our first candidate today must be a fruit scent. The sunny yellow colour and the numerical code from the column of the 200s reveals this quickly and clearly. Out of said group I have already presented to you the vanilla raspberry 203, so today it is the turn of the eau de parfum with the main fragrance notes green apple, lily of the valley and quince.
The creative work for 201 was done by perfumer Philippe Romano, who combined in the composition the fragrance notes of bergamot, apple, black currant, pear, magnolia, freesia, marigold, lily of the valley, cedar, vetiver and musk.
An eau de parfum with a lively, shimmering floral heart. A floral-fruity composition with a green side. The fragrance unfolds in apple and pear notes with juicy facets. In the heart, the magnolia and lily of the valley notes combine. The base note brings woody nuances that wrap the skin in fruity scents. The soothing musk accents bring delicacy to this combination.
Crisp and tart
A colorful basket of powdery and tart fruits opens 201 by the fragrance house of Bon Parfumeur in a summery and tangy way. Pear and apple particularly stand out here, underpinned by refreshing and subtly greenish bergamot.
Soon they are joined by the flowers. Delicate yet clearly perceptible are the bright and aquatic nuances of magnolia and beguiling lily of the valley, accompanied by the lovely watery notes of freesia and the rather tart and aromatic green marigold.
The green colour scheme in this creation is underscored by the grass-green Granny Smith accents that repeatedly flash throughout the fragrance. The base reveals the calm and sometimes more creamy, sometimes more powdery notes of vetiver and musk, underpinned by clean and light cedar.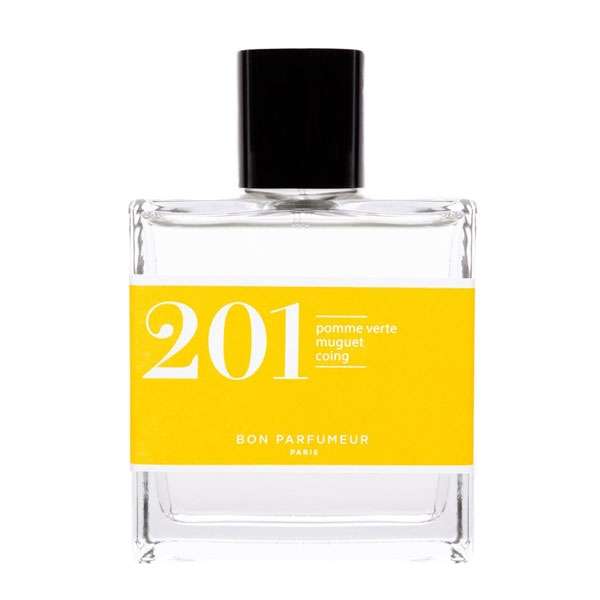 While other compositions of the green fragrance family often rely on rather tart-aromatic herbal, grassy or leafy sap accords, 201 by Bon Parfumeur convinces with beautiful, cheerfully optimistic green fruit nuances, rounded off by subtle floral water notes and gentle, light-woody base notes. A delightfully spring-like, elegant and immensely enchanting fragrance, romantic and dreamy, a perfect choice for any occasion during the warmer months. If you like it fruity, floral and greenish and prefer rather discreet and restrained creations, you should definitely put 201 on your to-try list.
401 – Orient in purple
A completely different olfactory calibre should be our second creation of the day. 401 belongs to the 400 series of fragrances dressed in violet, and is thus clearly assigned to the Orientals. I have this box with all my favourite samples of all my reviews, and in here is also the 402 of Bon Parfumeur, a wonderful mix of vanilla, sandalwood and almond caramel, slightly boozy and exceedingly seductive.
So my hope is high that the composition called 401 will blow me away as well – in a positive sense, of course. Developed by perfumer Nathalie Koobus, the eau de parfum is composed of ingredients cypress, incense, elemi resin, bergamot, plum, cinnamon, cedarwood, patchouli, labdanum (cistus), sandalwood, musk and vanilla.
Of course, the three top notes are also listed on the banderole of 401, which I will of course also reveal to you immediately: Cedarwood, candied plum and vanilla are to determine the fragrance of the creation by the house of Bon Parfumeur significantly.
Dark seduction
401 opens with lush coniferous wood nuances. Cool, aromatic and spicy, dark, earthy and greenish is the dense forest in the opening of the purple coloured eau de parfum. Leathery-smoky accents permeate the fragrance, in which a lovely and fruity warmth gradually spreads.
The dark fruit notes of sugared plums combine with the spicy heat of cinnamon. Balsamic and resinous nuances underline the fragrance, give it depth and emphasize its rather dark and mysterious aura.
In the finish, velvety sandalwood, powdery musk and finest vanilla lend additional warmth to the creation and unite in a wonderful way with the still present smoky-resinous and rather dark coniferous notes.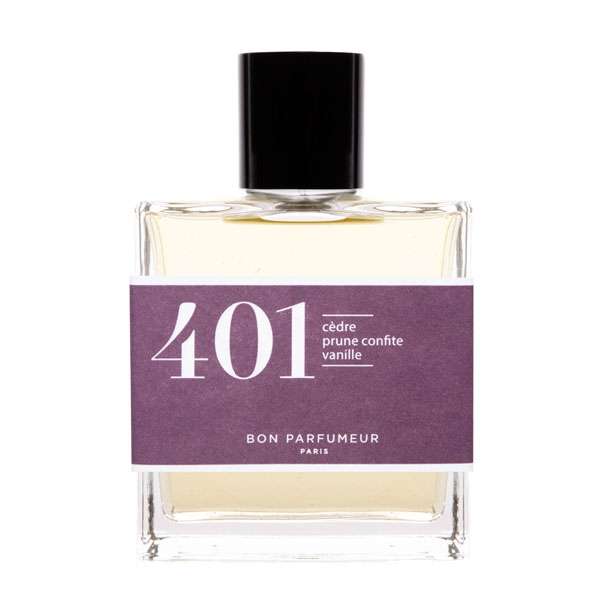 401 is an intriguing and sensual coniferous scent, underpinned by delicious spices, subtle resins and a dark plum sweetness. Of medium presence and blessed with a good durability, the Eau de Parfum by Bon Parfumeur is quite usable in the office and everyday life. Personally, I see the fragrance more in the cooler season or on cooler days than in the summer. A perfect fragrance for those who love not too sweet, oriental-tinged coniferous scents with spice and resin additions. 🙂