There is currently no way around the tonka bean. Thus, in his latest creation Tonka Bodykon No.31, Pierre Guillaume also uses the black and, at first glance, not necessarily handsome spice, which, however, is able to come up with such wonderful olfactory and culinary notes. On the implementation of this Eau de Parfum I am really more than curious, because already the press images let expect something quite seductive, do not you think?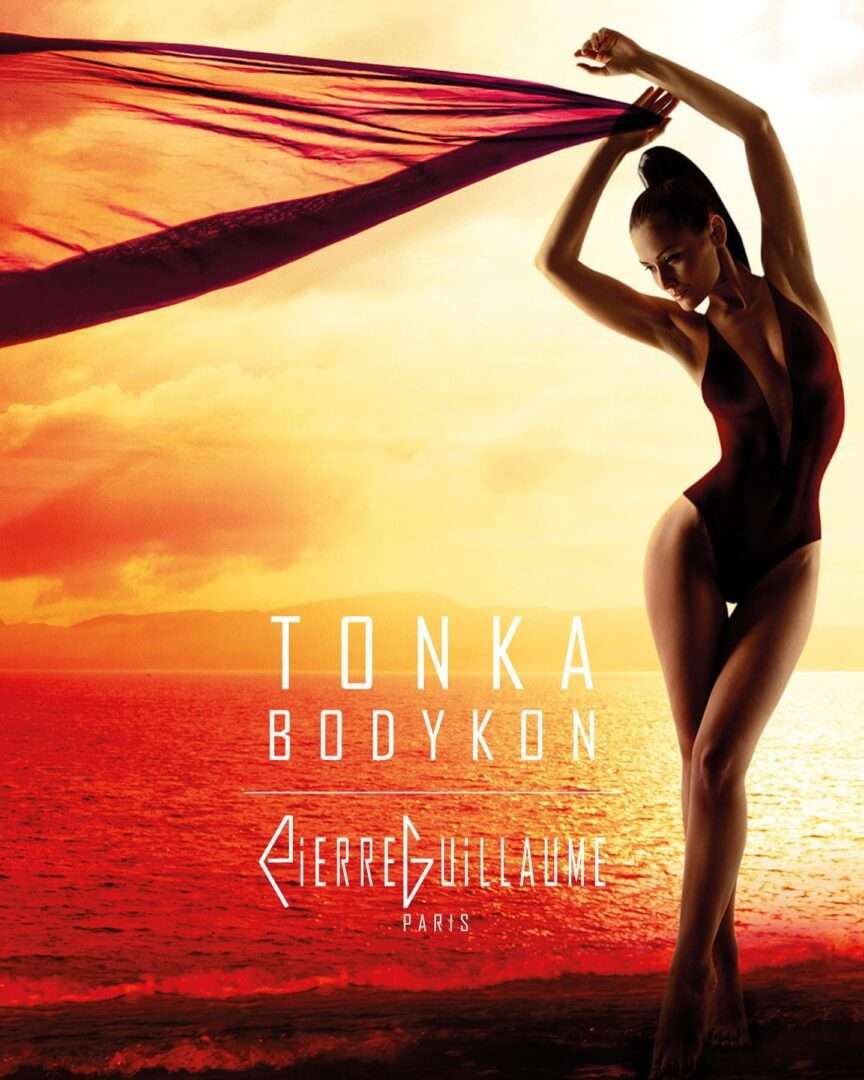 The lady lolls scantily clad and larger than life in front of an orange-red sunset. There seems to be a stiff breeze, because the scarf, which she certainly wore protectively around her body until a few seconds ago, is blowing quite tightly in the wind, for which she seems to hold it very casually and relaxed. A photomontage, of course, which may probably visually please especially the gentlemen of creation. Tonka Bodykon No.31 is by no means a masculine fragrance – although such can of course be worn by all others and are not limited to the male sex – but definitely intended as a unisex creation.
Short and sweet: the tonka bean
But before I continue with the eau de parfum from the fragrance house of Pierre Guillaume, I would like to say a few words about the protagonist of today: the tonka bean. Where does the black, hard and somewhat wizened seed come from, which at first glance looks unappealing? Originally native to South America, the tonka bean tree – or Dipteryx odorata – is now also grown commercially in other tropical regions.
The leaves of the tree, which grows up to thirty meters in height, are firmer and leathery and remind me a little of the foliage of rhododendron or cherry laurel. Flowering in pink and white, each fertilized flower subsequently develops a drupe, inside which is the seed. In dried form, the tonka bean is an important culinary accessory with a flavor reminiscent of almonds and vanilla, but its use in food production was banned for quite some time due to its relatively high coumarin content.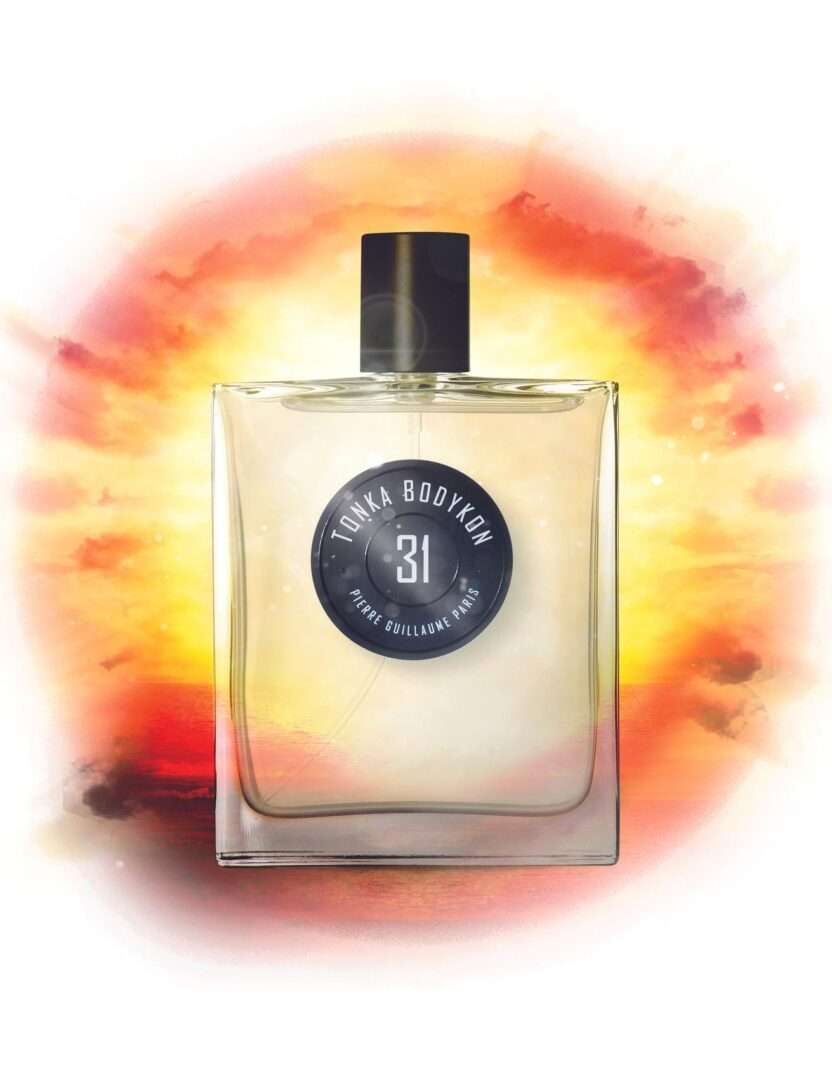 Tonka Bodykon No.31 – Pierre Guillaume
Tonka Bodykon No.31 now takes on the very spice that already enchanted me last week in Tonka Cola by Mancera (read here). Rum, tonka bean, apple, honey, vanilla, pistachio and benzoin resin are the ingredients of this new eau de parfum with the number 31. The name Bodykon initially made me think of a convention, which is probably about something body-related. But far from it!
The term Bodykon is made up of the words "body" and "conscious", which means aware of the body. Bodykon is a skin fragrance that is particularly close to the body.
Olfactory appetizer
Tonka Bodykon No.31 is like a scented sweet tooth that is right up my alley. Spices soaked in rum, so tipsy, cheerful and delicious that you're only too happy to be a guest at this party.
The tonka bean is in the mix from the start, accompanied by the liqueur-like rum nuances that give it a very special charm. Caramelized fruits, soft-sweet apple notes and a hint of vanilla loveliness join in to evoke an intrinsically overly harmonious and gourmand spicy melange.
Very soft, supple and round, the fragrance seems quite present, always elegant and mannerly. Benzoin resin lends a wonderful and subtle milk-chocolate creaminess to the finish, which, combined with the delicate nuttiness of the pistachio, forms an exceptionally beautiful rounding of this creation from the house of Pierre Guillaume.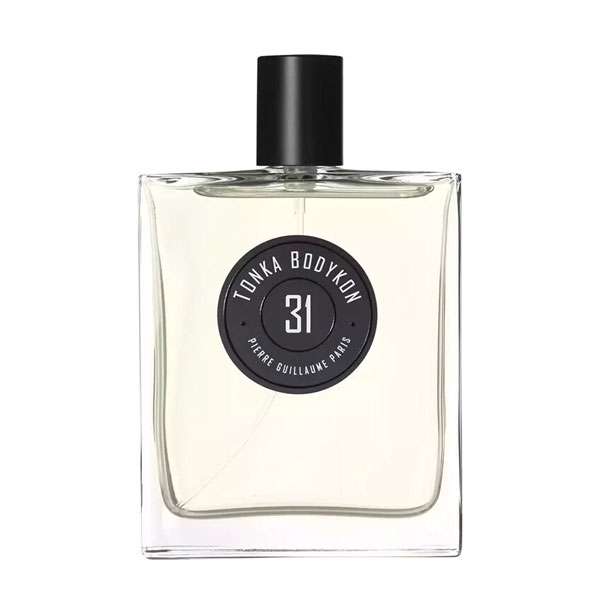 More tonka bean scents for me, please! Tonka Bodykon No. 31 is for me another really nice spicy scent that presents tonka bean in a completely different, but no less enchanting way than my last week's fragrance favorite Tonka Cola. Less sweet, but wonderfully gourmand, slightly tipsy, delightfully balsamic and wonderfully fruity, this eau de parfum is perfect for autumn and winter and for all those who love fine, seductive and refined creations with a spicy dessert character.