My last post on Bohoboco was a bit longer ago (read it here). All the more reason for me to look forward to today's review of Wet Cherry Liquor and Wild Carrot Oud. The latter is currently not available in the shop, but that will change again soon, so of course I'm introducing you to the eau de parfum here today. 🙂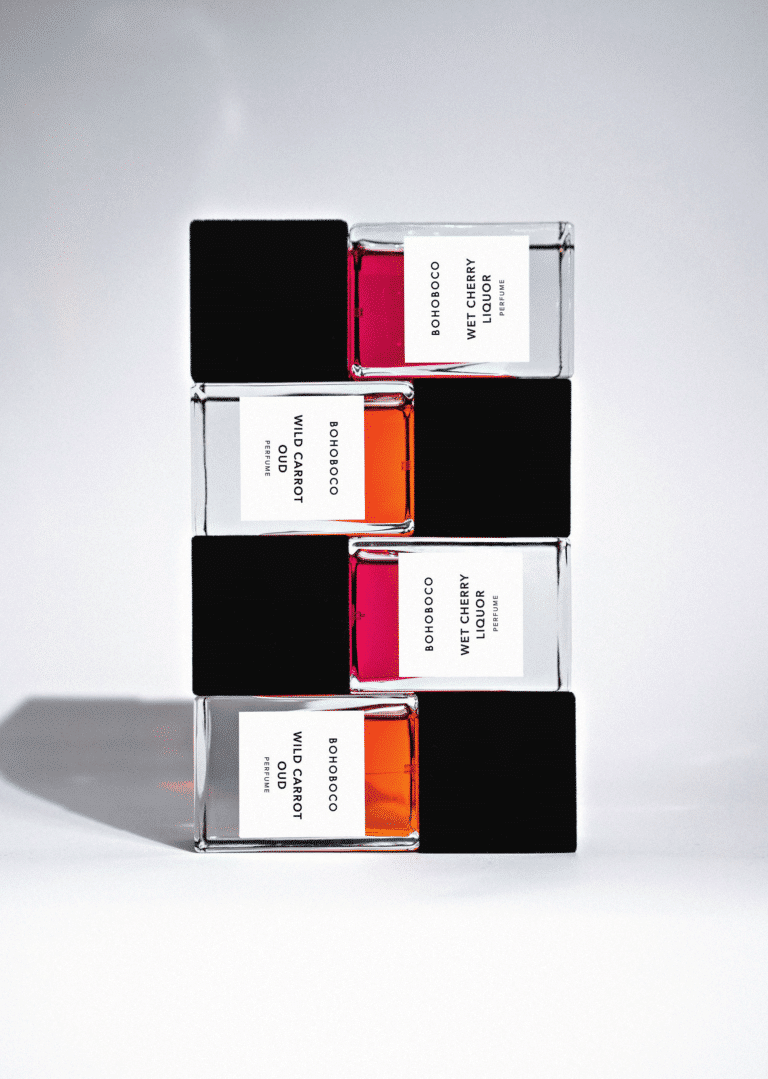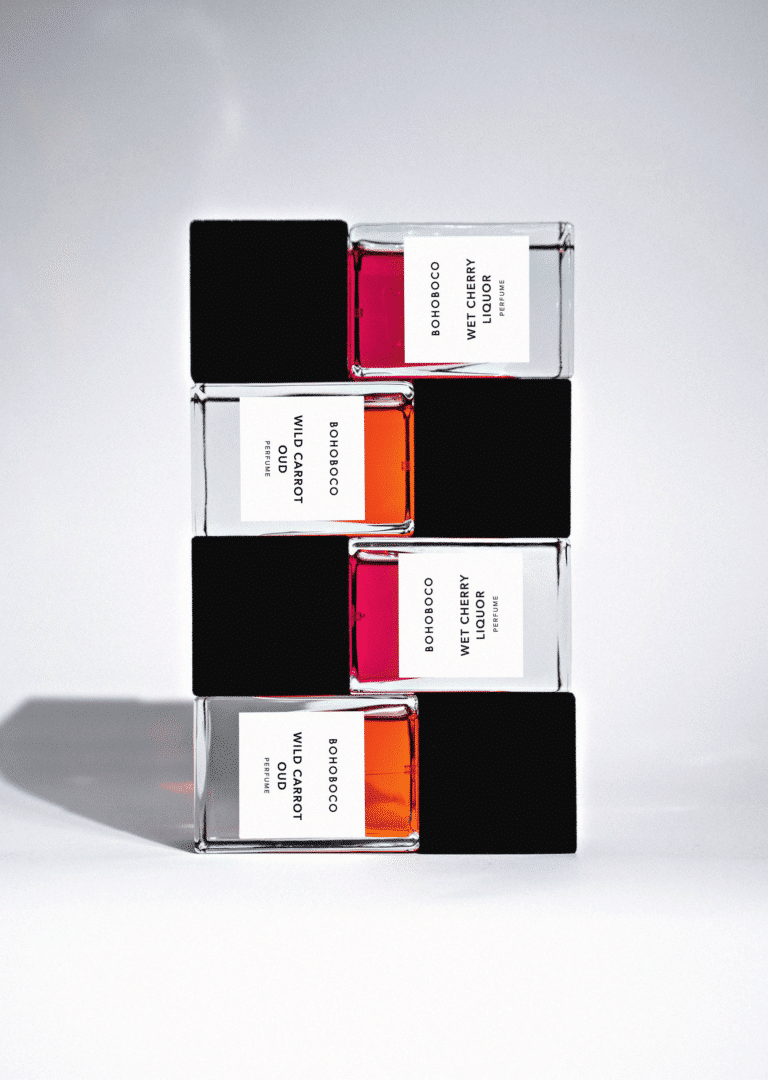 The Polish fragrance label Bohoboco by designer Michał Gilbert Lach was originally conceived as a concept fashion label with a perfume line, but has since undergone a complete transformation. Bohoboco now stands exclusively for fragrances that are colourful, modern and really cool. Beautifully composed, with sometimes extravagant fragrance notes and combinations, timeless and contemporary in design and rounded off with great photo material, Bohoboco is really fun, and so I look forward to today's two creations in pink and orange.
Wet Cherry Liquor – cherry liqueur deluxe
When I think of cherry liqueur, I always think of good old Eckes Edelkirsch, which I personally have never drunk. The advertising – if I remember correctly from the 1980s or 1990s – prophesied at that time full-bodied that only kisses are a greater treat. I'll leave it at that, since I've never tasted the sweet cherry brandy. Perhaps one or the other of you has some experience that you would like to share with us. 😉
Since I myself am not at all a friend of cherries, neither fresh nor as compote, not in a cake and also cherry jam I do not like. Admittedly, this might seem like a disadvantage to write a neutral review here. But of course, I will put my personal dislike of the fruit behind and plunge into this fragrance tasting free of any prejudice. The ingredients I'll tell you quickly: cherry, licorice, gourmand notes, strawberry, caramel, Turkish rose, sandalwood, vetiver, tonka bean and vanilla.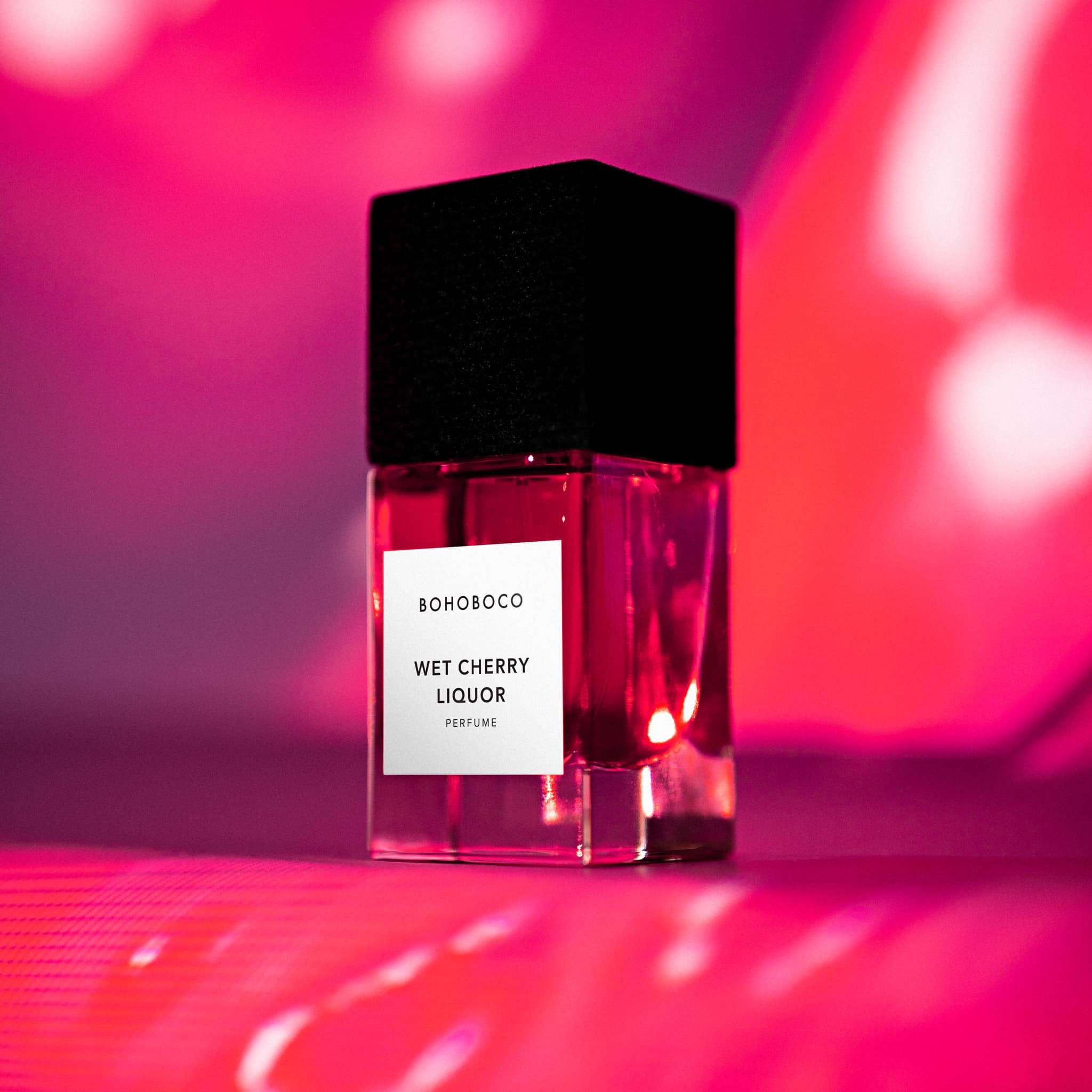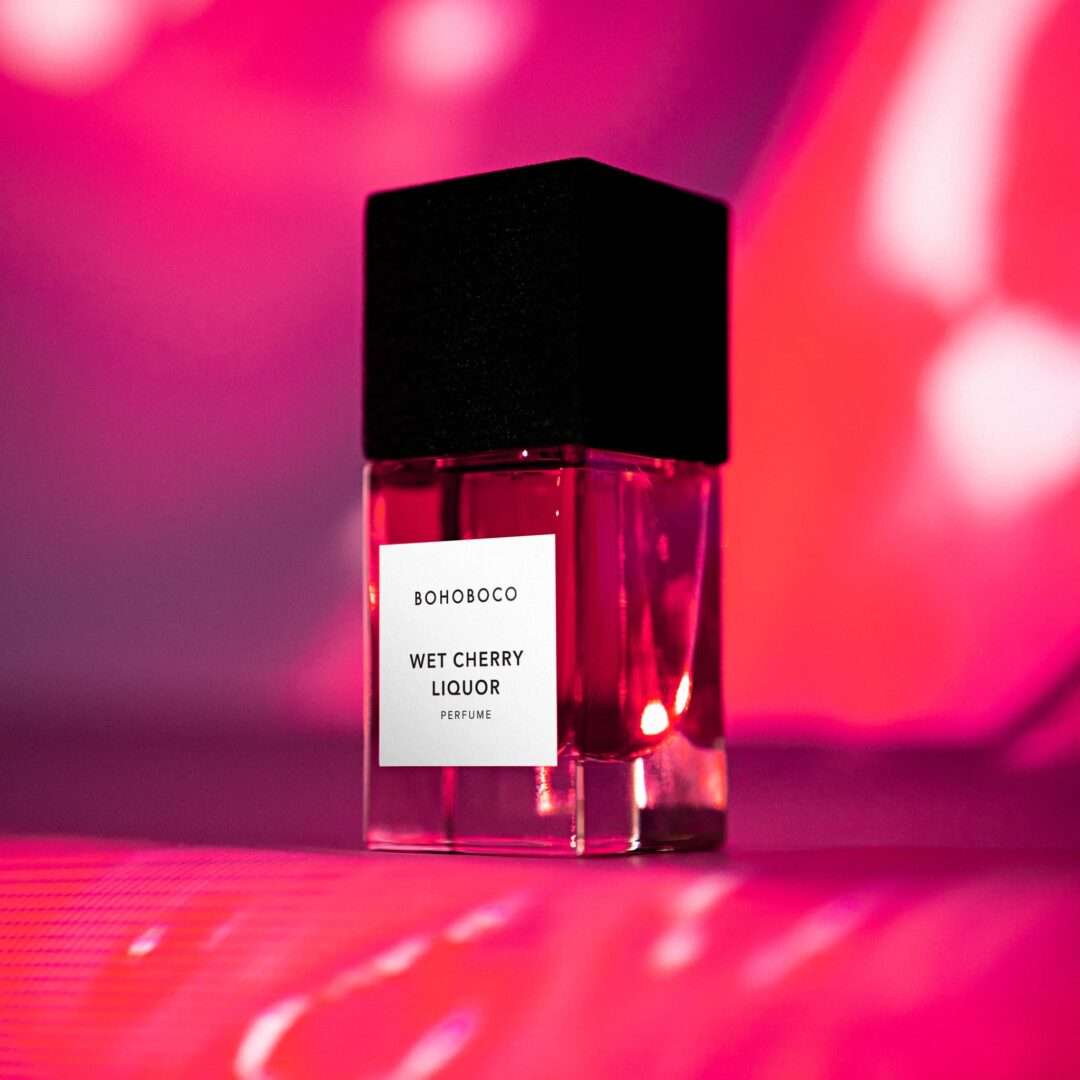 The perfume Wet Cherry – Liquor from the BOHOBOCO – PERFUME line is a supernatural, almost erotic journey into the depths of temptations and memories. It is the search for the high that brings inner rebirth.
Sweet cherry kisses
Deep red cherry meets intense notes reminiscent of wild strawberries, surrounded by a liqueur-like spicy melange that makes me think of rum and a bit of amaretto. Whereby the almond notes soon fade away, giving way to the soft and dark spice of licorice, whose lovely notes ensnare the cherry. Little by little, the tipsy fruits calm down.
Vetiver brings a touch of earth and forest to the fragrance, cool and also a little damp. This refreshment is good for the caramel sweetness, as it prevents the creation from slipping into an overly large density. In the finish, sandalwood and tonka bean give the eau de parfum warm and spicy woody nuances, with which Wet Cherry Liquor finally slowly fades out.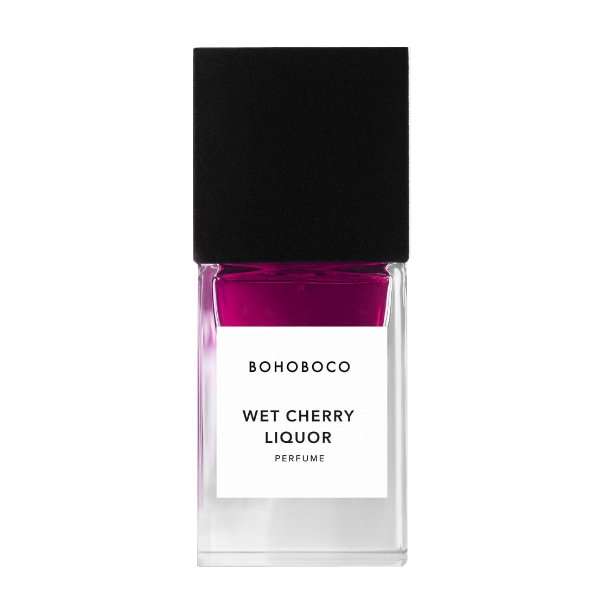 If you were expecting a lovely colorful and lush cherry scent, you are at least not completely wrong. 😉 Bohoboco combines sweet cherries with liqueur notes, other fruits and spices and thus evokes a cherry-spice mix sometimes refined with amaretto, sometimes soaked with rum, which may well please friends of dark and mysterious fruit scents. No squeaky and flashy cherry pop, but a quaffable and spicy-gourmand cherry liqueur, which for me fits perfectly in autumn and winter and which I definitely let go in my daily-use box! Absolute test recommendation – even for cherry skeptics! 🙂
Wild Carrot Oud – Agarwood Meets Wild Carrot
The wild carrot seems to be an ancestor of the common carrot we like to use these days, and I almost think I've had it in our garden in a bee meadow seed mix. Or anything similar with flowers of the same type. Well, we probably all know the taste of a carrot, the lovely powdery scent of carrot seeds as well. How the combination of wild carrot and agarwood fits together, I'm really curious.
The fragrance notes of bergamot, carrot, cinnamon, cedar, woods, agarwood (oud), tobacco, animalic notes, leather, styrax resin and earth definitely sound wild, and wilder than the name Wild Carrot would suggest.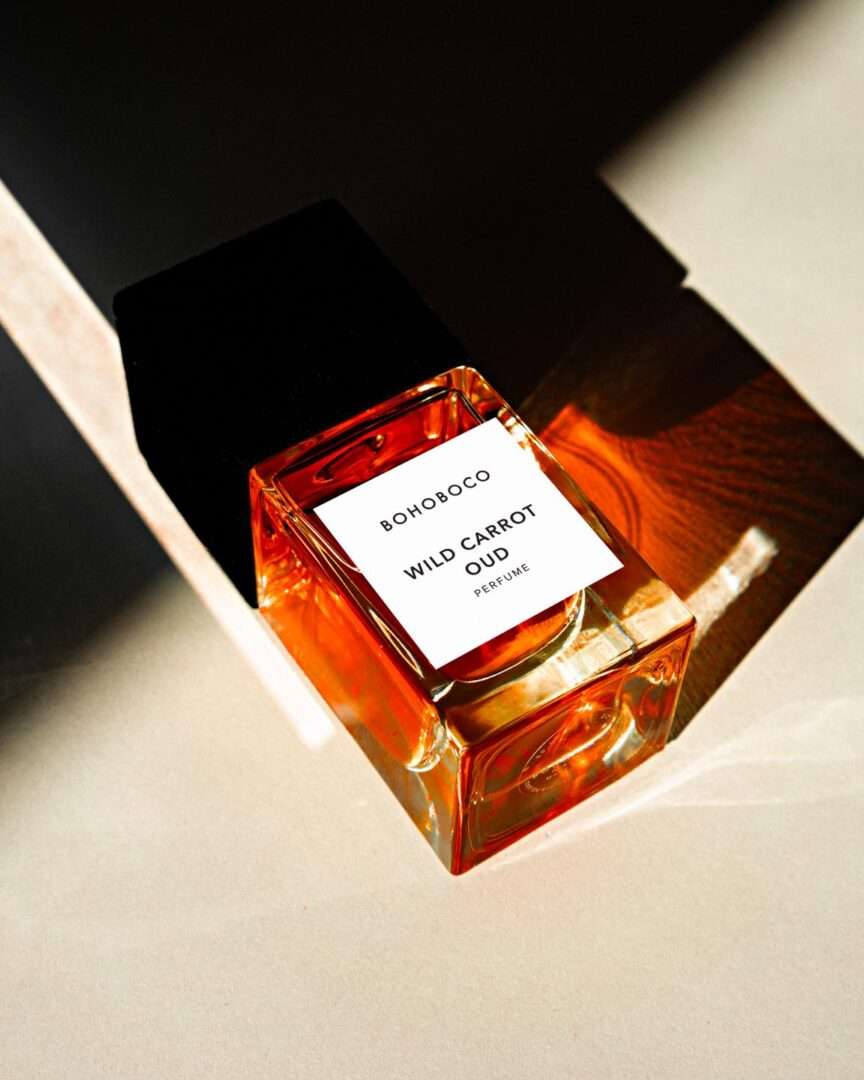 The perfume WILD CARROT – OUD from the BOHOBOCO – PERFUME line is the quintessence of multidimensional austerity in a crystal bottle, representing a wild and overwhelming sense of freedom and unity.
The dark side of the carrot
After a short and explosive start full of citrus freshness, Wild Carrot Oud soon reveals that powdery creamy carrot sweetness that Bohoboco skillfully and daringly combines with incredibly dark and animalic leather, lush earth and oud. Resinous, woody and smoky is the fragrance, deep black its soul.
Earth, resins, woods and leather seem to feel really comfortable together and understand each other, because they remain the scent course for a long time in this combination. Only in the drydown, the eau de parfum slowly becomes calmer and softer, but definitely retains its extravagant basic character.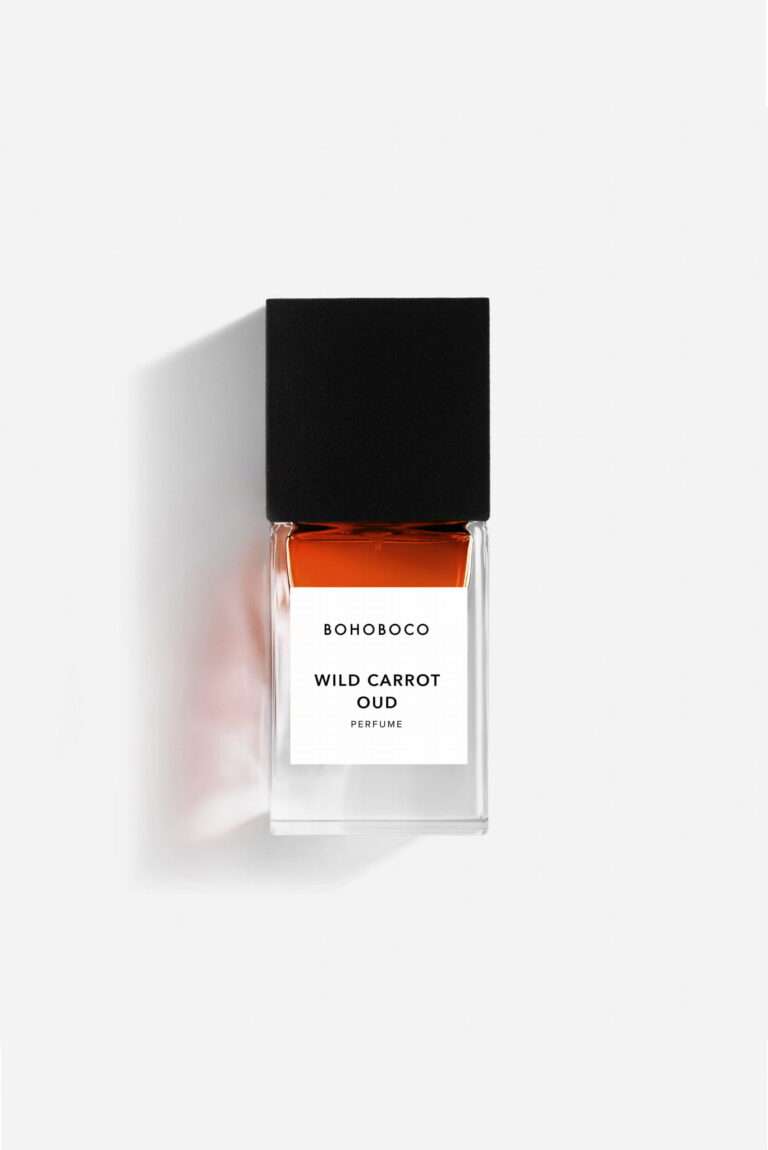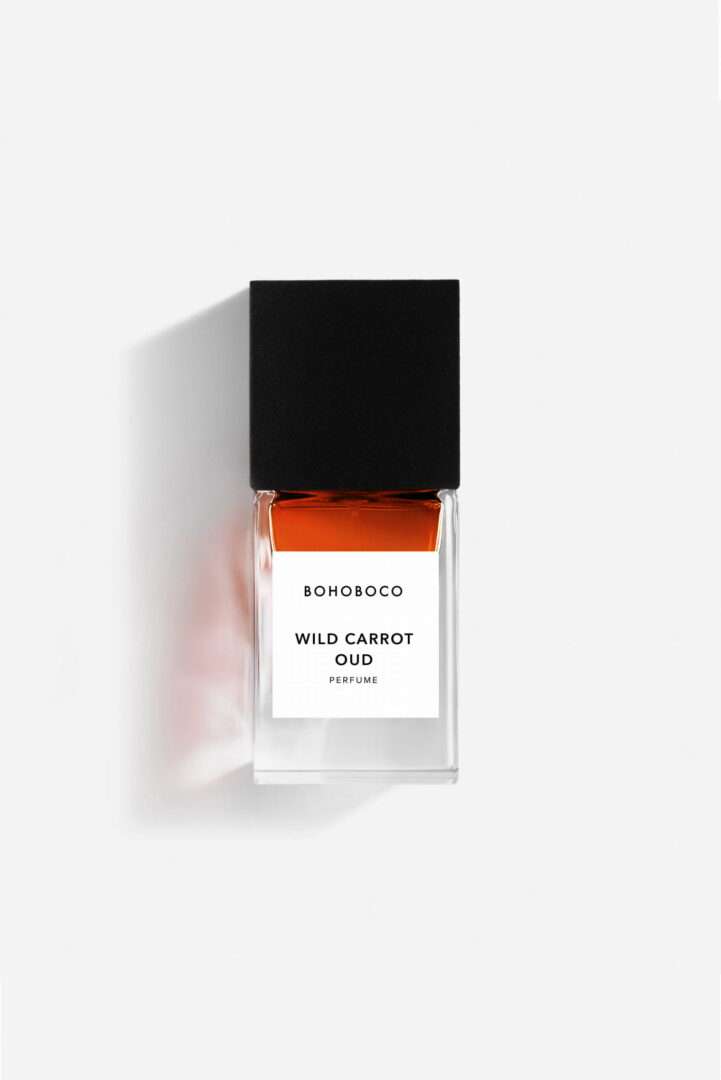 Wild Carrot Oud by Bohoboco is attributed the color orange only visually. The fragrance is dark, gloomy and jet black in color. A wonderfully striking and distinctive eau de parfum, with rough edges, a statement fragrance par excellence. Certainly not an allrounder, but something for all those who prefer special and also a little daring compositions. 🙂