Anyone who is active in fragrance circles has certainly noticed that one fruit has been more hyped than almost any other for some time now. The "it" fruit of niche fragrances – one might almost say – is none other than the cherry. Wherever the eye looks and the nose sniffs, you can find the red stone fruits, and therefore I would like to take this development as an opportunity to present you my top 5 cherry fragrances in this post today.
My top 5 cherry fragrances
As usual in my top lists, I will present the fragrances mentioned in no further numbered order, as it was difficult enough to make this selection in the first place. I would like to spare myself and you a further differentiation into different places, as that would do the creations an injustice, because they are all beautiful and wonderfully cherry-like. 🍒
Cherry Punk – Room 1015
The pioneer of the cherry threshold could be called the fragrance house Room 1015, whose eau de parfum Cherry Punk I presented to you in May 2021 (read here). If I remember correctly, this eau de parfum was actually the first cherry fragrance of my reviewing career here at the Duft-Tagebuch, so one that is primarily themed around the stone fruit rather than floral cherry blossom.
Cherry Punk was created in collaboration between Room 1015 and Jérôme Epinette, who combined the ingredients cherry, saffron, Szechuan pepper, violet, jasmine, mimosa, patchouli, tonka bean and leather for the fragrance. An irresistible melange, as I soon discovered during testing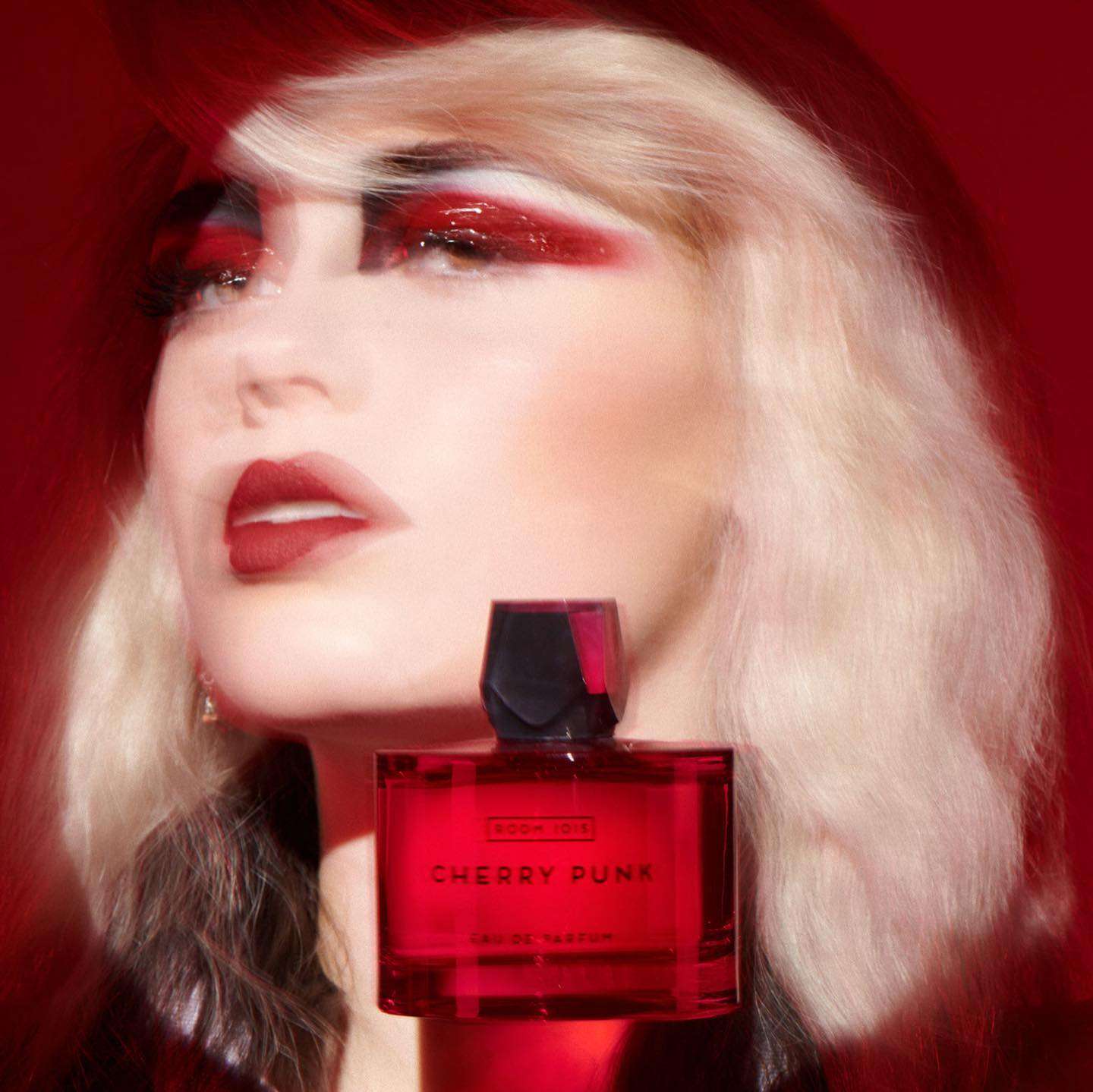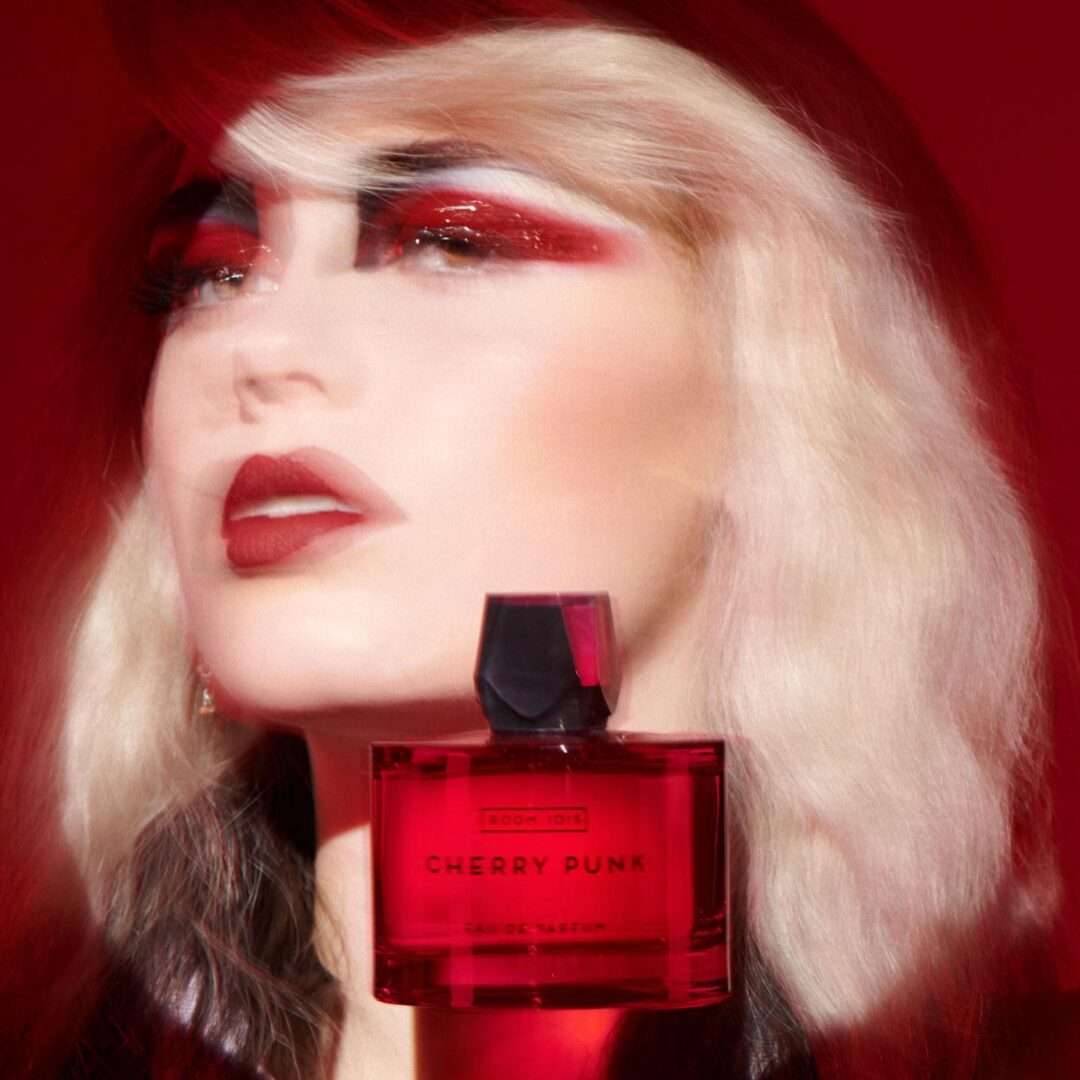 Quietly steps the cherry. Almost shyly, it treads the fragrance stage at the hand of confident saffron and hot Szechuan pepper. The spicy-leathery duo, on the other hand, makes for a thoroughly imposing start that is full of power and presence. The cherry is still found discreetly in the background of the creation, but soon it becomes bolder and emerges from the shadow of the two spice alphatians. It may be due to the floral support, whose soothing nature probably suits the cherry quite well. Delicate and floral, the flowers underline the still leathery-fruity fragrance composition, which is definitely inherent a certain portion of sex appeal. Finally, Patchouli gives Cherry Punk dark woody nuances, underlined by the vanilla-like notes of Tonka bean. With a warm and still cherry-fruity leatheriness, the fragrance composition of Room 1015 fades out very gradually.
BORNTOSTANDOUT – Indecent Cherry
In March 2023, the Korean niche fragrance label was a formative guest here in the Duft-Tagebuch, but I was allowed to present the entire collection of the brand to you. One eau de parfum in particular caught my eye (read about it here), as it contained the red stone fruit that the brand itself touted as quite indecent: Indecent Cherry.
Perfumer Florian Gallo created – along with several other eaux de parfum of the Korean brand – the composition around the perky cherry, with the help of the fragrance notes cherry, almond, saffron, Bulgarian rose, strawberry, mimosa, vanilla, amber, patchouli, musk and benzoin resin.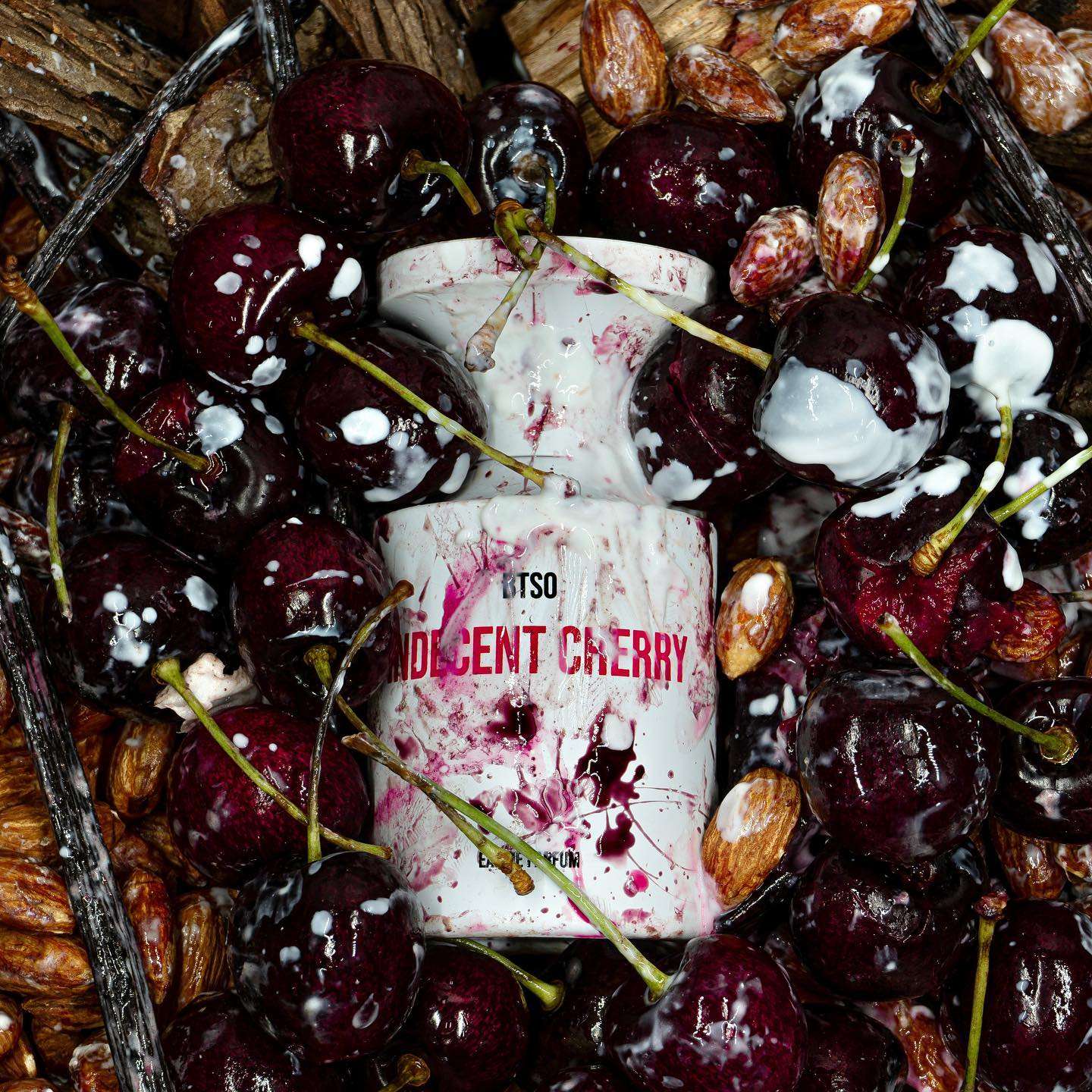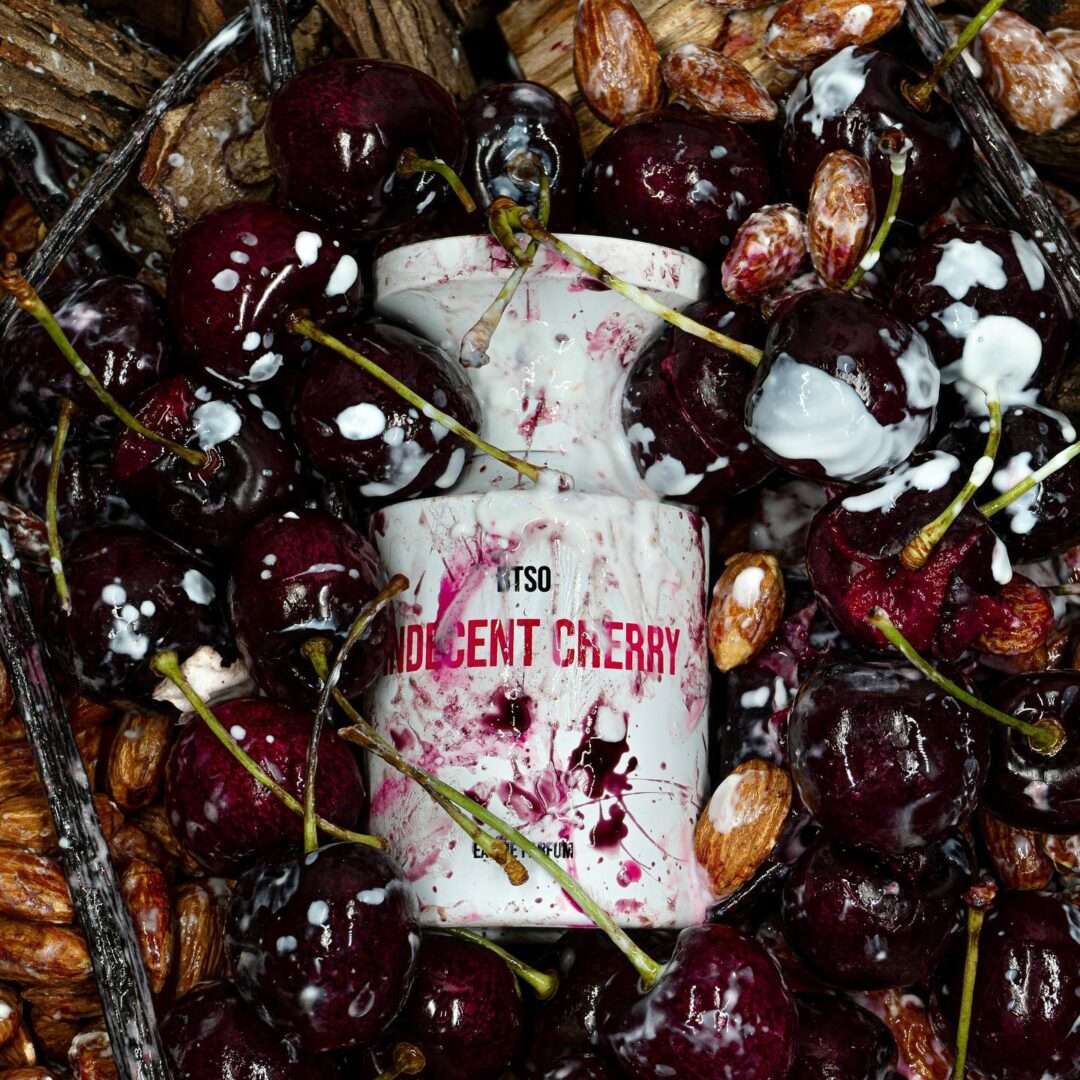 Lush, sweet and juicy cherries open Indecent Cherry, how beautiful! Saffron and almond give the dark red stone fruit creamy-gourmand facets and a spicy depth. Fine-floral and honey-sweet enchant powdery mimosa, which have a romantic rendezvous with lovely wild strawberry nuances. Indecent Cherry by BORNTOSTANDOUT finally glides into a warm, gentle and cosy base in which creamy patchouli, the milky chocolate notes of benzoin resin and sweet ambergris fall into each other's arms with pleasure, accented by the finest vanilla musk. Amidst these delightful notes lie, tipsy and happy, dark red cherries. What a delicious final act!
Cherry Smoke – Tom Ford
Tom Ford, the iconic American designer with the equally iconic beauty label, likes to launch trios. Odd numbers seem – at least visually – somehow always more coherent, for example, in terms of decoration. And for Tom Ford, too, the concept of the olfactory trinity seems to have a clear preference. So Ford gradually launched three cherry fragrances, Cherry Smoke, Lost Cherry and Electric Cherry, one of which also finds its way into this Top 5 list.
In February 2023 (read here), I introduced you to the eau de parfum created by perfumer Louise Turner from the fragrance notes of cherry, saffron, osmanthus, apricot, olive, leather, woods and smoky notes.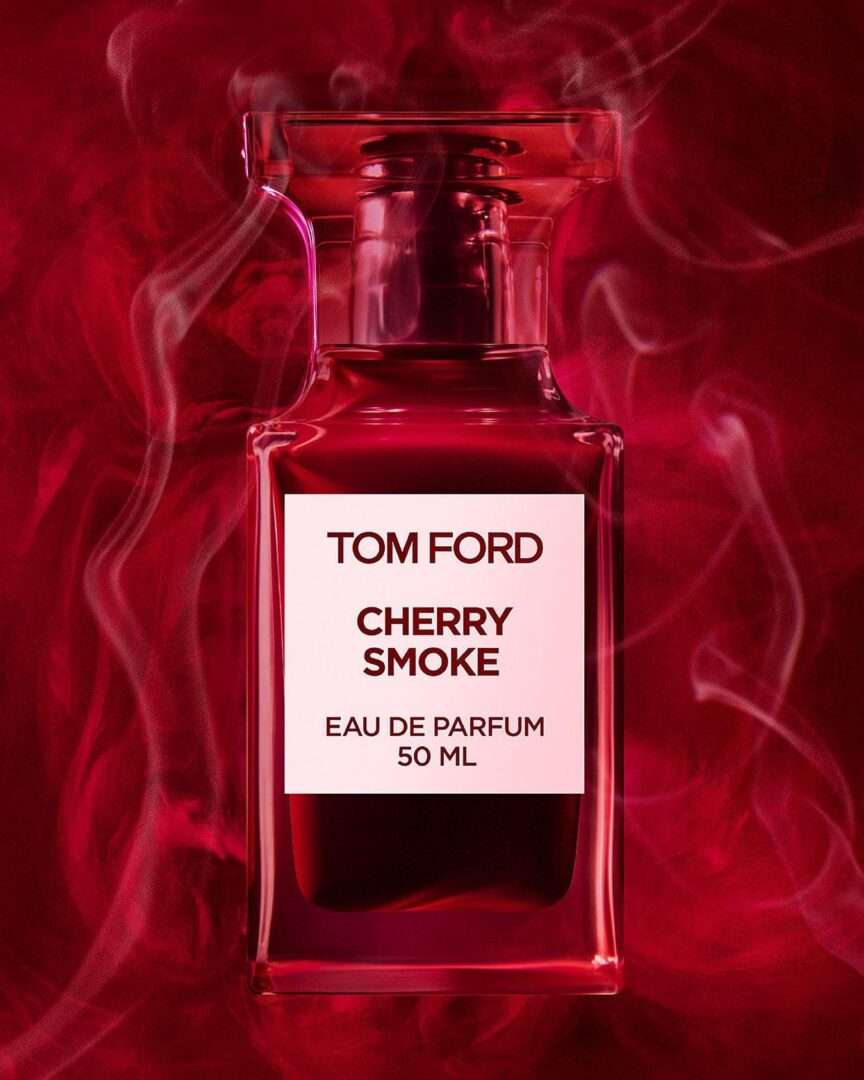 Lush saffron notes open Cherry Smoke with this wonderful, dark and leathery spice, which is soon joined by ruby red and sweet cherries. As it progresses, my skin and the test strip differ, so I'd like to touch on both variations. The paper reveals a more lovely and cherry-like scent, which also has creamy facets that I would attribute to osmanthus and apricot. My skin, on the other hand, plunges into darkness, robed in smoke and leather. On me, these components appear dominantly, while cherry lolls lasciviously in the background, on dark red velvet of course. I find both variants exciting, I would prefer a mixture of both, but unfortunately my skin does not play along. But I have my cardigan on the sleeve still mitbeduftet and come so in the full enjoyment. Perfect! 😃
Melting Lust – EMIL ÉLISE
Just a few days ago, Melting Lust by EMIL ÉLISE was in the Duft-Tagebuch (read it here) and yet this new addition has also made it into this list of top 5 cherry fragrances. I was really excited about the creation of the young German label, whose six previous fragrances I was also allowed to test and enjoy.
The perfumer of the creations of EMIL ÉLISE is not named, but the fragrance notes I can tell you, of course: Cherry, rum, benzoin resin, elemi resin, rose, Peru balsam, lavender, guaiac wood, patchouli, musk, amber and moss. I promise and do not give away too much when I say that this composition is really incredibly delicious-cherry.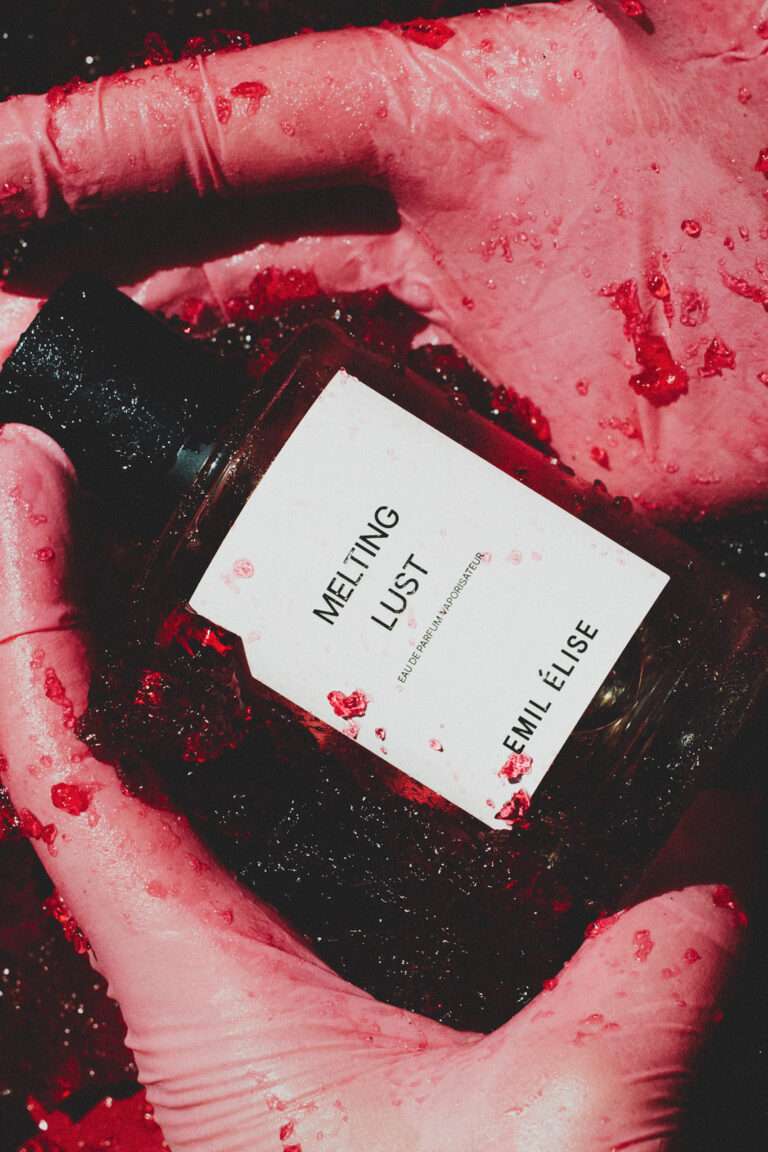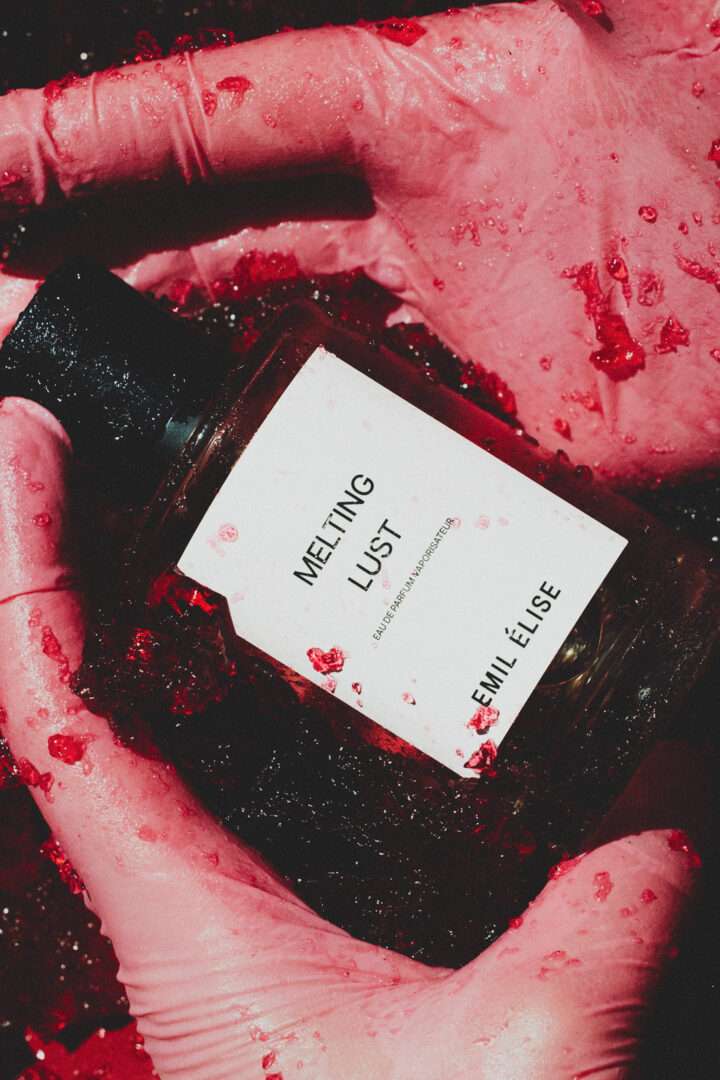 Tipsy cherries characterize the opening of Melting Lust. The liqueur-like, boozy notes of cherries soaked in rum meet creamy-sweet benzoin resin and the woodsy freshness of elemi resin, giving the fragrance depth and intensity. The rose adds softly soapy and airy floral accents, while the lavender provides herbaceous nuances. Still at the centre of the creation is the cherry, whose buzz seems to have subsided in the meantime, now surrendering more to the herbaceous-woody and spicy facets of the composition. Delicate powdery clouds of smoke from guaiac wood permeate the fragrance, accompanied by the earthy creamy woody notes of patchouli. They soothe the perky cherry, take away its initial pronounced sweetness, give it a certain transparency and lightness without compromising its substance and durability. With fruity-powdery and mossy-creamy nuances, Melting Lust fades out very slowly.
Latte di Cherry – New Notes
And finally, a cherry scent that has not yet received its own review here in the Duft-Tagebuch, but which has been on my desk for a few weeks and which I spray on again and again privately and enjoy: Latte di Cherry by New Notes. In the hustle and bustle of the last few weeks, however, the fragrance has always slipped through here contribution-wise, so I would like to present it to you today in the context of this Top 5 list briefly. Because it definitely deserves a place in here.
The fragrance notes are cherry, red fruit, orange, almond, jasmine, Turkish rose, ylang-ylang, spices, vanilla, tonka bean, vetiver, sandalwood, benzoin resin, amber and musk. The press release mentions a perfumer, but does not mention her by name. As soon as I find out more, I will note it here.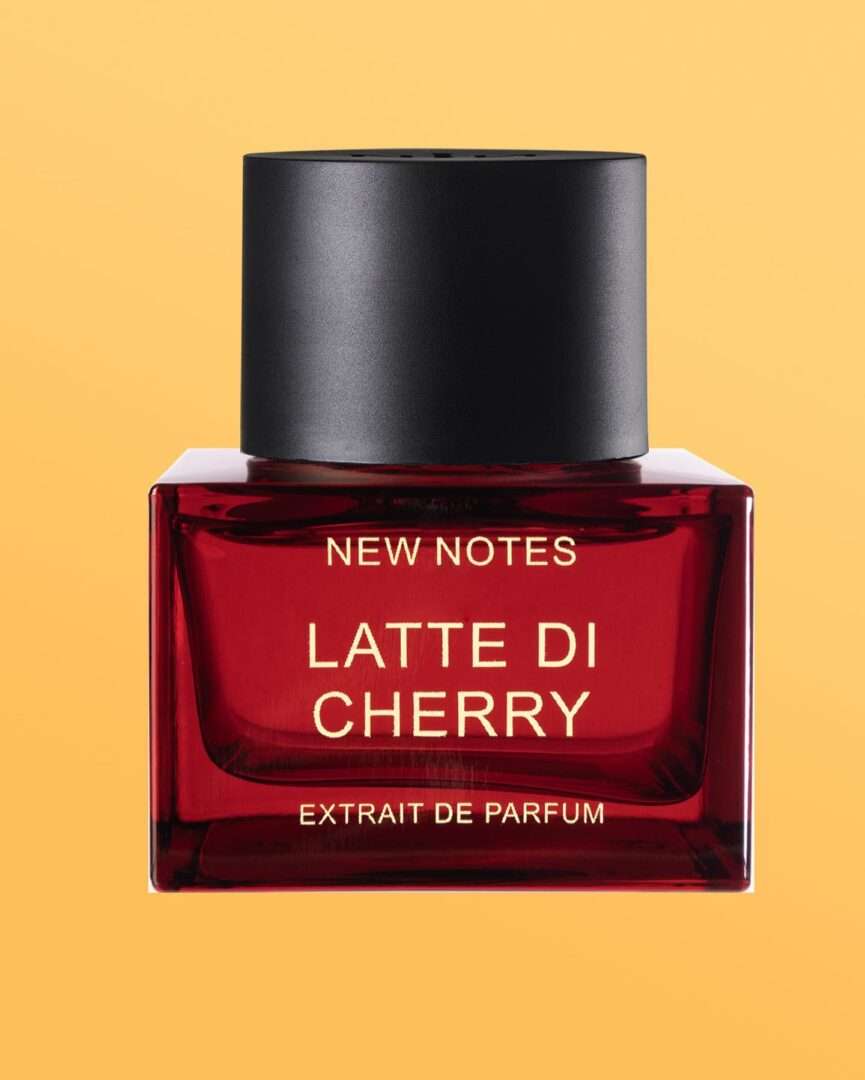 Sweet and dark red cherries open Latte di Cherry befitting its status, immediately underpinned by toasted almond cream, spices and velvety soft, smooth florals and smoky powdery nuances that give the creation gourmand fruity and spicy warm accents. I would classify the presence as medium, the durability as very good, which is certainly also due to the extrait concentration. Overall, Latte di Cherry remains a rather quiet, calm, creamy and contemplative cherry fragrance that seems very elegant, almost sophisticated and mature. A creation that should appeal to all foodies and fans of gourmand, spicy fruit scents.