A guarantor for regular new launches is the niche fragrance brand Montale, which expands its portfolio every year fragrance by fragrance, so that we at Aus Liebe zum Duft now have over eighty creations of the label in the assortment. Recent additions are the two Eaux de Parfum Rendez-vous à Milan and Oudyssee, which – as usual – were created by Pierre Montale himself, who has been active in the fragrance business for over thirty years.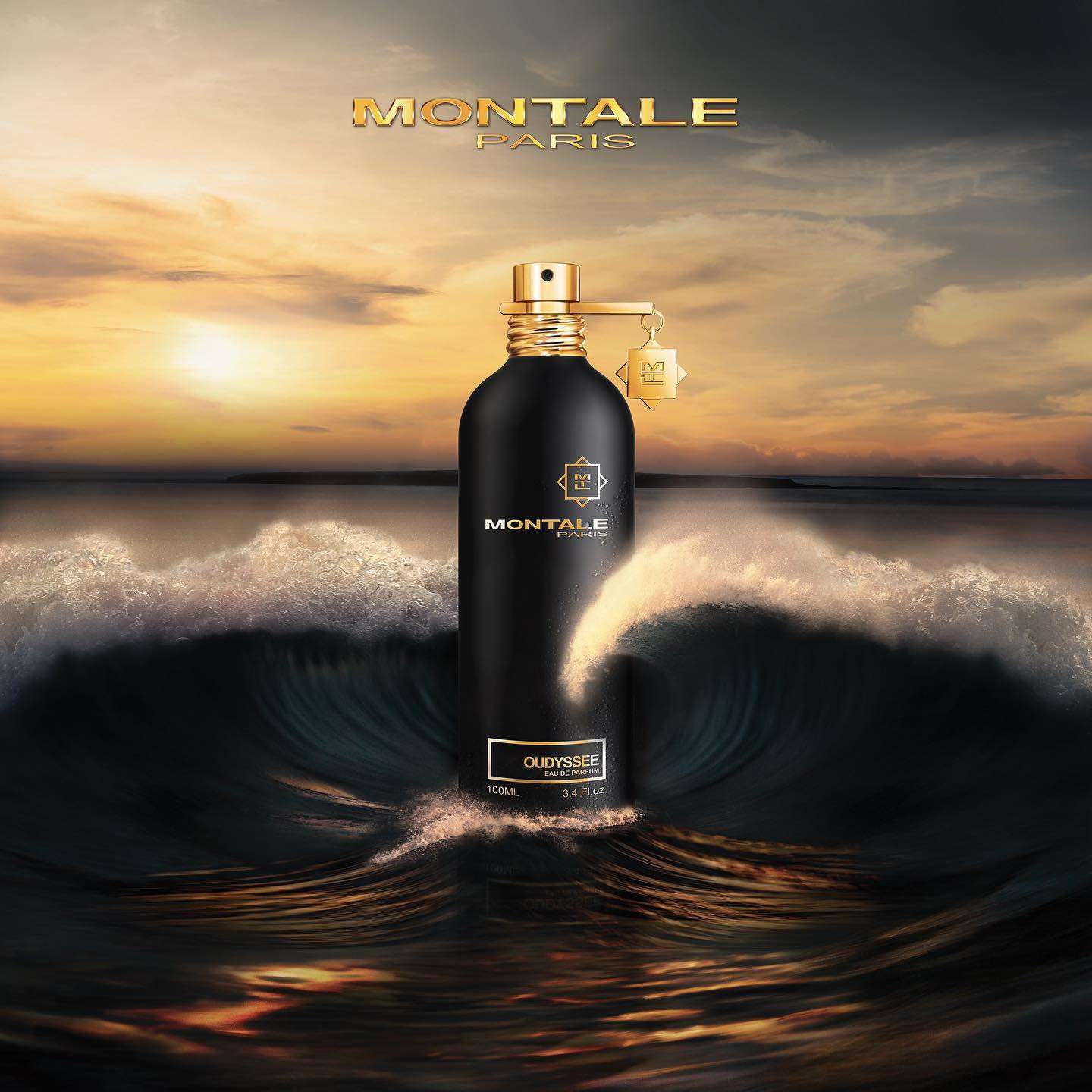 Montale brand has a cult following for decades, has numerous fans and is loved for its lush and usually intense creations. Also, here in the Duft-Tagebuch Montale was already represented really often (who wants to read up, can do so here ), which is admittedly little surprising with the size of the portfolio. Often the name of the fragrance already gives the character or the main ingredients: Blue Matcha, Intense Pepper, Dark Vanilla and Intense Cherry would be examples here, and I also suspect that the name Oudyssee already makes it clear in which direction it may go.
Rendez-vous à Milan – Montale
With Rendez-vous à Milan and Rendez-vous à Paris, the niche fragrance house launched two scents in 2022 that revolve around cities and are intended to express their special features olfactorically. Montale speaks of a "delicious journey to Italy" in Rendez-vous à Milan. With France and Italy, the brand naturally visits the two traditional hotspots of haute perfumery, as French craftsmanship and Italian elegance are hard to pass up in fragrance circles.
In the press text, the traveller "leaves the main streets and goes to the luxury hotels where the events take place. He goes from galleries to castles and enters the bridge of the Naviglio Canal at sunset … but inevitably he will reach the Duomo, where he will pay his respects to the majestic "Madonnina" that towers over the city and shines against the azure sky. A keepsake and a tribute to the fascinating Milan."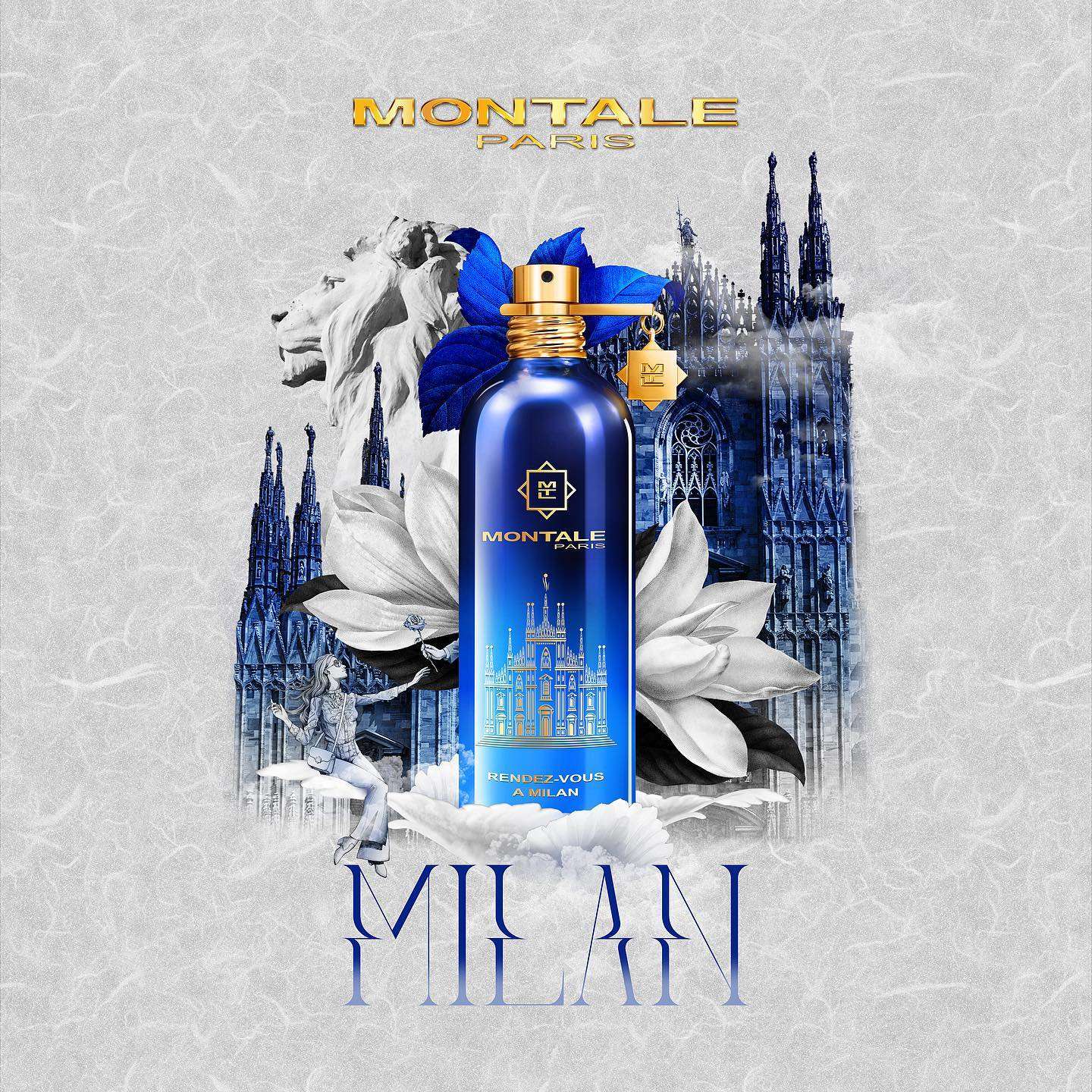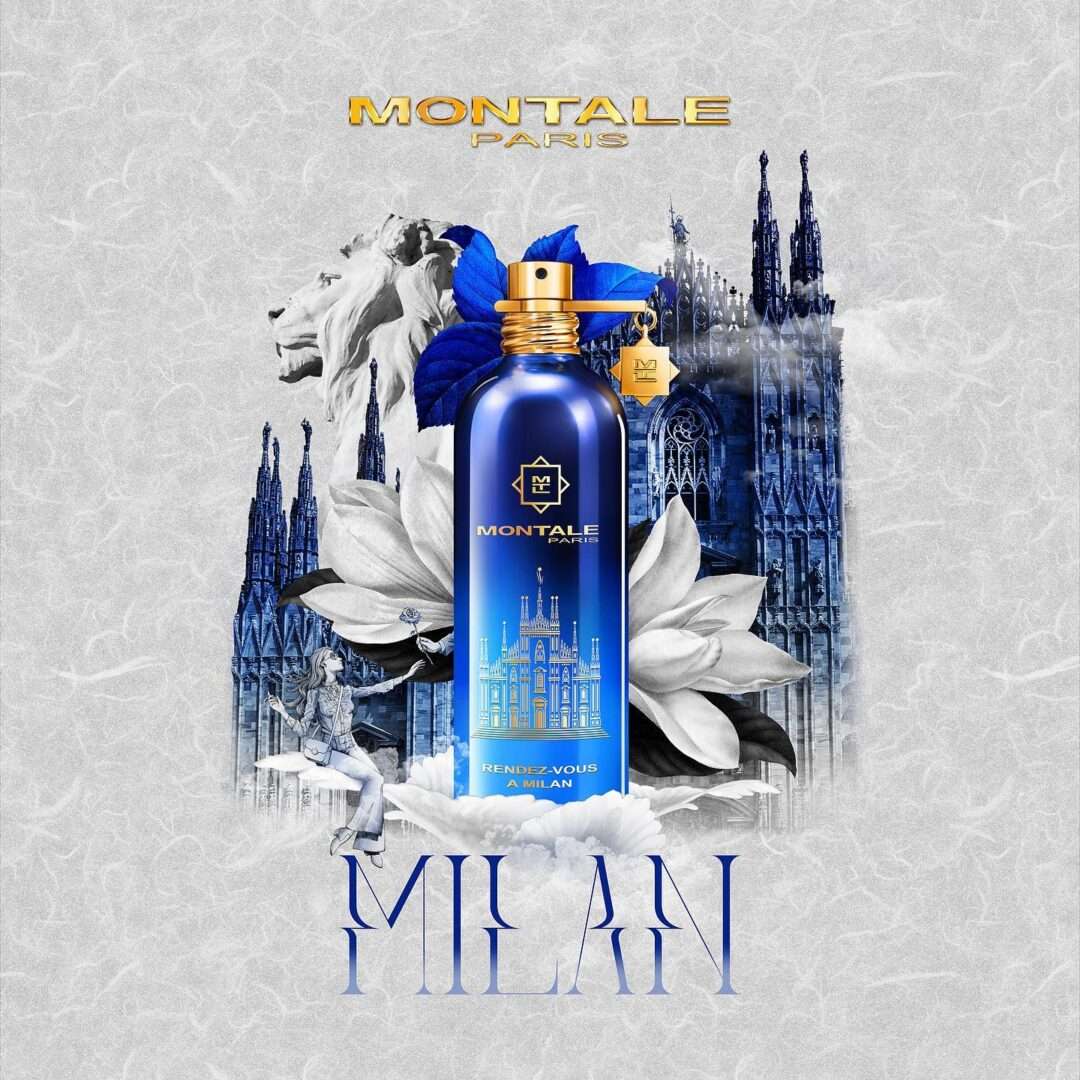 The fragrance notes to Montale's trip to the northern Italian metropolis I must also tell you: Coffee, basil, candied fruit, rose, carnation, tuberose, vanilla, toffee, musk and amber.
Milan meeting point
Rendez-vous à Milan is first and foremost a meeting of greenish aromatic basil and airy fresh fruity rose, which blooms in beautiful and bright pink in the creation and instantly puts a smile on my face. A honey-like sweetness carries the flower, which soon combines wonderfully with the seductive sugar notes of the candied fruit.
A pinch of vanilla I perceive early in the course of the fragrance, while I can sniff the typical, greenish bewitching nuances of tuberose only discreetly and underlining. On the other hand, the gourmand and creamy facets of toffee and the woody warmth of ambergris are clearly evident, which make Rendez-vous à Milan finish beautifully.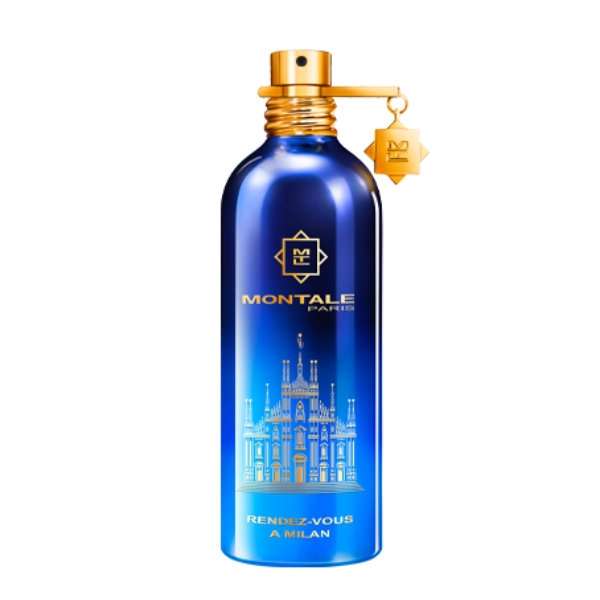 Why Montale chose a blue colour for the bottle of Rendez-vous à Milan is beyond me, for the fragrance is in the finest pink to pink. Gorgeous roses meet juicy, sugary-sweet fruits, along with green basil and creamy toffee, a beautifully composed and harmonious eau de parfum in the typical lush Montale style, but never too opulent. I would rate the presence as medium to strong, the longevity as excellent. For me, a perfect fragrance companion for summery-sunny or spring-like weather that immediately puts you in a good mood. A must-try, not only for rose and Milan lovers 😉
Oudyssey – Homer's oudy adventures
We all know them, the stories about the ancient Greek hero Odysseus, who actually just wanted to sail home quickly after the Trojan Wars, but then had to face countless challenges and adventures before he could finally return to his home port. This long and difficult journey home, full of trials and tribulations, is commonly known as the Odyssey.
So what may I think of an Oudyssey? Is the scent more of a siren-like allure or an olfactory challenge? Is it a tedious path through the fragrance course, full of surprises and feints? The fragrance notes reveal at least some diversity: pink pepper, black pepper, bergamot, lemon, sage, lavender, agarwood (oud), leather, maritime notes, ginger, amber, patchouli, mate, musk, oakmoss and ambergris.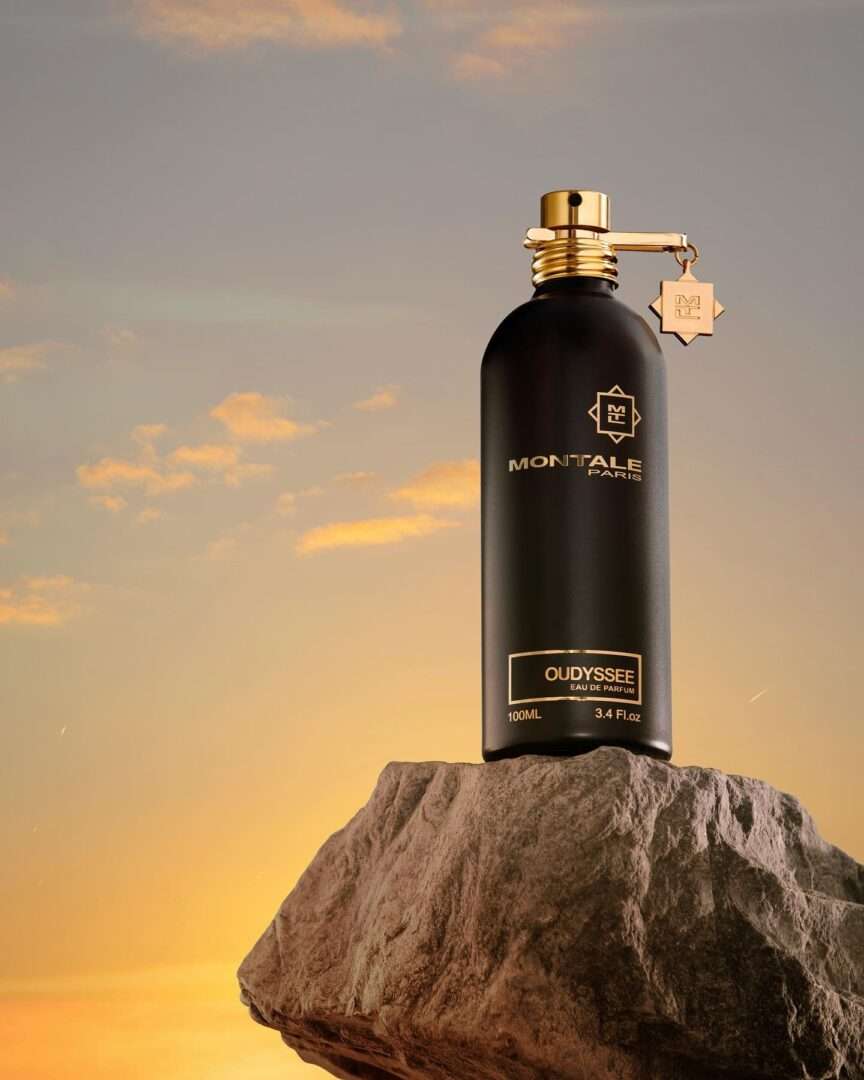 Refreshing, charismatic and boundless. Oudyssee takes you on a mythical journey. Black and pink pepper set sail and a refreshing sea breeze propels you on calm waves towards the open Sicilian sea, where the invigorating scent of bergamot, lemon and lavender awaits you. The depth of the radiant amber draws you in, while the spiciness of the fresh ginger brings you back to the surface. Soft musk and Brazilian mate finally propel you into an embrace of eternal aoud.
The Adventures of Oudysses
Citrusy and peppery is the opening of Oudyssee, airy and refreshing. No sign of wandering or adventure in the first puffs of the fragrance. Soon, a salty-fresh sea breeze is drawing in the creation. Thoroughly lush and cool, it washes over the citrusy sharpness of the opening. The first accents of dark forces can already be sniffed out.
Subliminally, the agarwood already appears, accompanied by deep black and firm leather, which wonderfully underlines and highlights the medicinal-smoky facets of the oud. The ocean waves fade into the background, but a discreet maritime background remains. Gradually, Oudyssee becomes brighter, powderier and softer before finally fading out very gradually.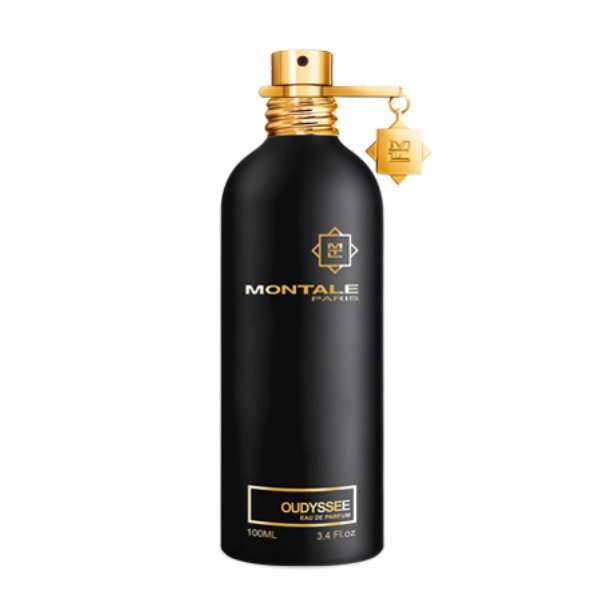 There is no mystery in Montale's Oudyssee, but there is an exciting and interesting combination of fragrances. After a citrusy, spicy start, the eau de parfum is soon dominated by effervescent ocean waves, then gives way to the protagonist oud and its companion black leather, and finally ends with surprisingly light and powdery notes. Not an agarwood powerhouse, but a sophisticated, very balanced and harmonious maritime oud scent that I would classify as an all-rounder, both seasonally and occasionally. 🌊
Giveaway
We raffle the following treasures from Montale, for which we would like to sincerely thank the distributor Aroma Company:
1 x 100 ml bottle Rendez-vous à Milan by Montale
4 x 20 ml luxury size incl. velvet cosmetic bag by Montale
5 x 1 sample set by Montale, equipped with 5 samples
How do you get into the lottery pot? Very simple! Leave us a comment below this article up to and including Sunday, 25.06.2023. On Monday, 26.06.2023, the lucky winners will be informed by us via email.
You can find the conditions of participation here.
We wish you good luck 🙂