Cherries are absolutely en vogue in the fragrance world right now. Hardly any scent has struck me in the last few weeks and months as strikingly as the red stone fruits with which nature is currently spoiling us in a very fresh and culinary way. So if you love cherries, you've got plenty to choose from at the moment. A brand new olfactory representative of the new trend fruit in the fragrance area has arrived: Vicebomb by Simone Andreoli. Many thanks to the distributor Club Unique Brands for kindly sending me a bottle of the fragrance, which I can thus view in its entirety.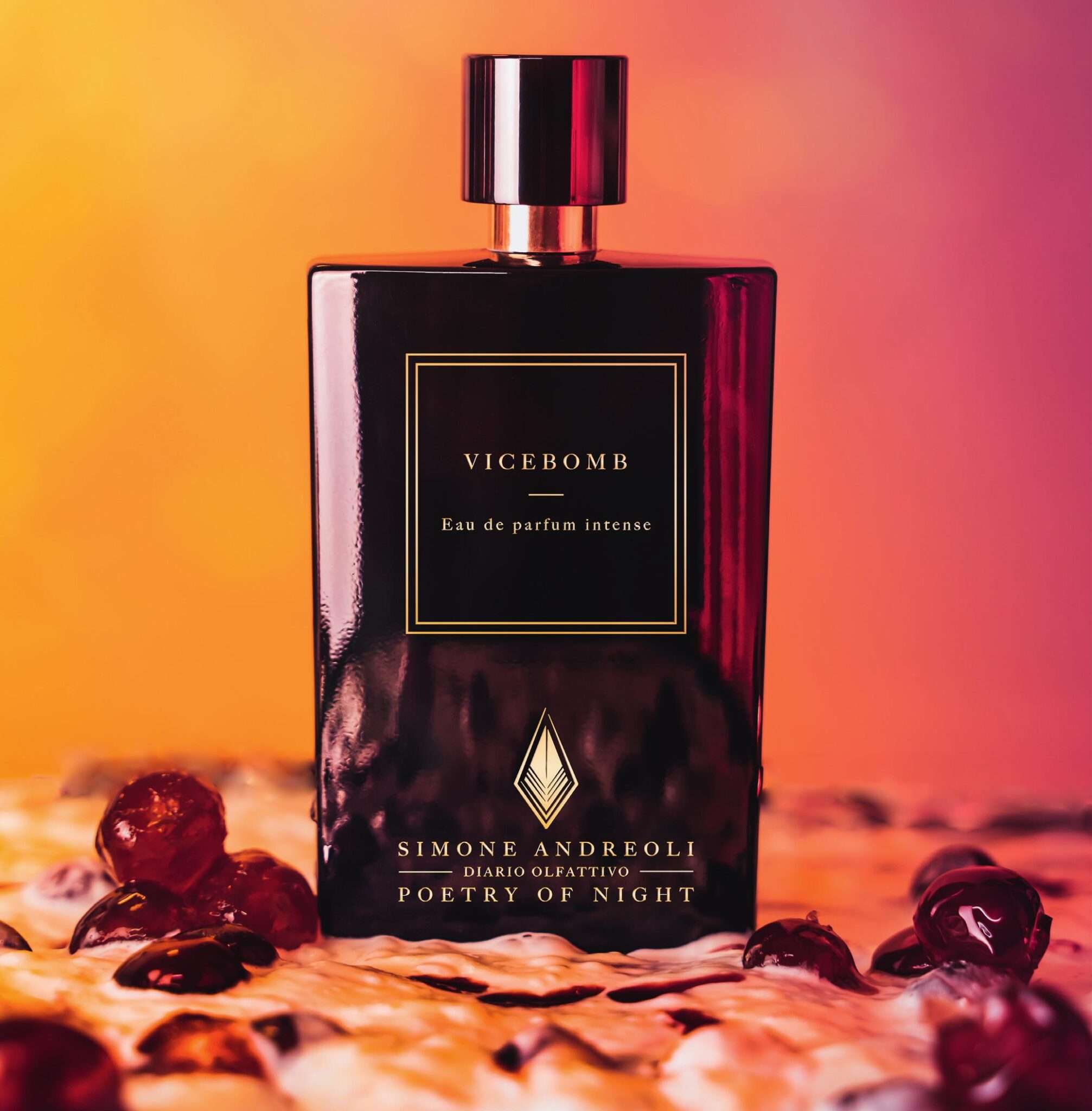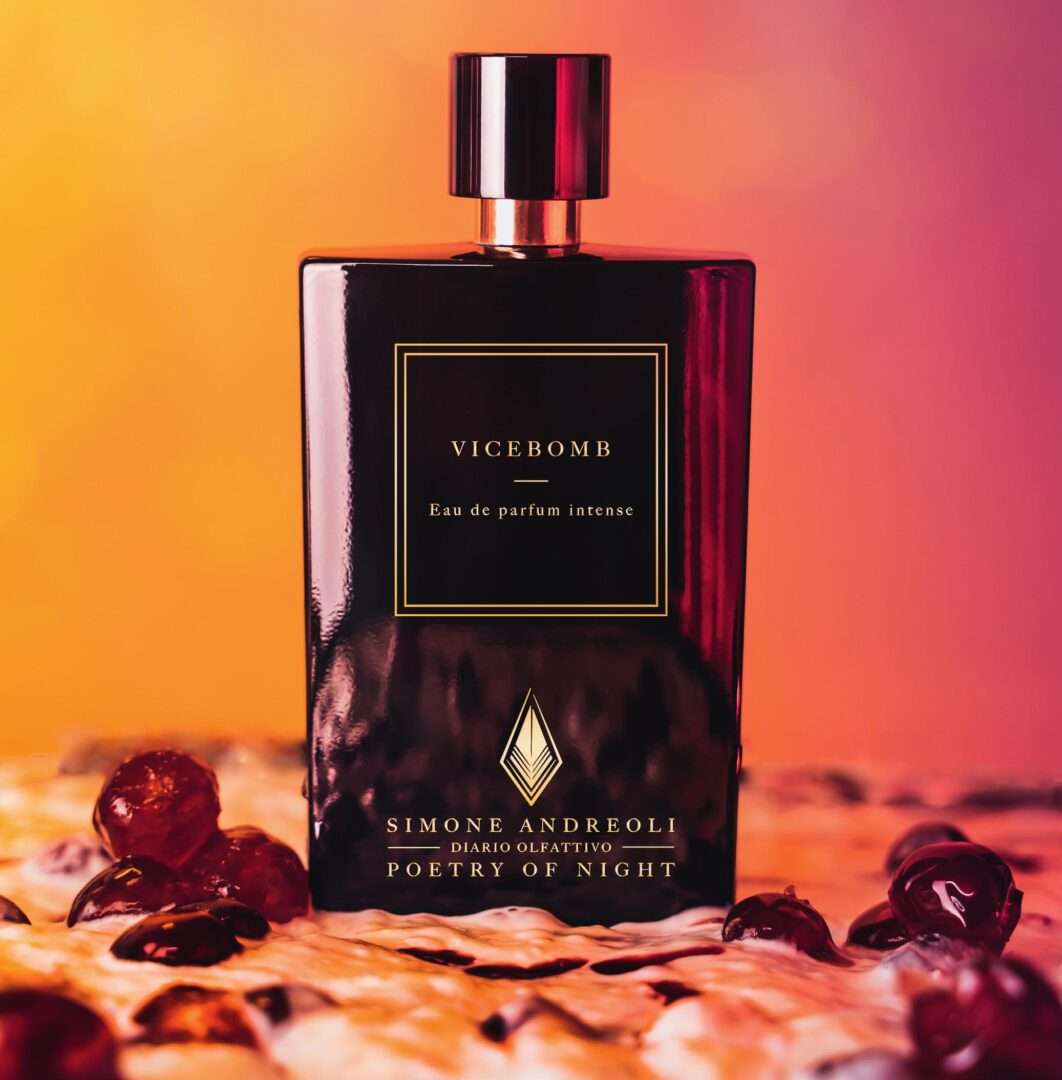 Vicebomb – Stylish and elegant
Before I dive into the inner values of the fragrance, I would like to tell you my impression of the outer packaging and bottle. Vicebomb comes in a high-quality and sturdy box made of cardboard, kept in the classic Simone Andreoli style, that is: black background and golden writing plus decorations. The surface of the outer packaging is embossed, with a linen-like appearance, which gives the carton additional value and elegance. Inside, nestled in a shiny gold cardboard layer, the deep black bottle, on which the fragrance name, intensity and brand are written in gold letters. It all looks very classy, very sophisticated and stylish.
Now about the inner values: Vicebomb is an Eau de Parfum Intense. Those who have already sniffed a fragrance of the brand will know that we are dealing with high performers here. I am sure that Vicebomb will be in no way inferior to the creations I have tested so far. Simone Andreoli creates beautiful fragrances with great expressiveness, intensity, durability and presence.
For Vicebomb he combined the ingredients cherry, red fruits, caramel, salty notes, vanilla, sugar, ylang-ylang, woods, tonka bean and amber. This sounds like a tremendous treat even before testing. But if you think that Simone Andreoli was inspired to create the fragrance in his favourite pastry shop, you are far wrong.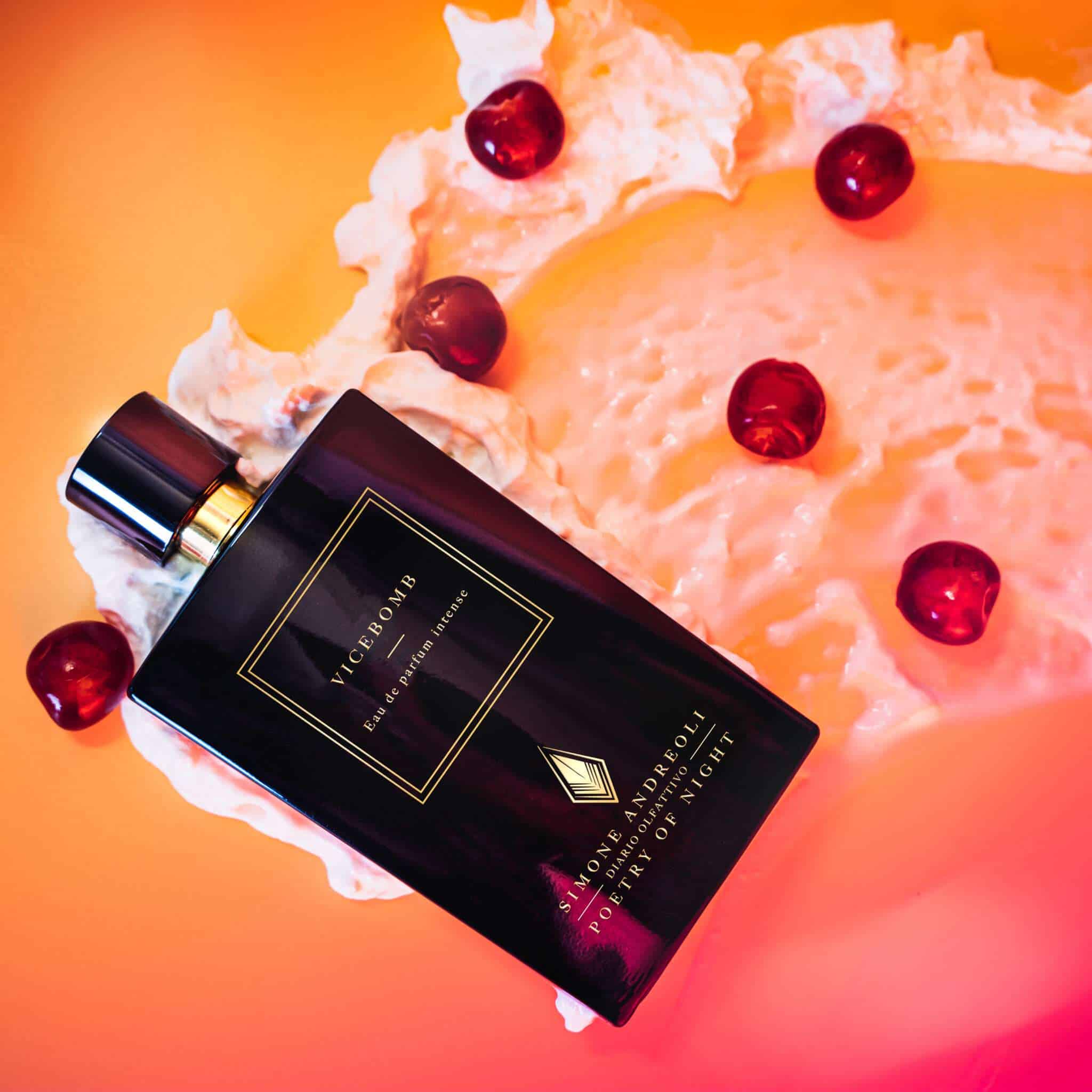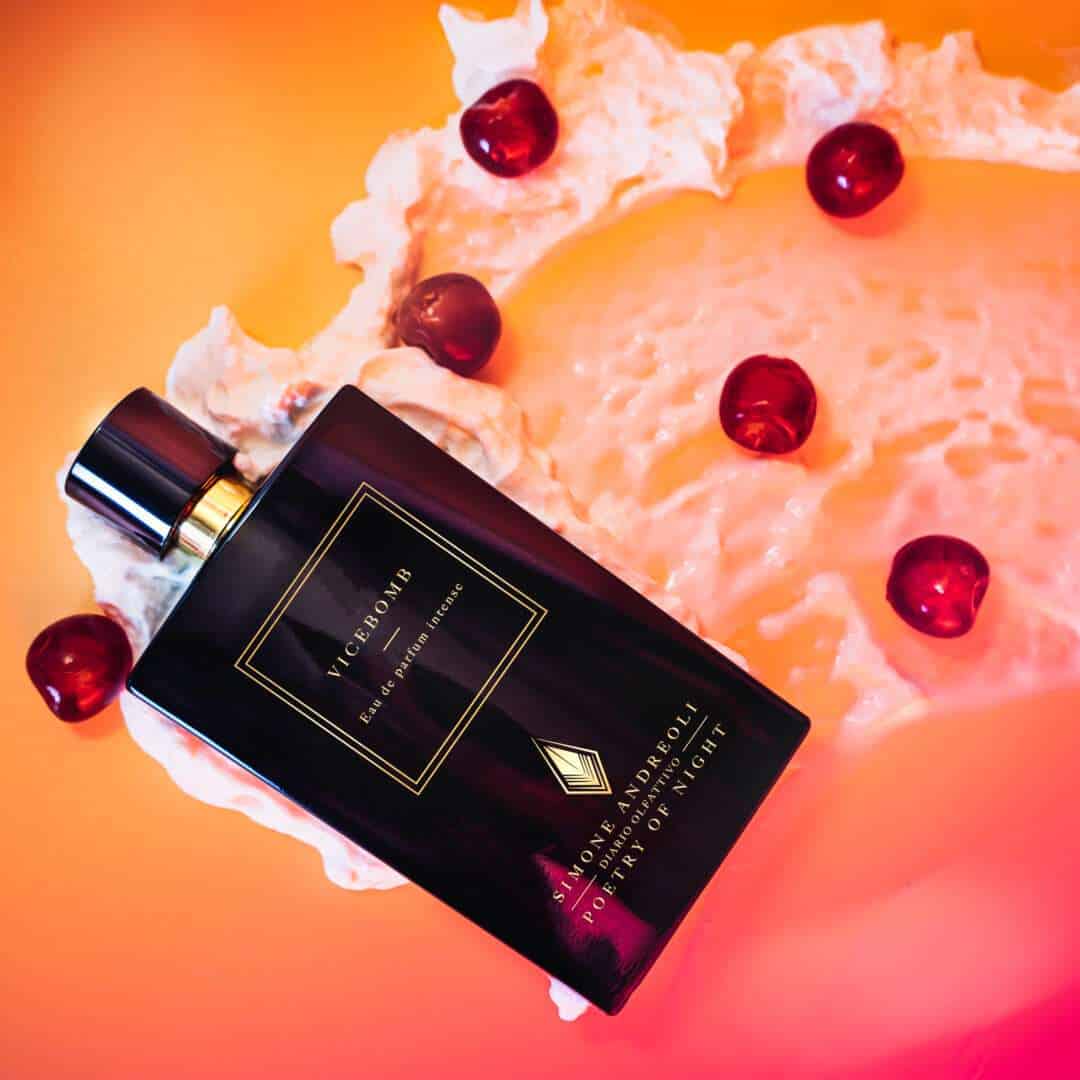 I was immediately somewhat irritated by the name, which at first did not really seem conclusive to me. The English word "vice" has many meanings I find the translation vicious or viciousness most appropriate, because a creation with these olfactory temptations can actually be nothing other than sin. And yet Simone Andreoli reveals in his press release the exact source of inspiration: the nightlife in Miami Beach, certainly also a place where many indulge in temptation – of whatever kind. Which experiences finally led to the creation of Vicebomb will probably remain a secret forever, and maybe that's just as well 😉
Sinfully delicious cherry – Vicebomb
I spray it on, and shall I tell you what? The scent is smashing! Dark and sweet Amarena cherries, juicy, sensual and also a bit sexy, open Vicebomb and send clear signals from the first moment. Here it will be hot, it will be delicious, it will be sinfully good! Liqueur nuances underline the deep red stone fruit, while very slowly creamy salted caramel in all its glory and creaminess delivers itself to the cherry.
A pinch of sweet vanilla underscores the gourmand spicy atmosphere in Vicebomb, supported by the distinctive notes of tonka bean reminiscent of hay. Meanwhile, the ylang-ylang provides lovely floral facets that blend beautifully with the melange of cherry-creamy fruitiness. Soft suede gives the amber of the creation with its own warm, soft and balsamic notes.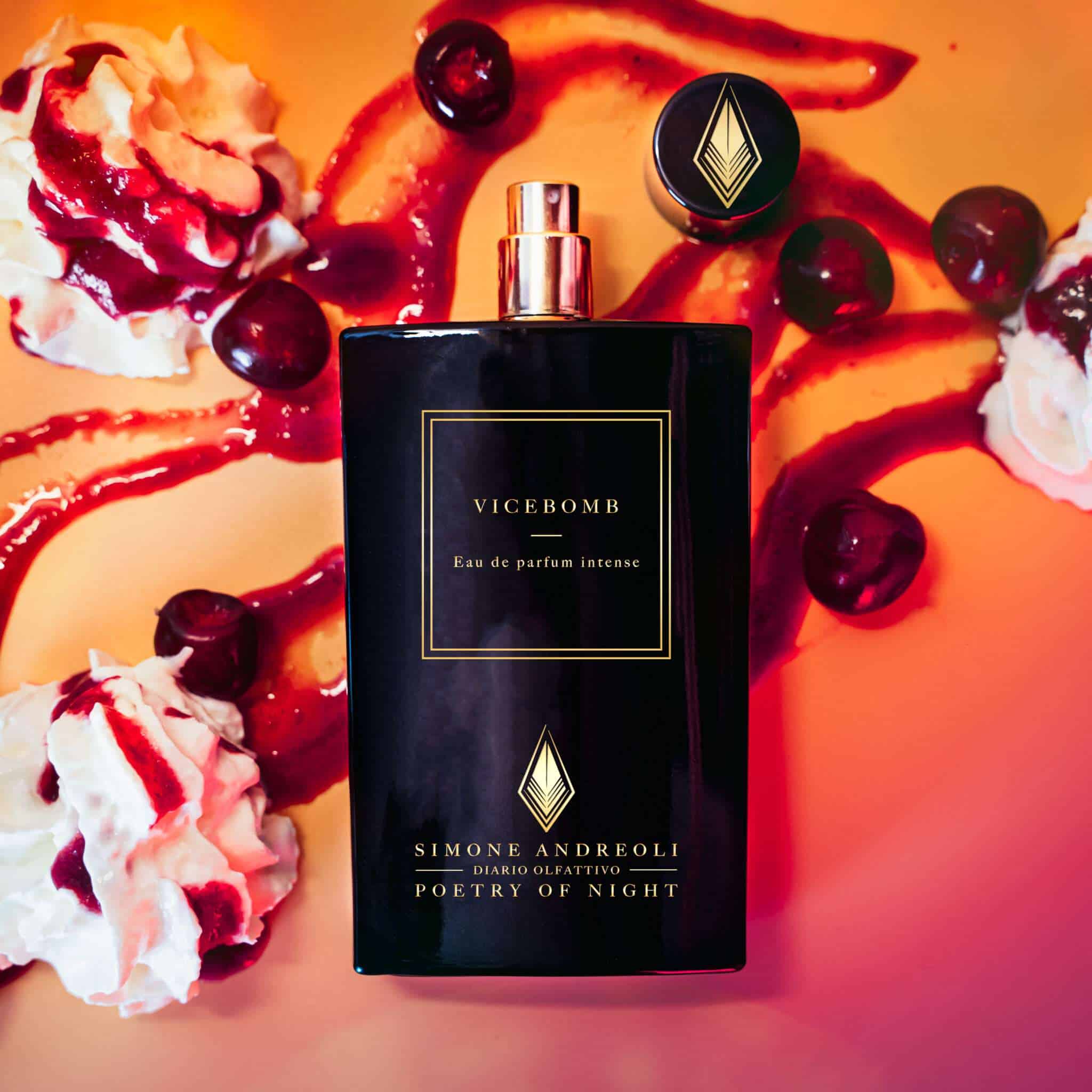 Vicebomb is a fragrance for cherry fans, for cherry lovers and all those who are addicted to the red stone fruit with skin and hair. A truly sinful spectacle of fragrances, present and intense, but always with that very special transparency, elegance and sophistication of Simone Andreoli's creations. In my eyes, a beautiful and very coherent in itself, warm and soft-spicy cherry fragrance that I like without exception. Personally, I would rather wear it in the cooler season than in the current, high summer temperatures, but as always: permitted is all that pleases. Despite its fruity sweetness, I see Vicebomb as a unisex scent that might be more appropriate for casual or evening wear. Another cherry creation in a class of its own! 🍒