Three new fragrances from the niche Italian fragrance brand Gritti are on today, namely Gossip Night, Kill the Lights and Because I'm free. The fragrance house of Luca Gritti is an old acquaintance and a welcome guest here in the Duft-Tagebuch, whose creations I was already allowed to dedicate myself several times (read here).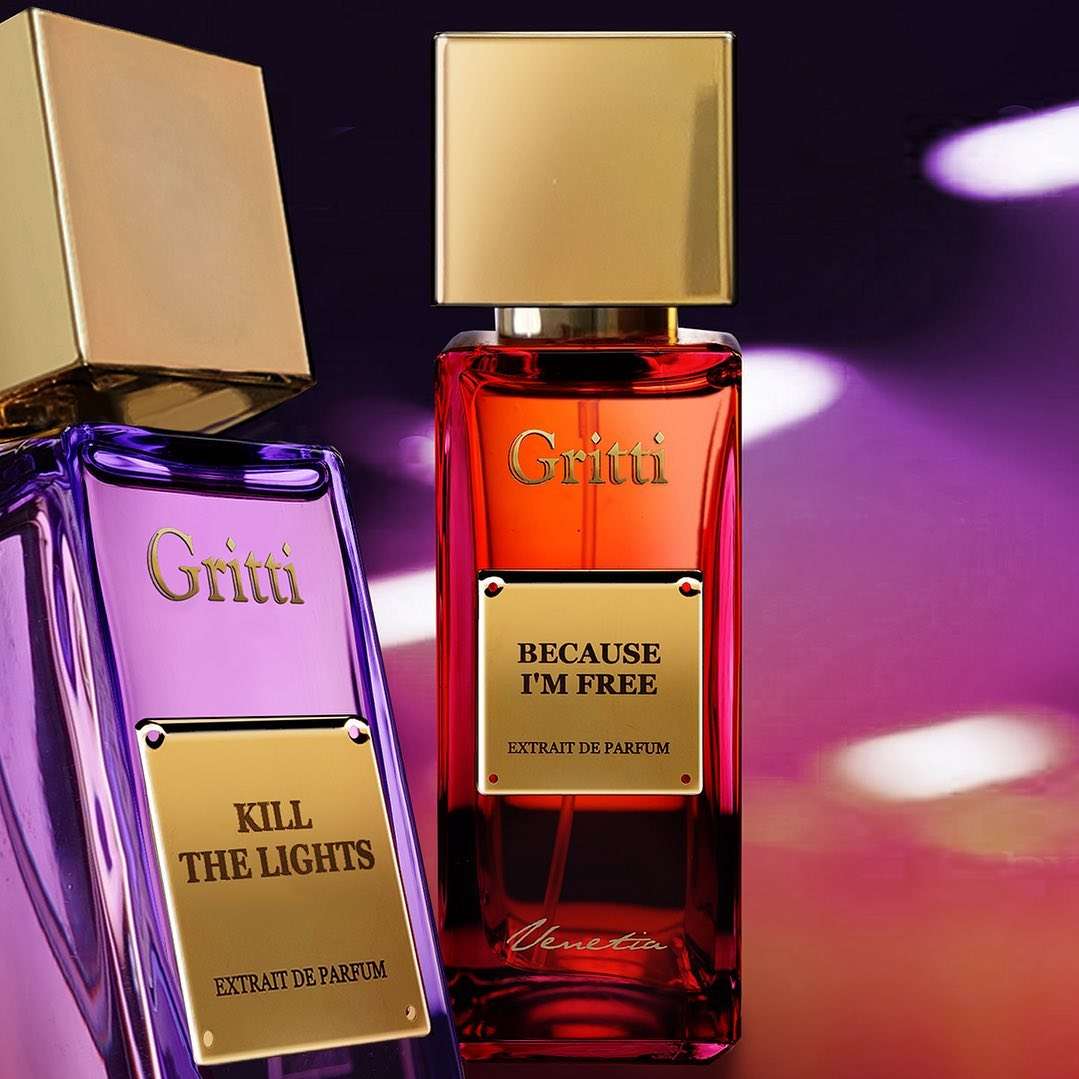 The fragrances presented today belong to two different collections. While Gossip Night is in the White Collection, which is clear from the white colour of the bottle, Kill the Lights and Because I'm free are part of the Ivy Collection and thus join the Extraits de Parfum I reviewed last May Beyond the Wall and You're so vain.
Gossip Night – White Collection
With Gossip Night, perfumer Luca Gritti devotes himself to nightlife, a boisterous party with plenty of cocktails and bubbly, the cell phone always at the ready so as not to miss any Instagram-worthy selfies and snapshots. Gossip is at the top of the program, which proves us the name of the creation. The fragrance notes of mango, lychee, heliotrope, peach, gourmand notes, caramel, bourbon vanilla, white musk and cashmeran suggest a seductive deliciousness.
Cheers. A selfie, a look, a sip, a glass of Bellini. And the party can begin. Scroll and swipe. No, you can't sit with us. Details, details, details! Who, when, where, why? Quick as a flash, missed a call. Short tilt, laugh, Mr. Big. What else?
Juicy-sweet mango meets tart lychee and velvety-soft ripe peach in Gossip Night. A dream! Changing colour between orange, apricot and coral, the extrait de parfum by Gritti is a powerful fruit gourmand fragrance that ensures a good mood at any party. Lovely floral heliotrope-vanilla mix and creamy caramel surround the delicious fruits, bedded on fine powdery musk and cotton-soft cashmeran. Summery and, despite all the presence and sweetness, rather airy and light. A fruity-floral and gourmand fragrance cocktail! Stunningly delicious! 🍑🌼🍹
Kill the Lights – Extinguish the Lights
As part of the Ivy Collection, Kill the Lights is dipped in rich purple. The name may sound a bit rough, whether it is the fragrance, too, will be seen in a moment. As you can find out on Gritti's homepage, Luca Gritti comes from a long-established family in the fragrance business, is self-taught in the art of perfumery and is also described as a "rebel of Italian niche perfumery". Is Kill the Lights as much of a rebellious fragrance?
Wormwood, davana, juniper, pink pepper, hay, leather, mastic, guaiac wood and birch tar suggest an olfactory adventurer. The press release speaks of "the scent of a daredevil that is unique." "He comes on like a thunderstorm, powerful as the scent of his leather jacket, remembering thousands of miles. Engines roar, knees go weak, you're no longer in control. All or nothing."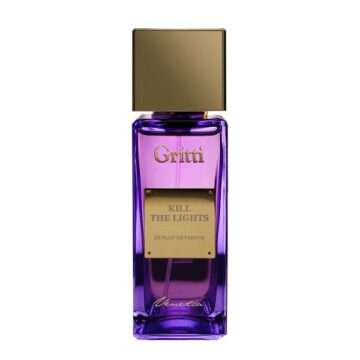 In the test, Kill the Lights turns out to be tamer than announced in the text. Liquorously dry-fruited davana meets the woody, sparkling notes of wormwood and juniper, underpinned by a delicate pepper spiciness and soft, velour-like leather. In the background, the aromatic nuances of dried hay provide sunny warmth, its greenish facets underscored by the citrusy resin accents of mastic. Subtly smoky woody notes shimmer discreetly in the base of this still rather quiet, gentle and restrained-transparent fragrance. 💜
Because I'm free – Gritti
Like our first fragrance of the day, Because I'm free by Gritti is inspired by partying, dancing and partying. Surrender to the rhythm of the music and dance like there's no tomorrow. Luca Gritti olfactorically translates this exuberant atmosphere with the fragrance notes of candied fruit, petitgrain, almond bouquet, jasmine, tuberose, banana, amber, caramel and vanilla.
Dance, dance, dance! Flash. As long as the night is young, until shivers run down your spine. Music, beats, neck and neck all around. Wonderful vertigo, can you feel it? The fragrance of the nights: bold, seductive, stunning. (…) For your most beautiful nights. Because you are free.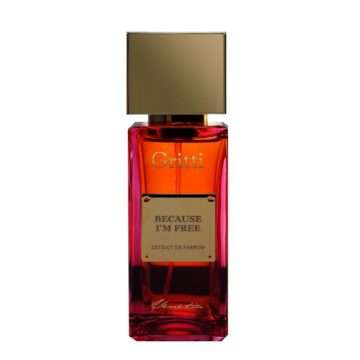 At the centre of the party night is clearly the tuberose in Because I'm free. Immediately after spraying it on, it shows in a thoroughly self-confident way who is the queen of the dance floor. The tart orange blossom nuances of petitgrain, delicate almond blossom and creamy jasmine underscore the magnificent tuberose, which soon seems to become powderier and softer. Because I'm free is very sweet and underpinned with a gourmand fruitiness reminiscent of pickled dried fruit coated in creamy caramel. For friends of sugary floral fragrances based on tuberose. Presence medium, durability extraordinaire! ❤