I still owe you the third fragrance of Tom Ford'slatest cherry triptych. Electric Cherry is now ready for testing and, conveniently, another really brand-new Ford fragrance arrived at my house a few days ago, namely Soleil de Feu. What could be more obvious than for these two creations to come together in today's post, so that they can be happy together? ❤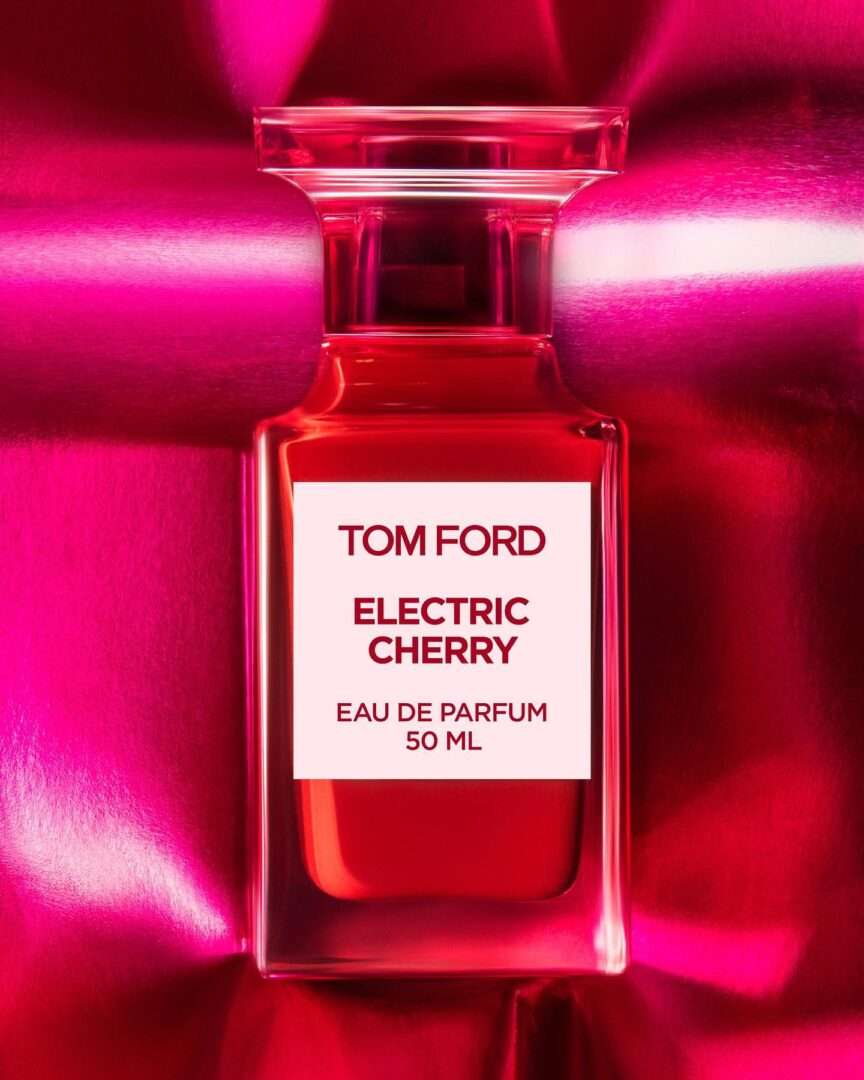 And so Electric Cherry closes the round of Ford's cherry fragrances, of which I already introduced Lost Cherry and Cherry Smoke to you in my Valentine's Day post from mid-February (read it here). Soleil de Feu also concludes a trio around the theme of Soleil, i.e. sun, after Soleil Blanc and Soleil Neige, neither of which seem to have found their way into the Duft-Tagebuch yet. I should probably catch up on that.
Electric Cherry – Cherry under power
Cherry is currently absolutely hip and trendy in the niche fragrance segment, as can be seen from the numerous cherry creations – such as Indecent Cherry by BORNTOSTANDOUT, Wet Cherry Liquor by Bohoboco, Cherry Punk by Room 1015 and many more – which have been virtually flooding the market for several months.
Tom Ford was an olfactory pioneer of this wave, so to speak, with Lost Cherry, launched in 2018. The lost cherry was joined by 2023 Cherry Smoke and now Electric Cherry, which certainly skillfully rounds off the trifecta of cherry fragrances with the scents of cherry, ginger, jasmine, pink pepper and musk.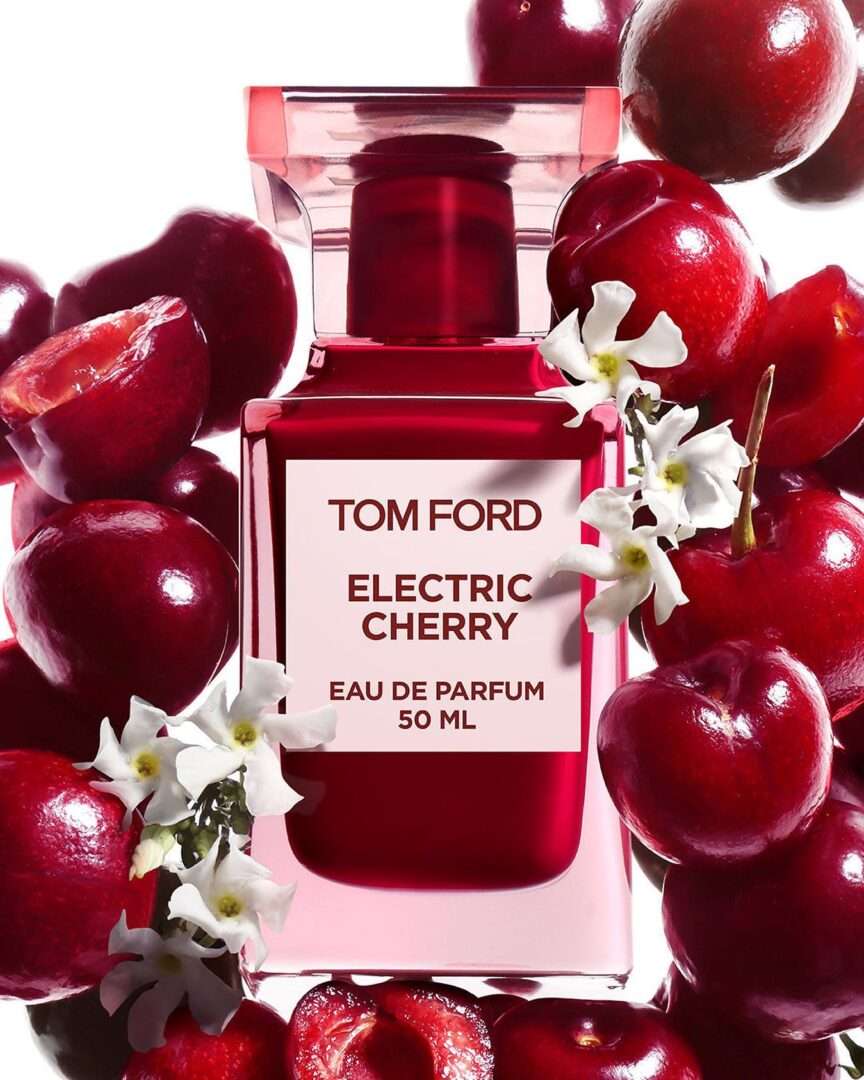 The cherry scent Electric Cherry is supposed to revolve around the morello cherry, a large, dark red, The morello is used as a filling for pralines as well as for jam, fruit brandy or the internationally famous and frequently eaten Black Forest cherry tarts. 🍒
Cherry No.3 – Electric Cherry
Ginger makes the opening of Electric Cherry shine thanks to its citrusy and subtly spicy nuances, which are also a bit tingling. Soon the cherry joins in. Not too tart is the red stone fruit, but rather sweet, juicy and quite lush. Cherry and ginger go perfectly together, I had not yet as a combination so on the screen.
Added to this early in the fragrance are the airy, crystalline powder notes of musk, which lend the fragrance transparency and lightness and provide an exciting counterpart to the creamy floral nuances of jasmine. This melange almost seems as if we are dealing with a cherry blossom scent, albeit marked by distinct fruity notes. A sweet and delicious cherry seduction that gently fades into a base of musky powder and jasmine cream.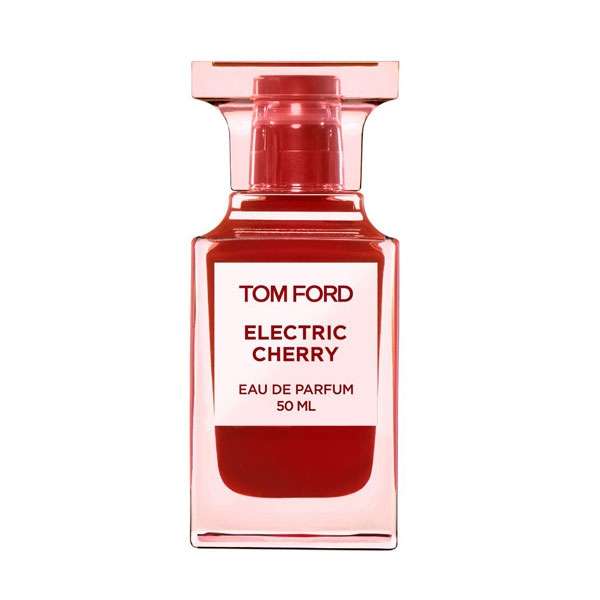 Electric Cherry is the powdery-creamy fragrance in Tom Ford's cherry trio. Not as lively as Lost Cherry, not as dark and smoky-leathery-spicy as Cherry Smoke, but rather an absolutely everyday life and office suitable, uncomplicated cherry fragrance with floral facets. A creation that skilfully rounds out the three and, for me, fits the warmer season perfectly. Feminine, youthful and also a bit perky, Electric Cherry is a completely well done sweet little fruit. 🍒
Soleil de Feu – Fire Sun
The picture of the fragrance Soleil de Feu probably shows – prominently positioned – the protagonist of the composition from the house of Tom Ford: the tuberose should take the central role in this eau de parfum, I would assume. Not an easy flower, that must be said. It is often capricious, challenging, demanding. But can also seem meek, fragile, almost ethereal. It is a flower that divides minds, and some love it, while the others can not smell it at all.
I myself also have an ambivalent relationship with the flower also known as night hyacinth, which is beautiful to look at, no question, but whose fragrance is often too much for me. At the same time, there are definitely tuberose fragrances that I really like and that have shown me that there are just such and such interpretations of the flower. I am very curious to see in which way Soleil de Feu will presents itself.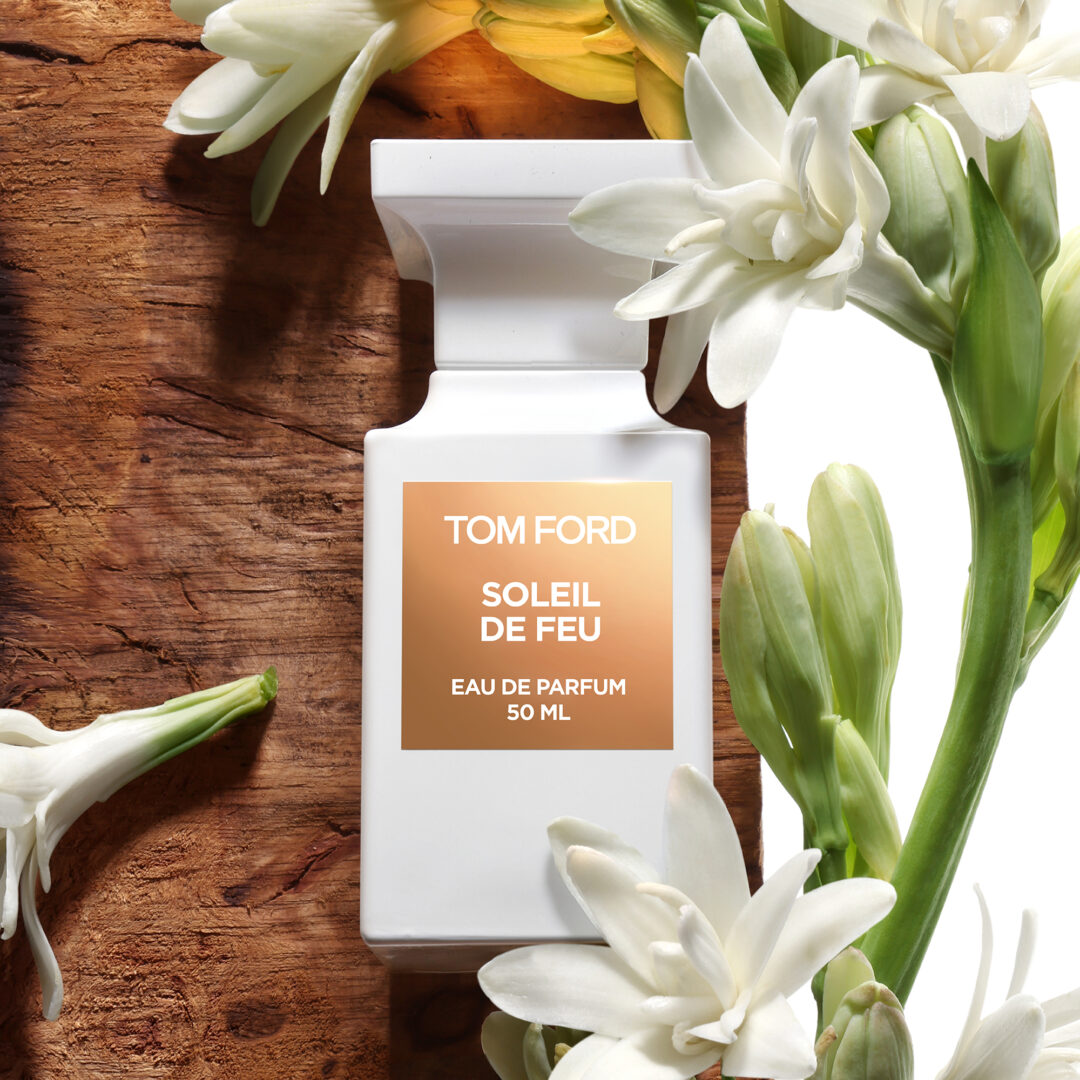 The name Soleil de Feu, meaning "Sun of Fire", suggests a rather opulent creation that is supposed to refer to a setting sun over the sea. The fragrance notes I still owe you and these are surprisingly quickly enumerated: Tuberose, amber and sandalwood.
How does Soleil de Feu smell?
Soleil de Feu starts with something I would not have expected at all: spices. I sniff out cinnamon and cardamom, which give the eau de parfum warm, subtly smoky facets. A hint of dry pepper spiciness I subtly perceive as well. In the background, the exceedingly velvety and creamy notes of sandalwood slowly and gradually spread, nestling beautifully with the spices. All this is by no means opulent, but rather finely balanced, transparent and restrained.
This scent progression really surprises me, I would have expected something completely different. Where is it now, the tuberose, announced so grandly by me and the press photo? The diva is a long time coming. First I perceive the softly leathery nuances of ambergris, which gradually and quietly creep into the creation. Only very, very late in the course of the fragrance, soft-floral and creamy notes appear, which blend extremely harmoniously into the eau de parfum.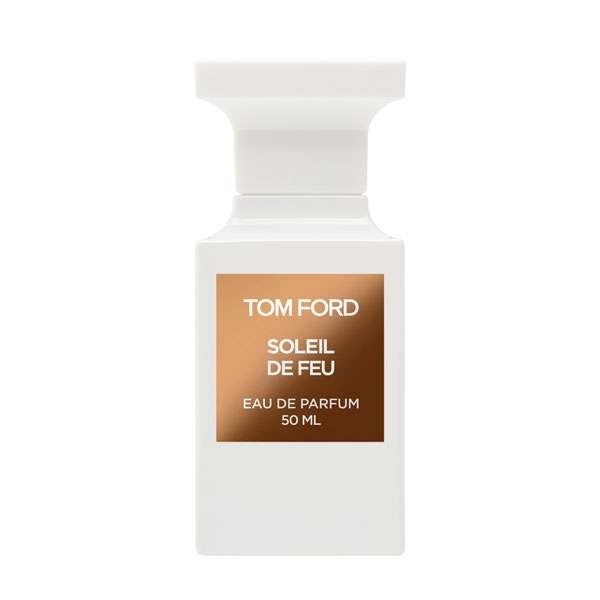 Soleil de Feu is a tuberose fragrance that is not. There I was probably a little too hasty or the press photo too misleading. The main actor of this eau de parfum from the house of Tom Ford is primarily the sandalwood – a beautiful specimen, I have to admit – followed by aromatic spices and finest amber. Floral nuances I perceive in the background as a creamy accompaniment, but that this should be tuberoses, I can not sniff out. Even if Soleil de Feu is not what I expected, it is a really gorgeous and spicy-creamy sandalwood fragrance that will surely please many. Wearable all year round and for any occasion. ❤