With Biancothè, Alta Marea, Zen-Zero, Che Fico! and Polvere di Riso I would like to introduce you to five room fragrances made by Laboratorio Olfattivo. Last week, The Italian brand was a guest here in the Duft-Tagebuch with the latest perfume creation Nektar, which I like to link you here. So today we will not talk about the scenting of the body, but of our home.
I love scented candles – I make no secret of it – and have already presented some to you here. I received today's room scents from Laboratorio Olfattivo as Room Spays for testing, but they are also available as decorative diffusers in all of the varieties reviewed today – for those who prefer to use this form of room scenting.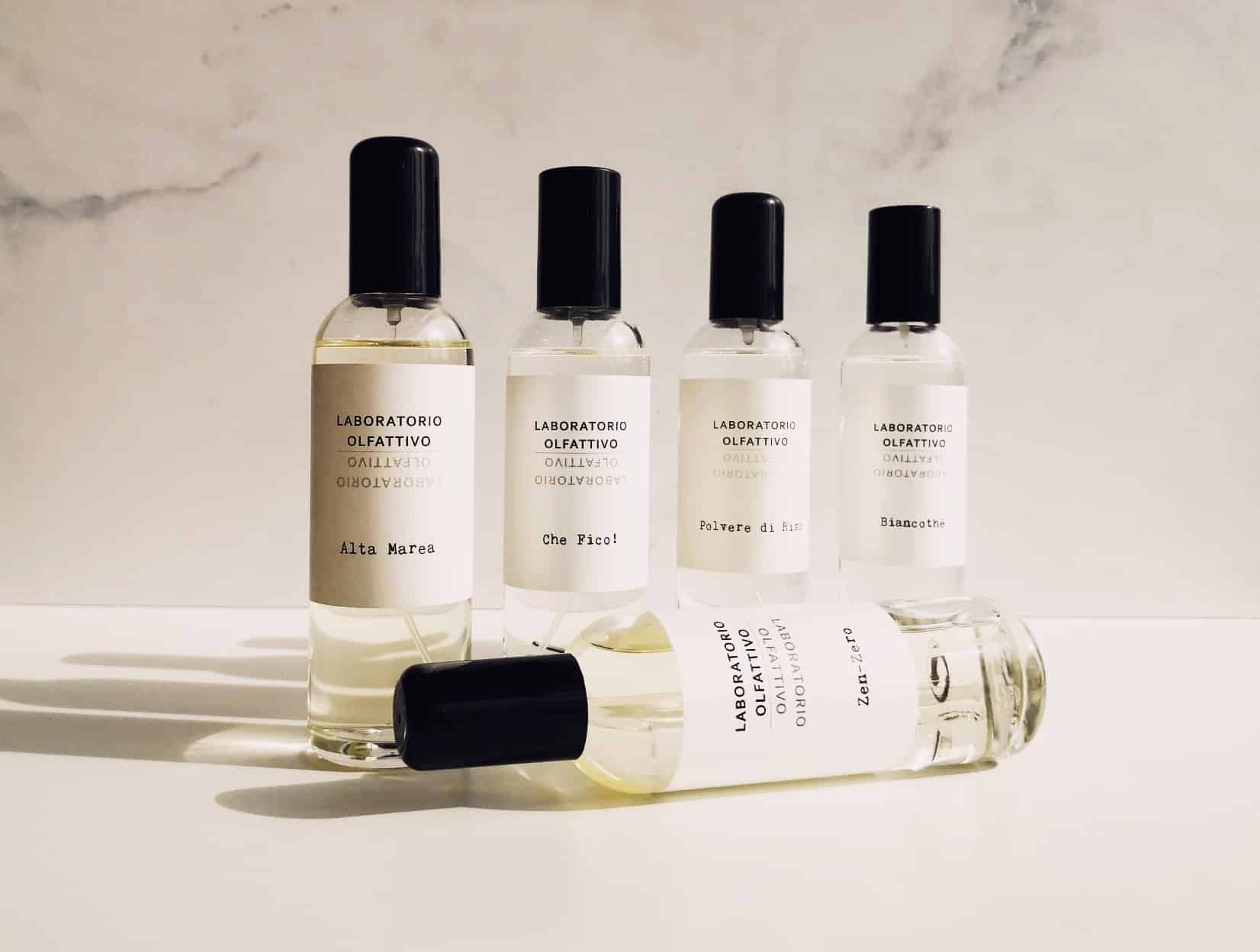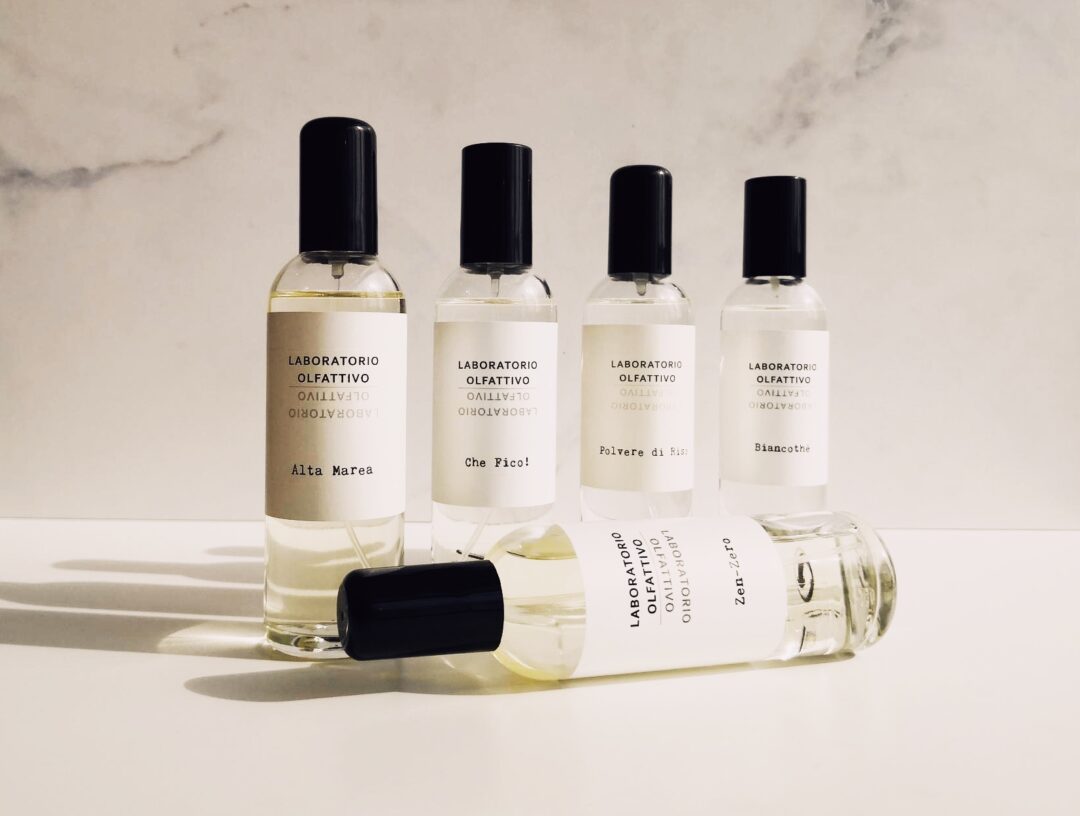 The sun shines here at the Baltic Sea in between times quite diligently, and so I have immediately shot a few photos to be able to present you my five pretties also in the right light. 🙂
Biancothè – White tea
With the ingredients black pepper, pink pepper, bergamot, rose, apple, lily of the valley, musk and cedar, Biancothè does not explicitly come up with the eponymous white tea. However, I am very curious to see if the ingredient can be sniffed out of the fragrance after all.
Cheerful and carefree, is the room fragrance Biancothè. Greenish fruity apple meets lucid rose in radiant pale pink, instantly creating a summery and sunny atmosphere. A subtle nectar sweetness, as well as clean accents, inheres in the rose, brightened by subtle lily of the valley. Musk and cedar underline these lovely fruity nuances with woody powdery hints.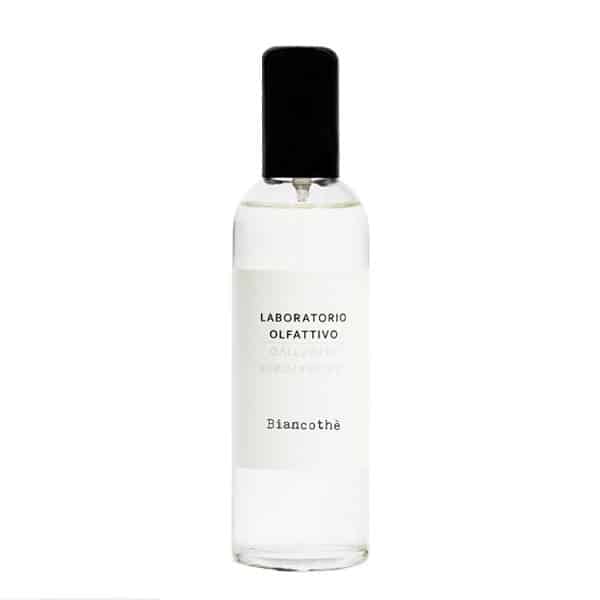 Bright, airy and cheerful, the room fragrance Biancothè creates a spring-like mood. A fruity floral room spray with soft rose, apple and lily of the valley on a base of clean powdery woods. Light-hearted and youthful, modern and elegant. Absolutely recommendable not only for rose fans! 🙂
Alta Marea – Watch out, the tide is coming!
Sea scents often have a hard time with me, I admit. But of course, as always, I will remain completely neutral and professional when presenting the room fragrance Alta Marea by Laboratorio Olfattivo. I know that there are many fans of maritime and aquatic fragrances and to them – as well as to everyone else – I would like to present a picture of a creation as unbiased as possible. 🙂 Rosemary, bergamot, star anise, lavender, labdanum (cistus), immortelle (Italian strawflower), maritime notes, driftwood, vetiver, patchouli, pine (pine), amber and musk are the ingredients of the marine room fragrance.
Spices and lavender open Alta Marea, underpinned by the salty herbal note of rosemary, which in my eyes so often adds beautiful maritime accents to fragrance compositions. Like a cool and rather damp sea breeze, the room scent acts. Woody nuances underscore this, here I particularly note the coniferous accents underpinned by subtle earthy facets.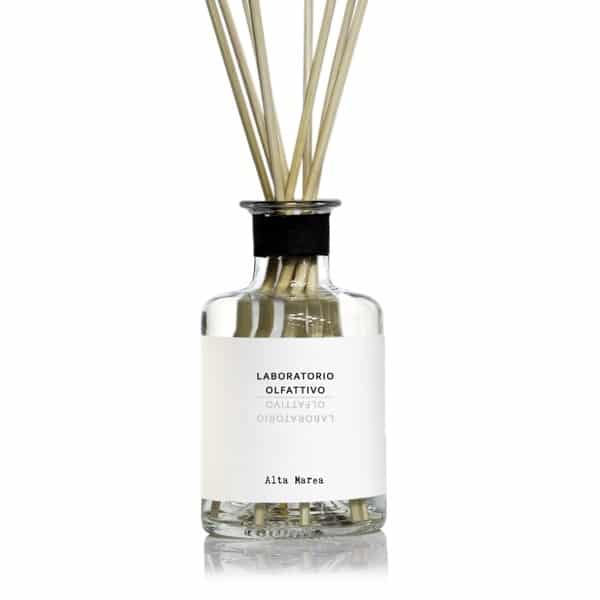 The room fragrance Alta Marea lives on gently maritime, woody and spicy notes and thus creates an extremely coherent and rather subtle sea atmosphere, which I can imagine especially in bathrooms. Fresh, herbaceous and rather tart. Not a typical aquatic scent, which I really like. 🙂
Zen Zero – Ginger plus wood
Zen-Zero, a variation of the Italian word "zenzero" (meaning "ginger" in English), makes me hope for a dynamic and energetic room fragrance. The scents of ginger, cedar and sandalwood do not really indicate how vitalizing the creation actually is in the end, because depending on the expression and intensity of the woods, it can be anything from extremely invigorating to Asian-relaxed. Therefore, let's go!
Beautiful citrusy notes are exhibited by Zen-Zero, which has a bit of a cologne-like feel to it. The ginger spiciness is rather subtly perceptible, here the focus is more on the refreshing facets of the Far Eastern root. The woods give the room fragrance gentle clean notes that are bright, woody and soft at the same time.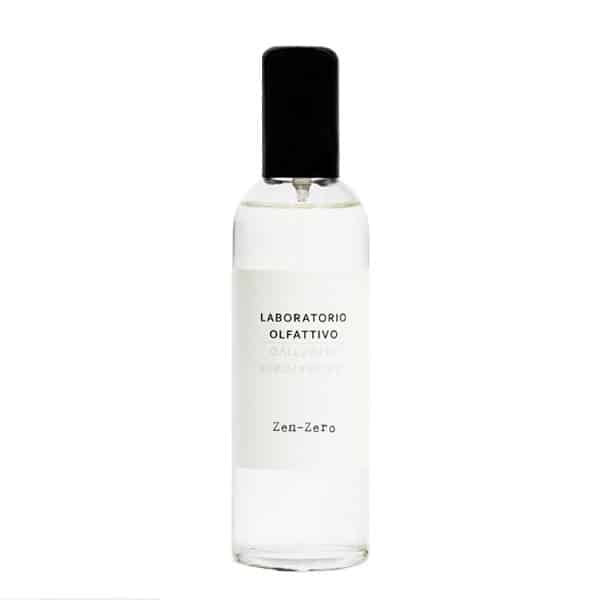 A little Zen is indeed in Zen-Zero, because the room fragrance by Laboratorio Olfattivo has a meditative, relaxing and vitalizing effect. It exudes clarity, freshness and tranquility, carrying Asian-like accents, making it ideal for those seeking an invigorating but unobtrusive room fragrance.
Che Fico! – How cool!
A fig scent, what am I glad! The fig is for me one of the spring ingredients par excellence and thus the room spray Che Fico! has the best chances to become my personal favorite already before testing. The ingredients fig leaves, galbanum, laurel, petitgrain, black currant, fig, green notes, labdanum (cistus), raspberry and Virginia cedar sound as enticing as the fact that none other than Lucien Ferrero was responsible for the creation of the room fragrance.
Green, green, green are all my clothes … not quite, rather my office shines – figuratively – in fresh green thanks to Che Fico! by Laboratorio Olfattivo. Very bright, luminous and quite present, the room scent reveals itself with subtly herbaceous leafy sap nuances that are somehow creaky, juicy and aromatic. Laurel adds subtle spicy accents, while galbanum sprinkles a pinch of woodsy greenness. The fig is perceptible in all the color of hope as a fruit component, but is woven into the lush and dense carpet of fragrance.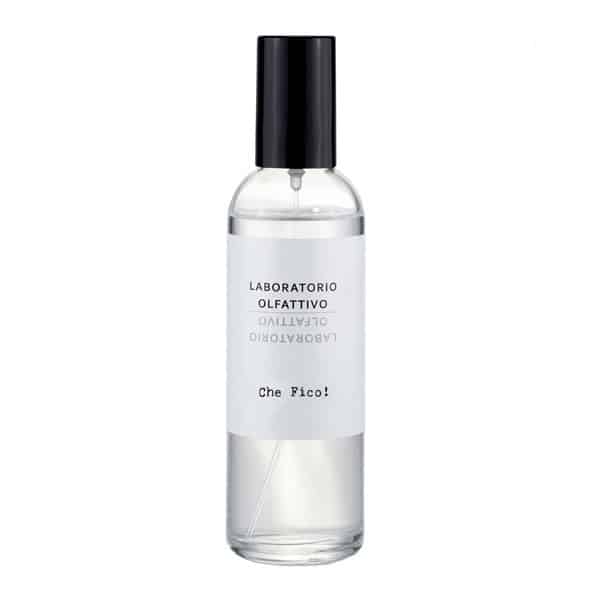 Friends of the color green, grassy and leafy scents, fig and its foliage should have a real pleasure in Che Fico! An invigorating, fresh and rather cool room fragrance that should be quite excellent as an olfactory background in spring and summer. Rather tart and despite fruity nuances without sweetness, Che Fico! is an energetic and Mediterranean-inspired fragrance composition.
Polvere di Riso – Baby, there is rice powder
Italy is known for its excellent rice varieties. Since the 15th century, the fertile landscape around the Po River has served as a cultivation area for various rice varieties such as Arborio, Vialone or Carnaroli. So what could be more natural than to dedicate a room fragrance to the grain? Rice powder is the translation of Polvere di Riso and so, the fragrance notes surprise me a bit: lemon, bergamot, hyacinth, lily, cyclamen, jasmine, rose, iris and musk make me miss the eponymous rice on the one hand. On the other hand, I am surprised by the many floral ingredients, which I would not have expected so with the name Polvere di Riso.
A cheerful and rather tart hesperidic freshness is revealed by Polvere di Riso immediately after spraying, underpinned by bright and greenish floral nuances. Very light and lucid, the room fragrance appears transparent and exceedingly clean. Yes, Polvere di Riso exudes an incredible purity, and far from any detergent facets. A soft and clean powder scent, which I attribute to iris and musk, underpins the citrus nuances from the start finely and exceedingly coherently.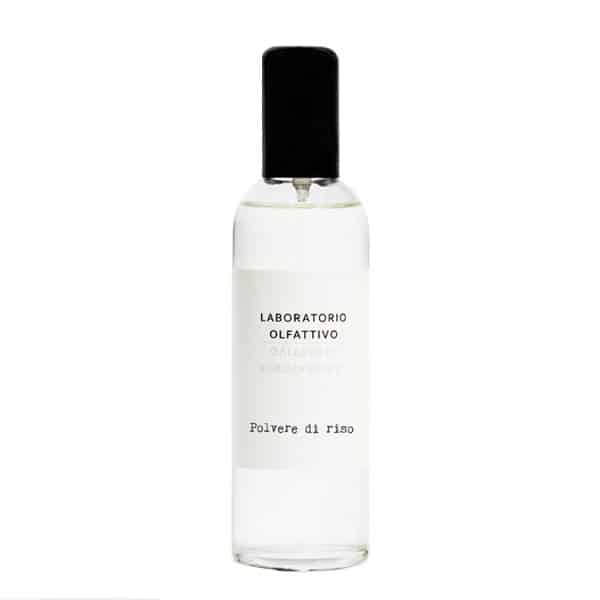 Fresh, citrusy and clean is our last room fragrance today. Polvere di Riso is ideal for those who love transparent and invigorating citrus scents with clear radiance and without sweetness. The underlying powder nuance doesn't really exude powdery facets, but seems more chalky or like talc. I perceive a slightly mineral and pure white note. A beautiful rounding of this room fragrance series by Laboratorio Olfattivo. 🙂