The collection of OJAR available at Aus Liebe zum Duft includes a whole nine creations, which I would like to present to you today and in my next article. Redemption, Épine Du Désert, Wood Whisper and Halwa Kiss make the beginning, followed by Eagle Eyed Stranger, Routes Nomades, Stallion Soul, Infusion Velours and Ciel d'Orage.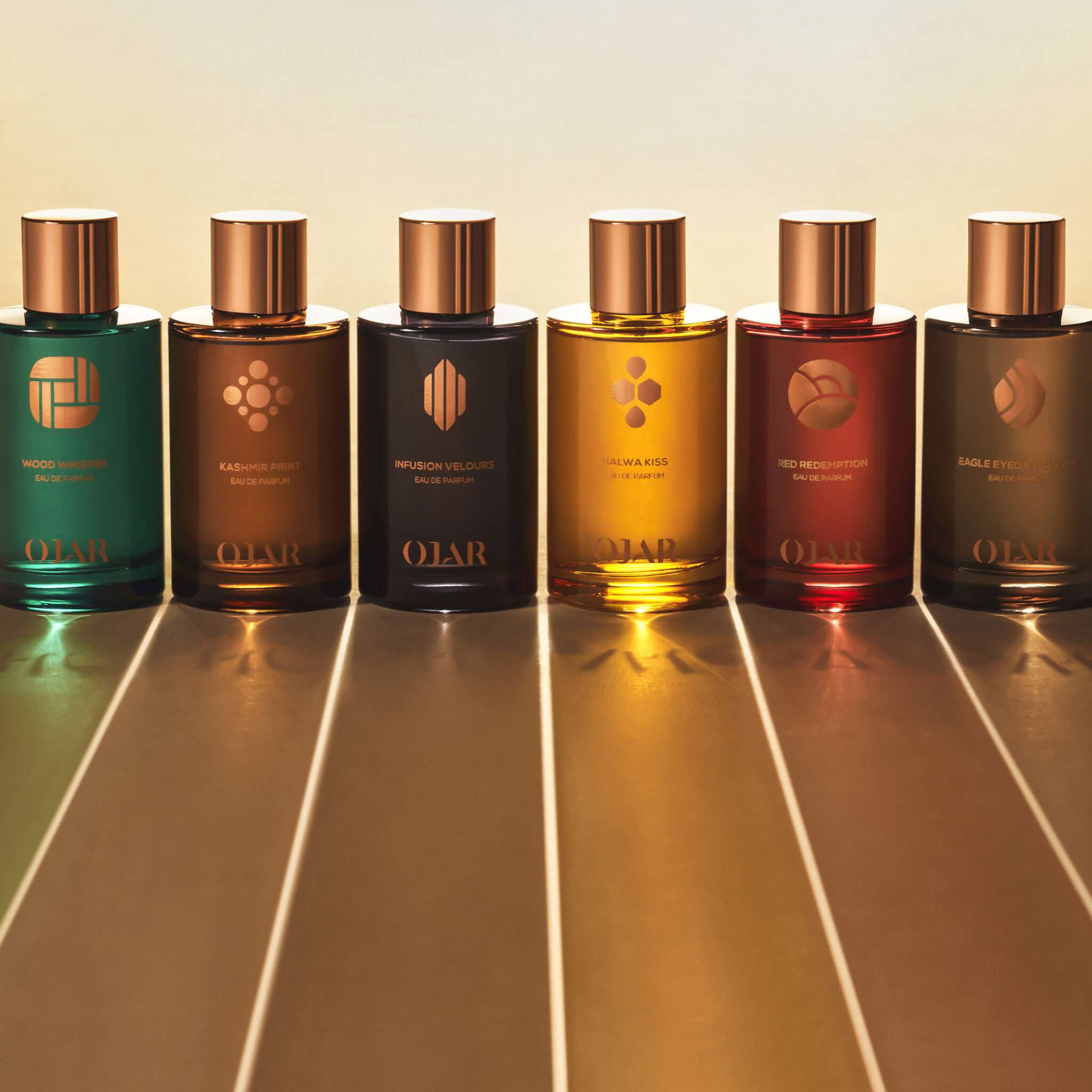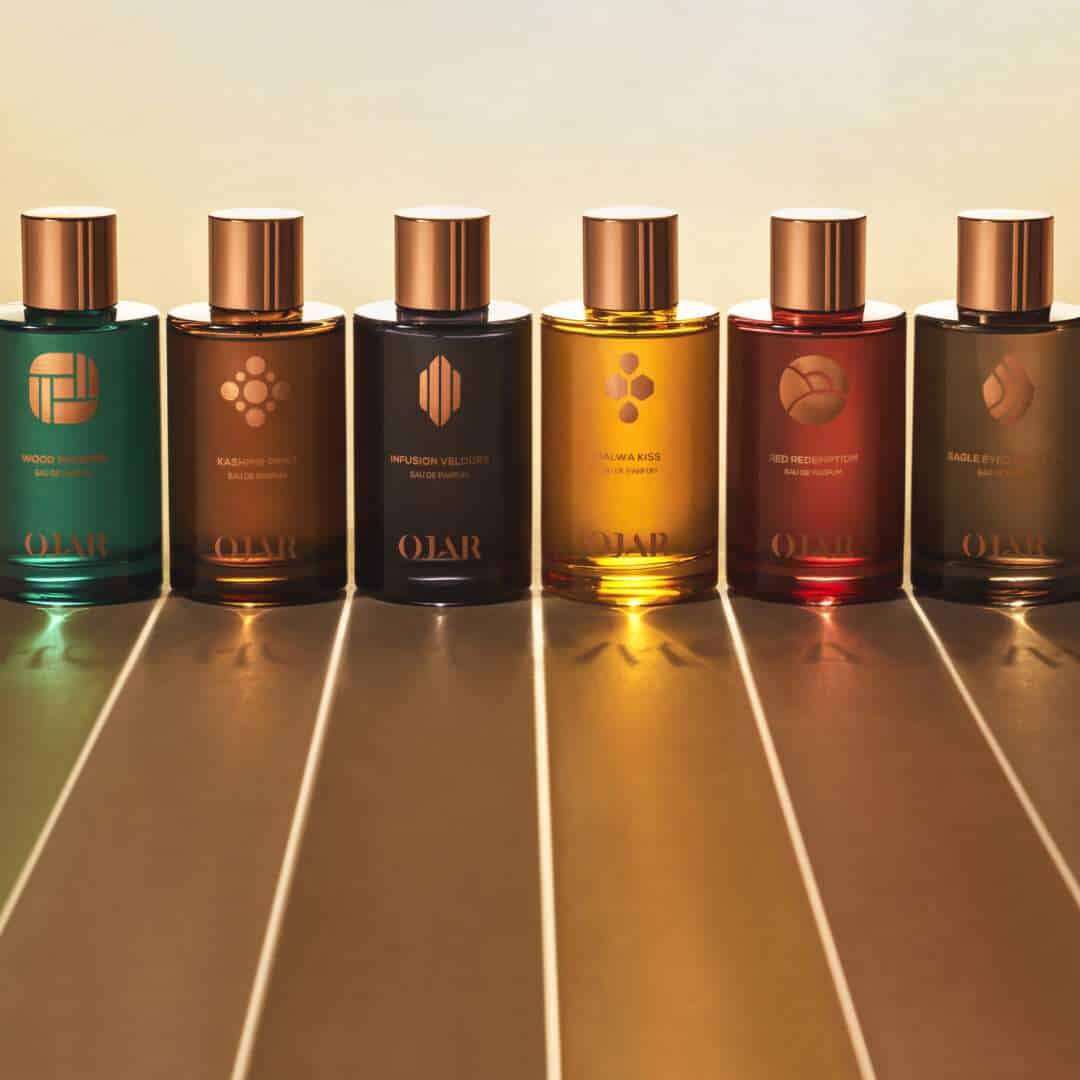 OJAR – Perfume oil for layering and enjoyment
A special feature of the Omani brand is that the fragrances are available as Eaux de Parfum, but also as Perfume Oil Absolute (with a perfume oil concentration of 25%), which can be applied to the desired skin areas with a small roll-on attachment or a glass stick applicator.
Furthermore, the brand of the charismatic and successful Omani Sheikha Hind Bahwan is dedicated to fragrance layering. All fragrances can be layered together to create their own olfactory signature, as it seems to be common in the Middle East.
Five lines comprise the collection of OJAR, which revolve around the raw materials rose, incense, honey, oud, sandalwood and musk. We have fragrances from almost each of these lines in the assortment of Aus Liebe zum Duft, in the form of named perfume oil and matching eau de parfum. Here I have samples of the eaux de parfum that correspond to the fragrance of the perfume oils.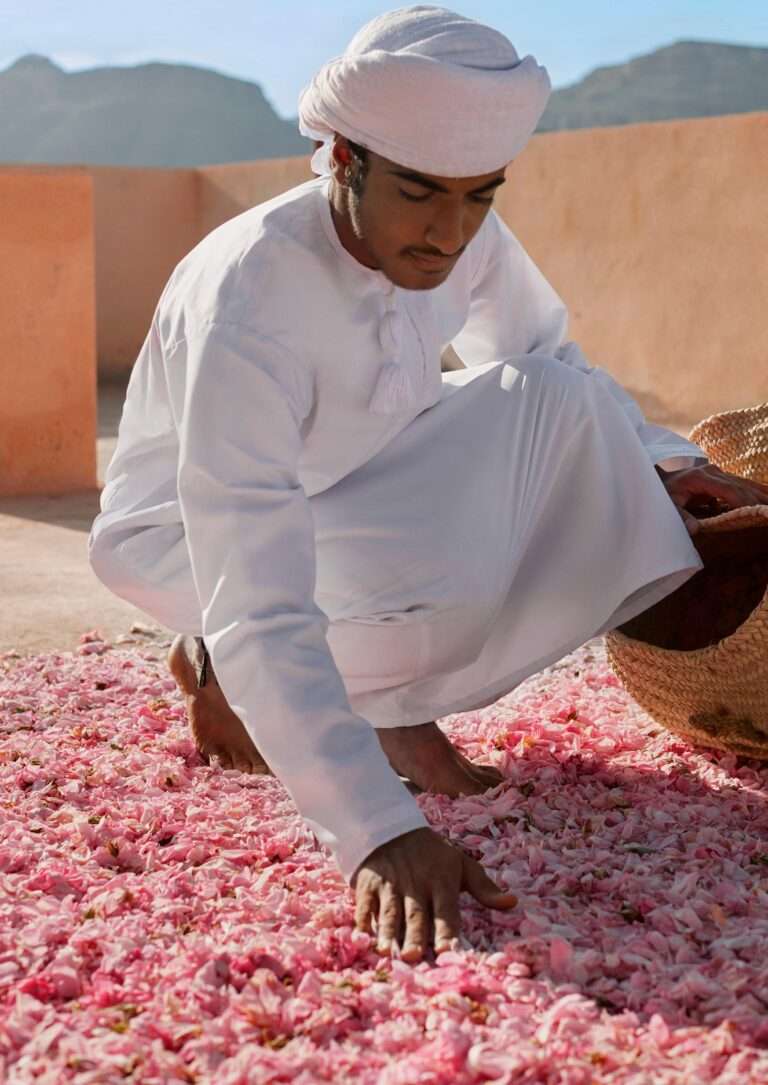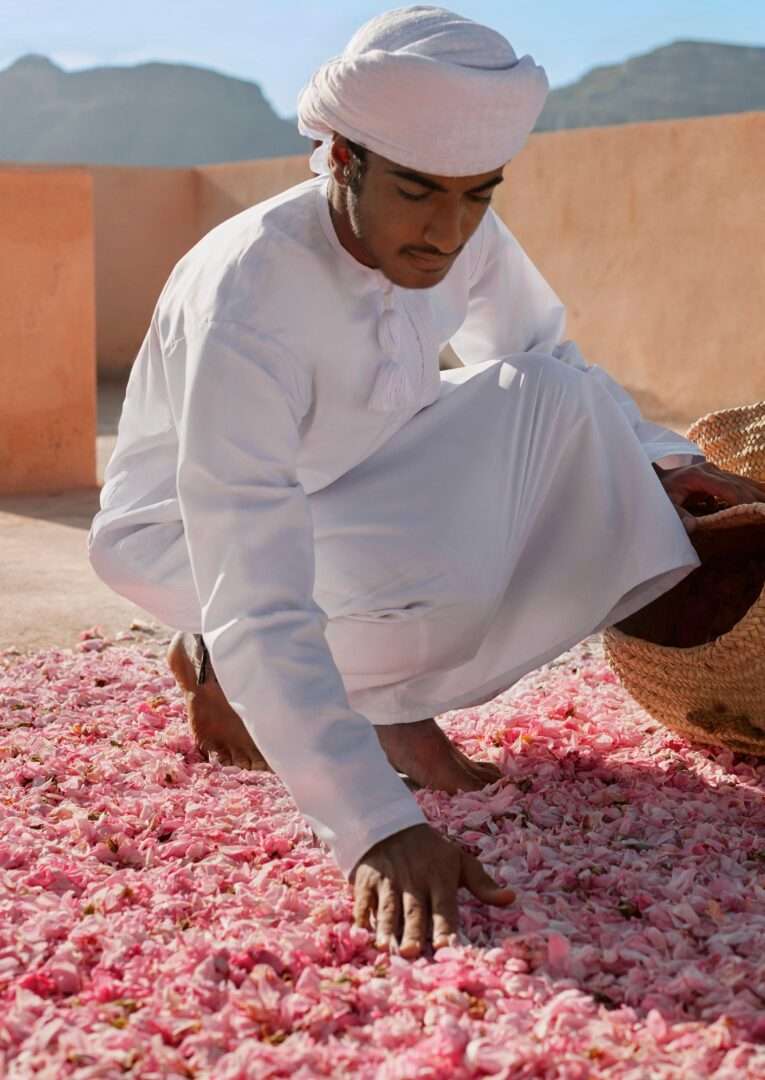 Red Redemption – OJAR
Eau de Parfum Red Redemption belongs to the rose line of the collection of OJAR and was developed by the famous perfumer Jordi Fernandez. He used the fragrance notes pink pepper, blood orange, rose, patchouli, amber, vetiver, oakmoss, vanilla and white musk for the composition, which is called a "wild, spicy" and "masculine rose".
The Damascus rose petals used for the rose collection come from al-Jabal al-Achdar, the highest mountain range in Oman, which is very dry in places but quite fertile in other regions. For this reason, the mountain range is also called "the green mountain". Damascene roses have been cultivated here for many, many years and are used, among other things, for the famous rose water from Oman. And also for the fragrances of OJAR.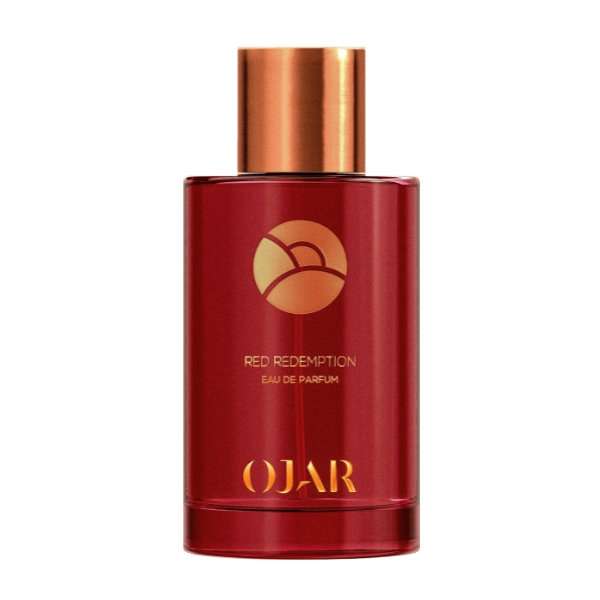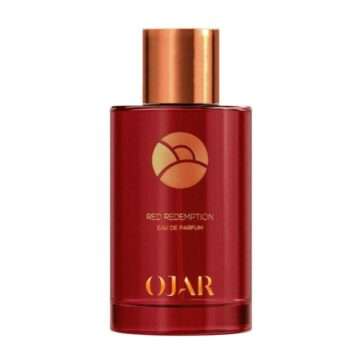 Fruity and tangy, Red Redemption opens the fragrance. Soon underpinned by beguiling rose nuances that seem quite dark, rich and incredibly warm. Patchouli and amber add intensity, depth and longevity, preventing the rose-blood orange combination from seeming too airy, light or even girly. No, Red Redemption is a fragrance that is grown-up, modern and also a bit thoughtful. Very calm and warm floral notes define the creation as it progresses, underpinned by a gentle honey sweetness that slowly mingles with the lovely spice of vanilla and powdery musk. Very elegant and beautiful! 🌹
Épine du Désert – Thorn of the Desert
The fragrance Épine du Désert – which translates as "thorn of the desert" – is also part of the rose collection. It is said to be a creation dedicated on the one hand to the Arabian fragrance blend Mukhallat, and on the other hand to the desert rose, which is why the name "Thorn of the Desert" makes perfect sense.
Perfumer of eau de parfum Épine du Désert is Dalia Izem, who used the ingredients allspice, saffron, rose, jasmine, sandalwood, suede and woods for the fragrance. In collaboration with Givaudan – all the perfumers of OJAR's creations work there – the brand thus created fragrances inspired by the traditions of Oman and combines them with modern French perfumery.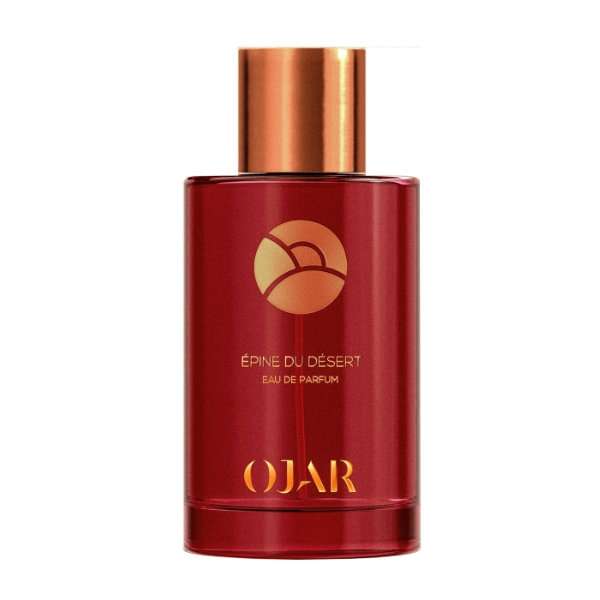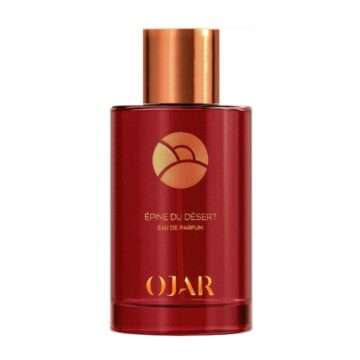 Fruity, bright and airy rose nuances open Épine du Désert, which are soon accented by subtly medicinal and spicy saffron, which give the flowers traction but do not make them heavy. Allspice evokes a delicate spiciness, while jasmine provides a creamy floral base that is gradually joined by the warm and velvety notes of sandalwood and supple, soft beige suede. Light, clean woods round out the fragrance in an exceedingly harmonious way. Rather bright, elegant and cohesive rose-spice scent with soft woody and suede underpinnings. Really fine! 🌹
Wood Whisper – Wood Whisper
On to OJAR's next line, which is all about sandalwood. You may have noticed, the rose fragrances all have a beautiful red bottle and the round symbol of a stylized flower on the front. The sandalwood scents are in dark green and have an abstract square with rounded edges printed on them.
OJAR dedicates the fragrance Wood Whisper to the particularly gentle and mysterious nuances of sandalwood, which – like Red Redemption – was developed by Jordi Fernandez. The ingredients are plum, violet, sandalwood, cashmere wood, amber, musk and vanilla. The brand classifies the creation as lively and extroverted. I am curious about that.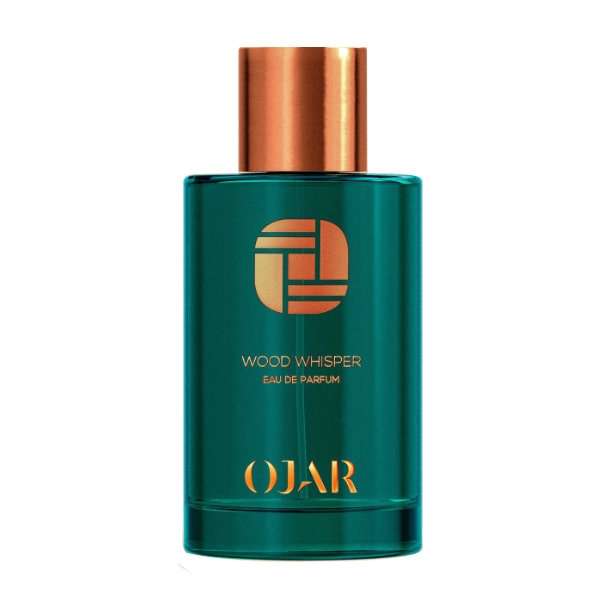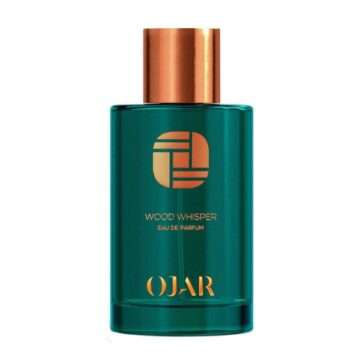 Wood Whisper starts with dark fruity plum and earthy floral violet powder, followed closely by the velvety and deep nuances of sandalwood. Amber provides subtle leather accents and warmth, accompanied by the soft and gentle woody notes of cashmere wood. Delicate musk picks up the powdery facets of the violet again and underlines them with its very own, sometimes a little sandy nuances, while the vanilla gives the creation a slightly spicy sweetness. A transparent, calm and beautiful woody scent with gentle fruit undertones! Fantastic!
Halwa Kiss – OJAR
The honey collection includes Halwa Kiss, which is naturally dressed in bright yellow and features a stylized honeycomb as its logo. I am particularly looking forward to the eau de parfum, because good honey scents are really something fine, I think. In Oman, beekeeping is a traditional cultural asset and is still practised in the traditional way by knowledgeable beekeepers. In fact, it was customary to house the bee colonies in hollowed out trunks of palm trees and traditionally working beekeepers in Oman still do this today.
Halwa Kiss is inspired by the well-known and delicious snack from the Middle East – the name already points in the right direction – and was once again created by Dalia Izem. The fragrance notes read like the ingredient list of a halwa recipe: cardamom, saffron, pistachio, nut, rose, dates, honey, amber, vanilla and sesame.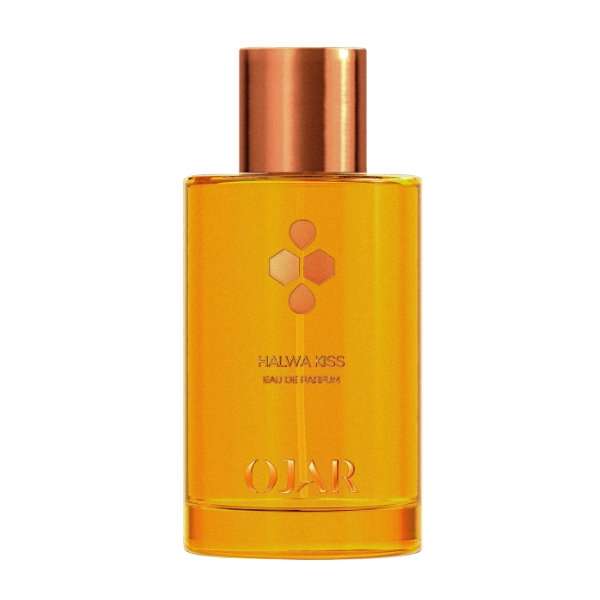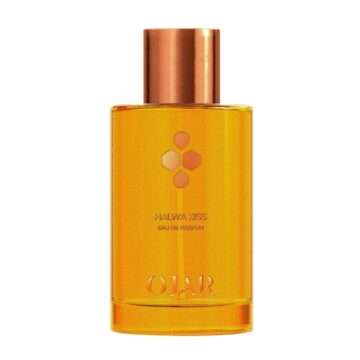 The dark, delicately medicinal spicy notes of saffron meet the greenish and aromatic freshness of cardamom, which in itself is equivalent to a flavour explosion or a firework of fragrances. Pistachio provides creamy nutty accents, nuanced by subtle floral rose water. The typical sweetness of Halwa is evoked by dried dates and flowing honey, which bathe the scent of OJAR in a deep golden light. Nutty-harsh sesame combines with amber-leathery and vanilla notes in the finish. A radiant and delicious gourmand spicy fragrance, well proportioned and finely balanced.