Valentine's Day is just around the corner and a fragrance called Can't stop loving you makes a good match with this parade day of all lovers. Kilian did everything right in matters of launching, I would say. How the fragrance olfactorily turns out, I will find out shortly for you. I wonder if I can't stop loving the eau de parfum? Or do I fall for all those who cross my path while wearing it? A kind of fragrant elixir of love, so to speak? In any case, I will keep you informed about the further development of my day. 😉
Kilian Hennessy created a true declaration of love with Can't Stop Loving You: a perfume that celebrates love. This floral perfume joins the Narcotics family of fragrances centered on orange blossom, a symbol of eternal love. Can't Stop Loving You is an intoxicating floral fragrance that plays with fire and is both luminous and somber.
Be my valentine!
Love as a theme for a fragrance is now certainly not a reinvention of the wheel. Love is also omnipresent in other areas of art, well, in life in general, actually. And at hardly any time is the subject of love more topical than just before Valentine's Day. You can think what you like about the lovers' holiday – I personally am not a fan of it – but in the meantime it is hard to ignore it completely here in Germany.
Heart-shaped mozzarellas, baked camemberts and cakes look out at us from supermarket shelves, and even toilet paper is not spared. Naturally, florists are also very busy, but we are always happy to receive flowers. What's the strangest Valentine's Day product you've come across in stores so far?
Incidentally, Valentine's Day originated – to sum it up very succinctly – in 14th-century Britain, then made its way to the United States and, after World War II, to Germany with the Americans stationed in this country. Meanwhile, the Day of Lovers is celebrated almost worldwide.
Can't stop loving you – everlasting love
For the creation of Can't stop loving you, Kilian worked with the famous perfumer Alberto Morillas, who combined the fragrance notes of orange blossom, labdanum (cistus), honey, bourbon vanilla, oakmoss and incense for the eau de parfum.
Belonging to The Narcotics Collection it promises an intoxicating fragrance spectacle. Addictive the floral fragrances of this collection are supposed to be, a series, which revolves primarily around lush white blossoms. Tuberose, orange blossom, jasmine and gardenia, but also the rose finds its place in The Narcotics. Can't stop loving you deals with – we have already experienced – the orange blossom.
Soft as cotton, fluffy as angora wool
Can't stop loving you is lush and incredibly creamy in the opening of the fragrance. Surprisingly subtle on my skin are the fruity orange notes that usually occur naturally in orange blossoms, but the eau de parfum is incredibly powdery, airy and soft as cotton. So ethereal and elusive that I would guess that here, in addition to the aforementioned fragrance notes, there is more to the composition.
A look at Kilian's homepage quickly reveals that this is Paradisone, "an essential jasmine compound that promises true paradise." So that's the way the wind is blowing. On the test strip, the orange nuances are more noticeable, but again, the fluffy powder note is very dominant. Can't stop loving you is equally bright, radiant on paper and skin and definitely possesses a clean touch.
Labdanum gives the creation a gentle warmth, while honey and vanilla provide delicate spicy underpinnings. On the test strip, I am even surprised by a delicate and dark-mossy smokiness in the finish, which I like wonderfully. In the foreground, however, on both backgrounds are the white and creamy flowers that define the creation as soft and fluffy as alabaster white angora wool.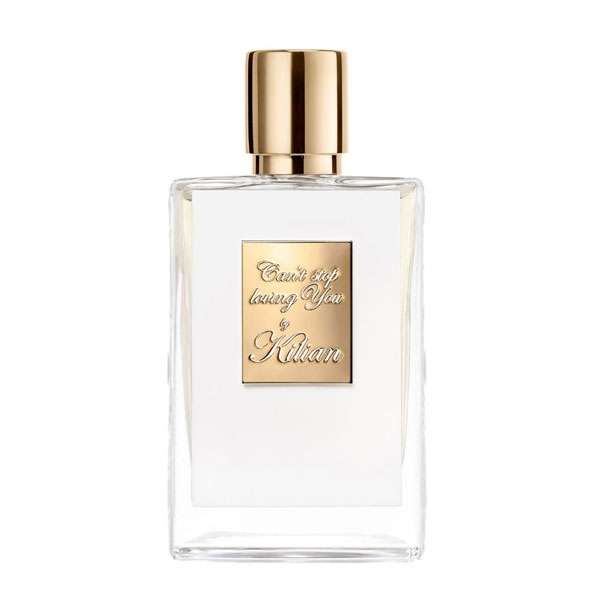 Friends of pure white floral scents with a powdery, creamy, cuddly fluffiness should definitely put Can't stop loving you on their to-try list. Personally, I feel the creation is not too sweet, although a certain sweetness is of course undeniable. Since paper and skin turn out quite differently for me, I recommend, as always, a test on your own epidermis to avoid surprises of any kind.
In my eyes, the eau de parfum by Kilian is quite suitable for everyday life and office and also wearable in any season. On my skin, Can't stop loving you evolves into a rather transparent and skin-toned scent. I would classify the presence as medium, which is certainly also due to the immense airiness of the Paradisone. Certainly also a composition suitable for white flower and orange blossom beginners. Who already knows it, and how do you like the latest perfume from Kilian?