With going bang and eating wherever, I present you today the next two creations of the young niche fragrance label Emil Élise. Here and here you can find my first review and my report on the fragrance event that took place last week in Hamburg.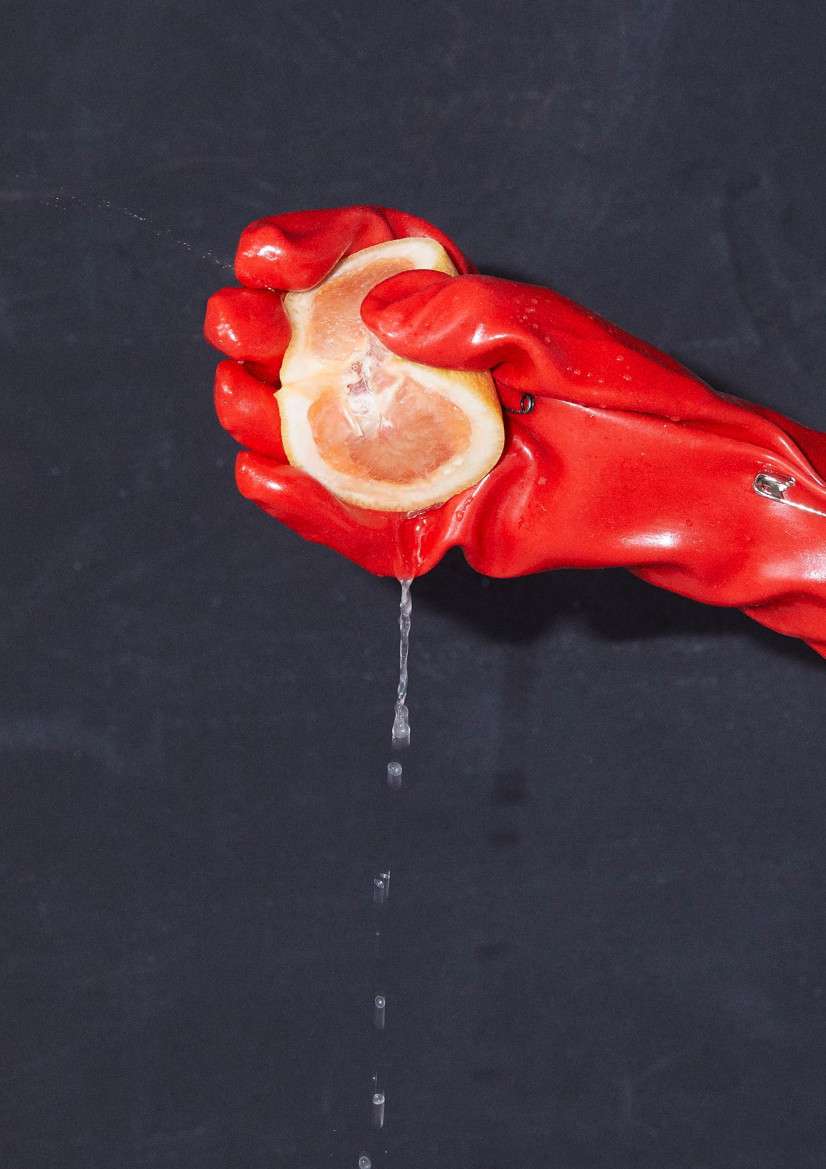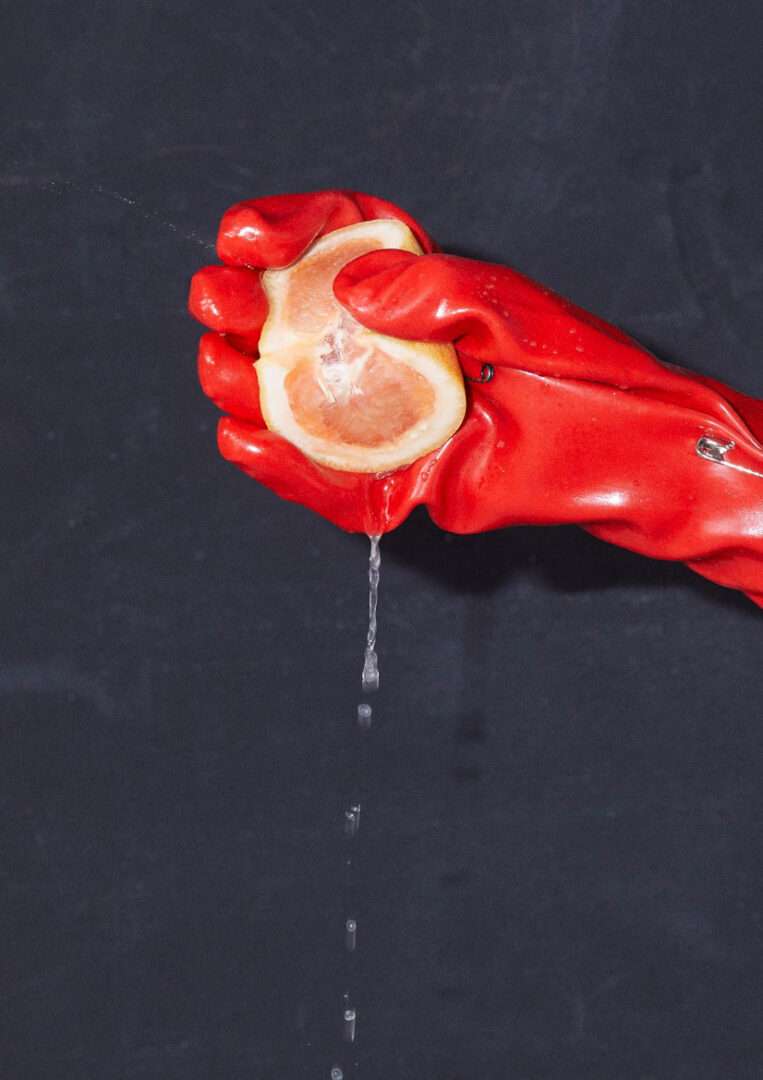 going bang – Emil Élise
As I mentioned in my post about last week's fragrance event (read it here), the creation going bang was presented to us by the dominatrix Aurora, who also wore the red latex gloves shown in the picture above. The depicted citrus fruit was also used, whose fruit juice she squeezed directly and manually into the mouths of individual guests, who were abducted by her behind a screen. Under the picture, imagine a head laid back with its mouth open, and you're getting close. 😉
So this is a fragrance with grapefruit, but of course there are other ingredients besides hesperide, namely pink pepper, incense, geranium, jasmine, cardamom, musk, leather, vetiver, cedar and patchouli.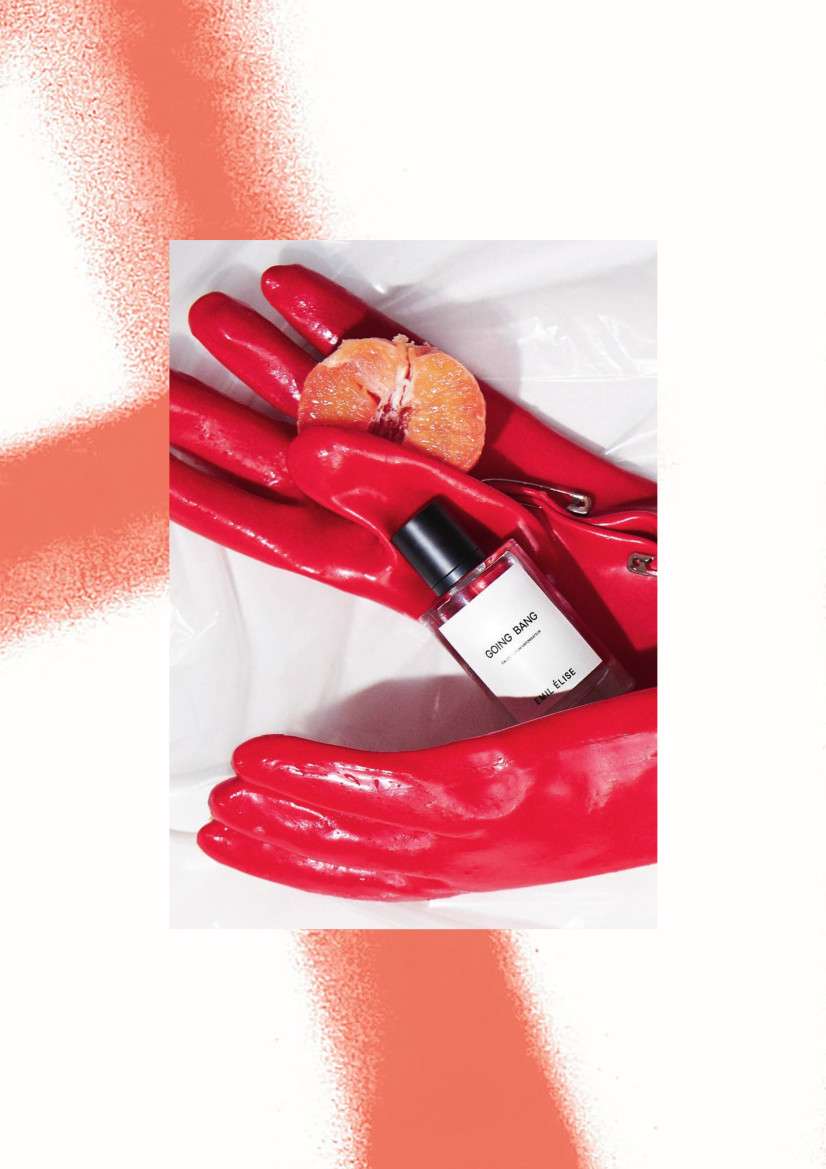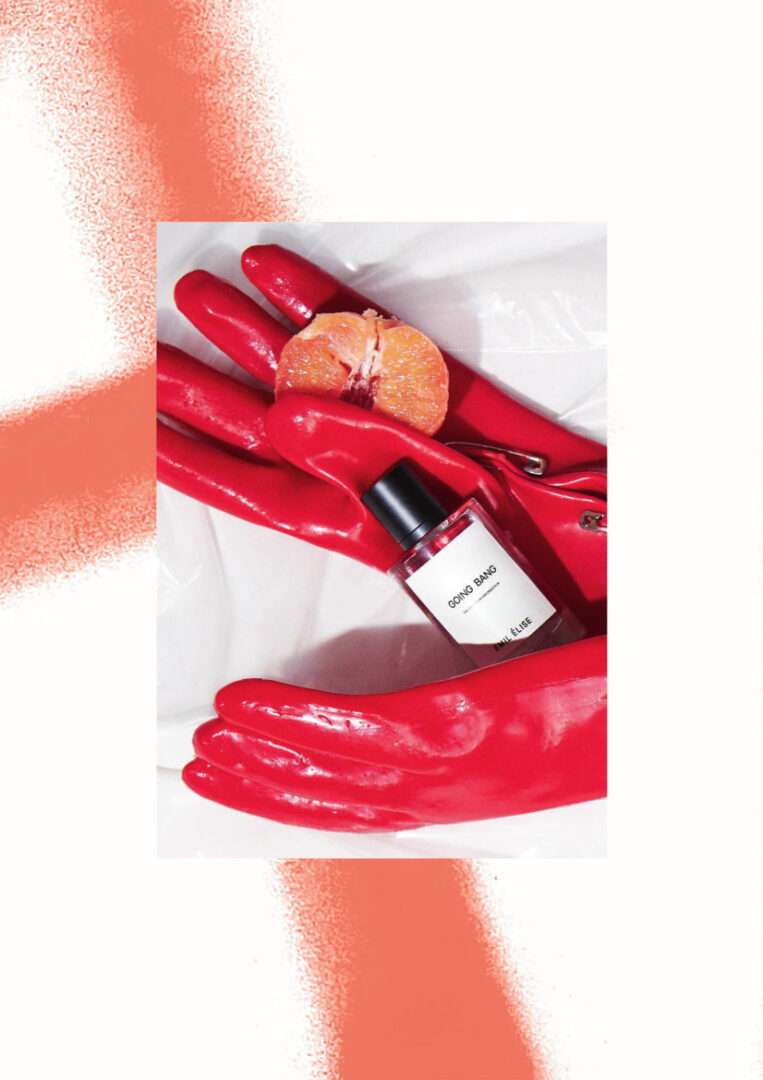 A fire blazes within you. No one can tame it. It burns. Fuel your thoughts, your passion, your body – bang! Feel the rush of tingling pink pepper and juicy grapefruit. Bow to the power of leather and cedar.
going bang – with loud bang
In fact, the bang caused by going bang in the test is not as loud as the name might suggest. Indeed, the fragrance presents itself as a rather quiet creature. Citrusy-fresh nuances, tart and tangy, meet a dry pepper spiciness, the creamy warmth of jasmine as well as other spices.
Leather brings dark and profound facets to the so far quite airy-light creation, which are underpinned by earthy-woody patchouli and the gentle root notes of vetiver. The cedar underlines the warm and velvety woodiness of the eau de parfum and gives it a cozy and durable base.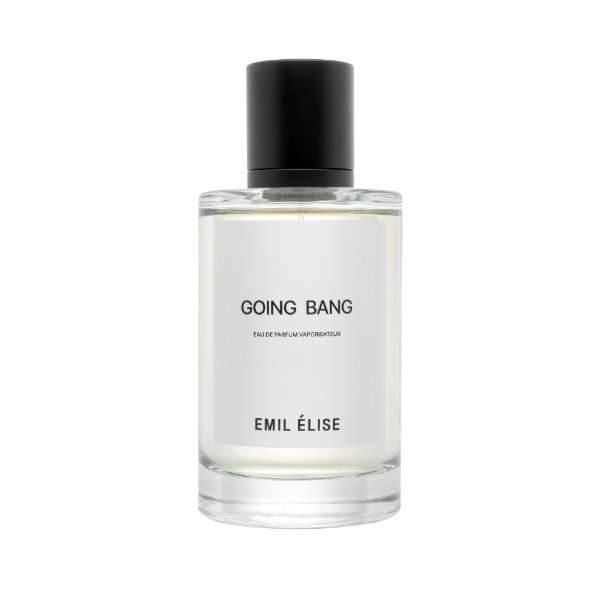 going bang is spicy, citrusy and woody, a rather fresh fragrance companion that I would classify as a unisex all-rounder like the already tested hangover meditation and dancing on goosebumps. Seasonally, I would see the Eau de Parfum rather in the warmer season respectively on mild to warmer days of the year. It is a fragrance that can be worn on any occasion, which seems uncomplicated, carefree and dynamic. Yes, going bang also has an invigorating and energetic effect. So far, all three tested creations from the house of Emil Élise possess these qualities. They run like a golden thread through the collection. Whether this will remain so in the further course, we will find out in a moment or in my review tomorrow. going bang, in any case, is a fragrance that should appeal to anyone who appreciates fresh woody scents with gentle spice undertones.
eating wherever – the main thing is to eat
With our fourth test candidate eating wherever, we now ring in the second round of the six novelties of Emil Élise, as we have already sniffed through more than half of the creations with this one. And something else will change. While the first three fragrances were rather refreshing and citrusy, the next three will be much sweeter.
The name eating wherever is program. The visual with juicy cassis underlines the title and probably the fragrance direction. All sorts of delicacies can be found in the fragrance notes. The already mentioned black currants meet tangerine, sugar, white flowers, peach, tuberose, sandalwood, musk and vanilla.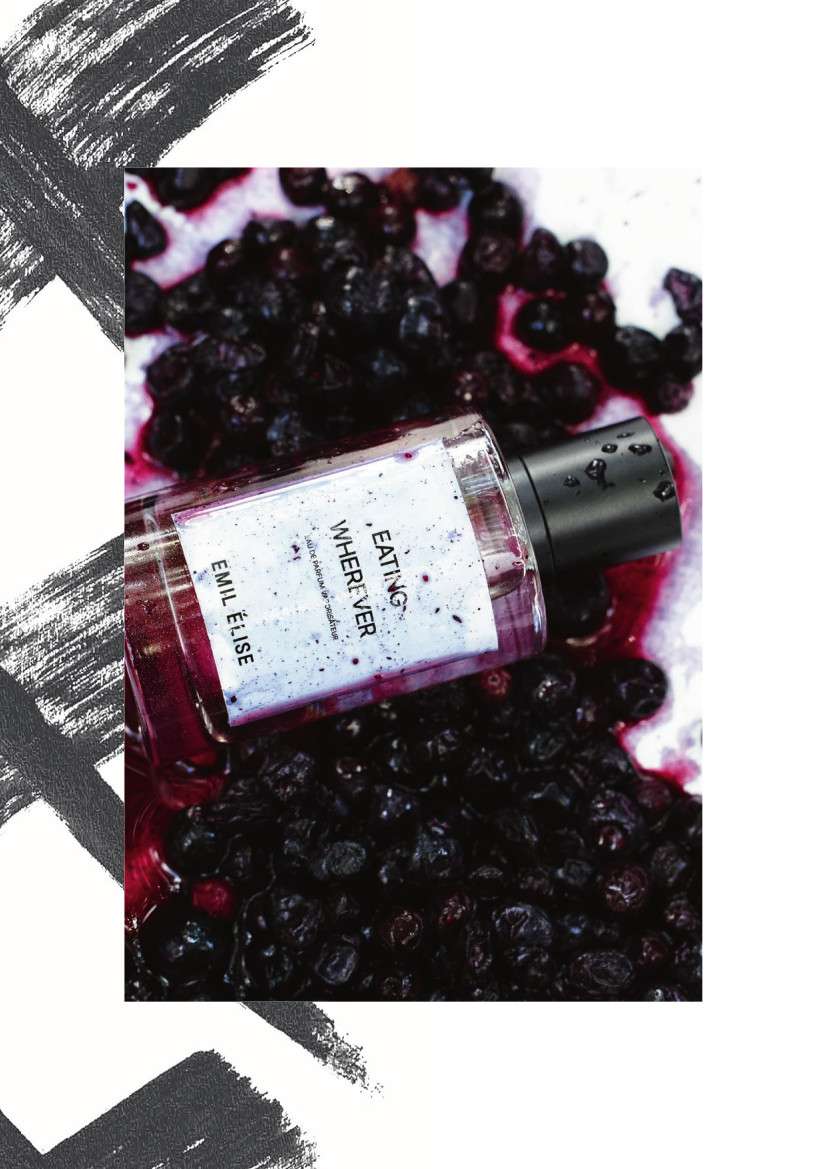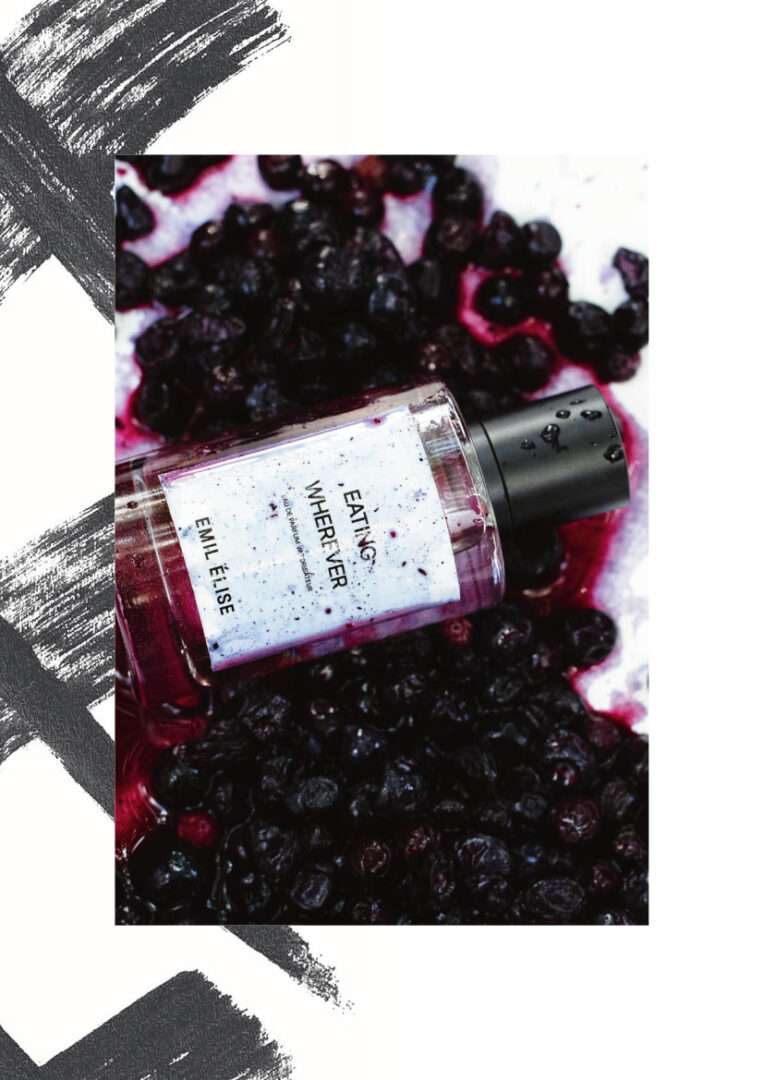 Let yourself fall in the labyrinth of your desire. Powerful black currant and soft vanilla meet strong musk. A hot kiss for your senses, a seductive taste of sweet peach. Share this sensual moment when and with whom you want. You decide – whenever, wherever.
eating wherever – give me more
Cotton soft and sugary-sweet eating wherever starts the fragrance. The tuberose can be perceived early on, but shows its distinguished mannered nature and allows other fragrance notes next to it. Its greenish nuances blend with the beguilingly bright and floral notes of white flowers and the velvety fruit accents of peach.
Sandalwood provides a gentle warmth, which is underpinned by the finest musk powder and lovely vanilla. Still incredibly soft, blossom-tender and also a little clean seeming eating wherever very slowly and gradually sounds out.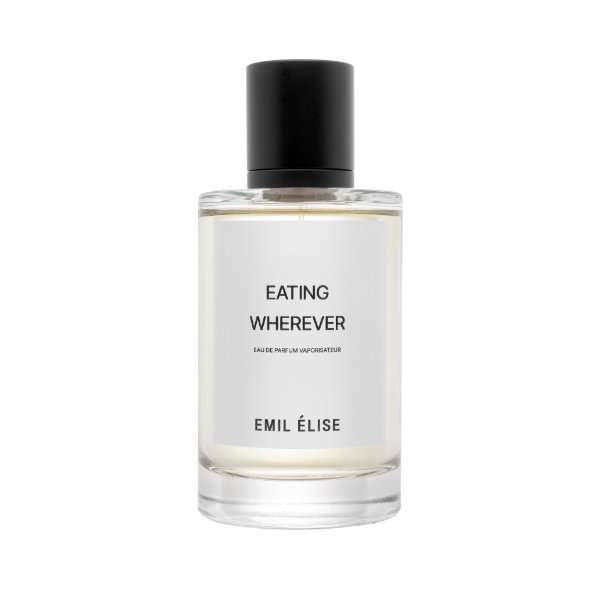 Soft, light, transparent and beautifully floral, eating wherever is the candidate par excellence for all friends of powdery-bright floral fragrances. The eau de parfum is lovely, delicate, soft and clean, a scent that reminds me of freshly washed laundry – more so than something edible. This composition is also an absolute all-rounder, even seasonally, I would not make an exception here. A great ending to this review, with which we are slowly but surely coming to the end of Emil Élise's collection. Tomorrow we continue with bathing in a daydream and painting it sweet. 🙂