Last night I was out and about in Hamburg in the service of the Duft-Tagebuch. Invited by the wonderful team of Club Unique Brands – thank you very much again! – I was able to attend the press launch of their new brand Emil Élise. The motto of the evening was promising and my expectations accordingly high.
Join us with all your senses
to experience our new fragrances.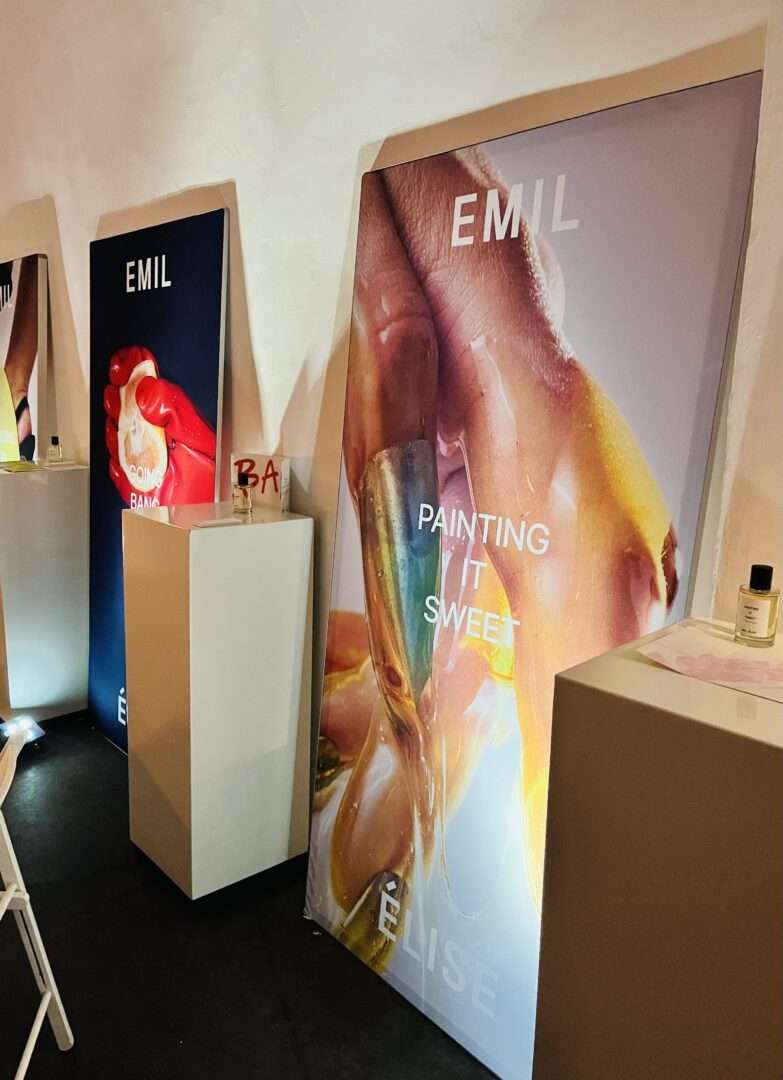 The short journey by car went smoothly. The Hamburg rush hour was merciful with me, and so I could arrive quite stress-free and relaxed at the location. I was expected by a room designed with great attention to detail. In the center a noble, long table, the walls decorated with man-sized scent pictures, a black staircase up to the upper floor decorated with fragrances and fruits. Simply wonderful!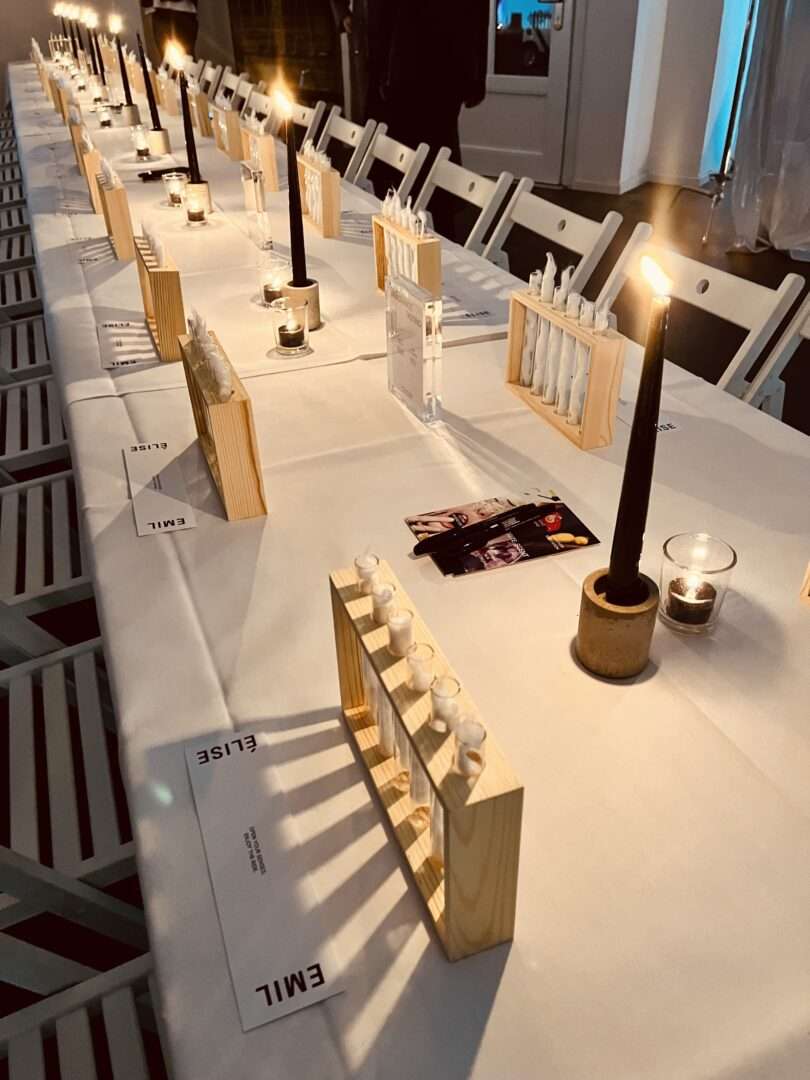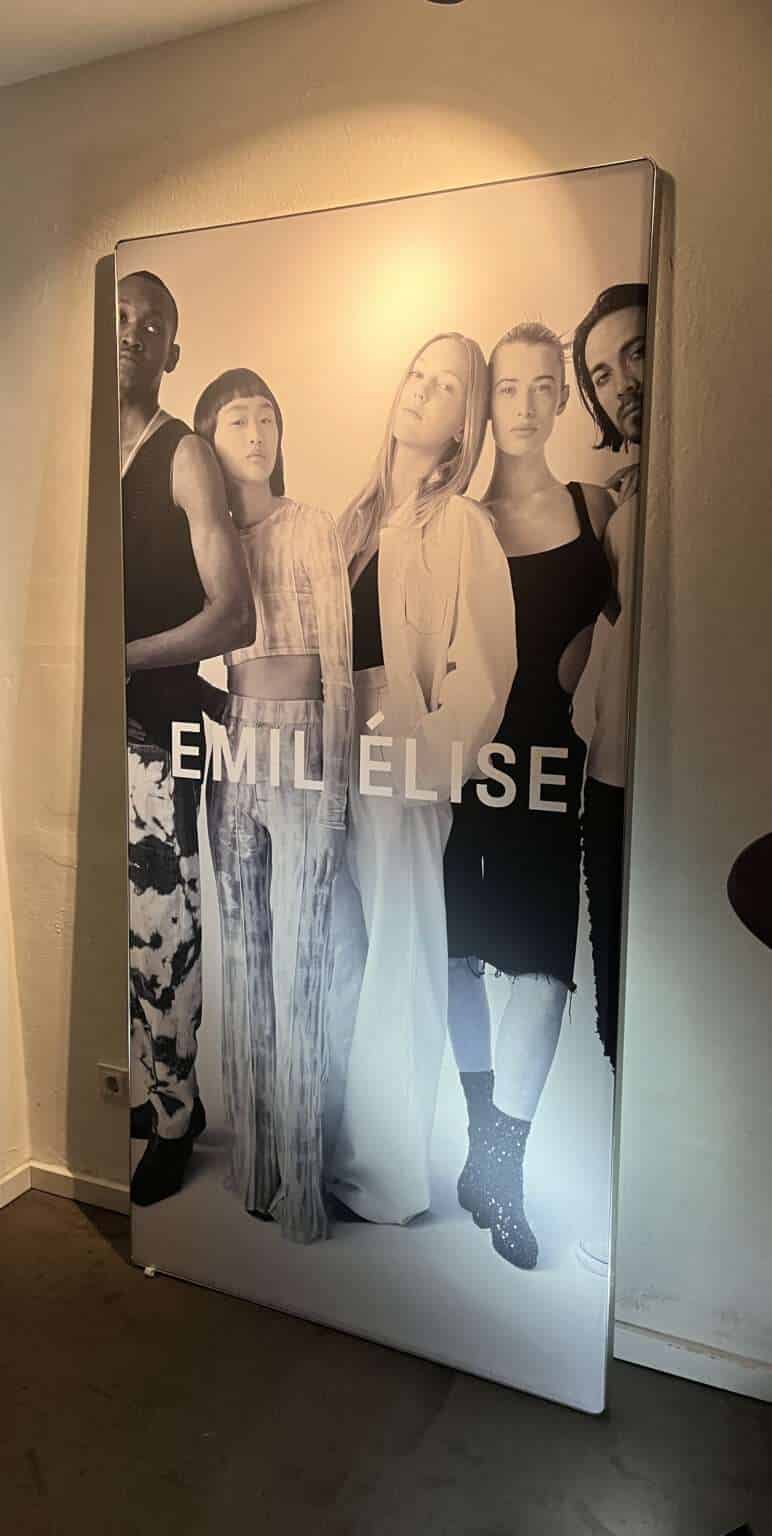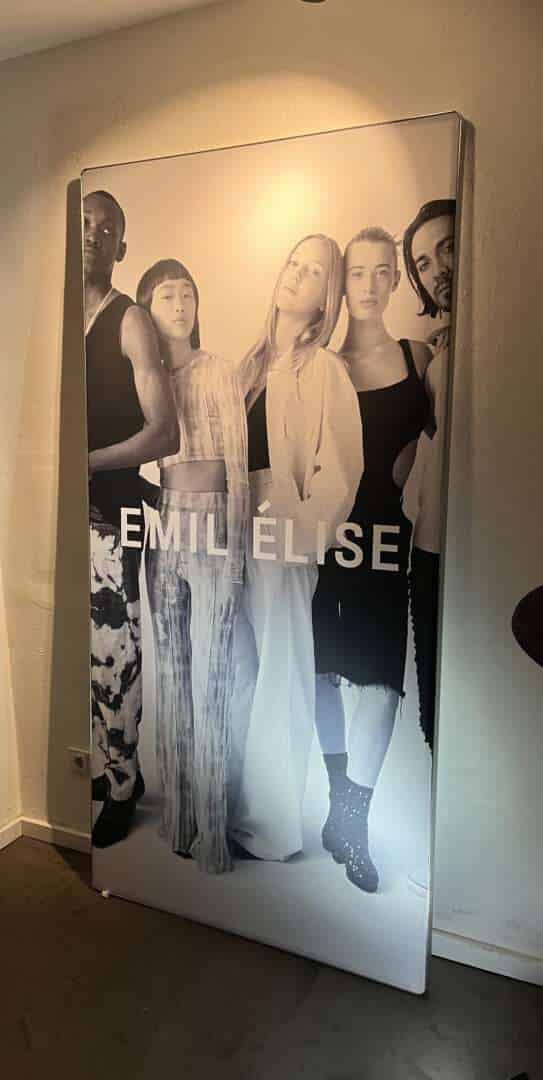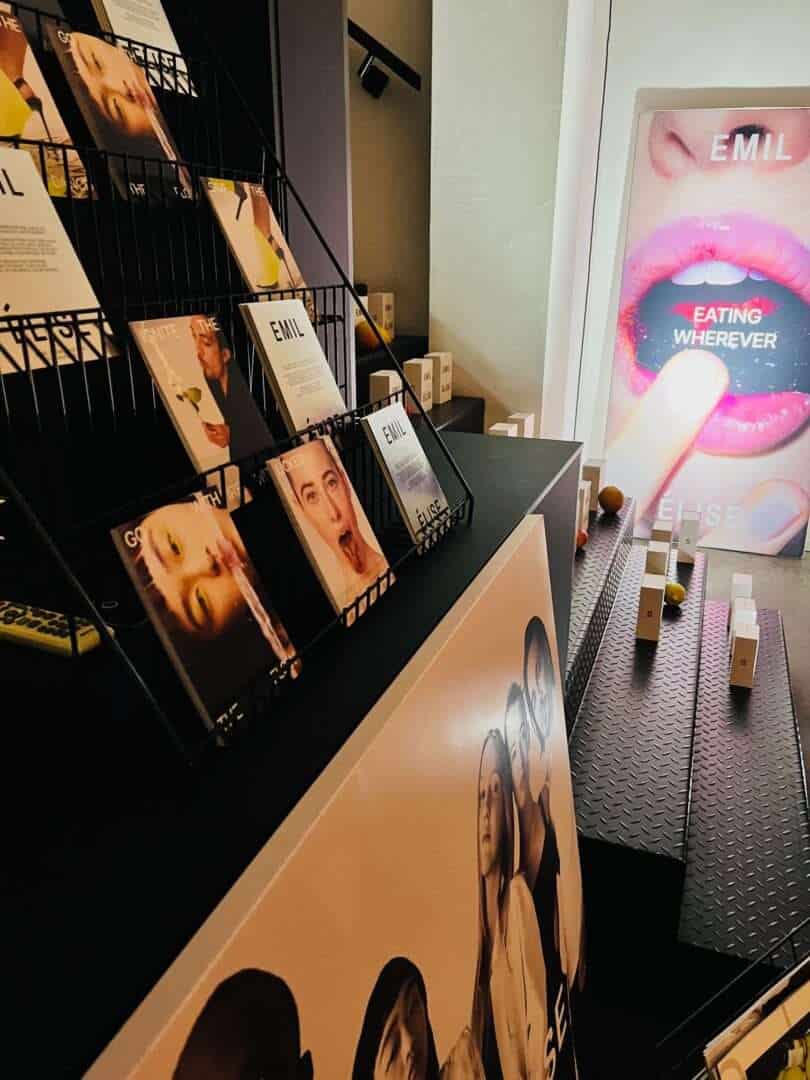 Emil Élise – enjoy with all senses
Of course, this does not only mean that the nose comes into play, also for the palate and the eyes was so much offered at this Fragrance Tasting. The team of Emil Élise welcomed us warmly and prepared us in their speech for an exciting evening, a fragrance event of a different and very special kind. Well, that definitely made us want more.
At the table, everyone found a wooden stand in front of them with six test tubes filled with perfumed absorbent cotton, and so the scent tasting quickly got underway. Matching each fragrance was a small amuse-gueule prepared by a star chef and his team. Each canapé picked up notes of the associated fragrance and translated them into culinary form, so to speak.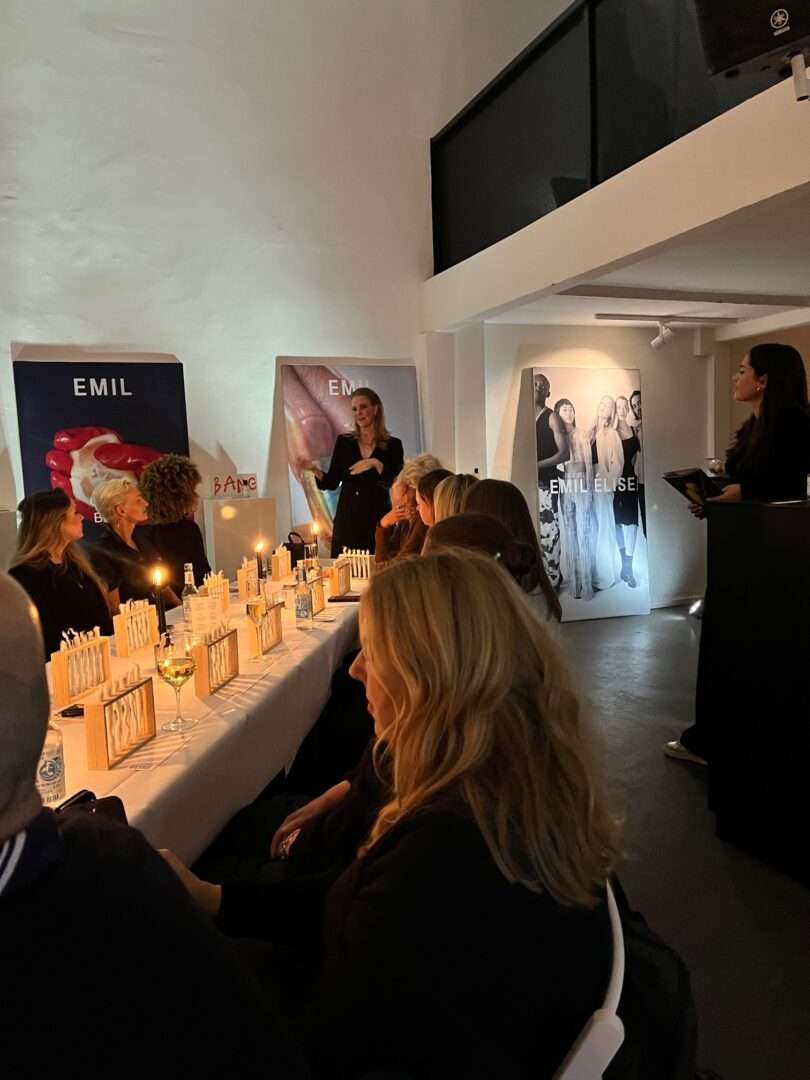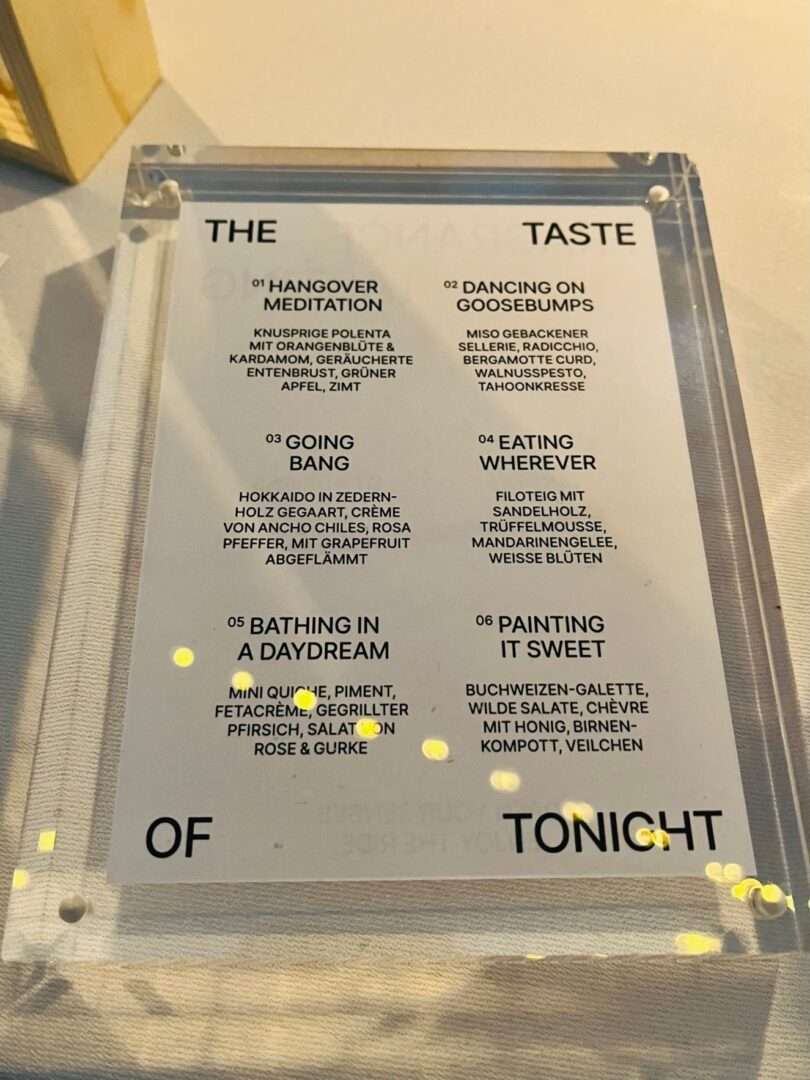 We started with the presentation of hangover meditation, to which Emil Élise fittingly took us on a little meditation. Citrusy-aquatic and spicy nuances defined the fragrance, which was reflected in the matching finger food.
Right after that, there was the highlight of the evening for me personally. To dancing on goosebumps, we were served a small spoon with two strange-looking beads. These were flower baskets of a type of chamomile, which we were to put on our tongues – along with a sip of gin and tonic – and then chew on them. At first nothing happened, then a tingling sensation and the tip of the tongue went numb. Astonished faces in the whole round!
This was topped by the appearance of Domina Aurora, with which we were introduced to the woody-citrus creation going bang. She abducted several guests behind a screen, who emerged refreshed and invigorated afterwards. We will never know what happened behind that curtain …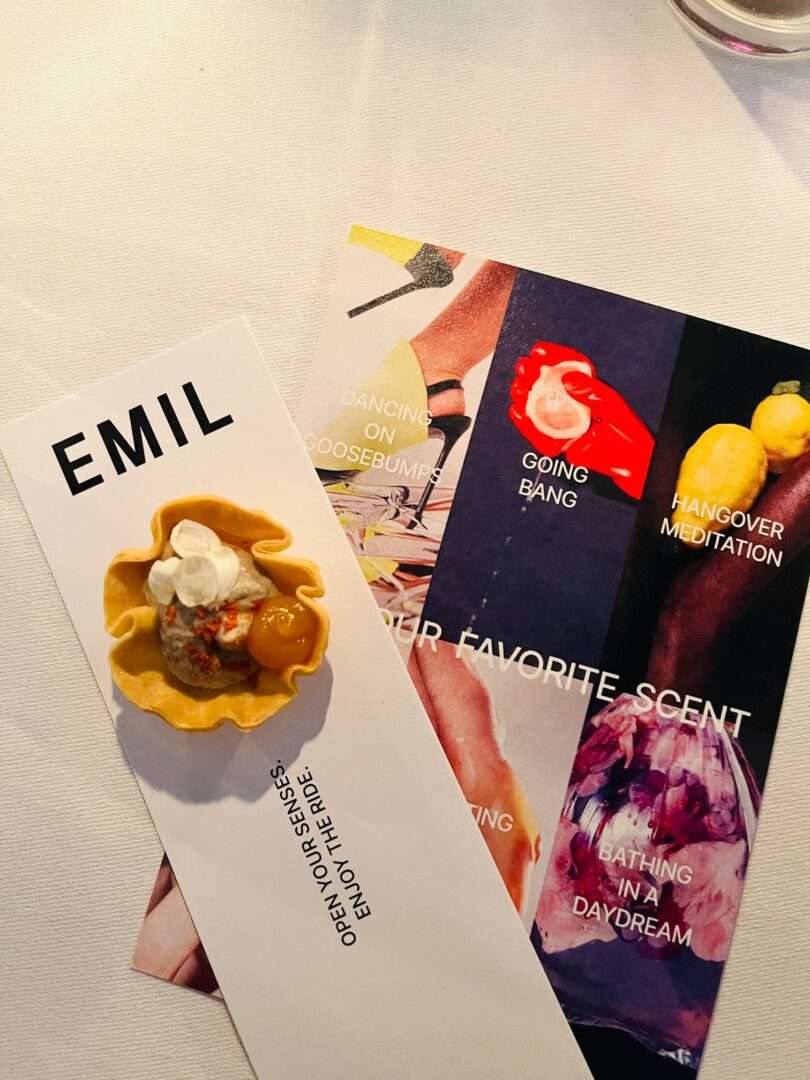 Aurora also accompanied the next fragrance aisle. In eating wherever the name says it all: vanilla cream and currant jam was licked from skin. The star chef served us a delicious appetizer with truffle mousse, tangerine jelly and a few white flower petals. The fragrance to match a dream of just such white flowers, peach and powdery notes. eating wherever also ushered in the round of rather sweetish compositions and was thus ideally placed at the back of the fragrance tasting, where one would also rather expect the sweet tooth and dessert in the culinary sense.
The penultimate Eau de Parfum bathing in a daydream was accompanied by the audiovisual installation of a young artist, in which the theme of the fragrance was taken up digitally. Dreamy, the creation wanders between citrus, white flowers and soft powder nuances. A lovely daydream, in which one sinks only too gladly.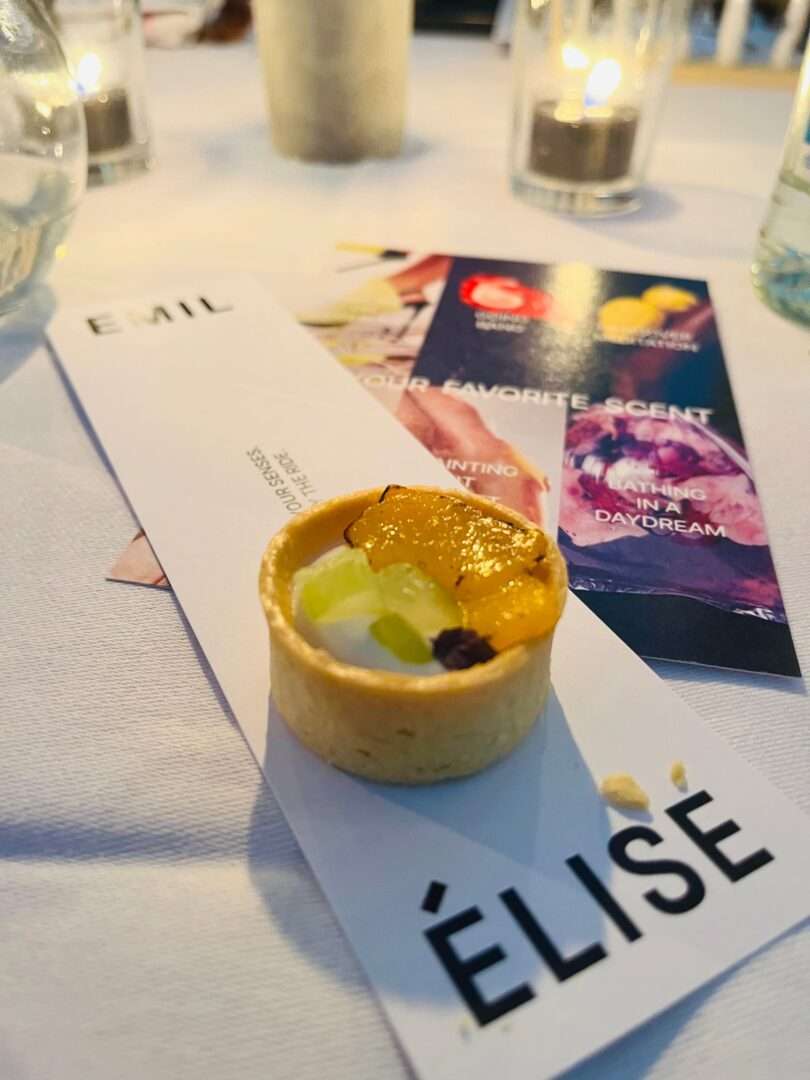 Last but not least painting it sweet. The name says it all. Sweet, floral, delightful. Violets and pear, honey and flowers meet. Afterwards, the evening ended with a chat and a drink as well as musical entertainment.
Unlike anyone – Emil Élise
It really has to be said that the Emil Élise team has put on something special with this Fragrance Tasting event. You could feel how much heart and soul and passion everyone involved put into their creations, into the brand and also into the fragrance event, how much work, ideas and preparation went into it. Emil Élise is modern, creative and on the pulse of time, looks urban, individual and cosmopolitan. The team is young, fresh and crisp and has tremendous background knowledge. All of them have been working in the beauty and perfume industry for many years and know their profession inside out. You can tell that this brand is not a faceless apparition, not an olfactory flash in the pan, but a label with substance, with know-how and a lot of heart.
I had a wonderful evening, got to meet a lot of great and incredibly nice people from the industry, and am very excited to be able to present the six creations of Emil Élise to you next week. Be curious! If you want to find out in advance, you can find all the creations here: