The Danish brand FRAMA recently joined the assortment of Aus Liebe zum Duft. In addition to several scented candles as well as skincare products, the label now also enriches our perfume assortment with three creations, one of which I would like to introduce to you today: St. Pauls, Beratan and Deep Forest.
But FRAMA delights us not only with fragrances and skincare products. Located in the famous Nyboder district of Copenhagen, a stone's throw away from Rosenborg Castle, the brand is housed in the former premises of St. Paul's Apotek, founded in 1878, and thrills friends of Scandinavian design in its showroom with furniture, accessories, housewares, lighting and much more.
On Spotify, you can even find various playlists from FRAMA, with which the label presents us musically appropriate works. "Sounds for your Spaces" is what the brand calls these playlists, compiled by select DJs. I have already listened and am quite taken, although I am usually rather the person who loves silence around him. 😉
FRAMA – Danish design
All FRAMA products are in the style I love so much: minimalist yet snug, tidy yet casual, with clean lines yet harmonious and round, in warm, cozy colors, made of different natural materials. Oh, I think I would find quite a bit at FRAMA that I would like. I may have to travel to Copenhagen sometime.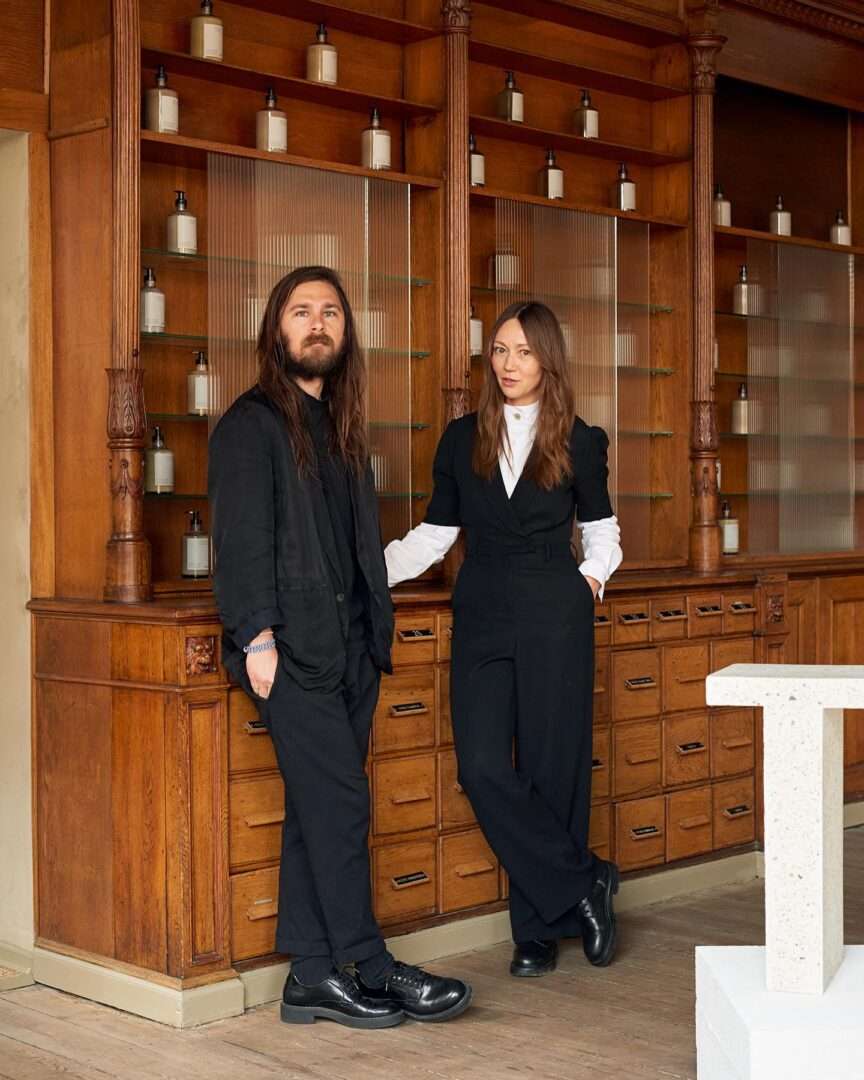 FRAMA is a multidisciplinary design brand for lifestyle objects that inspire the senses and promote mindful living. With a focus on natural materials, simple geometries and uncompromising quality, FRAMA's work combines the imaginative with the practical, resulting in a uniquely warm and honest aesthetic.
Behind FRAMA and the fragrance compositions are founder and creative director Niels Strøyer Christophersen and perfumer Lena Norling, who beautifully reflect the casualness of Scandinavian style. Modern, timeless, simple, elegant, wonderfully unpretentious and always on point.
St. Pauls – Signature Scent
In 2016 FRAMA launched the high quality care line Apothecary Collection including scented candle and the Eau de Parfum St. Pauls, whose name comes from the former pharmacy St. Pauls Apotek, in whose premises the showroom of FRAMA is located. Developed by Lena Norling, the creation combines the notes of lemongrass, coriander, Mysore sandalwood and cedar. The fragrances are made in Italy from selected and highest quality ingredients.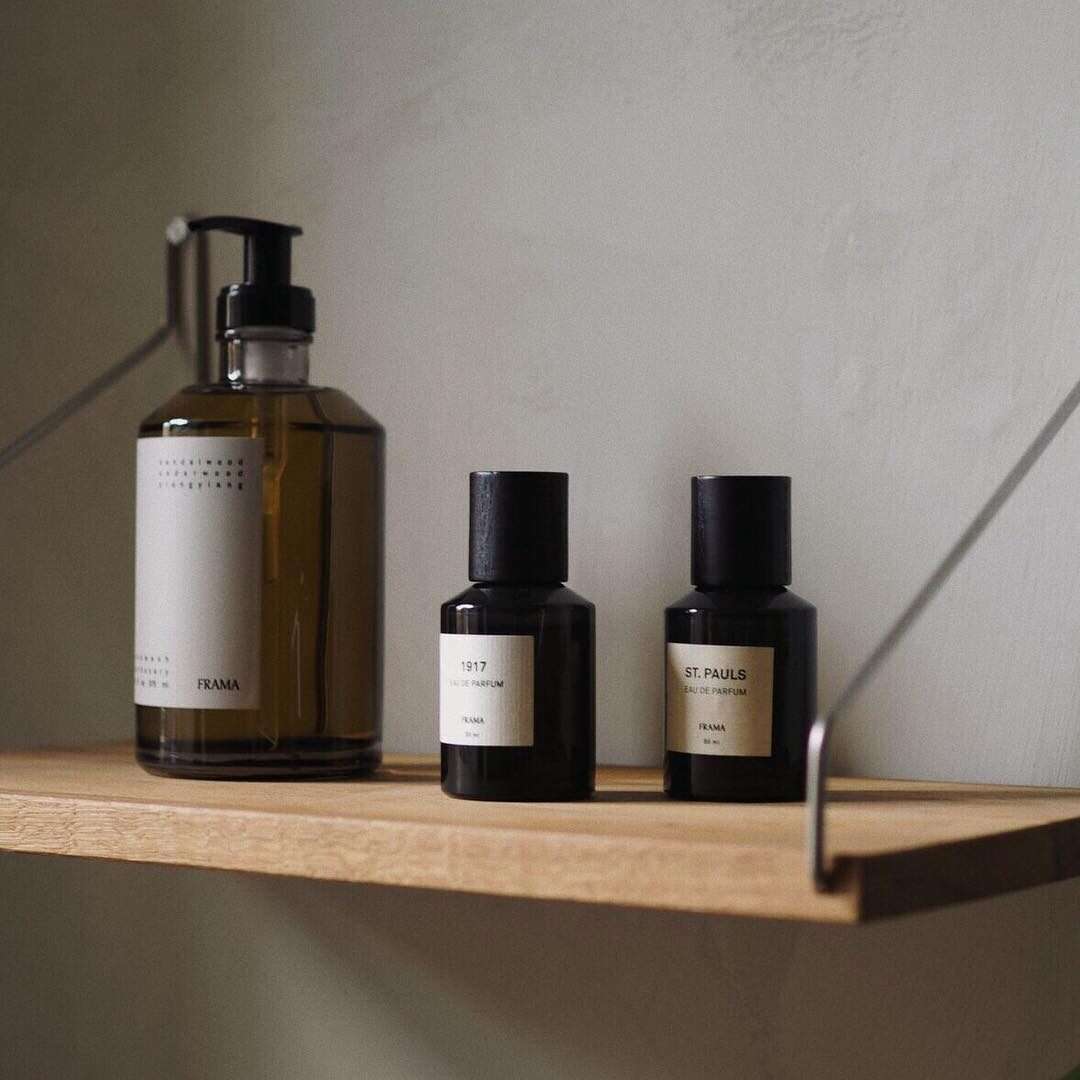 St. Pauls, FRAMA's signature fragrance and the first fragrance in the Apothecary Collection, is a complex yet delicate essence. With its earthy formulation and pronounced freshness, it embodies the epitome of FRAMA. Wooden cabinets and tinted glass. Where past and present merge seamlessly.
St. Pauls – the first work of FRAMA
Clear and fresh notes open St. Pauls, very dry, woody-greenish and with the typical nuances of lemongrass. Peppery and darker facets are soon added. Herbaceous and still underpinned by a wonderful coolness, the creation gradually becomes a bit wetter until warmer nuances finally appear in the scent's progression.
Sandalwood takes the helm, giving the eau de parfum soft-woody and balsamic accents that emphasize the calm and exceedingly contemplative mood of St. Pauls. It is a quiet fragrance that has a subtle and transparent aura, very mature and tidy, expressing Scandinavian minimalism in a beautiful way.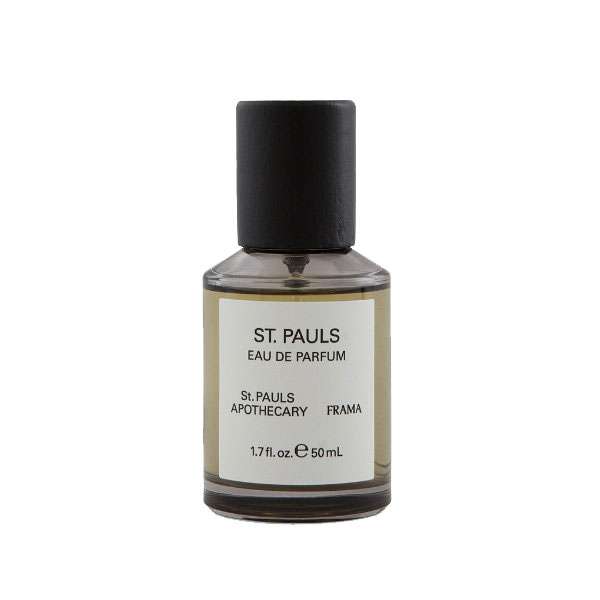 Friends of tart, herbaceous and woody-spicy fragrance compositions should definitely take note of St. Pauls by FRAMA. After a great citrusy-dry opening, the creation turns to a woody-earthy and aromatic-cool scent that finally fades into a base of warm and subtly sweet woods. An eau de parfum that exudes clarity and freshness, elegance and sophistication, calm and contemplation.
Thanks to its lighter presence and good durability, the unisex fragrance is perfect for everyday life and office and can be worn all year round and at any age. An exciting start to the collection of the Danish label FRAMA, which definitely makes you want more. Tomorrow we continue with the Eaux de Parfum Beratan and Deep Forest. I'm looking forward to it, are you? 🙂