In yesterday's article Gabriel Gabor of De Gabor in the interview – Perfumer with passion, the founder of the French fragrance house has already told us a lot about his fascinating career as a perfumer, his creations and his work. Today I would like to turn to the works of the young Hungarian – which I am sure is entirely in your interest – all of which sound absolutely delightful. Eight creations comprise the portfolio of De Gabor, six of which I have picked out, which I will present to you today and in my next post.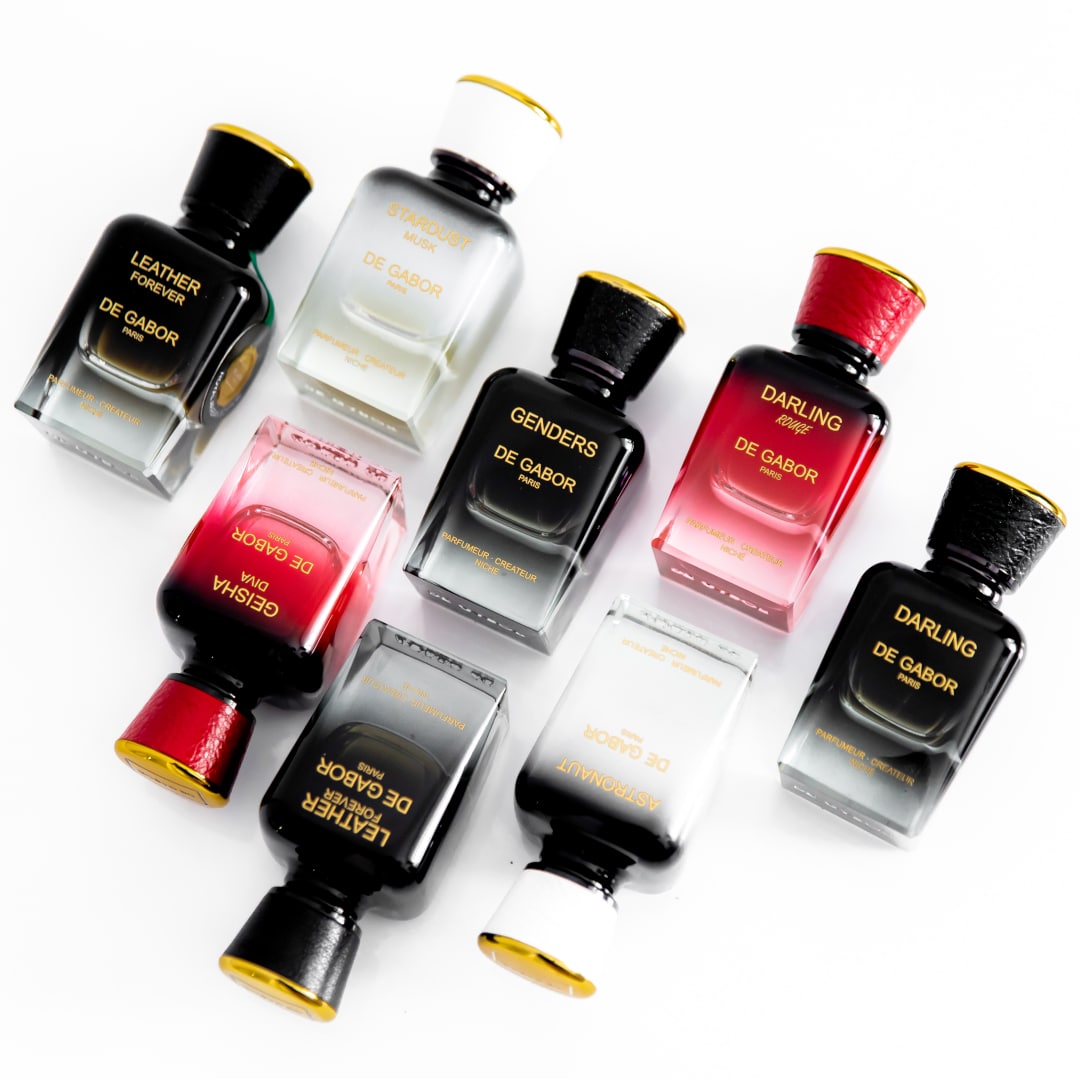 The fragrances of De Gabor are – as far as I could research – not divided into collections, but differ from each other in colour. Besides red bottles, there are black and white. In today's post I would like to first dedicate myself to the three creations Darling, Stardust Musk and Genders, in order to then conclude and round off the mini-series on the brand in my next review with Geisha Diva, Leather Forever and Astronaut.
Darling – There is magic …
in all beginnings, as Hermann Hesse already knew and told us in his poem "Stufen" ("Stairs"). The magic of the extrait de parfum Darling is that it was voted among the best ten creations with sandalwood at the international World Perfumery Congress in 2016. With this, perfumer Gabriel Gabor not only delivered an obviously really great fragrance, but also laid the foundation for his own brand and collection.
In any case, he did not spare on fragrance notes, if you look at the quite lush list of ingredients: Bergamot, ginger, saffron, pink pepper, cherry, cognac, plum, fig, sandalwood, amyris, guaiac wood, patchouli, marzipan, tonka bean, gourmand notes, rum, orchid, jasmine, floral notes, labdanum (cistus), suede, amber, sandalwood, agarwood (oud), benzoin resin and musk. Wow! This sounds promising, and I'm already reading out some of my absolute favourites…though I'm really incredibly excited about the combination of them all. So let's get to work on that vial!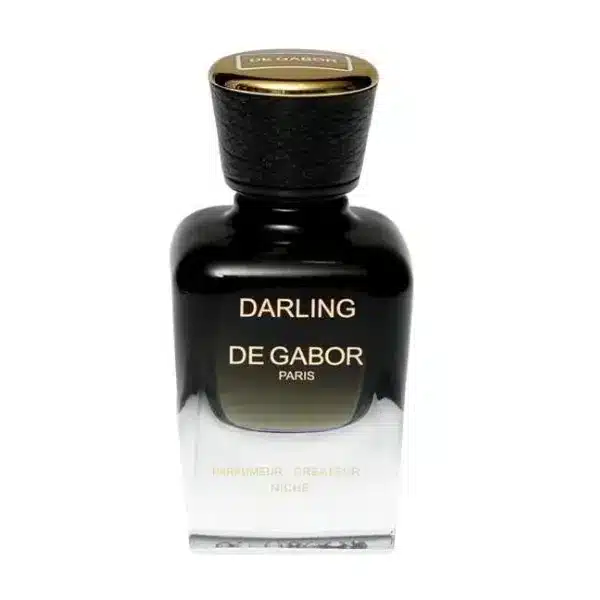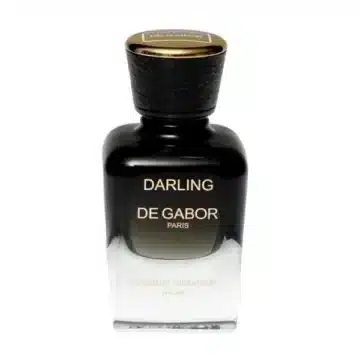 In the opening citric and fresh Darling soon becomes exceedingly soft and creamy. Fine fruits I perceive as well as the warm velvety notes of sandalwood and amyris, profound, seductive and delicious. A touch of marzipan, a pinch of tonka bean. Supple suede, delicate powdery guaiac wood. The liqueur-like notes of rum can also be sniffed out. Darling turns out to be very complex, multifaceted and multilayered. Lovely, fruity, woody-spicy and gourmand creamy. Less opulent than expected, of medium presence and absolutely finely balanced. A great fragrance for fall and winter that I would wear for any occasion.
Stardust Musk – Supernatural Musk
We turn to the sky, in a purely mundane sense of course, because our next candidate Stardust Musk is inspired by stardust by name. So the universe is our destination. De Gabor combines the stardust with Musk. It just occurred to me that that would also be a nice name combo for one of ex-Twitter-now-X CEO Elon's next kids – though probably not cryptic enough. But this brain flash of mine should be noted here only in passing. Let's turn back to the extrait de parfum by Gabriel Gabor. The fragrance notes may I still tell you: Lime, bergamot, tobacco leaves, galbanum, pistachio, iris, jasmine, cedarwood, tonka bean, musk, amber and agarwood (oud).
Stardust is the finest particle in space. A dreamlike, charismatic experience that will make you feel the invisible in an unusual way.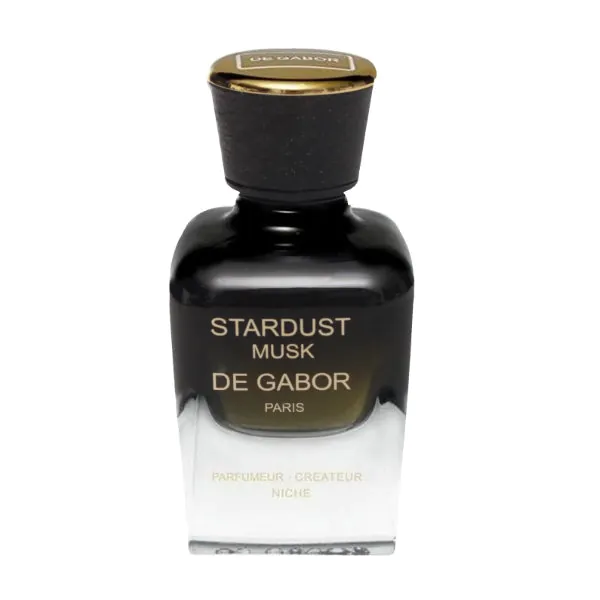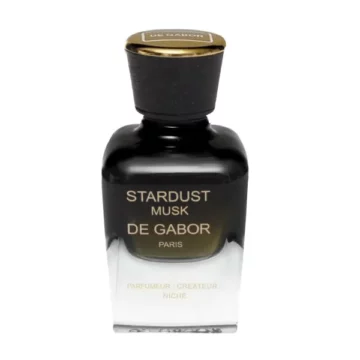 Fresh, citrusy, tart and tangy, Stardust Musk opens backed by greenish woody galbanum and the soft smoky and resinous notes of oud. Gradually, the creation calms down. Creamy, powdery and super soft accents flow through the creation, which would be attributed to iris, jasmine and musk. Fine greenish spicy tonka bean and clean cedar underline the smooth nuances. An extrait de parfum with an exciting change of direction within the course. From lush-citrusy and green-resinous to a velvety-warm, creamy-fine powder scent that carries mineral facets. Great!
Genders – De Gabor
De Gabor calls Genders a "radiant multigender fragrance." What exactly can we understand by this? The creation seems to be different depending on the hormone status and level of the skin. That sounds absolutely exciting, whereby our skin reproduces scents differently and individually anyway. How the Extrait de Parfum with the ingredients bergamot, mandarin, saffron, clove, cinnamon, cumin, tonka bean, vanilla, hay, tobacco, sandalwood, cedarwood, patchouli, ylang-ylang, jasmine, rose, tuberose, leather, vetiver, amber, agarwood (oud), incense and musk turns out on my skin, we will find out in a moment.
Multigender is not to be understood in the context of unisex, this is about more than just our gender – our mental gender embodied through our passions, habits, behaviors, erotic thinking and of course our own body odor. Perfume Genders connects you directly with the lustful seductive power of your own sex.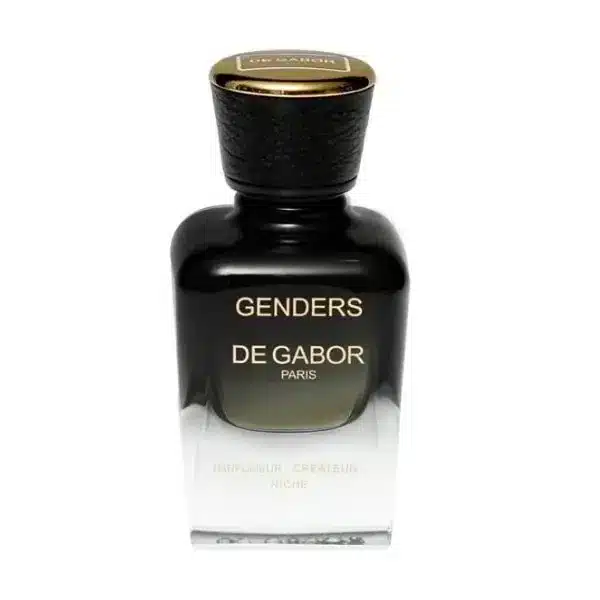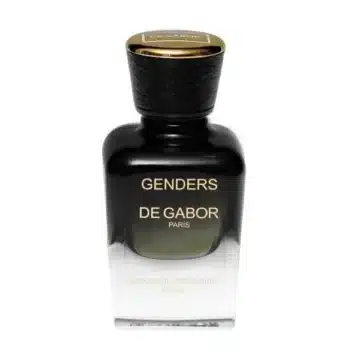 Spicy and fresh, Genders opens with notes of bergamot, saffron, cumin and tonka bean. Honey-sweet golden tobacco underpins the spices. Dark leather and oud provide depth, while lovely florals bring milky-creamy accents to the creation, which gradually become more and more expansive. Cool incense clouds pass by the olfactive firmament, accompanied by earthy-woody patchouli and vetiver. Another extremely complex extrait de parfum, multi-faceted and mysterious. Despite the abundance of fragrance notes, Genders is of maximum medium presence on my skin. Suitable for everyday and office use and an all-seasoner.