Another trifecta awaits us today in the Duft-Tagebuch, namely Lust for Sun, Magnolia Bliss and Ego Stratis by Juliette Has A Gun. All three creations sound like perfect summer fragrances to me, each interpreted quite differently. The French niche fragrance label Juliette Has A Gun – founded in 2006 by Romano Ricci – regularly delights us with new compositions, which have also always been reviewed with great pleasure in this fragrance blog. You can find all articles about the cult label here.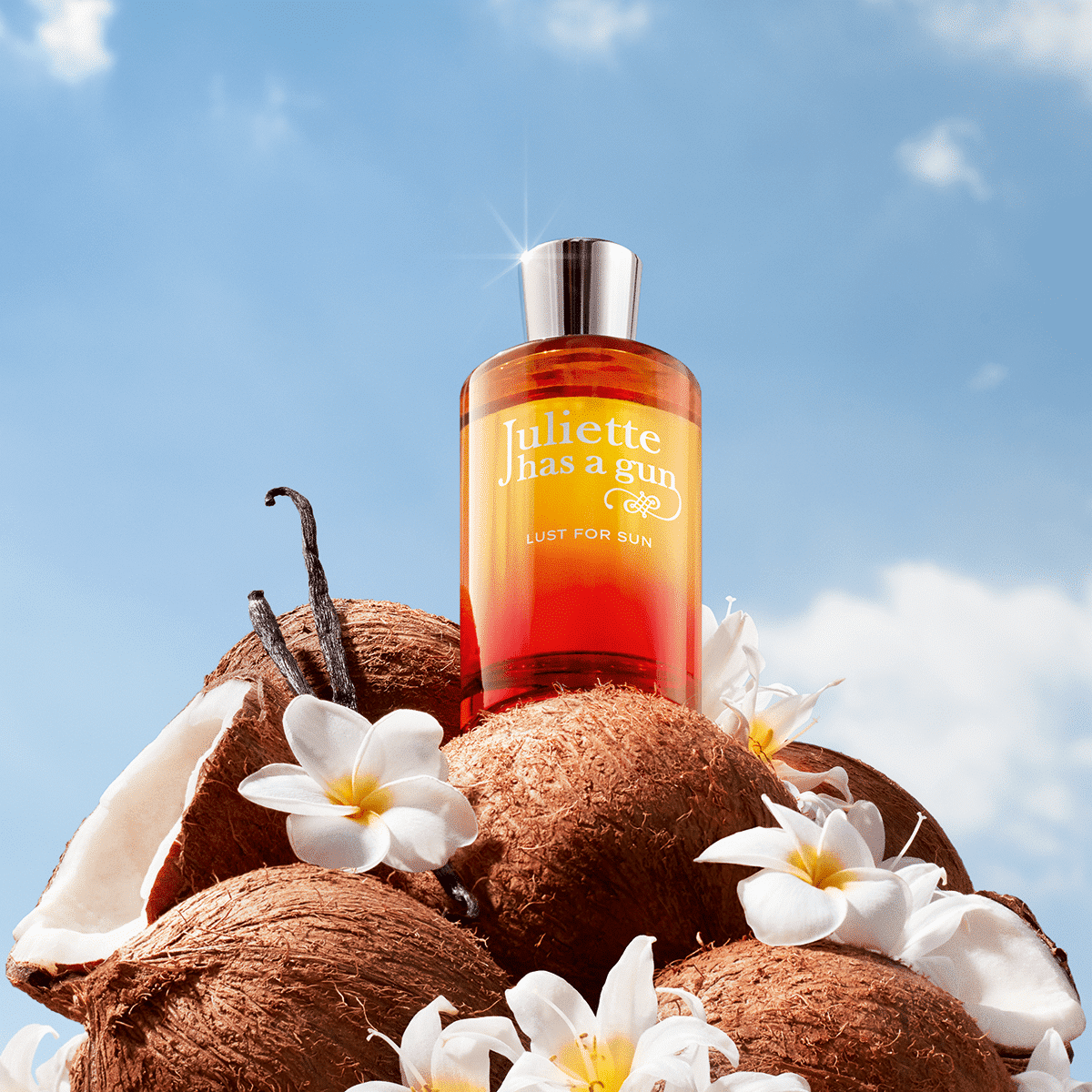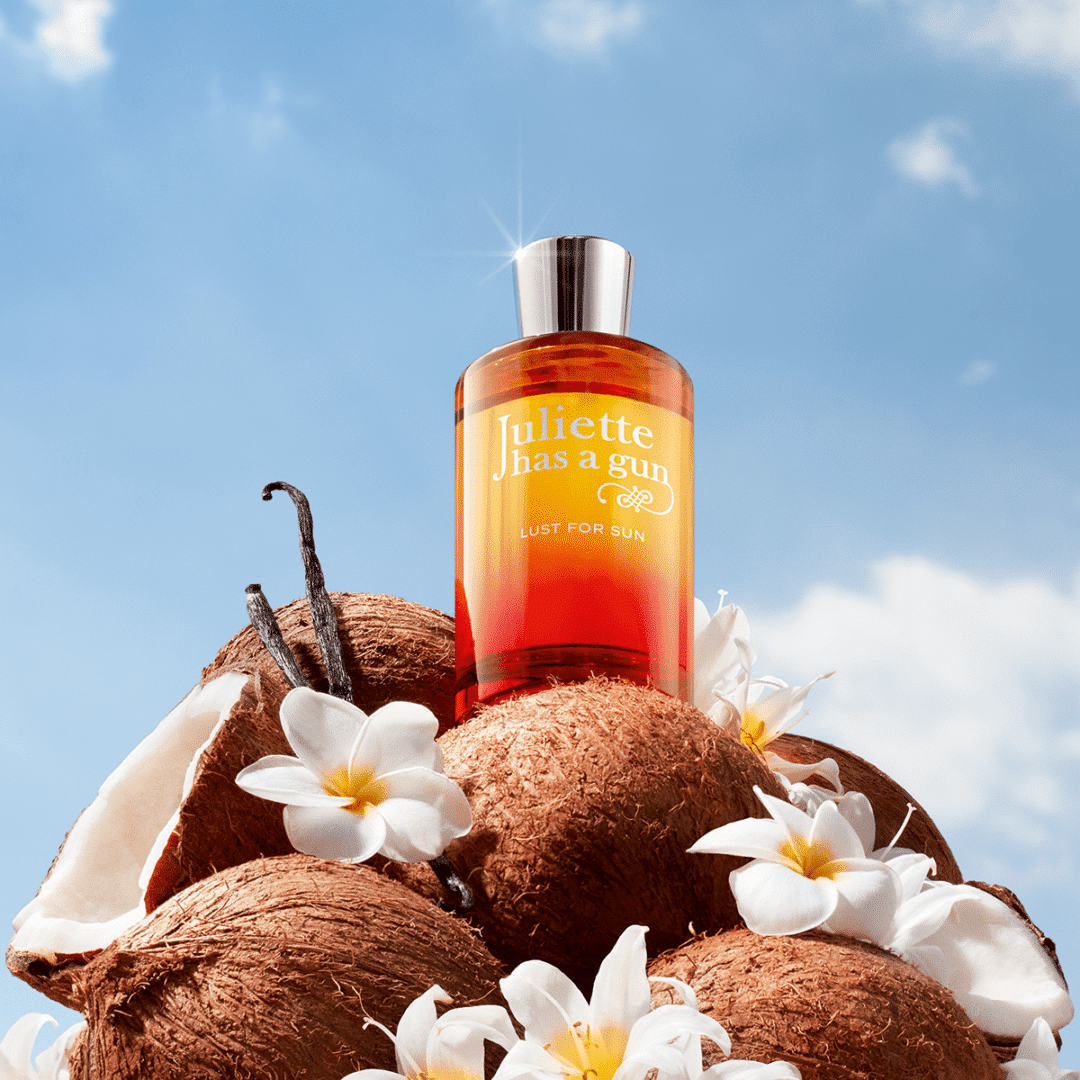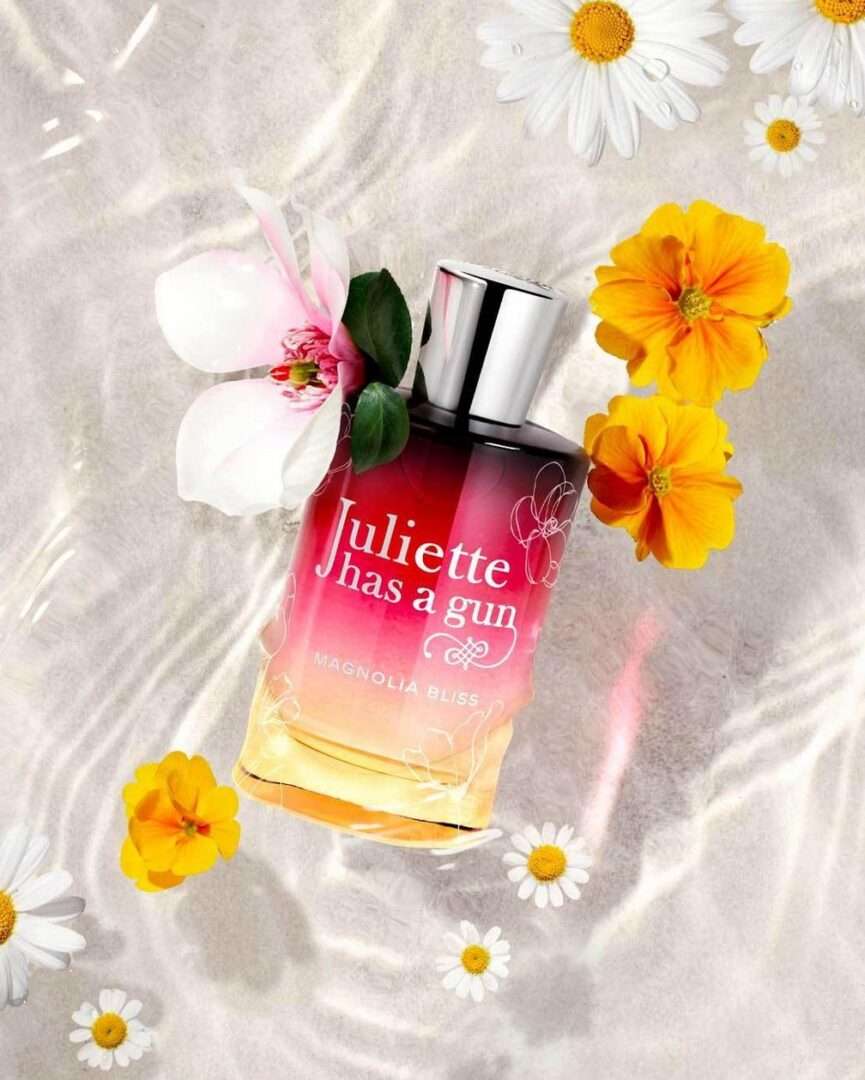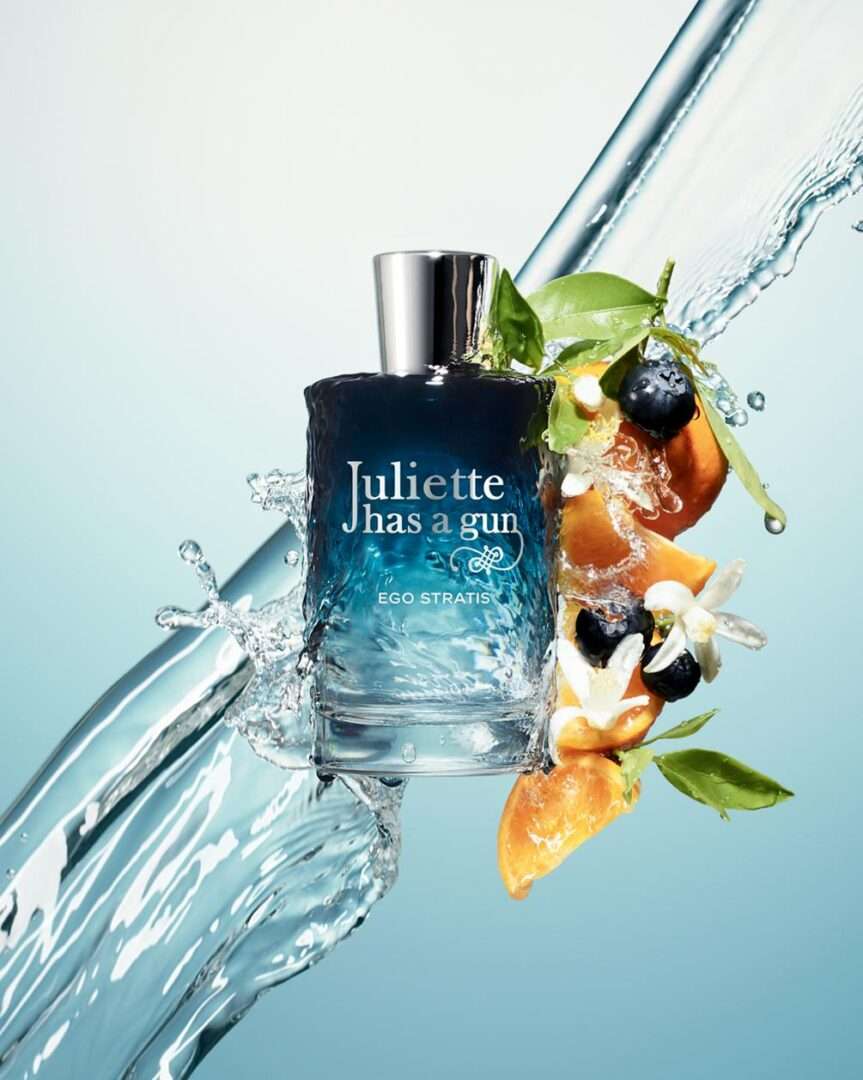 Lust for Sun – Off to the sun!
Since three scents are quite a lot for a single post, I would also like to start right away and get started with the fragrance tasting. I will start with the latest creation, Lust for Sun, which was launched in April 2023. This one is – the name says it all – "an ode to the joys of summer." Romano Ricci placed his Juliette by a swimming pool in this fragrance.
Alongside the self-confident, armed and giving the brand its name Julia, he puts the fragrance notes freesia, coconut, bergamot, ylang-ylang, jasmine, orange blossom, gardenia, vanilla, ambroxan and white musk.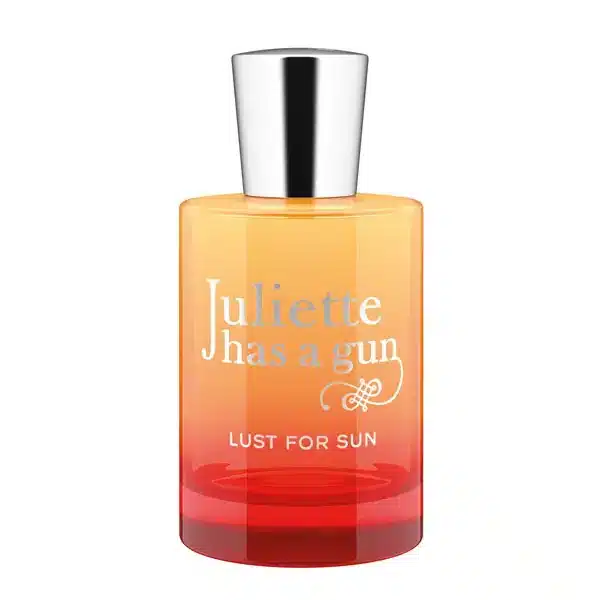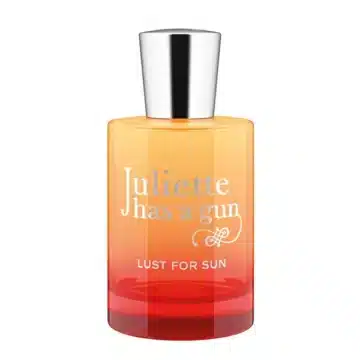 Light, airy and with wonderfully creamy-floral nuances, Lust for Sun opens the fragrance. At the same time, the creation definitely proves presence and expressiveness. The flowers combine with the tropical notes of coconut, an exotic touch underlined by the floral bouquet. Cotton soft ambroxan and powdery musk provide comforting little clouds in the fragrance sky, which are so fluffy and lovely that you would like to fall into them. A summery and relaxed tropical floral eau de parfum, with good presence and durability that can be worn on any occasion.
Magnolia Bliss – Olfactory Flower Child
With Magnolia Bliss we travel back in time to the California of the 1970s, which Romano Ricci olfactorically translates with the ingredients bergamot, magnolia, mirabelle, ambroxan and musk. The footage of the fragrance, among others, shows a group of flower children on the beach, filming each other with a camera.
The scene is set in the 70s, in California, with flower wreaths, pastel tones, Super 8 videos and soundtracks from the seventies. Colors of freedom, tolerance, integration … Magnolia Bliss is flower power embodied in a fragrance.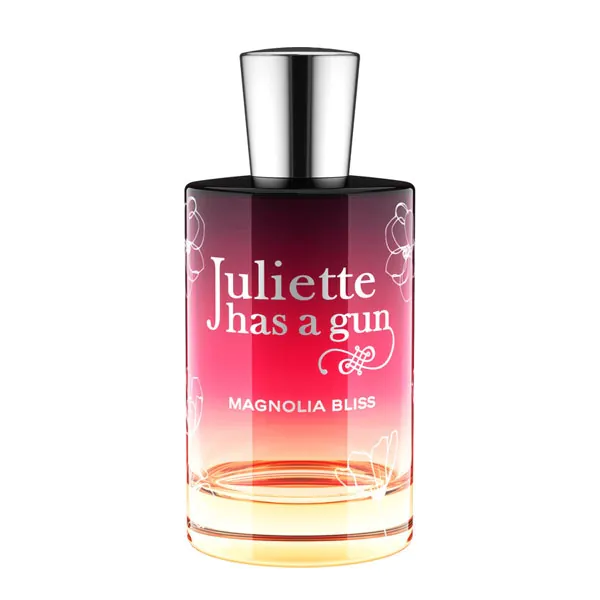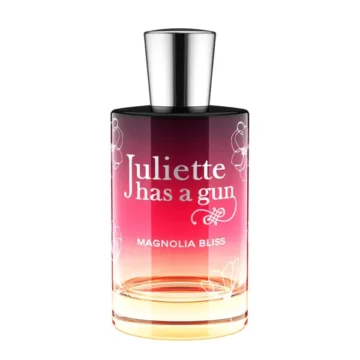 The opening of Magnolia Bliss is sweet and citrusy. Bergamot provides delicate freshness, which is soon washed by the lovely powdery notes of aquatic floral magnolia, molecule-soft ambroxan and crystalline musk. Mirabelle plum also gradually appears in the fragrance. Its sunny yellow and also very sweet fruit accents provide a certain lightness in the creation, which blends wonderfully into the composition and gives the fragrance additional summer nuances. A transparent and floral-fruity eau de parfum with a rather lighter presence that can be worn at any time during the warmer season.
Ego Stratis – Juliette Has A Gun
"I am not one and simple but complex and many" is the catchphrase to Ego Stratis by Juliette Has A Gun. It should be a fragrance that combines the most diverse facets and contrasts. In addition, the press text informs us that the creation is "a modern interpretation of a cologne". So Ego Stratis should be a citrus-fresh and rather light fragrance.
The fragrance notes of bergamot, mandarin, lemon, neroli, maritime notes, blueberry, cedarwood, ambroxan and musk are the ingredients of our last candidate this day. I am especially happy about the blueberry and am curious to see how it is reflected in the eau de parfum.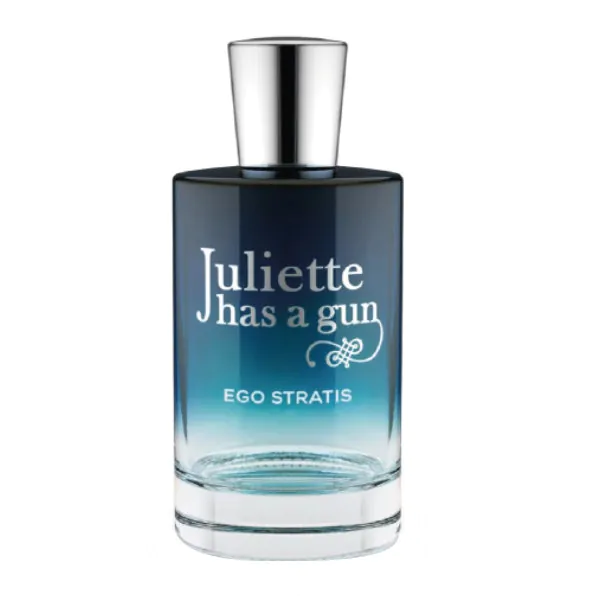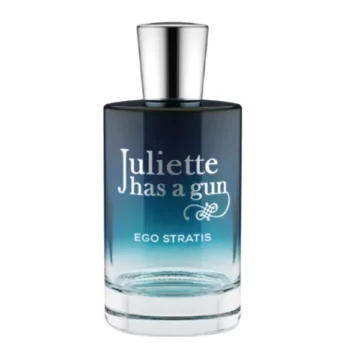 A fresh and tart hint of hesperides opens Ego Stratis, very light, transparent and maritime from the start. The scent reminds me of a cool breeze, but very delicate and rather subtle. The clean coniferous nuances of the cedar provide clean and crisp accents, and the ambroxan with its synthetic-tinged, cotton-soft powder notes is also clearly noticeable. But where is the blueberry? For me, it is not sniffable as a separate fragrance. A refreshing and citrusy maritime fragrance with a light to medium presence, perfect for warmer spring and summer days.