Last time I announced it, the two new launches Citrus Junos – Yuzu and Zanthoxylum Piperitum – Sichuan Pepper by Carrière Frères I would like to present to you today. I have both room scents in the form of scented candles here, they are also available as diffusers at Aus Liebe zum Duft. In addition, as it fits the theme, I would like to present you the room spray Citrus Dulcis – Orange Blossom, because I am also allowed to raffle something for this article. Many thanks to the distributor Valin, who kindly provided us with the prizes. 💕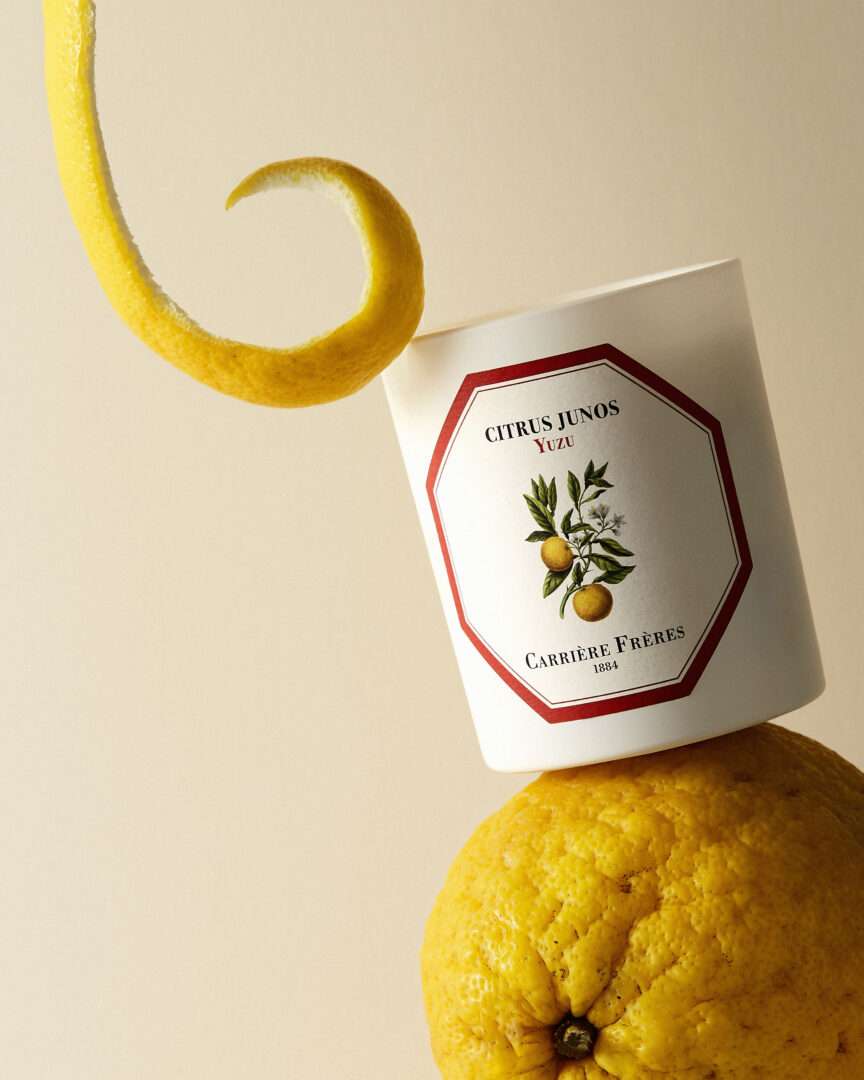 Perhaps you have already read my previous articles on the French room fragrance brand with centuries of history. If not, I'll be happy to link you to all my posts on Carrière Frères, which have enriched the Aus Liebe zum Duft range since last year and are certainly not only causing me to go into raptures:
Citrus Junos – Yuzu
Citrus Junos – Yuzu is dedicated to the Asian citrus fruit of the same name, also known as the lemon of Japan, although it is believed to be more native to China. For centuries, the yuzu fruit has been known and loved in Asia. In Japan and Korea it is enjoyed as a culinary delicacy, for example in the form of vinegars, sauces, syrups, jams, tea or as a dessert, or in the form of zests as an Asian alternative to the lemons popular in Europe.
Yuzu is also used as an ingredient in a hot bath in honor of the winter solstice. In our latitudes or the western hemisphere, the visually somewhat bulky yuzu has been used more and more in haute cuisine since around the turn of the millennium.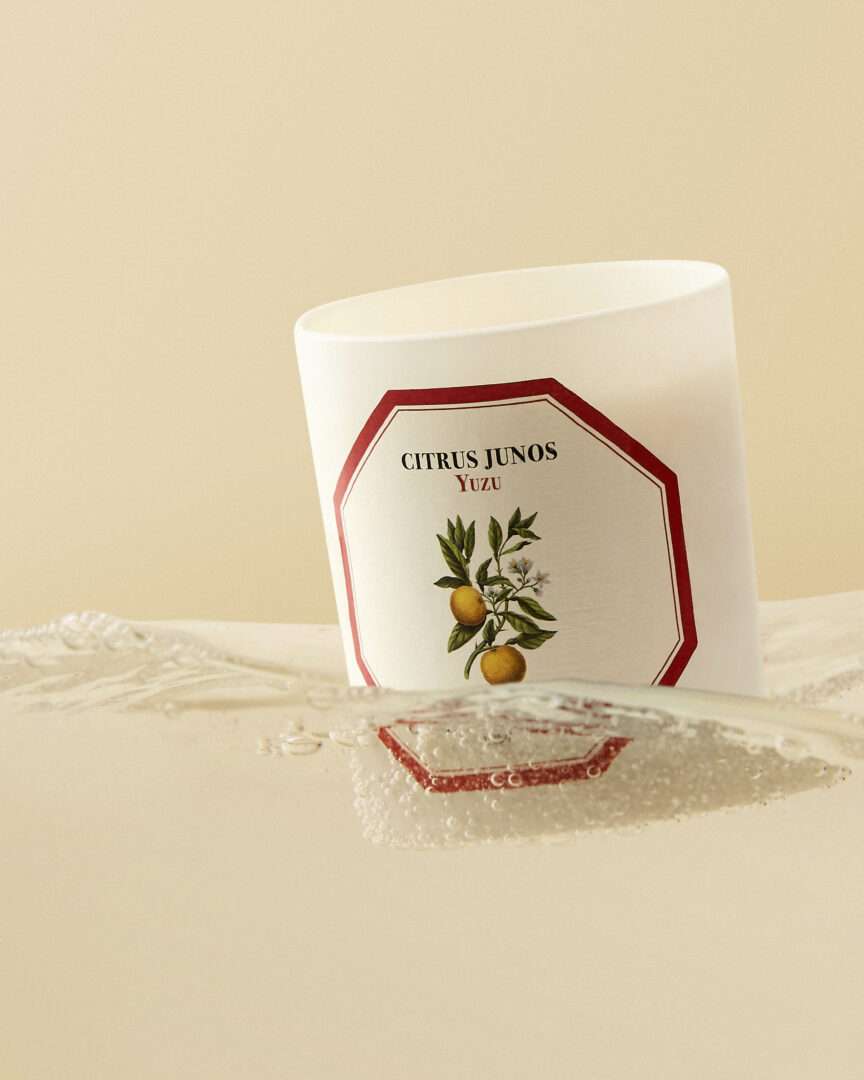 The scented candle Citrus Junos – Yuzu by Carrière Frères enchants already in unlit state with a well perceivable, gentle and yet tangy-fruity citrus scent that appears sweet, tart and powdery. I also detect greenish naunces. When ignited, the citrus notes are softer and smoother, making for an incredibly pleasant and summery room fragrance that – as usual with the French luxury brand's products – always stays in the background and never becomes too present. The fragrance is extremely harmonious, finely balanced and appears very natural. The high quality of the room fragrances of Carrière Frères shows itself here once again, not only visually, but also olfactorily. An absolute dream! 🍋
Zanthoxylum Piperitum – Sichuan Pepper
Like the yuzu, the Szechuan pepper also comes from Asia, more precisely from China, even more precisely from the central region of Sichuan, which also gave the spice plant its name. Interestingly, Zanthoxylum Piperitum is unrelated to the true pepper (Piper nigrum) we know, which is available in green, white, and black colours. Rather, the Szechuan pepper has a distant relationship with the citrus fruits, which once again closes the circle to the yuzu.
In terms of taste, Szechuan pepper provides citrusy, spicy and tingling aromas that are particularly popular in Asian cuisine and are quite different from the spicy pepper notes we are familiar with. As Julien Pruvost, Creative Director of Carrière Frères, told us at last week's Flower Workshop in Hamburg, both the Yuzu and Sichuan Pepper room fragrances actually contain the ingredients that give them their names, since essential oil can be extracted from both raw materials and the oil actually smells like the raw material.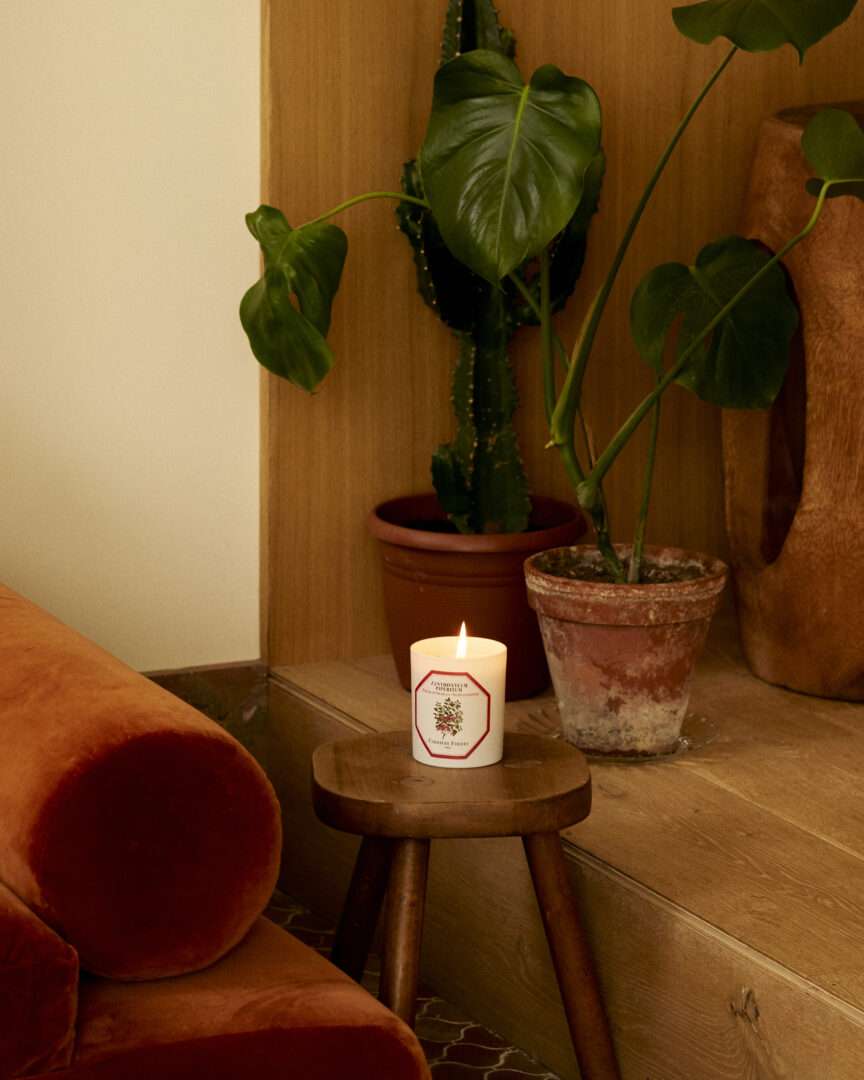 Zanthoxylum Piperitum – Sichuan Pepper already provides a pleasant, warm and spicy scent when unlit, reminding me of cinnamon and hesperides, which is well perceived and exceedingly round and coherent. As always, of course, I do the burn test and lo and behold – much in the style of the other Carriére Fres scented candles – the ignited Sichuan Pepper reveals a delicate and rather subtle spicy mood, darker and less citrusy than when unlit. Perfect for those who prefer a quiet, calm and relaxed room scenting, which provides a discreet and unobtrusive atmosphere characterized by the finest spices. A beautiful, meditative fragrance suitable for any season.
Citrus Dulcis – Orange Blossom
The room spray Citrus Dulcis – Orange Blossom is the third and last room fragrance that I would like to present to you today from the house of Carrière Frères. It is the only spray fragrance in the trio of candidates, so it is perfect for any space where a quick and effective scenting is desired, which cannot be achieved with a scented candle or diffuser. While the scented candle is more for a gentle and subtle olfactory atmosphere, which spreads slowly and leisurely in the room by lighting the candle, the diffuser is more something for continuous scenting of rooms over a period of several weeks. The room spray is suitable not only for quick scenting of rooms, but also drawers, cabinets, fabrics, blankets, curtains or carpets.
Orange blossom grows on the citrus plant or "Citrus Aurantium" from the genus Rutaceae. In the flowering season, the tree shows its white flowers to the world and exudes a lovely fragrance that symbolizes purity and beauty since ancient times. Intoxicating and mysterious at the same time, these flowers used to decorate the bouquets of young brides.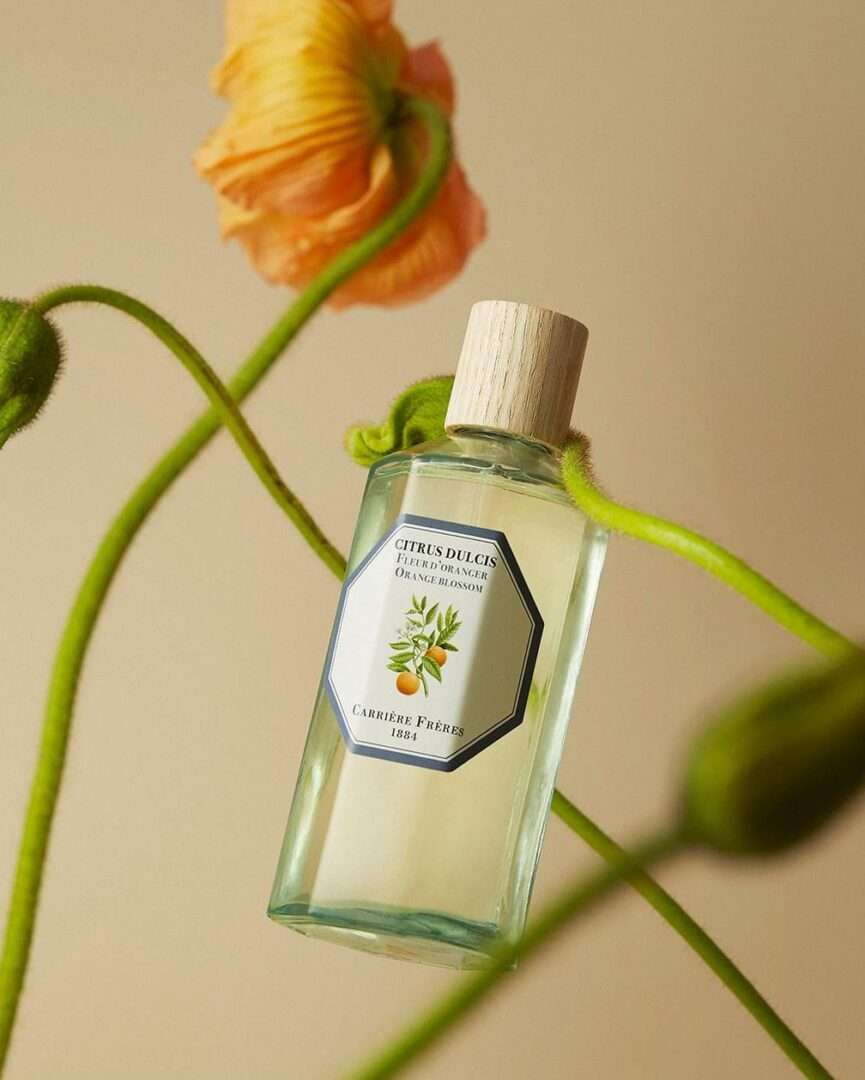 Of course, the scent intensity of the room spray is higher than that of a scented candle or diffuser. Therefore, it is not surprising that Citrus Dulcis – Orange Blossom immediately after spraying is initially very present, then gradually weakens and finally remains as a fine whiff. I did my test scenting on the curtains in my office, which instantly resulted in a beautiful, summery and creamy-powdery orange blossom scent in the room that was fresh, cheerful, greenish-citrusy and wonderfully invigorating. If you are looking for a good mood to spray on, if you prefer a natural and authentic scenting of premises and if you love orange blossoms, I definitely recommend the room spray Citrus Dulcis – Orange Blossom. 🧡
Giveaway
We are giving away the following treasure from Carrière Fréres, for which we would like to express our sincere thanks to the distributor Valin:
How do you get into the lottery pot? Very simple! Leave us a comment below this article until Sunday, June 11, 2023 and tell us whether you belong to Team Yuzu or Team Orange Blossom. On Monday, 12.06.2023, the lucky winners will be informed by us via email.
You can find the conditions of participation here.
We wish you good luck 🙂