April, April, he does what he wants … is so well said in the German vernacular and also on Atelier Oblique, this spring month riddled with weather caprices seems to have a very special meaning, a unique charm, because just to that the brand dedicated its own fragrance with April Skies. We'll find out exactly what this is all about in a moment. 🙂
The Berlin niche fragrance label is regularly represented with its creations here in the Duft-Tagebuch. For all you new readers, I'd like to highlight the two-part interview I had the pleasure of conducting last summer with Mario Lombardo, founder of Atelier Oblique (read it here and here – only in German).
April watercolor sky
So with April Skies, we now have a fragrance dedicated to April. A month characterized by its meteorological capriciousness, in which sun, snow, clouds, rain and sleet showers often alternate almost by the minute. But it is also a month in which the sun can gain strength, in which nature regains its irrepressible fortitude, which lay dormant over the winter.
In which the plants penetrate through moist soil, seeds germinate and first flowers bloom. The awakening nature has slipped the shackles of winter. But not quite, because at night the frost still lurks the tender little plants, reminding them of their icy existence under the spell of winter. It is not for nothing that April is in German also called the month of change, while March and May were given quite more positive epithets, namely Spring Month and merry month of May. The richness of facets and the unpredictability of April are not only formative for nature, but also impressed Mario Lombardo:
I have often wondered in my life why the year does not begin in April? The month when winter convulsively wrestles with spring and the new bloom. All his weapons – rain, hail, snow – squandered and in his surrender, besides color, brings smiles to all faces. A tightrope act between thriller and impressionistic painting.
April Skies – Painted Scent Poetry
April Skies was created in collaboration with perfumers Catherine Selig and Serge de Oliveira. A fragrance composition that captures the changeability, the effervescent character of the month as well as its fragile, sensitive and tender sides.
Cold wind blows around delicate leaves. Rain surprisingly falls from a cloudless sky and nature romps around like a high-spirited child – wild, unruly and full of life. It smells of damp earth, fresh greenery and tart fruity blooming. Winter and spring wrestle with each other, are unpredictable and magical at the same time. In the sky, a fascinating pastel painting stands out on soaked paper. It's April.
With the fragrance notes of lemon, leafy green, carrot seed, pear, cedar, iris, incense, sandalwood, woods, amber and leather, Atelier Oblique olfactorically translates that moment that served as a source of inspiration. Surprised by the April rain, Mario Lombardo arrives at his office soaked. As his clothes slowly dry, he notices a special smell: a mixture of moisture, coolness, remnants of perfume and cream, blended into each other like watercolors.
What is the scent of an April sky?
Delicate fragrance, bright and green. Like pressed leaves, which a touch of citrus freshness. Carrot seeds conjure a sweet powderiness in April Skies, backed by fruity pear nuances. Lucid and radiant, the Eau de Parfum by Atelier Oblique shows itself flooded with light.
The iris brings subtle earthy facets to the fragrance that are exceedingly creamy and soft. Clean and light cedar wood underlines with its dry notes that coolness, that freshness and the tart green of the opening, brings additional transparency and lightness to the fragrance, but at the same time gives it a certain grounding.
Gradually, I notice gentle flecks of incense that pass by on the horizon like thick but discreet cotton clouds. Getting a bit warmer in the end, April Skies finally fades away as if carried away by a breeze.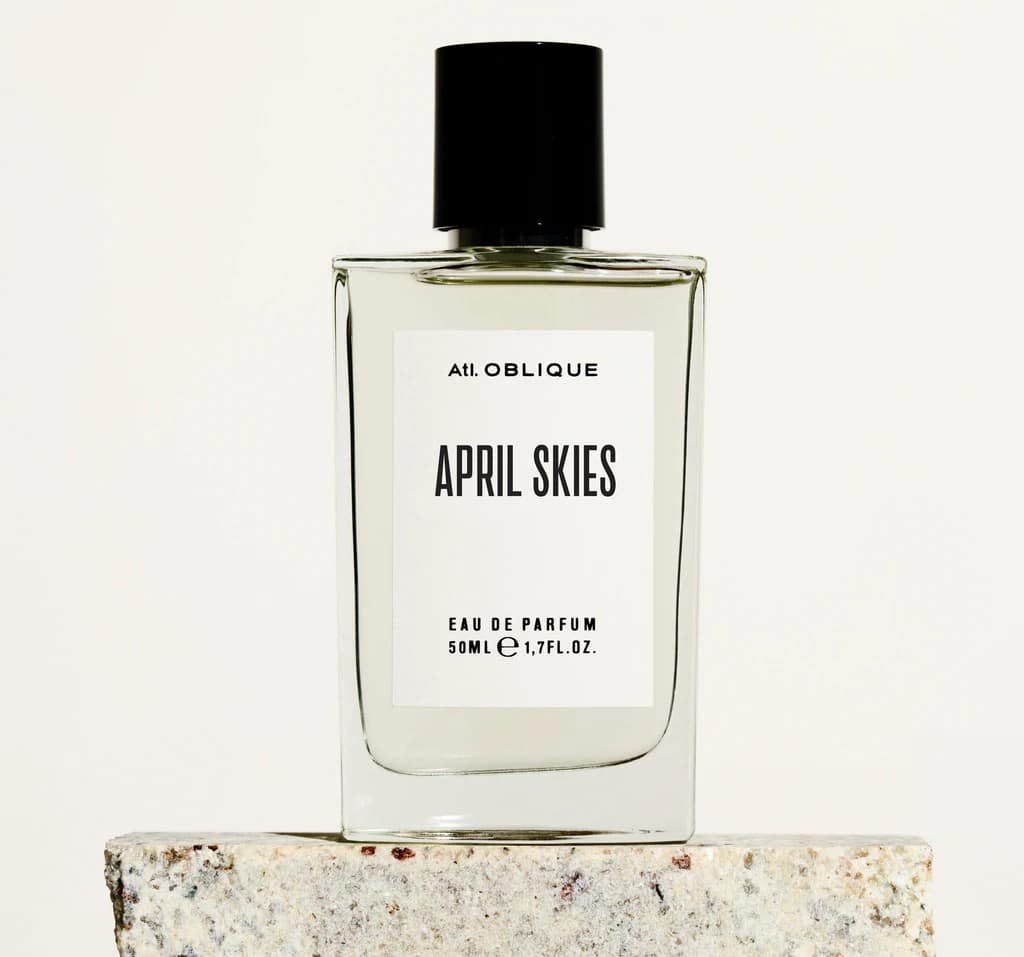 With April Skies, Atelier Oblique presents us with an airy, light and green-woody spring fragrance that does without the usual floral additions, but instead relies entirely on those very fresh, cool and greenish-tart facets of the changing month of April. Exceedingly modern, clear and clean, the eau de parfum appears and also reveals molecular traits. In terms of style, April Skies reminds me of many a wonderful and unique fragrance from Comme des Garçons.
It is a discreet and finely balanced creation that surrounds the wearer like a fragrant breath of freshness, restrained, yet easily perceived, unpretentious, minimalist and absolutely timeless. Ideal for those looking for a calm and quiet fragrance for the warmer season and who prefer greenish-tart compositions. I for one, am once again thrilled with this new creation by Atelier Oblique, which adds another exceptionally beautiful eau de parfum to the portfolio of the Berlin-based niche fragrance brand. Chapeau! 🙂