With Deep Dark Vanilla and Bistro Waters by D.S. & Durga, we are turning our attention today to a dark spice fragrance that I would personally classify as the colour black, and to a creation that takes us into the world of gastronomy. The New York label of self-taught perfumer David Seth Moltz and his wife Kavi creates fragrances that are fascinating, impressive, not always catchy, that often test boundaries and give the impression that the two of them really enjoy their work. Fitting perfectly into the niche, the duo is unconventional, cosmopolitan and innovative, presenting creations that play with unusual ingredients, have surprising facets and are far removed from the ordinary.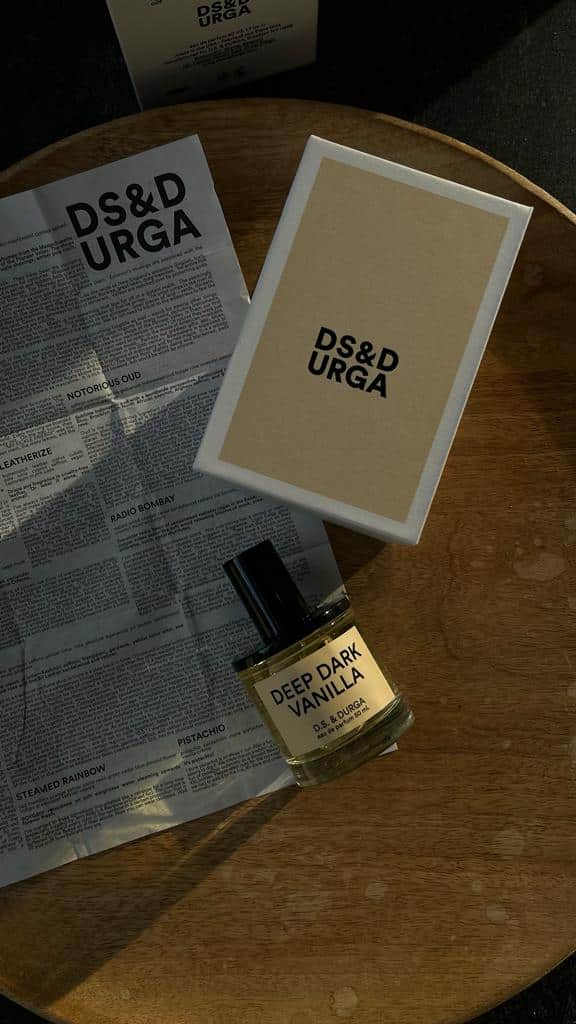 Maybe some of you have seen that I published an unboxing of the fragrance Deep Dark Vanilla on Instagram on the account of Aus Liebe zum Duft. I have included links in case anyone who has not yet seen the reel and is interested would like to watch it.
Deep Dark Vanilla – In the realm of dark vanilla
D.S. & Durga had already made me more than just curious with the name Deep Dark Vanilla. Because I love vanilla. However, I have to add a big BUT to this sentence, as I only really like the spice under very specific conditions. For me, a vanilla fragrance should contain as little sweetness as possible, and then it should also be as natural as possible. This squeaky, synthetic vanilla aroma is not for me at all.
We have a spice store here in the village, which I regard as really amazing for such a tiny village as Kalkhorst, run by a lovely Sri Lankan woman who stocks exceptional and selected spices and teas. These include not only excellent cinnamon, which has a unique and delicious aroma, but also vanilla, of course. When you sniff it – I have a tin of ground vanilla here with me – you smell completely different notes than you would from the brightly coloured synthetic vanilla world. Dark, a little earthy, smoky and then vanilla.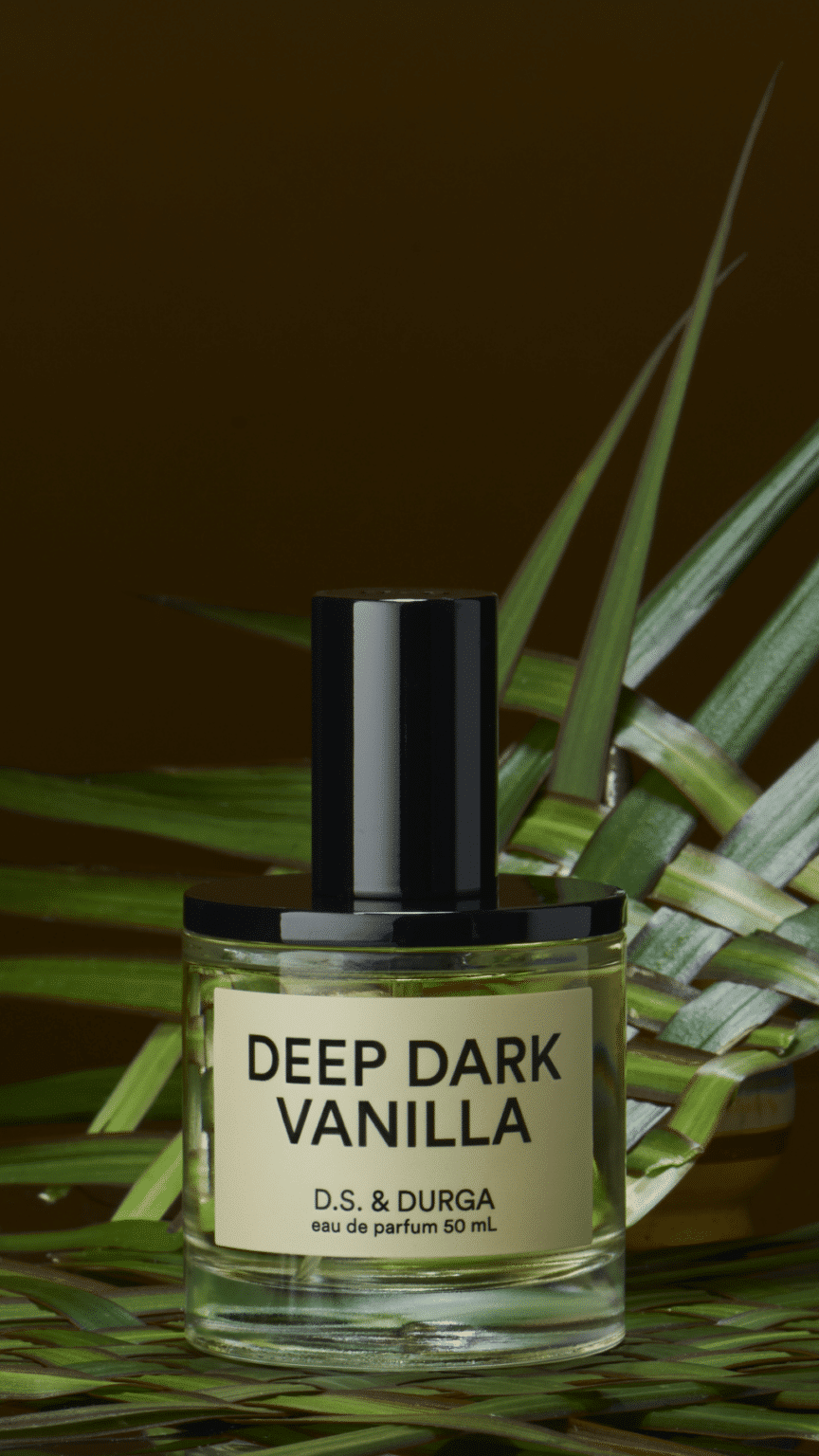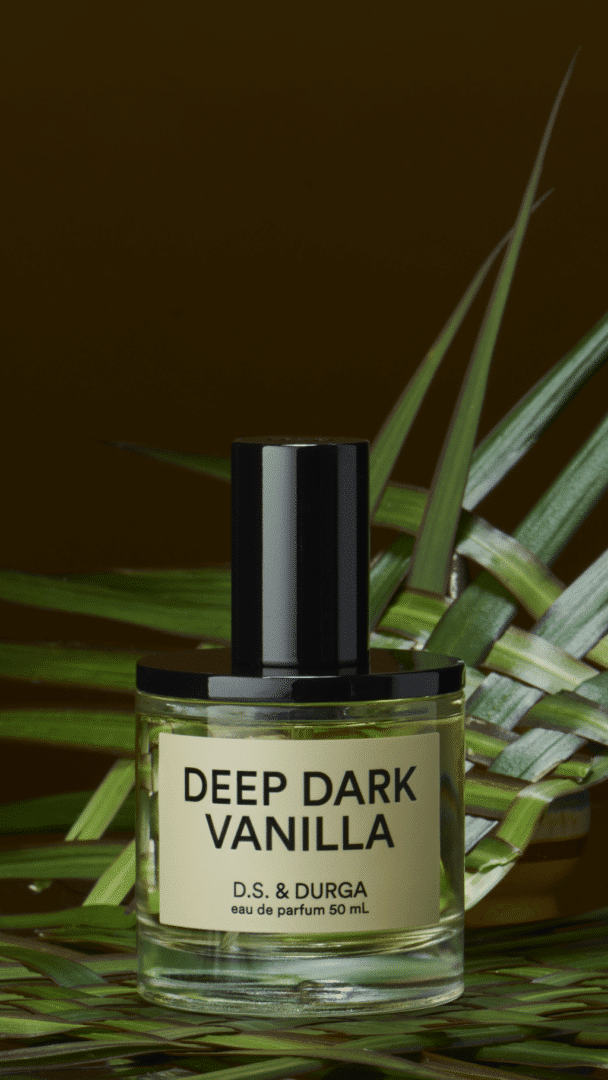 The press release for Deep Dark Vanilla mentions "rich and smoky vanilla absolute", which certainly makes me sit up and take notice. The fragrances do the rest: cabreuva, orchid, pink pepper, wine, vanilla, cypress, patchouli and hay.
Be deep. Be dark. Be Vanilla.
Deep Dark Vanilla starts – the name represents a certain prophecy – dark, profound and also earthy. Soft smoky nuances meet an undefined subtle sweetness that shimmers delicately in the background, while the pepper lends the fragrance freshness, coolness and a certain tingle. I associate the wine with facets reminiscent of barrique notes, which lend exciting and original moments to the earthy woodiness of the creation.
The vanilla in Deep Dark Vanilla is a soft, smoky, mysterious and dark spice that reminds me perfectly of real bourbon vanilla, which is so far removed from the sugar-sweet artificial vanilla we know from so many products. Herbaceous, woody, coniferous-fresh thanks to cypress, underpinned by earthy patchouli and the subtly ambered woody nuances of Cabreuva, the eau de parfum finally fades away.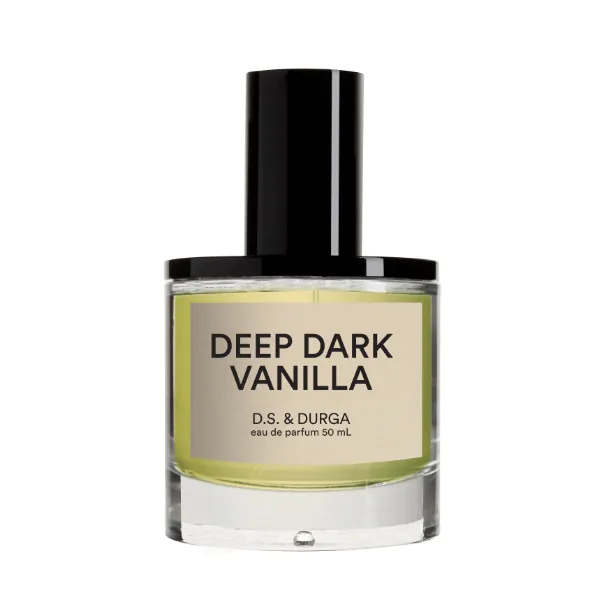 Deep Dank Vanilla is a vanilla fragrance for all those who are looking for the dark, the profound, the original in vanilla. Here you will find what you are looking for. D.S. & Durga enchants me with this special, idiosyncratic and so different creation, which brings out the exciting sides of vanilla and has the perfect counterpart in patchouli. If you are looking for sweetness and classic vanilla notes, Deep Dark Vanilla is definitely the wrong choice. Striking, complex and edgy, becoming softer and somewhat more pleasing at the end, D.S. & Durga once again plays with unusual nuances and ingredients, creating an exciting and fascinating fragrance that is exactly on my wavelength. Beautiful! It's really great!
Bistro Waters – 1990s / New York
As a teenager, David Seth Moltz seems to have worked in the New York restaurant trade. In any case, the press release for Bistro Waters refers to this and also gives a good preview of what we can expect in the creation:
I grew up working in NYC restaurants. Working in gastronomy has a lasting impact on your view of the world. You are literally "the place to be" in the hustle and bustle of service (8:30 on a Friday evening). It's electrifying: shouted orders, laughter, often crappy music that your lame boss keeps making you listen to, crazy chefs in line, alcohol, first dates, opportunities, old friends. The world outside is cut off by the walls of the bistro. Inside, we escape or go further inside to experience the scene, the aroma and the food. This is a snapshot of a New York bistro from the 90s, when tourists ordered Peartini, vegetables were chic and people wore fresh aquatic scents.
The fragrance notes sound just as quirky as the above film about the eau de parfum looks: lime blossom, coriander seeds, pear, mandarin, paprika, sweet pea, basil, nutmeg, moss and aquatic notes set the mood for the color green and promise an unusual composition, as you would expect from D.S. & Durga.
Green, greener, Bistro Waters
Bistro Waters opens with sharp and striking green notes. Paprika and coriander seeds provide surprising, spicy, crunchy and tart nuances, which are underlined by the aromatic herbal facets of basil.
Bistro Waters is green, sparkling, refreshing – and refreshingly different. Aquatic notes provide salty accents that are subtly reminiscent of seaweed. In addition, this still clearly perceptible tartness of green peppers is really incredibly exciting and extraordinary. At most, I perceive the fruit in a subliminal function, which intensifies the effervescence and freshness of the composition.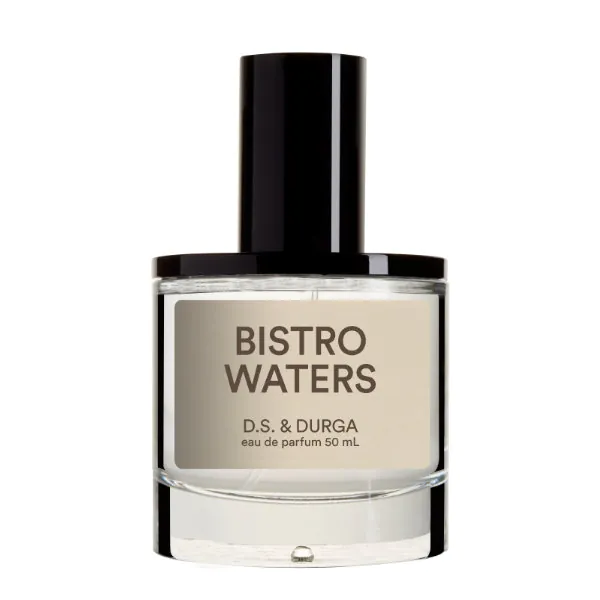 All fans of unconventional and edgy creations are already in good hands with the fragrance house D.S. & Durga. With Bistro Waters, all those who love the olfactory colour green will find a possible new favourite fragrance. Surprising notes come together, paprika, spices and marine nuances, all refined with a good dose of sparkling freshness. Despite the unconventional nature of the composition, Bistro Waters is a rather transparent and restrained fragrance that can be worn on any occasion in the warmer months of the year, including in the office and everyday life. 💚