Vanille Leather by bdk Parfums is an eau de parfum that I have been looking forward to for weeks. It's finally available in the store, and I've also received a sample of it in the meantime, so nothing stands in the way of a review of this fragrance. Finally!!! 🥳 Vanilla and leather, that just sounds super delicious and right up my street.
Actually, I could well imagine that Vanille Leather would also have been a candidate for my top 5 autumn fragrances, because in terms of name and theme, it sounds like a creation that could fit perfectly into the cooler season. We will see to what extent this is reflected and confirmed in the test.
The world of bdk Parfums
The eau de parfum Vanille Leather is part of the Collection Exclusive, a line of now four fragrances that was originally offered exclusively in the London luxury department stores' Harrods. In the meantime, the Collection Exclusive is also available in selected perfumeries and online stores – such as Aus Liebe zum Duft. In addition to French Bouquet, Tabac Rose and Ambre Safrano, this line now also includes Vanille Leather.
Other bdk Parfums lines include La Collection Parisienne, Collection Matières and Collection Azur, which are "inspired by personalities, characters and emotions", by the beauty of the Mediterranean or pay homage to a particular raw material.
Vanilla Leather – Collection Exclusive
The renowned master perfumer Dominique Ropion was responsible for the creation of Vanille Leather and used the ingredients pink pepper, violet, tuberose, jasmine, orange blossom, bourbon vanilla, patchouli, oak, leather, iris and benzoin resin.
About the eau de parfum, the fragrance artist says: "My intention was to combine the precious vanilla pod with a bouquet of white flowers to slowly reveal its warm and sensual personality. The vanilla adorns itself with the sulphurous and slightly honeyed tones of tuberose, then drinks in the powerful sweetness of jasmine and finally merges with the round, voluptuous notes of orange blossom. To intensify the fragrance, I decided to work with the notes of oak wood and patchouli."
What do I expect from the creation? Well, of course I would love a nice leather note, refined with delicious vanilla. Perhaps a composition in the style of the wonderful Sugar Leather fragrance by Une Nuit Nomade, with different spices, of course, and possibly less sweet.
Suede iris meets white flowers
Immediately after spraying it on, I perceive strong floral nuances. First and foremost, tuberose, whose greenish, creaky, beguilingly opulent notes initially dominate the fragrance, accompanied by the creamy bubblegum accents of jasmine. The violet provides a solid and bright powderiness, while the pepper adds a subtle spiciness in the background.
In fact, Vanille Leather is relatively unsweet at this stage, rather powdery-creamy and white-flowery. I'm hoping for leather, for vanilla, but so far I can't smell much of either ingredient – at least on my skin. The test strip reveals darker, liqueur-like facets, while the tuberose is less pronounced here.
Gradually, the warm woody nuances of oak, patchouli and benzoin resin emerge, as well as a soft, lipsticky leather iris that gives the eau de parfum flowing, supple moments. Dark, delicately smoky spicy vanilla repeatedly flashes in the background and skillfully sets accents.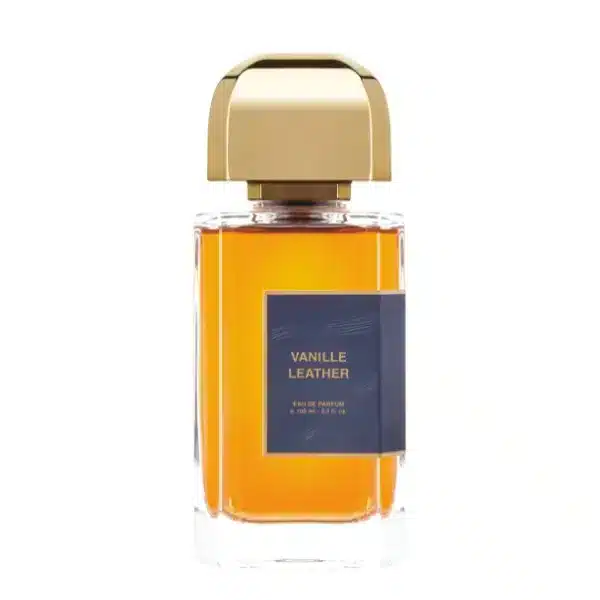 Vanille Leather by bdk Parfums is a classic-looking, warm, woody-powdery fragrance with a strong white-flower component, liqueur-like, vanilla-smoky and dipped in powdery-bright suede. An initially lush creation that later becomes more transparent and restrained, which in my opinion is actually more suitable for fall and winter. Thanks to the balanced composition, the fragrance – especially in the heart and base – is absolutely suitable for every day and office use. An eau de parfum that carries a hint of nostalgia, that is mature and elegant. I would classify presence and durability as medium. A preference for white flowers, especially tuberose, is recommended. If these requirements are met, then Vanille Leather should definitely be on your must-try list.