It's been a few weeks now since I got to interview Jean-Pierre Marois – the founder of the Les Bains Guerbois brand. The whole thing didn't take place by e-mail, as it is usually the case, but via video link, which was of course super exciting and thrilling for me. But the transcription of such an interview takes some time, which is why I finally deliver it to you today.
And since the video interview would go beyond the scope of a single post here, I'm going to make a multi-part article out of it right away. I honestly couldn't bring myself to cut it either. Because the story Jean-Pierre tells us is incredibly exciting, informative and in many places surprising.
Welcome to the Duft-Tagebuch: Jean-Pierre Marois! 🙂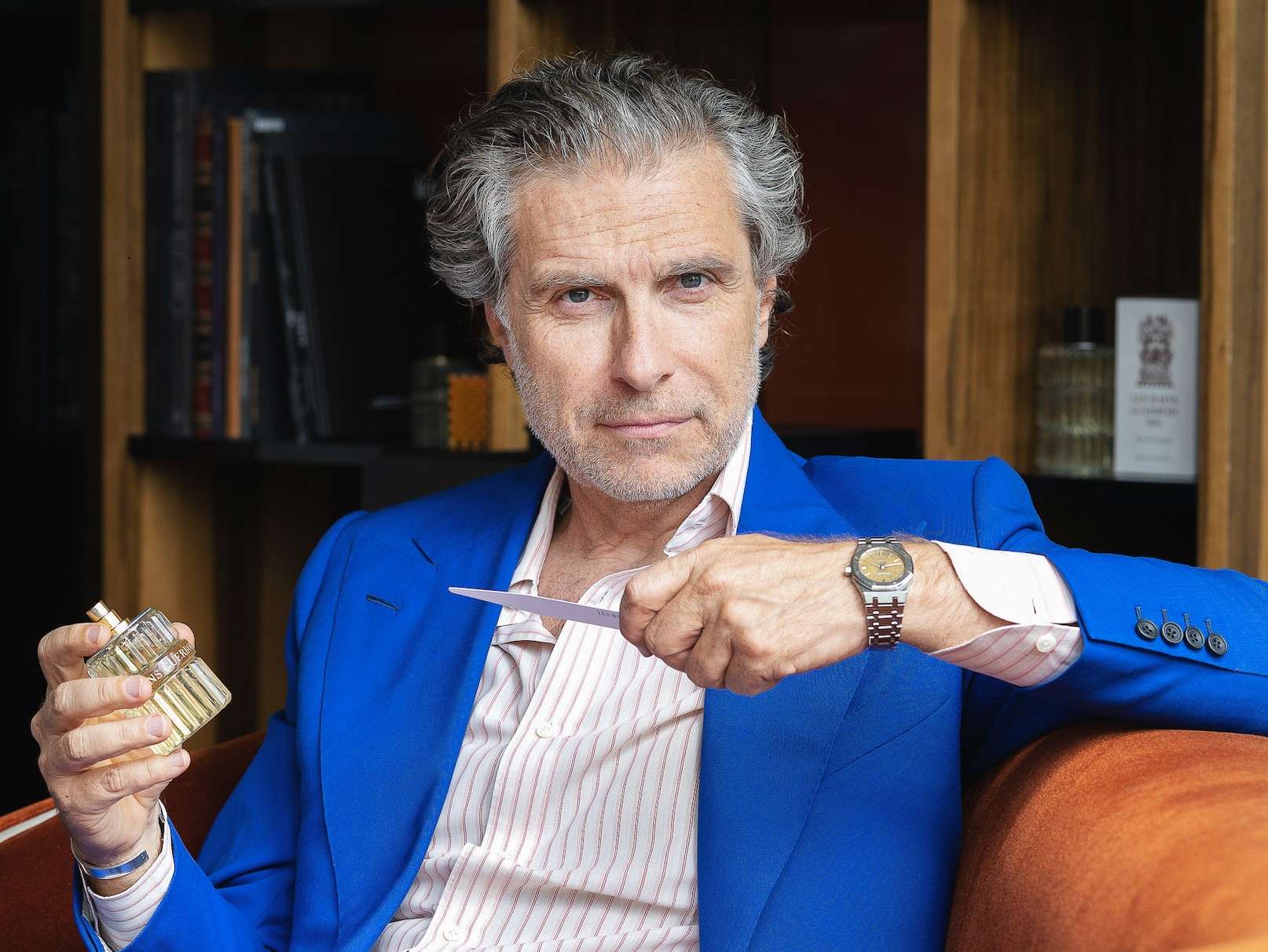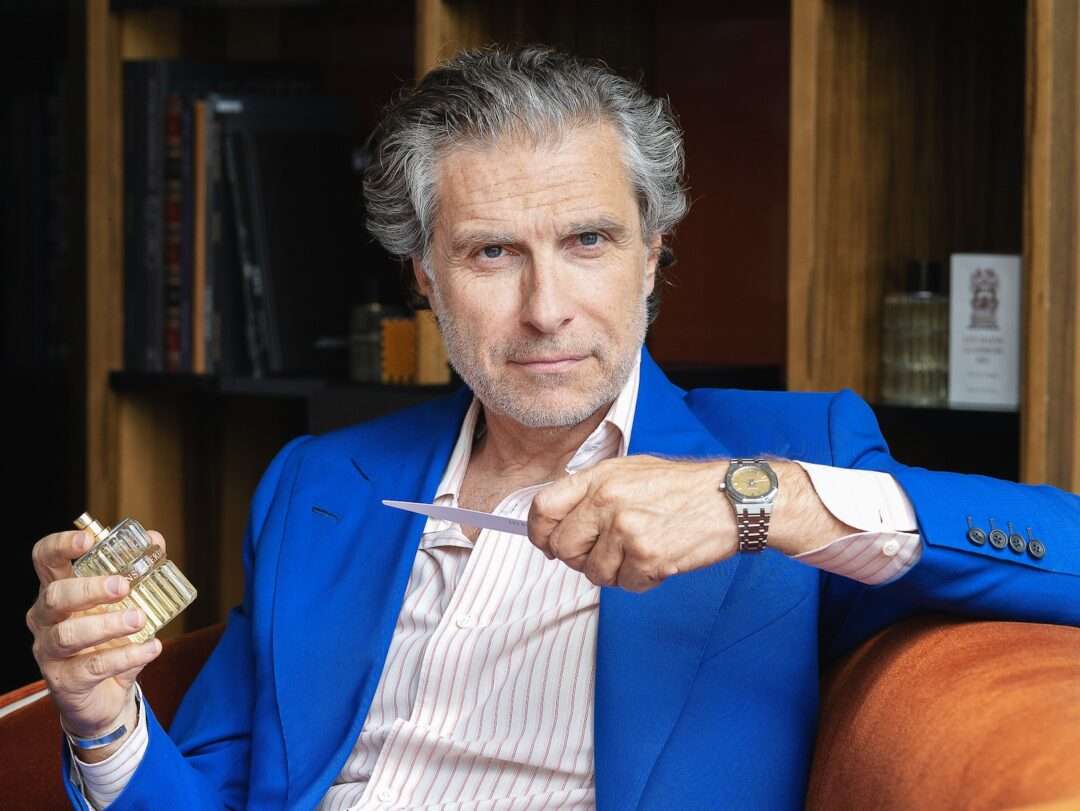 Dear Jean-Pierre, can you tell us a little about the history of the Les Bains Guerbois brand?
The history behind the brand Les Bains Guerbois is extremely powerful and long, because we are talking about a period of almost 140 years. The brand has had as many lives as a cat, different incarnations that make it really interesting and quite unique.

The origin lies in 1885, when the famous Parisian café owner August Guerbois decided to buy a piece of land in the center of Paris and build the most beautiful and luxurious spa in the city: Les Bains Guerbois. For this purpose, he commissioned a very prestigious architect, who constructed a magnificent building that was highly praised by the press such as Le Figaro and other newspapers of the time when it opened in 1885. It was written that it was the most modern and luxurious Spa in the city and would make all other baths look terrible in comparison.

August Guerbois's café was an artists' meeting place of the time. Monet, Proust, Renoir, Sisley, all these amazing geniuses of the time were there every day, which is very well documented. If you look in art history books, you can see that Impressionism was born in this café.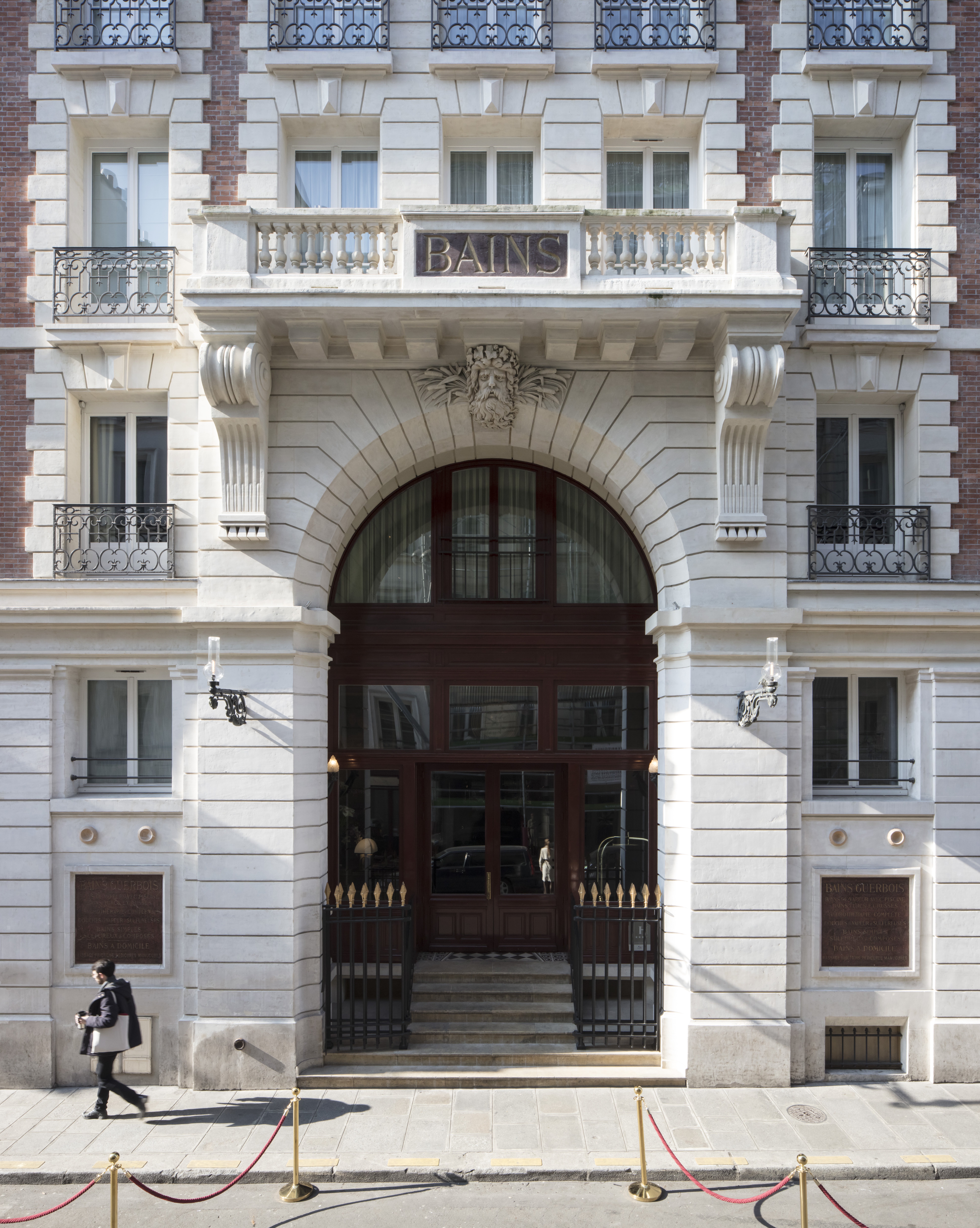 And that's how it all began? With a spa?
Yes, so that's the genesis. It started with a great spa, with a treatment room, a hammam, a massage room, many different types of pools, Japanese and Russian baths, sulfuric showers and baths. So the spa offer was very large. There was also a tea room, a restaurant and a hair salon, which was really groundbreaking at the time.

It is documented that all the famous artists and writers like Zola and Proust visited the bath, which is why there is a fragrance of Les Bains Guerbois called 1900 L'heure de Proust.
So the intellectuals and artists who were also already in and out of Café Guerbois … and what happened next?
Let's jump back in time to 1978: the spa had been closed for several years and the building was transformed into a nightclub – Les Bains Douches – with a restaurant and a smaller concert hall. And again, almost a hundred years after August Guerbois, it became a place where the greatest artists of the time met. Such as Jean-Michel Basquiat, Andy Warhol, Keith Haring, Robert de Niro, Jack Nicholson, Cathérine Deneuve, Yves Saint-Laurent … the list is huge and well documented by tons of photos of all these people in the club dancing and eating. Les Bains Douches was considered the Studio 54 of Paris and these two nightclubs changed the way people partied.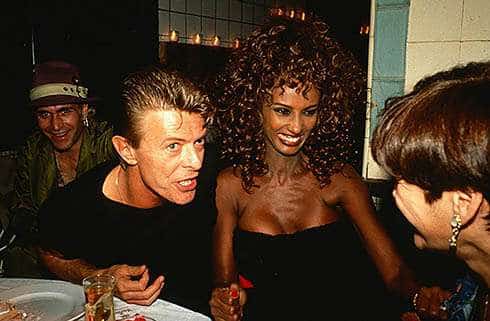 The interior was also legendary, wasn't it?
Yes, it was designed by a young and completely unknown designer named Philippe Starck, who had just graduated from school. The fascinating thing about this place is that it attracted not only the most famous people, but also participated in the careers of people who were unknown and later became world famous.
Like?
Philippe Starck, for example. And there was also a resident DJ there – at a time when DJs were not yet stars – who became the most famous DJ in the world, David Guetta. He started his career right there. I remember him personally. When I was in my twenties, we became friends. He was very shy and incredibly cool. And then he fell in love with one of the waitresses and they got married – Cathy Guetta. Later on, he started doing these mixes that really caught the attention, and now he's #1 on the Billboards and already one of the highest paid artists for many years. Back in the nightclub, he was there every day, drinking his Coke, playing music, and no one paid much attention to him. So it's really incredible that people like David Guetta, like Philippe Starck are involved in the story of Les Bains Guerbois.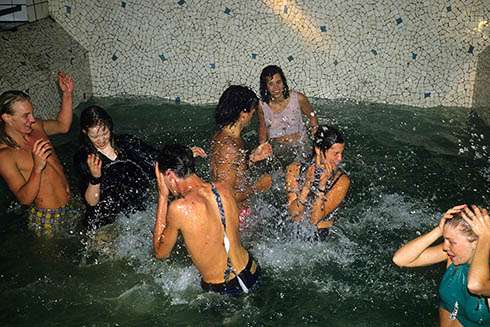 Music played a big role in Les Bains Douches …
Yes, there was a period between 1978 and 1984 when concerts were held there before it later became just a restaurant and nightclub. But in those years bands appeared that were completely unknown and a few years later filled whole stadiums. The artistic focus was so strong. A concert at Les Bains Douches was held in front of 300 people at most, and the unknown bands considered themselves lucky to be allowed to perform there, because it was a huge space for them. Bands like Simple Minds, Depeche Mode, Joy Division… that was also part of the legend of this place and shows how incredibly attractive it was. And that is exactly what we have tried to transfer into our fragrances.
What happened next?
Between 1978 and 2003, Les Bains Douches was the best club in Paris and one of the best in the world. After that, it went down and finally closed in 2009. Then I took over the establishment in 2015 and turned it into a 5-star hotel by completely remodeling everything. We have now created there a fantastic restaurant with outdoor seating, a cocktail bar that is very famous in the city, and 40 rooms and suites designed by great interior designers. We have won numerous design awards of all kinds. So this is the last page of an almost 140-year history of Les Bains Guerbois.
How did you then come up with the idea of launching fragrances?
For me, the best way to tell this incredible story was to capture it in a bottle. When I decided to develop the fragrances, we focused on the three most important years in the history of the house, which we first launched as eaux de parfum: 1885 Bains Sulfureux, which marks the birth of Les Bains Guerbois.

At that time sulfur baths were very popular in spas, don't ask me why. In French, too, sulfureux has a meaning all its own, namely that something is very sexy, almost shady, quite sexual. The place has always been very sexy. It is said that Marcel Proust – one of the greatest geniuses of French literature of all time-, who was gay, liked to stay at Les Bains Guerbois because of the steam baths, where he enjoyed meeting new people. If you know what I mean. 😉
Yes, I think I know what you mean. 🙂
So the facility was a place of debauchery even before 1978. For both the nightclub Les Bains Douches and its New York counterpart Studio 54 had a reputation for being somewhat dangerous, sexy, wild, full of sex, drugs and rock'n'roll. So we thought the name 1885 Bains Sulfureux would be very cool in that double sense, at least for anyone who speaks French.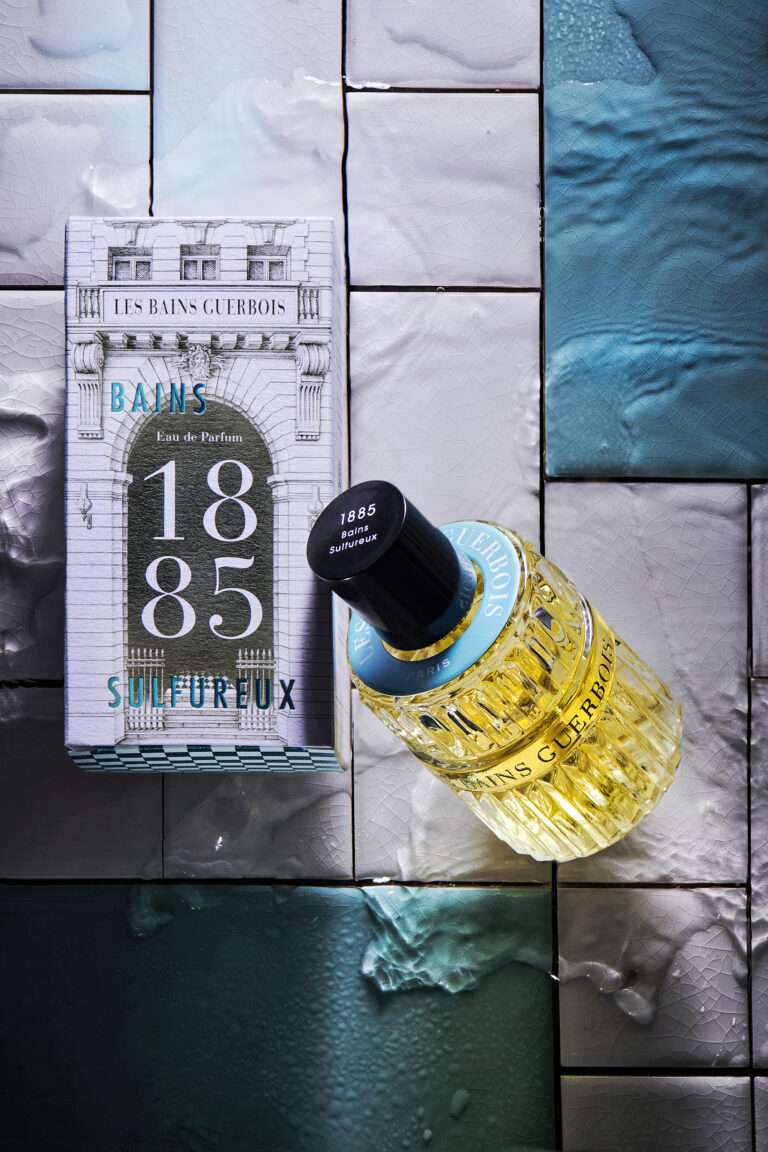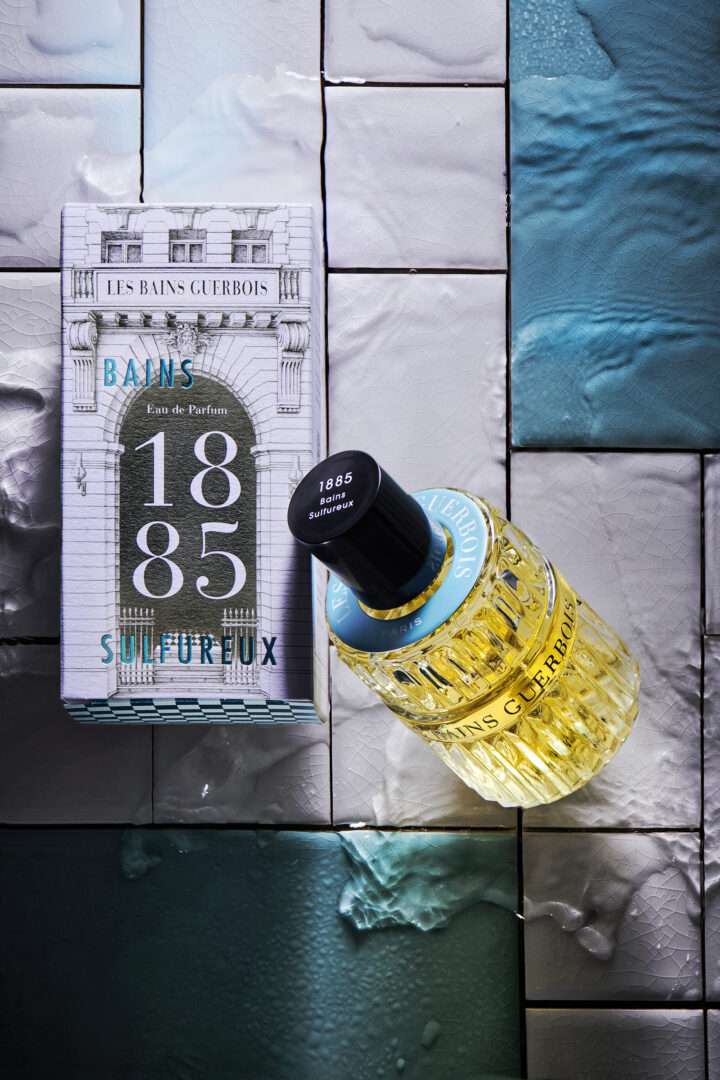 And what other fragrances did you launch, right at the beginning?
The second perfume we launched was 1978 Les Bains Douches and the third was 2015 Le Phénix. These are basically the three most important dates in the history of the place. Firstly, the construction and opening of the spa, secondly, the great transformation into one of the most famous nightclubs in the world and thirdly, the rebirth as a beautiful 5-star hotel with restaurants, bars and a nightclub.
To be continued …