Sunset Hour, the latest creation of the first and so far only Australian niche fragrance label Goldfield & Banks, takes us to the tropical climes of Northwest Australia, more precisely to the coastal town of Broome. Regular readers will surely remember that I already presented several fragrances of the brand last summer. Each fragrance is a tribute to Australia, a particular region of that country on the other side of the world, a typical Australian raw material. Dimitri Weber, the founder of the brand, expresses his affection and adoration for the continent to which he emigrated a few years ago for love.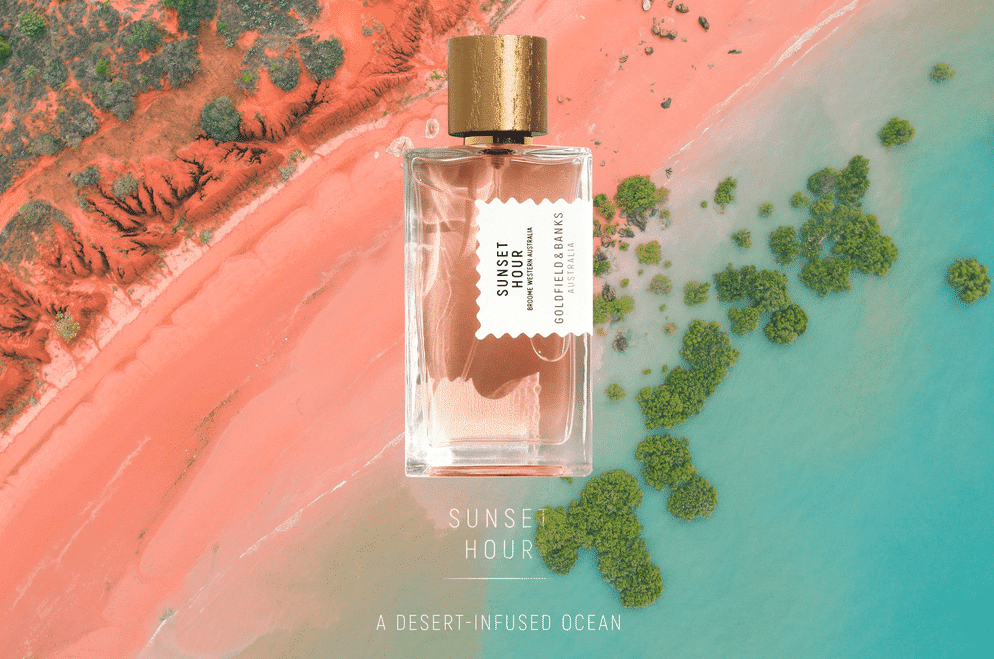 Goldfield & Banks – Native Collection
The Native Collection, which includes Sunset Hour, now contains nine fragrance compositions, each of which revolves around a special ingredient from Australia's lush plant world. Each raw material is also associated with a specific region in which it is cultivated or grows naturally.
So we have already visited eight regions on the Australian continent: Bohemian Lime also took us to the tropics, to Byron Bay, located on the East Coast. With Velvet Splendour we climbed the Flinders Range in the state of South Australia. Tasmania's Bruny Island and Fragrant Coral Rue are protagonists of Eau de Parfum Southern Bloom. The Central Highlands in Victoria are the olfactory setting for the creation Desert Rosewood, while Wood Infusion again piloted us to the eastern coast on Fraser Island. Our zigzag course through Australia then took us to the far north.
The tropical Northern Territory is home to a special species of cypress that was used in Blue Cypress. On the South Coast, in the state of New South Wales, grows a coastal moss that served as a raw material and source of inspiration for Pacific Rock Moss. And again we flew across the continent to the eastern tip of Western Australia. Here is the small village of Kunumurra, near which there are huge sandalwood plantations, to which the fragrance White Sandalwood pays homage.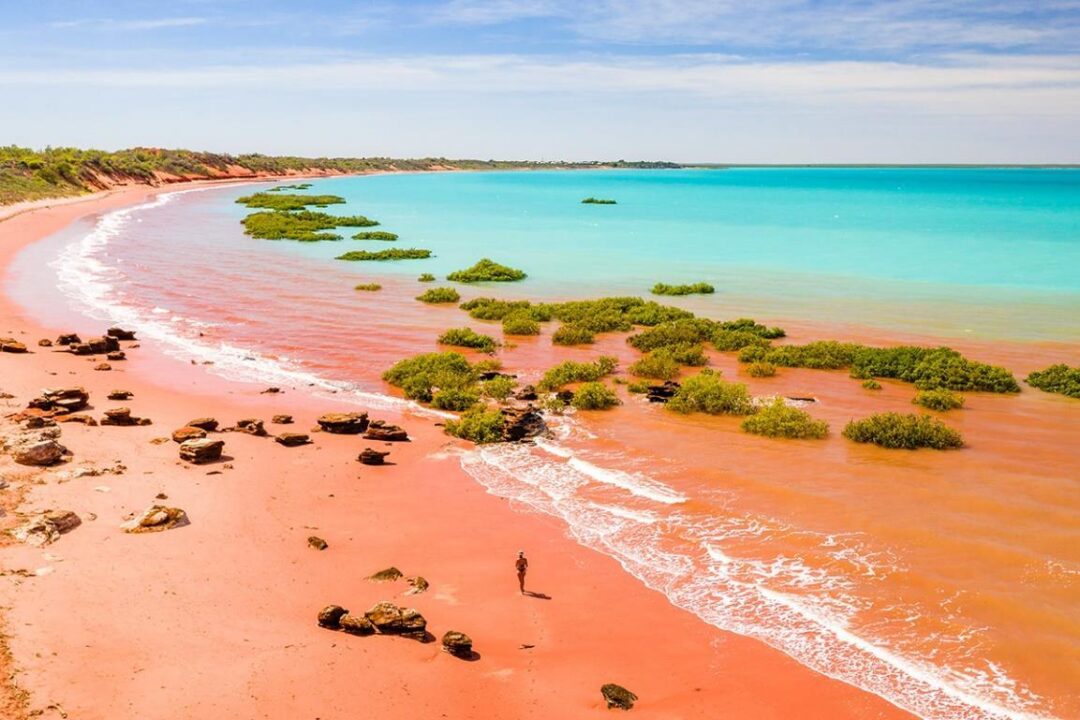 Sunset Hour – Dream Beaches in Western Australia
Of course, Sunset Hour also has a typically Australian fragrance: the quandong, or desert peach, is a specialty of the fifth continent. The shrubby growing Santalum acuminatum, which belongs to the sandalwoods, yields deep red fruits about 2 cm in size.
The flesh itself is only a few millimeters thick and encloses a nut-like core, which has a somewhat unusual appearance, reminiscent of brain. Both pulp and kernel have been used in Australia since time immemorial. The pulp is rich in vitamin C and tastes like a mixture of peaches, rhubarb and apricots. The core is exceedingly fatty.
The local source of inspiration, the coastal town of Broome, scores with all kinds of sights. Particularly noteworthy in connection with the creation Sunset Hour by Goldfield & Banks is the over twenty kilometers long extremely idyllic sandy beach Cable Beach, where camel tours are regularly conducted for and with tourists at sunset, as this is supposed to be of very special beauty.
Master perfumer Honorine Blanc was responsible for the development of Sunset Hour and chose for this special creation the ingredients Fruity notes, pear, mandarin, jasmine, ginger, pink pepper, mango, coconut, sandalwood, musk, benzoin resin, bourbon vanilla, caramel and cashmere wood. According to Goldfield & Banks, the Eau de Parfum is said to have top notes reminiscent of a sunrise, a tropical heart and a base that carries the mood of a sunset.
Sunset at Cable Beach
Sunset Hour by Goldfield & Banks reveals itself as a cheerful, mellow and life-affirming fragrance that begins with elusive velvety fruit notes that I would spontaneously attribute to quandong or desert peach. A hint of juicy ripe pear resonates, but also just that sweet facet that actually reminds me of a mixture of apricot and peach. Sunset Hour is very creamy from the start – in which the jasmine is probably significantly involved.
Coconut and mango bring further exotic accents into play. Lovely, milky and fruity, they blend into the already enchanting and exceedingly beguiling scent … where is this going? I am already blown away. Very subtly, I perceive a very slight pepper spiciness before the Eau de Parfum pours into a densely woven scent tapestry of cotton-soft, cozy-warm and powdery base notes.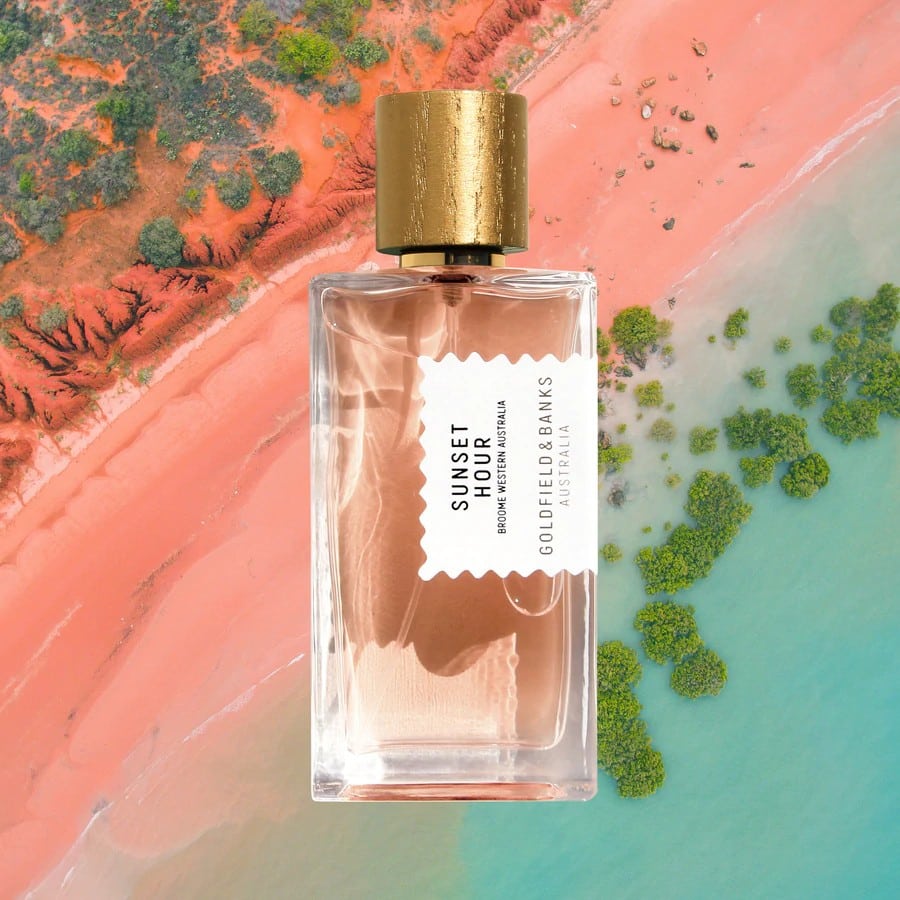 Sunset Hour is a beautiful summer sun fragrance, very soft, very creamy and exceedingly feminine. Fine powdery and bright like the white sand on Cable Beach, warm and comforting like the setting sun and also a delicate hint of salty sea breeze I think I perceive in the creation of Goldfield & Banks, without wanting to file the fragrance as somehow maritime or aquatic. The color scheme of the brand once again fits perfectly. This delicate, yet intense shade that I would classify somewhere between salmon and apricot. A fragrance as if made for the coming warmer season, suitable for every day and office and simply enchantingly beautiful! Friends of creamy floral fragrances with velvety fruit nuances should definitely put Sunset Hour on their to-try list! 🙂