Maison Crivelli has launched a new fragrance, Patchouli MagnetiK. This is news that pleases me immensely for several reasons. Because firstly, the three creations Hibiscus MahaJád, Lys Sølaberg and Osmanthe Kōdoshān have already more than enchanted me last fall (read here) and secondly, I had the great honor to interview Thibaud Crivelli – the founder of the niche fragrance brand. The Q&A follows on Thursday here in the Duft-Tagebuch, today we dedicate ourselves first to the latest creation, which seems to revolve entirely around patchouli.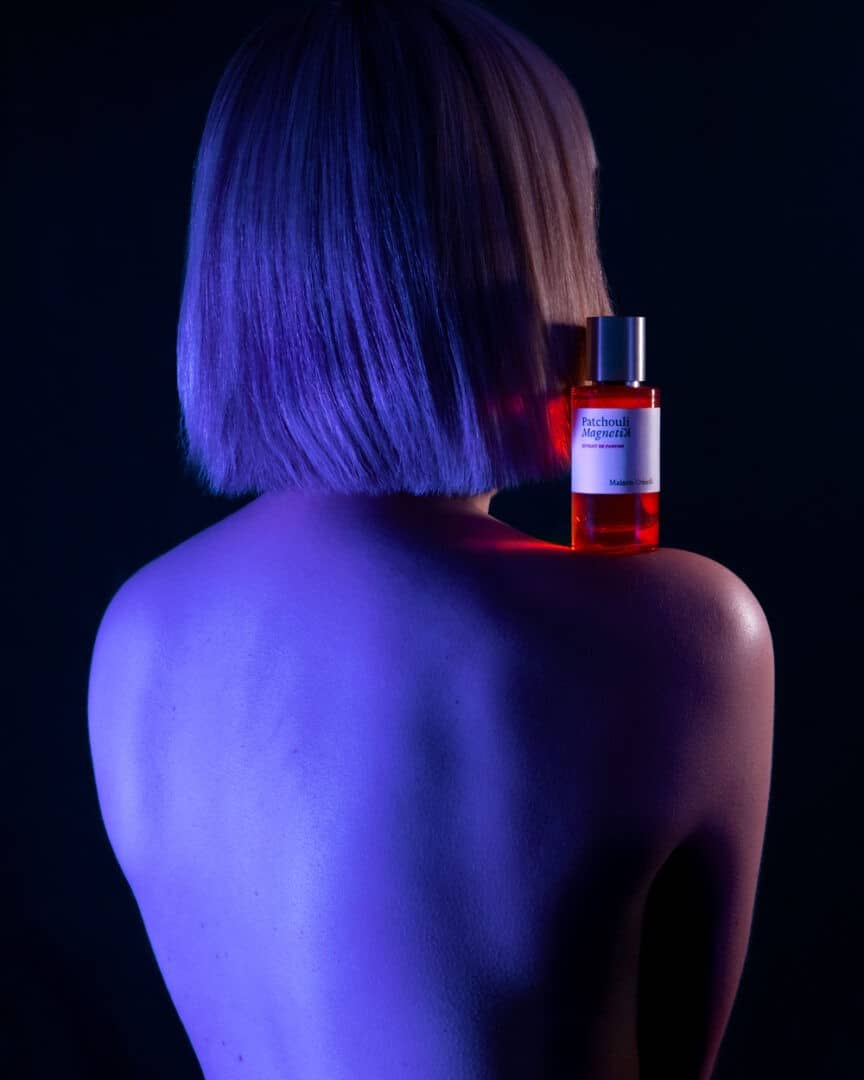 Patchouli Magnetic – in the eye of the storm
Thibaud Crivelli lived in Asia for ten years. Here he must have experienced one or the other thunderstorm and just such served him as inspiration for the fragrance Patchouli MagnetiK. On the motorcycle on Patchouli fields he was surprised by a storm. It must have been a fascinating and unique atmosphere that was imprinted in Thibaud's memory.
A charged and powerful mood. The sky suddenly darkened in the middle of the day. Twitching lightning in the firmament, bathing everything in milky bright light. A mighty storm rushes through the fields, carrying with it the unique scent of patchouli plants. A moment of silence before tremendous thunder resounds like a furious crescendo.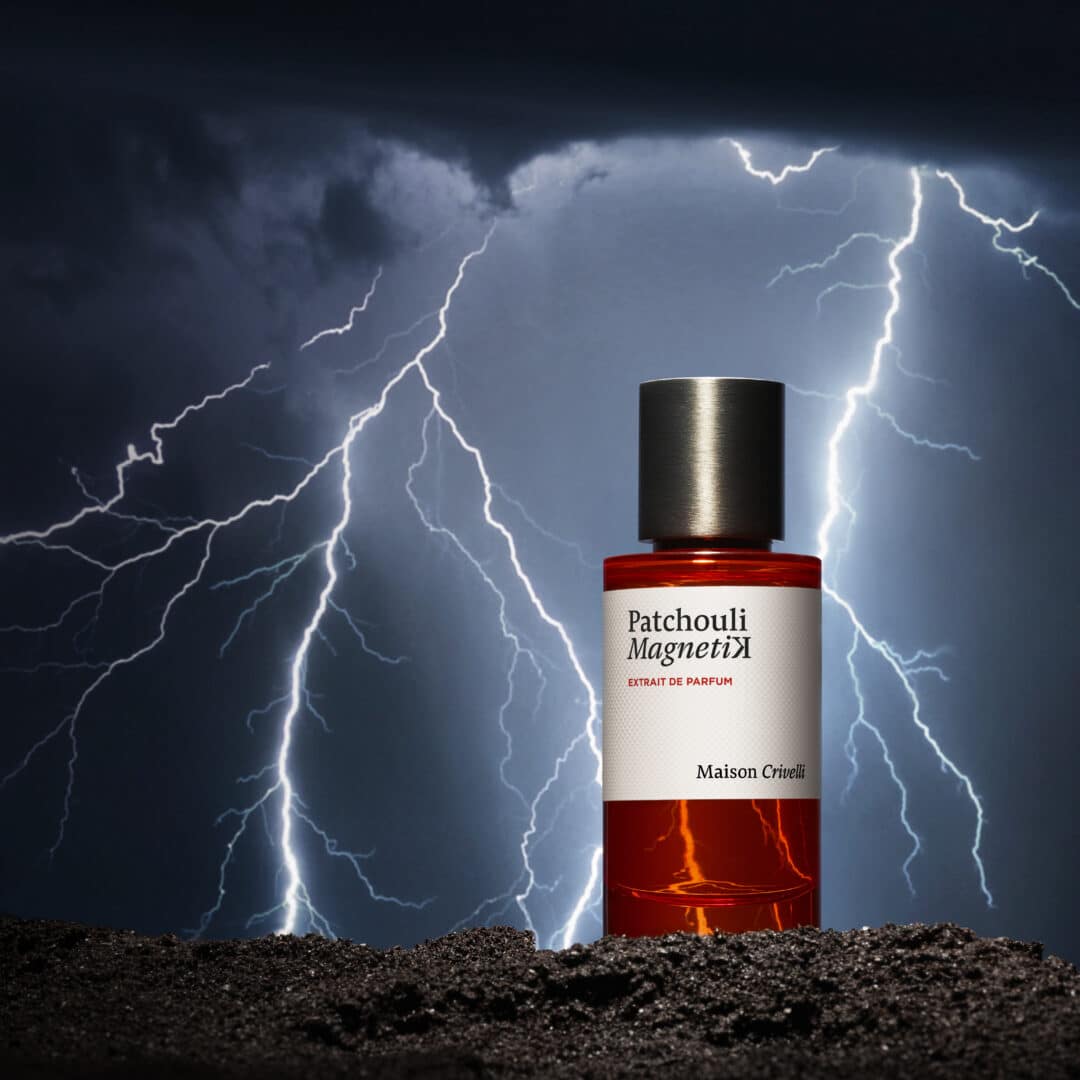 Patchouli MagnetiK was once again created in collaboration with Quentin Bisch, who already created Hibiscus MahaJád for Maison Crivelli. The young perfumer is respronsible for many other great fragrances: Delina, Delina Exclusif and Carlisle by Parfums de Marly, for example, Mandarina Corsica by L'Artisan Parfumeur, the fragrances of Marc-Antoine Barrois, to name just a few, which are also available at Aus Liebe zum Duft.
I retested Hibiscus MahaJád in advance of this review to get a feeling for the olfactory collaboration between Maison Crivelli and Quentin Bisch. This definitely did not diminish the excitement for Patchouli Magnetik, but rather increased it. Because the Extrait de Parfum Hibiscus MahaJád, inspired by a visit to an oriental bazaar, is a beautiful fruity-cool rose fragrance that exudes incredible calm, serenity and clarity.
Patchouli Magnetic – Patchouli 2.0
Quentin Bisch combines for Patchouli MagnetiK the ingredients peach, gardenia, vanilla, patchouli, sandalwood and benzoin resin. Incidentally, with a perfume oil concentration of a whopping 33%, the creation is considered an Extrait de Parfum, the second in the collection of Maison Crivelli – next to already repeatedly mentioned Hibiscus MahaJád. For the fragrance, Bisch used ingredients bearing the Orpur® label from Givaudan: the most precious and purest raw materials of the very highest quality. Both the patchouli used in Patchouli MagnetiK and the fragrance ingredients sandalwood and benzoin resin belong to this.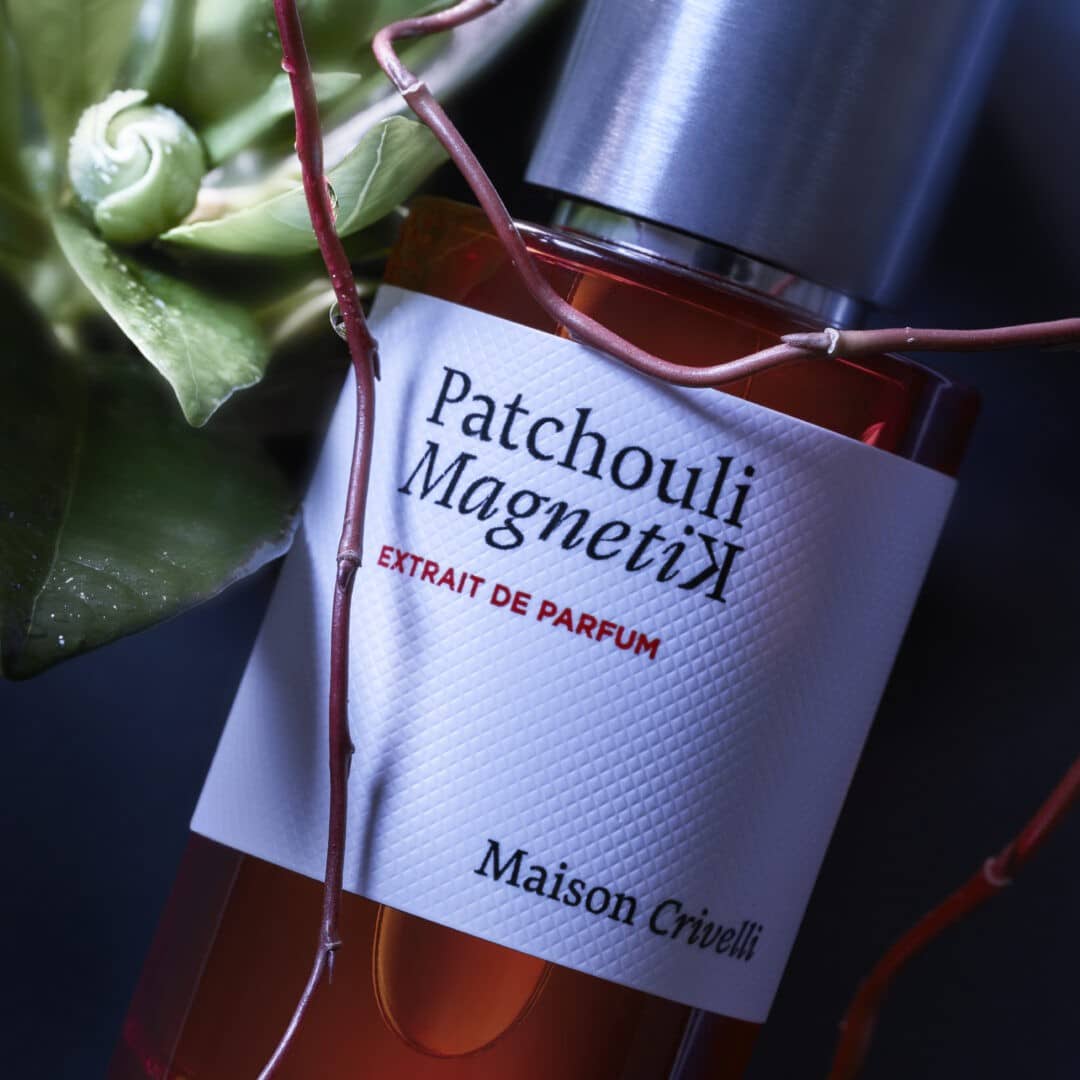 Tropical thunderstorm
Patchouli MagnetiK starts the fragrance surprisingly bright. Velvety fruity peach meets the beguiling floral luminescence of gardenia. Lush, lucid and seemingly shimmering, the fragrance seems elusive and yet very present.
Patchouli reveals bright, creamy and softly earthy nuances that combine with the chocolate notes of benzoin resin. An exciting and unexpected melange, skillfully underlined by the sweetish warmth of sandalwood. Vanilla gives the creation a fine-gourmand spiciness that blends extremely harmoniously into the fragrance picture.
Gradually Patchouli MagnetiK becomes lighter and softer. The floral notes take a back seat in favor of a creamy woody and suede base that is a bit darker with a subtle sweetness running through it.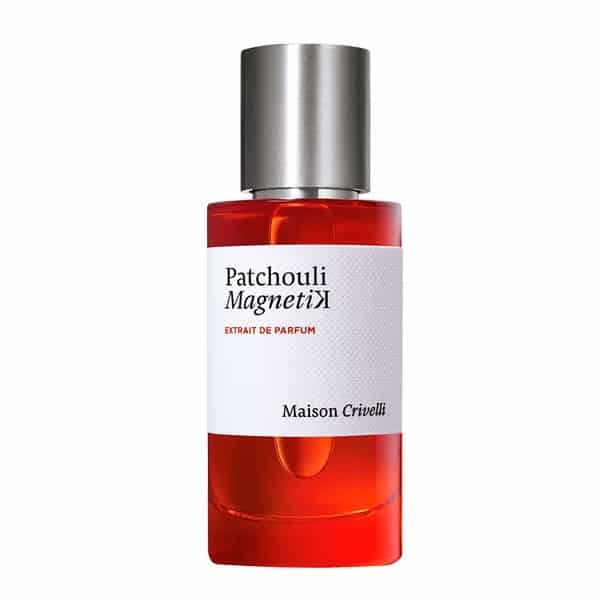 Patchouli MagnetiK by Maison Crivelli is a soft, bright and supremely cozy blend of creamy, earthy patchouli, beguiling gardenia and the lush, chocolate note of benzoin resin. An unusual patchouli fragrance in that it is surprisingly bright, light and lucid. Here we do not meet a damp, musty-rooted patchouli, as it is sometimes known, but one that appears very elegant, very modern and calm. Which seems to be extremely comfortable in the company of his fellow fragrance notes and unpacks his sunny, friendly side.