The niche fragrance brand Venti4 arrived a few weeks ago at Aus Liebe zum Duft and thus also landed on my desk. Four fragrances named Vorrei, Verde, Bianco and Rosso comprise the collection of the Italian luxury fragrance label based in Milan, which was founded by German-born Eve Neuberger.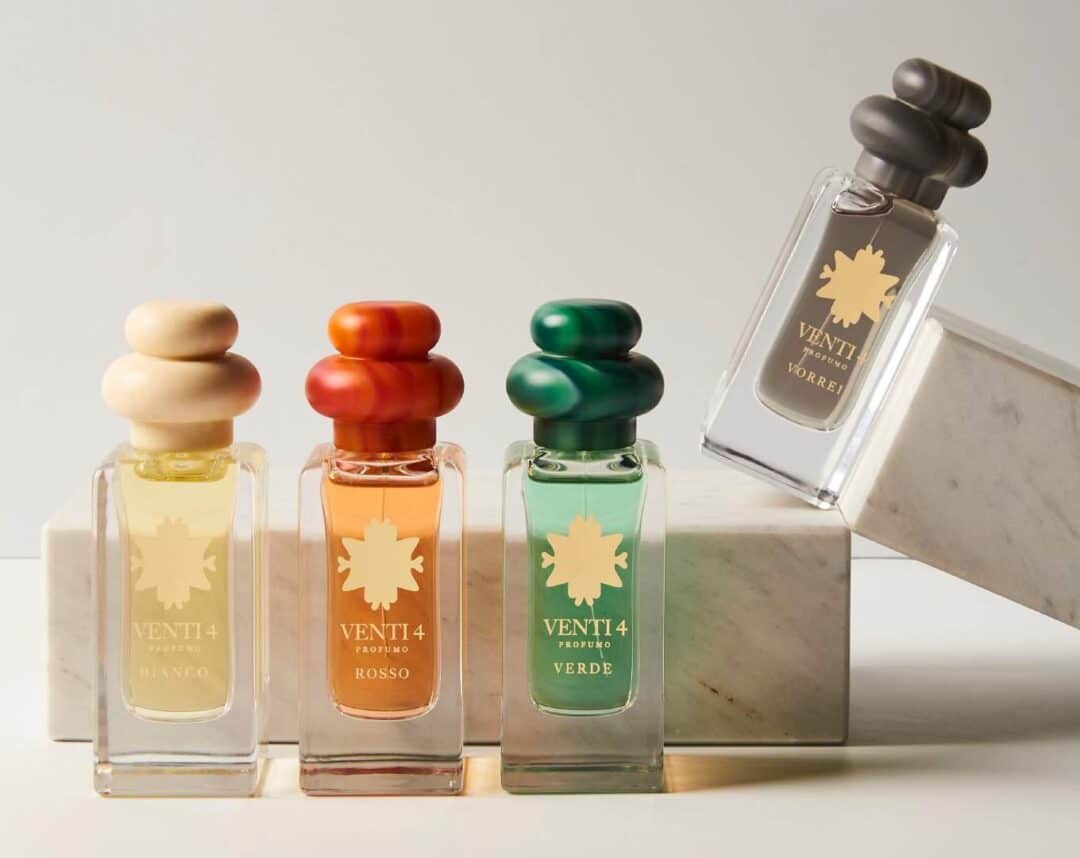 The Venti4 brand wants to translate the Italian lifestyle, the Dolce Vita, into fragrances. The unique Mediterranean landscape, whose magic and beauty bewitches so many, the scent of the sea, of delicious food, intoxicating flowers and delicious fruits. Italy is not only a new home for Eve Neuberger. As stylish, traditional, multi-faceted and steeped in history as it is, Italy is also the source of inspiration par excellence for them.
Vorrei – I would like to have …
With Vorrei, Venti4 pays homage to Eve Neubauer's early days in Italy. Emilia Romagna is where her unique relationship with the Mediterranean land began. A region famous for its sports cars and motorcycles. Legendary brands such as Ferrari, Maserati, Lamborghini and Ducati have their headquarters here, which is why Emilia Romagna likes to call itself the "land of engines".
The region also has a lot to offer in terms of culinary delights. The city of Parma gave its name to the Parma ham of the same name, and in and around Modena is produced – quite traditionally – high quality balsamic vinegar. Parmesan lovers know the Parmigiano Reggiano produced in Emilia Romagna, the real Parmesan, and with Barilla, one of the largest pasta producers in Italy is also at home here. It is not for nothing that Emilia Romagna, located north of Tuscany, is one of the richest regions in Italy.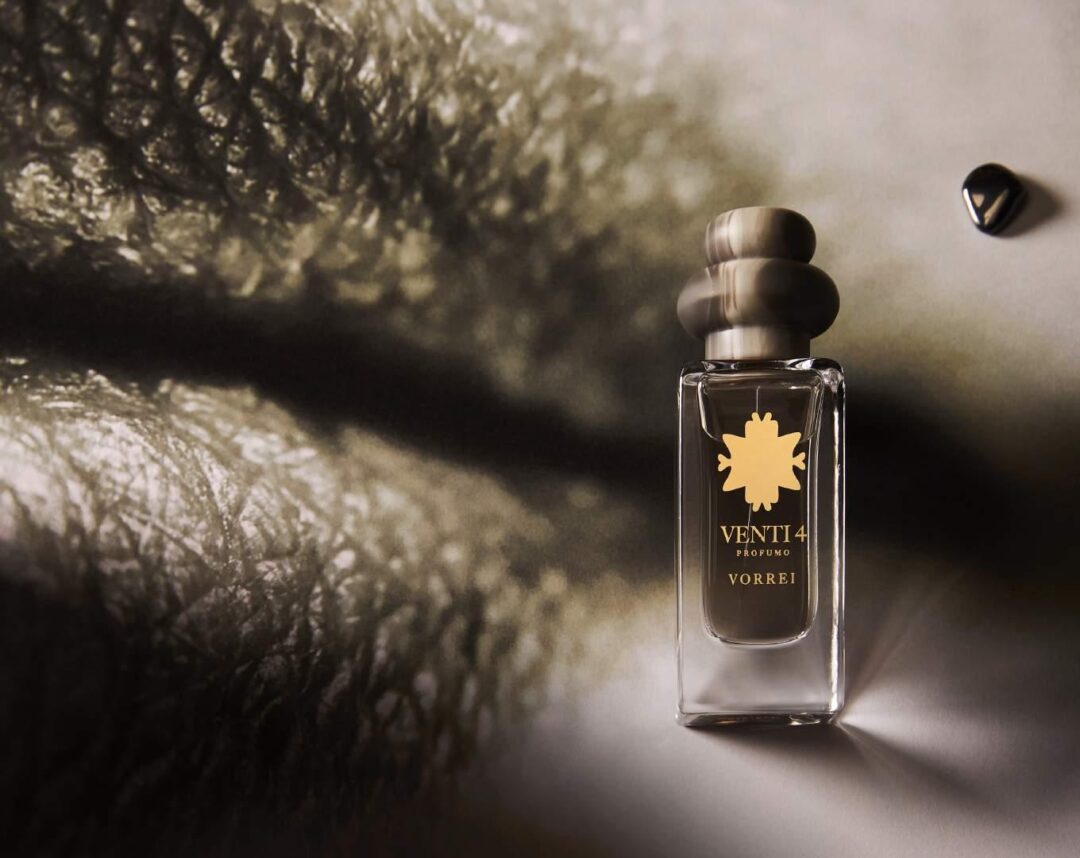 Vorrei, however, is primarily about motorized means of transport, which in Emilia Romagna are mostly sleek and extremely sporty. The Venti4 brand creates an olfactory monument to these in Vorrei with the ingredients spearmint, aldehydes, jasmine, milk, incense, leather, vetiver and patchouli.
Motorized joie de vivre
The airy and synthetic coolness of fruity-floral aldehydes meets the light green freshness of mint and the beguilingly lovely nuances of jasmine in Vorrei's opening. Vorrei is lush and present, but at the same time light and barely tangible. An intense and difficult to put into words blend of florals, mint freshness and aldehydes, underpinned by a milky creaminess.
Gradually, Venti4's creation reveals slightly darker nuances. The emphasis is on "slightly", because Vorrei doesn't really get dark in the further course. Frankincense provides a subtle smokiness that is underscored by delicate leather and the earthy notes of vetiver and patchouli. At the heart of the fragrance, however, is the lovely sweetness of aldehydes, jasmine and a hint of mint, which runs like a thread through Vorrei's scent progression and defines the fragrance character.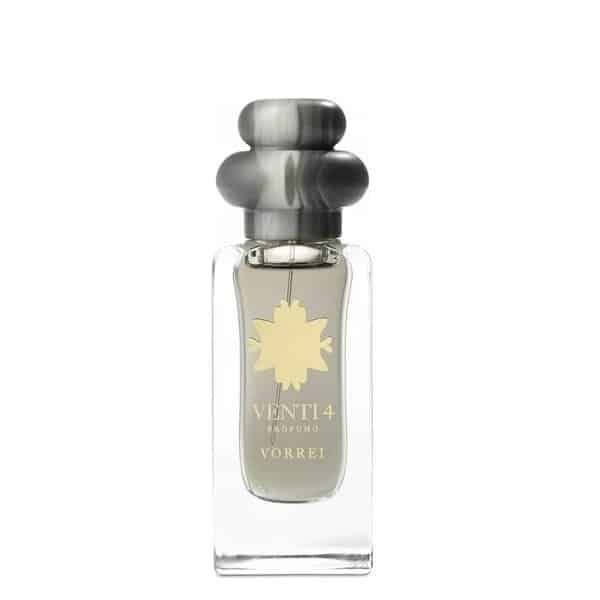 Vorrei is a honeyed and fresh floral fragrance, nuanced by incense and leather. A lush and unusual creation that I would rather wear on special occasions than in the office and everyday life. Seasonally, I would place Vorrei rather in the warmer season. Ideal for those who appreciate fragrances with a good dose of aldehydes and intense sweetness. 🙂
Verde – the green
The alignment of our second candidate today should be relatively clear – at least in my eyes – if you take a look at the name of the creation. Verde, meaning "green" in English, sounds to me like spring, like budding nature, of delicate sprouting blossoms. But a touch of summer warmth can also be involved. However, Venti4 does not explicitly dedicate Verde to spring, but rather to the unique setting and nature of Lake Como, which particularly impressed the founder of Venti4.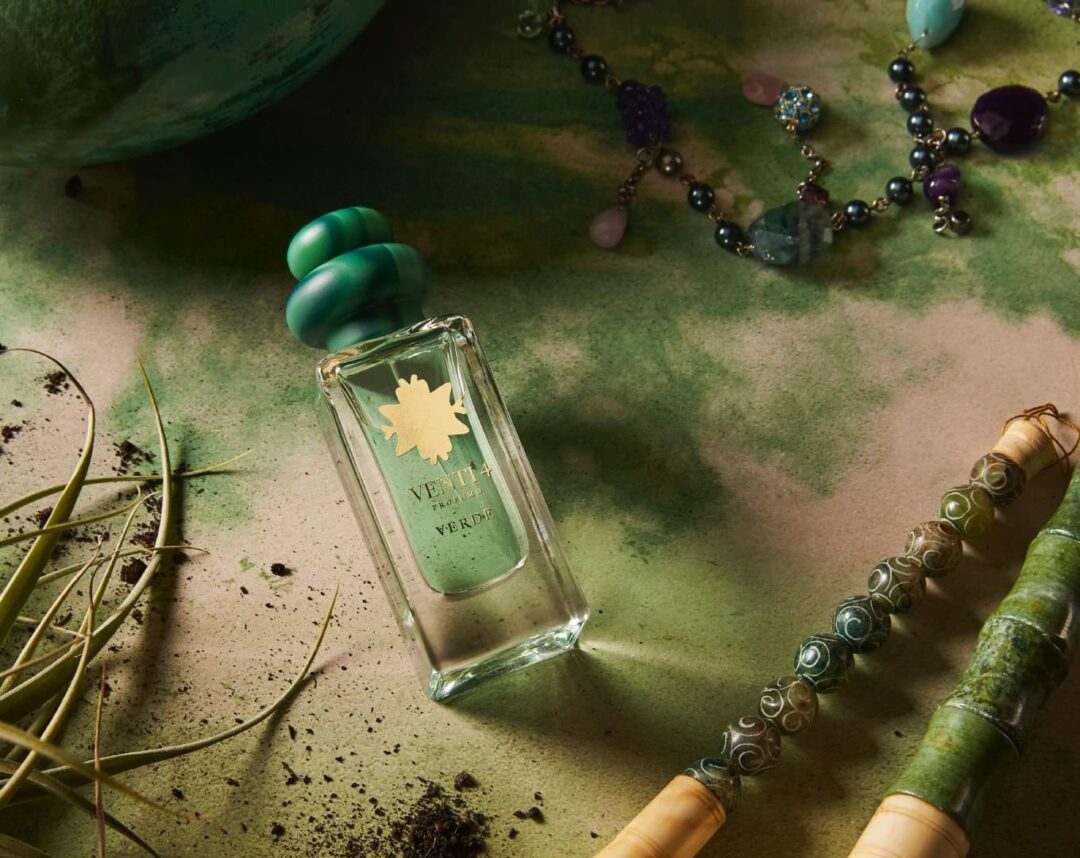 Bergamot, aquatic notes, lily, ylang-ylang, fleur de sel (sea salt), sandalwood, ambergris and ambroxan are the ingredients of this homage to Lake Como, which unfortunately I have not yet been able to visit. Located in the Lombardy region of northern Italy, Lago di Como is not only a popular vacation spot for tourists and day-trippers, but numerous celebrities have also taken up stately residences on the shores of the pretty lake. George Clooney's Villa Oleandra, for example, is famous even beyond the borders of Lombardy and always attracts celebrity enthusiasts to the small town of Laglio. Eve Neuberger was probably at Lake Como more for vacation reasons and enjoyed the nature and the scenery of the Lagos on land and on water. Whether convertible or sailing yacht, the beauty of the Lombard waters and the Italian dolce vita left a lasting impression on her.
La vita è bella
Even though I expected a lush green fragrance – and had secretly hoped for beautiful leafy green notes – Verde is rather aquatic and herbaceous in the opening. Dark salty accents evoke subtle seaweed aspects that underline the maritime-inspired character of the creation. I perceive the blossoms more as a softly iridescent background underpinning that gradually calms the fragrance a bit and gives it a delicate creaminess.
Cotton wool-soft ambroxan soaks into the scent like thick spring clouds, giving the creation a synthetic-seeming and elusive fluffiness. In the finish Verde becomes a little warmer thanks to the woody nuances of sandalwood and amber. Overall, however, the composition remains rather cool and discreetly fresh.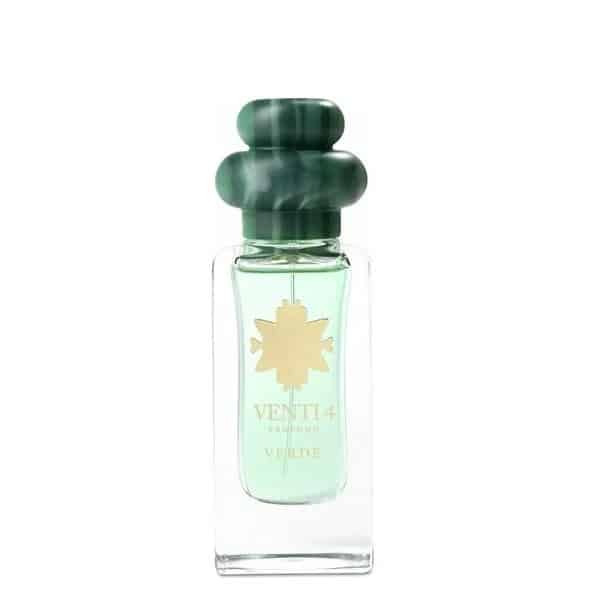 Verde by Venti4 is a salty-herbal aquatic with subtle floral undertones that has some intensity at first, but doesn't have an exuberant longevity. Provided with a cologne-like lightness, rather than too present, Verde could be the ideal fragrance for lovers of aquatic scents. 🙂