With two new fragrances called Scarlet Rouge and Divina Marchesa spoils us the brand Moresque Parfum, whose founder Cindy Guillemant wants to combine with her creations the Mediterranean atmosphere of Italy with the magic of the Orient. Moresque Parfum divides its fragrances into five collections: In addition to a Black Collection, there is also a White Collection, a Gold Collection, an Art Collection and a Secret Collection. Our today's fragrance candidates belong to the last two lines.
Scarlet Rouge – Secret Collection
The Secret Collection includes fragrances that the brand Moresque Parfum – according to the press text – developed before any other, but then first kept for themselves. A secret collection, which is now gradually being launched, in which the fragrance house Moresque Parfum reveals its first steps on the olfactory stage to the fragrance-loving public.
The Eau de Parfum Scarlet Rouge beautifully reflects the scarlet color suggested by name, nobly combined with a cap in shiny gold and oriental-looking ornaments. Moresque Parfum combines in Scarlet Rouge the fragrance notes bergamot, dried fruit, almond, coconut, cherry blossom, Taif rose, jasmine, white flowers, spices, tonka bean, vanilla, woods, amber and musk.
A refined and sensual fragrance inspired by the Far East with its eternal, magnificent and scarlet images. Scarlet Rouge takes us to the mysterious and luminous color atmospheres of the imperial palaces, where red and gold dominate.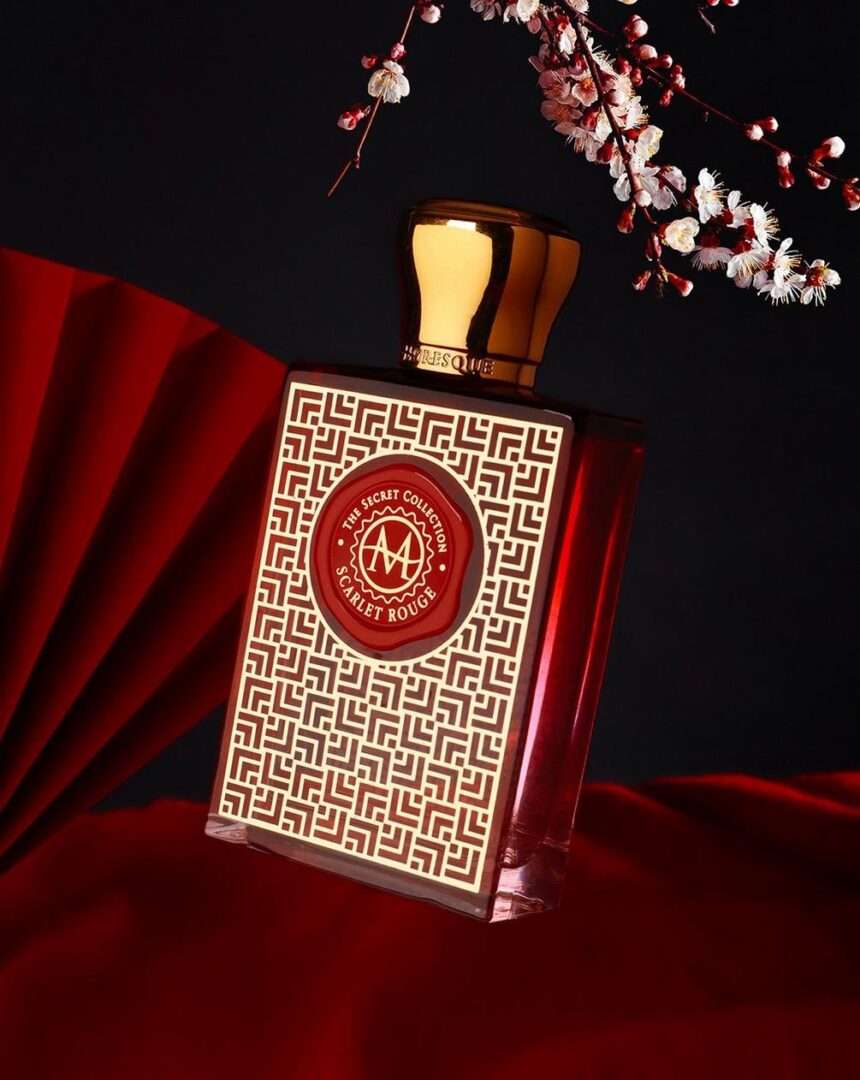 Scarlet meets gold
Lush and fruity, Scarlet Rouge starts the fragrance. The tart citrus notes of bergamot meet sweet fruit nuances. Immediately, milky-creamy facets are added, soft, supple and velvety. Almond and coconut make a rendezvous here without altering the fragrance with their characteristic notes.
Rather, they underline and emphasize the fruity sweetness of the eau de parfum. I clearly perceive the delicate floral cherry notes of the cherry blossom, with which the fragrance seems to become more and more an exceedingly delicious and tasty olfactory treat.
A fragrant bouquet of the finest rose and indeterminable flowers joins in, but the lovely cherry note remains in the creation of Moresque Parfum in the further course.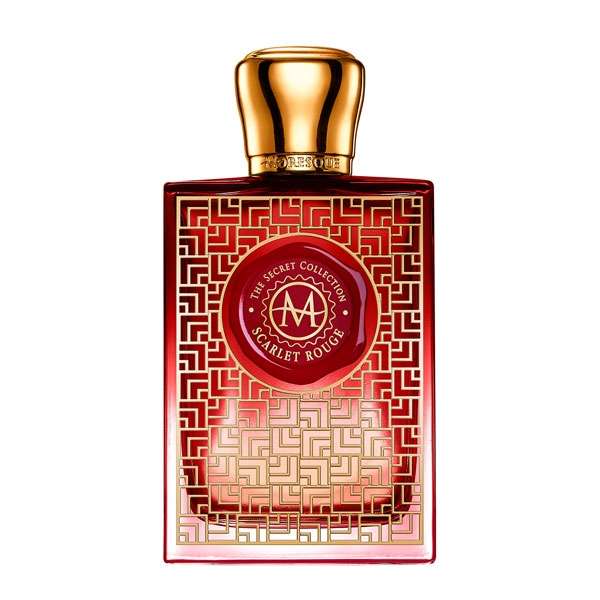 Scarlet Rouge from the house of Moresque Parfum is a delicious, creamy and sweet fragrance that contains beautiful cherry notes within. I do not exclusively sniff out the cherry blossom, but primarily the fruit, which is immersed in a sea of milky and smooth nuances. For friends of cherry and cherry fragrances, an absolute must-try, but also all others who like creamy floral-fruit combinations should definitely remember Scarlet Rouge. Personally, I see the eau de parfum rather feminine and absolutely suitable for everyday life and office use. 🙂
Divina Marchesa – Art Collection
Divina Marchesa, the "divine marquise", is a tribute to the Italian Luisa Casati, a wealthy It-girl of the early 20th century, fashion icon and eccentric, who was an integral part of high society. Her debauched parties were legendary, her love affairs numerous. There is an incredible number of works of art, paintings and portraits of her, which is why for a time she was considered the "most painted woman in Italy" (source: Wikipedia). But the extravagant lifestyle was not without consequences. Penniless and heavily in debt, Casati spent the last twenty years of her life in London.
So it is obvious to classify this fragrance in the Art Collection. The brand implements the eccentric character of the Marquise with the ingredients peppermint, cinnamon, pink pepper, cardamom, lavender, jasmine, rose, patchouli, iris, vetiver, amber, incense, sandalwood and musk.
Divina Marchesa is a perfume of extreme contrasts, inspired by the eccentric and non-conformist Marquise Luisa Casati Stampa, who was a provocative and refined icon of her time.
The scent of the divine marquise
Divina Marchesa opens with an exciting blend of cool peppermint and lush spices. A honey-like sweetness underpins the opening, which is gradually joined by the herbaceous and tart notes of lavender, which blend with creamy floral accents – I suspect jasmine and rose are responsible for this.
Mint is also present in the further course of the fragrance, which breathes freshness and lightness through its greenish coolness in the still very lovely creation. Divina Marchesa from Moresque Parfums has a summery effect, and to a certain extent I also perceive the eau de parfum as playful and a little romantic. Tightly woven and complex, the composition eventually becomes warmer and quieter as it fades out very gradually.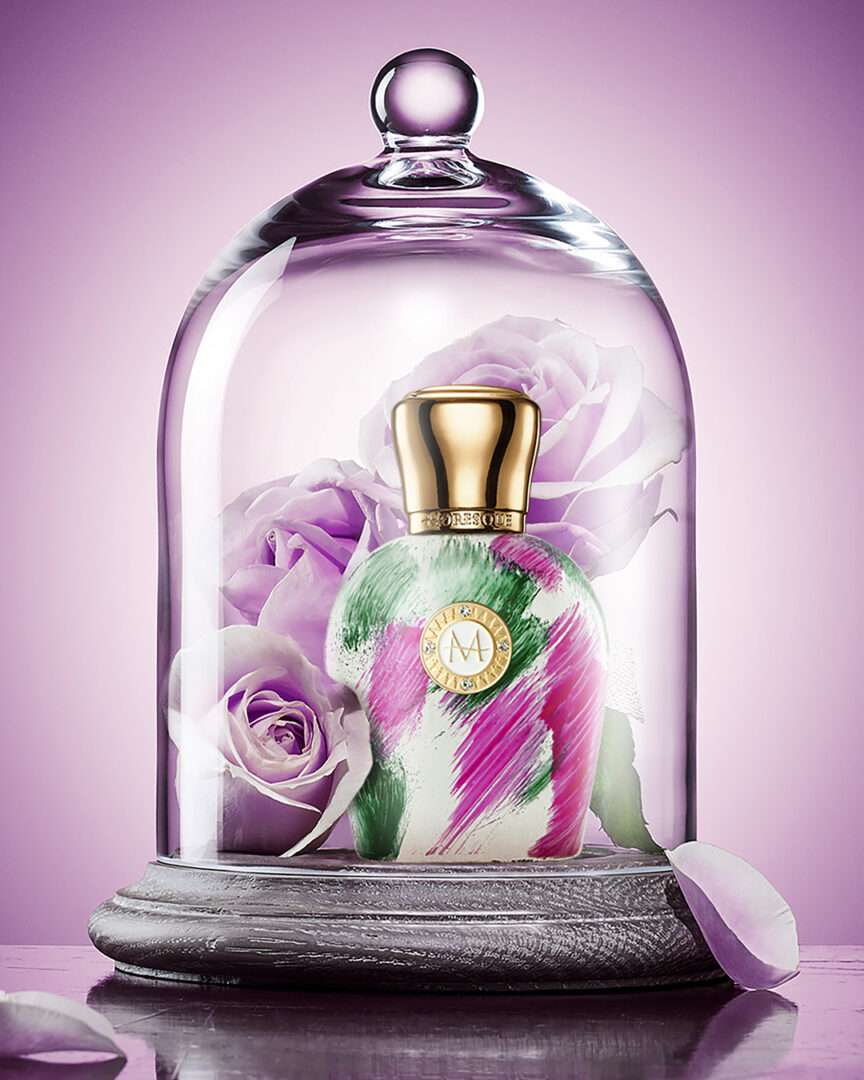 Divina Marchesa is a seductive and lovely fragrance that combines refreshing peppermint with a colorful bouquet of honeyed flowers and fine spices. A creation with a medium presence and a good durability, more something for the warm season and absolutely comfortable in the office, everyday life, leisure and evening. A preference for sweet fragrances is beneficial to have, but if this is given, then it could possibly become the great love with Divina Marchesa by Moresque Parfum. 🙂